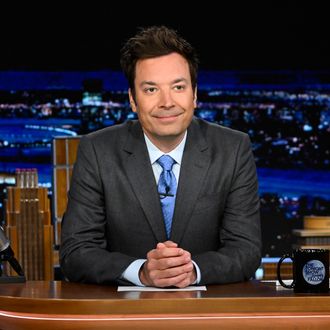 James …
Photo: Todd Owyoung/NBC via Getty Images
Update, September 7, at 8:00 p.m.: Per Rolling Stone, Jimmy Fallon apologized to his employees on a Thursday night Zoom call after the outlet published an exposé alleging that he fostered a toxic environment on his late-night show. According to two people who attended the meeting, Fallon said he did not intend to "create that type of atmosphere," noting that he wants his show to be fun and "inclusive to everybody." "It's embarrassing and I feel so bad," he reportedly said. "Sorry if I embarrassed you and your family and friends… I feel so bad I can't even tell you."
Original story follows.
The Tonight Show may be full of laughter, but behind the scenes, it's no laughing matter. Sixteen anonymous current and former staff members accused the late-night show of having a toxic work culture in a September 7 Rolling Stone report. Allegedly, it starts at the top. Staffers on the show are used to there being either "good Jimmy days" or "bad Jimmy days," in which Fallon is prone to outbursts and erratic behavior. "It was like, if Jimmy is in a bad mood, everyone's day is fucked," a former employee told RS. "People wouldn't joke around in the office, and they wouldn't stand around and talk to each other. It was very much like, focus on whatever it is that you have to do because Jimmy's in a bad mood, and if he sees that, he might fly off." Some staffers attribute this behavior to Fallon's alleged overuse of alcohol — some say they think he was drunk at work, and eight former employees said the quality of the work day depended on whether Fallon was hungover. On bad days, he would reportedly be passive-aggressive, making comments like, "Are you okay? Seriously, do you need help?"
The report goes into detail about showrunners who made the show's environment increasingly toxic, specifically focusing on Jamie Granet-Bederman, who was a showrunner from 2020 to March 2022. The report details incidents with Granet-Bederman including inappropriate comments, like asking a Black employee, "What is going on with your hair?" "They are the worst bosses I've ever had in my life. They use that position of power to bully and treat the staff that way, and the network is aware of how they treat people. They not only continue to enable it, but they reward it."
Another former employee says Granet-Bederman attended an HR-conducted exit interview after they left The Tonight Show. "It felt as if it was an intimidation tactic," they said. This incident followed a pattern of events in which the employee would report issues with Granet-Bederman to HR, only to find that HR would report back to Granet-Bederman — allegedly causing them to be put on "a performance-improvement plan. "Everything that I relayed to HR was then relayed to my manager, so it was not a safe space," they added. "It felt as if they were acting in the interest of one person instead of the interests of the greater whole."
One accuser said they were fired without explanation and without prior warnings or issues with their work. "I ended up talking to the HR person later on the phone, and she was like, 'Yeah, I've never seen anything like this,'" the former employee said. "She was like, 'I don't know why you're being let go. You didn't do anything wrong … I've never seen somebody get fired for no reason.'" Not so funny.
This post has been updated.