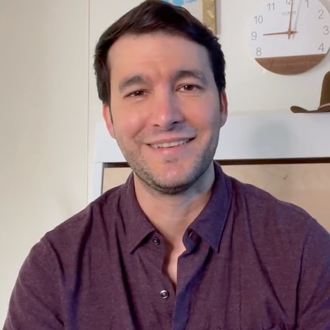 The king of comedy lists.
Photo: @ZachBroussard/Twitter
The year is almost over, which means it's time for the most important annual comedy tradition: Zach Broussard's list of the top 1,000 comedians. Since 2014, Broussard has released this very legitimate and influential list during December, and every year has introduced a new twist dating back to the inaugural list that made Rich Vos very upset. For example, 2016's list was revealed through a series of billboards around Los Angeles, 2018's list was announced through 2,000 "nominees" followed by a live awards show announcing the winners, and 2020's list was capped at 25 percent capacity to follow COVID guidelines.
For 2022, however, Broussard decided to take a more sincere approach — or at least he claimed to. "The list has just been a series of bits. I copy and paste the same lists of names that I just move around every year. It just felt stale. It felt old, and I was ready to kind of quit and just walk away … But then I was sort of thinking there was an opportunity to do something cool with it," he said in a clip posted to Twitter on December 21. Broussard asked his followers to send him comedian recommendations this time around so that he could "make a list that actually reflects what's happening in 2022." Over the next 24 hours, countless recommendations poured in.
Broussard revealed the 2022 list on Twitter and through top1000comedians.com on December 22, and, well, two things can be true: The list does have a big twist after all, and it does arguably reflect what's happening in 2022. The twist? It's a list of 1,000 TikTok accounts, including up-and-comers like Will Smith, Selena Gomez, The Rock, and Charli D'Amelio.
Congratulations to all the talent who worked hard enough to get the #buzz for this year's list. And for the comedians who didn't make it, just keep grinding. Maybe 2023 will be your year.
Explore 2022's full list for yourself here.