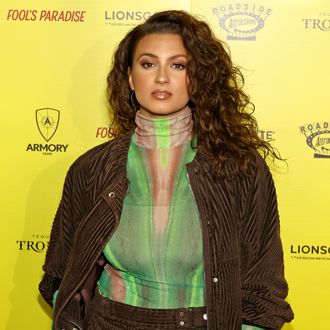 Photo: Kayla Oaddams/FilmMagic
Update July 26: Tori Kelly's husband, basketball player Andre Murillo posted a status update on his wife to Instagram Stories. "Tori is smiling again and feeling stronger," he wrote. "Not fully out of the woods but we see the sun. Just waiting on a few more answers." She appears to still be at Cedars-Sinai Hospital.
Oringal story follows.
Singer Tori Kelly has been rushed to the hospital after collapsing at a dinner in Los Angeles on Sunday night, TMZ reports. She was taken to Cedars-Sinai Hospital after fainting in a restaurant in downtown Los Angeles. TMZ states that at the hospital, doctors discovered blood clots in her legs and lungs. Kelly has reportedly been in and out of consciousness at the hospital as they try to determine if she has any clots around her heart. Vulture has reached out to Kelly's reps for comment. The Grammy-winning singer rose to prominence on YouTube and during her time competing on the ninth season of American Idol in 2010. After signing to Capitol Records with her new manager Scooter Braun, Kelly released her debut album Unbreakable Smile in 2015 and earned herself a nomination for Best New Artist at the 58th Grammys. However, it wasn't until her second studio album, Hiding Place, that she earned two Grammys for Best Gospel Album and Best Gospel Performance/Song. Kelly recently made the move to Epic Records and is set to release her upcoming EP tori this week on July 28.