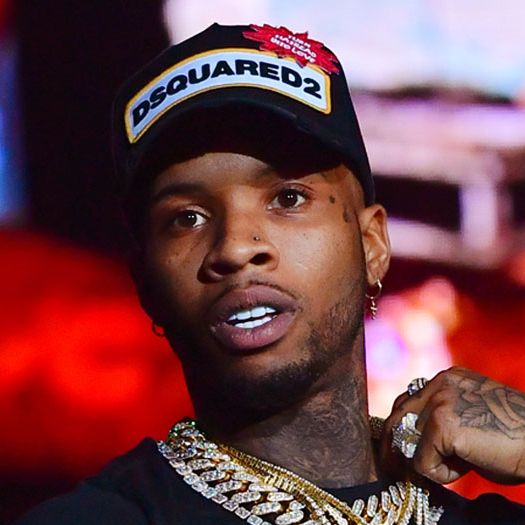 Photo-Illustration: Vulture and Getty Images
On August 20, 2020, Megan Thee Stallion claimed that Tory Lanez was the gunman who shot her in the foot following a July 12 pool party at Kylie Jenner's house — the first time she publicly identified him, or anyone, as her shooter. In an Instagram Live video, Megan alleged that Lanez's publicist was intentionally attempting to spread false information about the shooting, for which she was hospitalized and underwent surgery. "Yes, this n- - - - Tory shot me," Megan said in the video.
While Lanez, real name Daystar Peterson, was arrested on a charge of carrying a concealed weapon in a vehicle, he was not arrested for allegedly shooting Megan, real name Megan Pete. (Lanez was released on $35,000 bail.) The Los Angeles Police Department reportedly had difficulties in finding witnesses who would help in their investigation. Some early reports even said that Megan's injuries resulted from broken glass, not a gunshot.
In her video, Megan admitted that she didn't tell cops what happened, explaining she thought the LAPD was "aggressive" — while recognizing she should have been up front immediately.
"I didn't get cut by no glass, but let me tell you why they're saying that," Megan said. "When the police came because the neighbors called the police … the police come — I'm scared. All this shit going on with the police … I didn't want to die. I didn't want the police to shoot me cause there's a n- - - - with a gun in the car with me."
On October 8, there was a major development in the investigation: The Los Angeles District Attorney's Office announced felony assault and gun charges against Lanez.
Here's what we know about where the shooting case stands so far.
What happened, exactly?
According to a recent latest Instagram Live, Megan claimed that she was in Lanez's car with him, his bodyguard, and her friend, and that the four were arguing. Megan, who was in the front seat, left the car. She alleged that Lanez shot her through the car's back window. Megan insisted that rumors she had hit Lanez were bogus. She also said that the shooting didn't relate to Lanez's purported romantic interest in Kylie Jenner. According to TMZ, Megan originally told cops that she had cut her foot on glass.
While L.A. prosecutors didn't give many details in their press release announcing charges against Lanez, their statement on the case appeared to mirror Megan's claims.
"The defendant and the 24-year-old victim got into an argument while riding in an SUV in the Hollywood Hills," the prosecutors' statement said. "The victim exited the vehicle and Peterson is accused of shooting several times at her feet and wounding her."
The criminal complaint identified the person Lanez allegedly "inflicted great bodily injury upon" as "MEGAN P." The complaint said Megan P. was "not an accomplice to the above offense."
What role did Meg's public statement on Lanez play in this case?
In late August, a spokesperson for the Los Angeles District Attorney's Office said that the office had "asked law enforcement for further investigation before making a filing decision on a charge of felony assault with a semiautomatic firearm, personal use of a firearm." However, prosecutors asked law enforcement to do this on July 24 — so their request had nothing to do with her public statement. It's unclear whether Meg's public statement ultimately played a role in prosecutors' decision to bring felony charges. Vulture reached out to the L.A. District Attorney's Office for more information on Friday, but has not yet heard back.
Why did Lanez allegedly shoot Meg?
It still appears to be unclear why Lanez allegedly shot Megan. Megan claimed in the video, however, that Lanez did it for "no reason."
So is Lanez in more trouble now?
Potentially, yes. When Lanez was arrested, it was on a charge of carrying a concealed weapon in a vehicle — not for allegedly shooting Megan. Now, Lanez is charged with one felony count each of assault with a semiautomatic firearm — personal use of a firearm — as well as carrying a loaded, unregistered firearm in a vehicle. Prosecutors said that he "personally inflicted great bodily injury." If Lanez is convicted as charged, he could get up to 22 years and eight months in state prison. So, Lanez's legal problems are more serious than before, but the ultimate consequences won't be known until everything plays out in court.
On November 18, Lanez pleaded not guilty to three charges brought against him by the Los Angeles DA's office.
Could Megan get in trouble for changing her story?
Prosecutors previously declined to comment on that. Generally speaking, however, authorities don't go after accusers and victims for changing what they said. People who experience trauma might change their stories after they've thought about an incident and had the time to process what happened. Robert Shapiro, who was on O.J. Simpson's defense team, notes there are many reasons someone might not provide accurate information right away.
"It's very similar to many of the women who have been victimized, who initially don't say anything and then years later change their mind for certain reasons," Shapiro told Vulture (he is not involved with the Lanez case and was speaking generally). "It's maybe out of fear of retribution, and maybe [later] they have been given some type of comfort that they can be safe."
In her November 16 GQ "Rapper of the Year" profile, Megan Thee Stallion claimed Lanez tried to offer her and her friend money in exchange for their silence before police arrived to the scene on July 12. "Police are just killing everybody for no reason, and I'm thinking, 'I can't believe you even think I want to take some money," she said. "Like, you just shot me.'" Lanez's lawyer denied this claim in a statement in a statement to GQ.
Has Lanez issued a statement or apology?
Following Megan's August 20 live stream, Jim Lewis, one of Lanez's lawyers, told Vulture: "We're not commenting right now." His publicist did not immediately respond to a request for comment. Lanez remained quiet for the remainder of the summer.
Then, on September 24, he tweeted "To my fans … I'm sorry for my silence …. but respectfully .. I got time today." Fans assumed he was heading on Instagram Live to finally tell his side of the story, but at midnight, DAYSTAR, a surprise album, dropped online. "There is a time to stay silent," he tweeted. "And a time to speak ….. I said all I could say on this." On track "Money Over Fallouts," he says, "Megan people tryna frame me for a shootin'," denying her claims. Later, he questions her injury and insinuates that Megan's team has tried to pay for his silence. "Gotta see a couple questions: how the f**k you get shot in your foot, don't hit no bones or tendons?" he raps. "How the f**k your team is tryna to pay me in some whole millions?" He denies involvement a second time, but doesn't offer another suspect. "Girl, you had the nerve to write that statement on a affidavit / Knowing I ain't do it but I'm coming at my truest," he says at one point. "Tryna keep this shit two hunnid with you, shorty, I can't prove it / But them people in yo' ear, they the true ones that I fear."
Lanez also mentions singers Kehlani and Jojo on the album. Both women removed his features from their songs for the deluxe versions of their respective albums following Megan's Instagram Live. "Cause when I'm scrollin' through this Spotify playlist / See me my name both in y'all top five pages / It just feels a little unsincere, hmm?" he says in "Comeback."
After receiving backlash for dropping an album denying violence against a Black woman as the Black community was reeling from the verdict made in the Breonna Taylor case September 24, Lanez said he chose to drop the album on September 25 because it was his mother's birthday and the day she died.
After the felony charges against Lanez were announced, Lewis told Vulture: "The 'victim' doesn't appear to be seriously injured, since I saw her on Saturday Night Live last week."
Did Tory Lanez and his team send fake information about the incident?
A source close to the situation alleged to Billboard on September 29 that Lanez's team sent several emails to media outlets pretending to be members of Megan Thee Stallion's record label, 300 Entertainment, in order to "campaign press" on his behalf. The source also claims that his team fabricated text message conversations between Lanez and Megan and sent them to various outlets. A screenshot obtained by Billboard from a second anonymous source included a fake email account for Kevin Leong, 300's Head of Creative. The email contained a link to an article that claimed Megan Thee Stallion did not want to testify against Lanez.
In a statement to Billboard, 300 Entertainment said, "In this day and age, digital security is of utmost importance. The email impersonation of our head of creative Kevin Leong, with the intent to disseminate false information has been brought to our attention and we are working diligently on Megan's behalf to get to the bottom of the matter." A representative for Lanez "strongly denies" that he sent fake emails or doctored text messages. "The only commentary which has been made on this topic was the creative output on the album," the rep told Billboard. "We are investigating who could be sending these false emails and intend to take action against them."
Has Megan Thee Stallion responded to Lanez?
Aside from wearing rings that spell out "Fuck you," Megan Thee Stallion did not initially respond the assertions made in DAYSTAR nor the alleged "campaign." In a statement to Vulture, her lawyer, Alex Spiro said, "We have been made aware of manipulated text messages and invented email accounts that have been disseminated to the media in a calculated attempt to peddle a false narrative about the events that occurred on July the 12th. A smear campaign can't change the truth."
During her October 3 musical performance on SNL, Megan advocated for the protection of Black women. The interlude was punctuated by gunshots, and over a portion of a Malcolm X speech, Megan referred to her own shooting and Kentucky Attorney General Daniel Cameron's treatment of the Breonna Taylor case. "We need to protect our Black women and love our Black women, 'cause at the end of the day, we need our Black women," Megan said, noting her tweets about the targeted harassment and bullying she endured after being shot. "We need to protect our Black men and stand up for our Black men, 'cause at the end of the day, we're tired of seeing hashtags about Black men."
Despite Spiro's prior statement, he said "no comment" after news of Lanez's felony charges emerged.
And those deportation rumors?
Lanez, who is from Brampton, Ontario, Canada, has not been deported. "That's bullshit," Lewis previously said of rumors. An Immigration and Customs Enforcement spokesperson previously told Vulture that Lanez is not in the agency's custody. "We have no stake in this matter at this point," the spokesperson said. "ICE has not been involved in this at all." Vulture reached out to immigration authorities on Friday to see if there was any new information but did not immediately hear back.
Where do things stand with the case?
Lanez entered a not guilty plea through his attorney on November 18, 2020 to charges relating to the shooting, according to the Associated Press. The court had previously issued a protective order directing Lanez to stay at least 100 yards away from Megan and prohibiting contact with her. Lanez's bail was set at $190,000.
Lanez alluded to the charges on Twitter last October, posting an emoji message claiming "time will tell." Tweeted the rapper, "a charge is not a conviction. If you have supported me or meg thru this, I genuinely appreciate u."
If Lanez is convicted as charged, he could get up to 22 years and eight months in state prison.
Did Tory Lanez's Rolling Loud appearance violate the protective order?
Early Wednesday, TMZ reported that Lanez's appearance with DaBaby at Rolling Loud this weekend had raised eyebrows about possible legal implications for the Canadian rapper. Lanez is required to stay at least 100 yards from Megan and is prohibited from making contact with her; TMZ reported that she was actually backstage when he performed with DaBaby, who took the stage after the "Thot Shit" rapper. TMZ said that Miami police and Los Angeles prosecutors were apprised of Lanez possibly violating the protective order. A source confirmed to Vulture that someone did tell Miami and L.A. officials about the potential protective-order violation, though the source did not identify that person. TMZ reported that, according to a source, Lanez did not see Megan at Rolling Loud, nor did he get close to her. Asked for comment, Lanez's attorney Shawn Holley said in an email to Vulture: "Though they both performed at the same music festival, Mr. Peterson went out of his way to ensure that he would not cross paths with Ms. Peete or otherwise violate the terms of the protective order."
On Friday, August 13, TMZ reported that "prosecutors have filed a motion to hold Lanez in contempt for violating the restraining order" that stated he could not go within 100 yards of Megan Thee Stallion. Prosecutors believe that Lanez's performance at Rolling Loud put him within that distance of her, and they are now asking the judge to revoke or increase Lanez's bail.
On Monday, August 23, a judge ruled that Lanez's bail be increased after prosecutors say he violated the restraining order Megan Thee Stallion filed against him by appearing at Rolling Loud. Lanez's bail has increased from $190,000 to $250,000. Per TMZ, Lanez will not serve any jail time, but "the judge modified his bail conditions to specifically prohibit Tory from attending events where his alleged victim, Megan, will be present." The judge also reportedly said that if Lanez violates the protective order again, he will be "remanded into custody."
This post has been updated throughout.