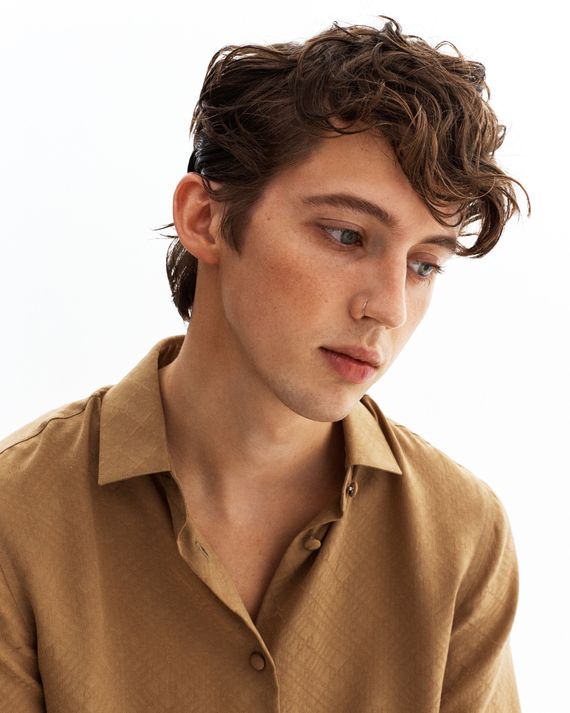 In February, Troye Sivan was hunkered down in his studio in Los Angeles refining a project that captures what has felt like the most intense period of his life. Titled In A Dream, it's a six-track EP shaped by heartbreak, conflicted feelings about his own body image, and what happens when the comforting familiarity of a future with someone is suddenly cut short.
Just as he was adding the finishing touches, the pandemic arrived. Reluctantly, in mid-March, the 25-year-old Australian pop star left his black-and-white pit-bull mix, Nash, in the care of a close friend in L.A. and made an overdue trip back home to see his parents and siblings in Melbourne. It was six days into his mandatory 14-day quarantine, which he spent in a rented beach house not far from his parents' place, that Sivan decided he was going to leak new music. The idea came to mind "almost out of pure panic." It was "a coping mechanism," a choice that gave him some semblance of control over his life.
Twelve days later, on April 1, "Take Yourself Home" arrived — an accidentally prophetic pop song about Sivan growing tired of Los Angeles, recentering his priorities, and wanting to spend time with his family again. Having come of age as one of YouTube's most followed and talked-about teenagers, Sivan is used to making work within the limits of his childhood bedroom. So when the only option left was to plan promotion from that setting, it came naturally. On TikTok, he recently laid out how his new album's social teasers were self-made using just his iPhone and some editing software. "Honestly thank god I used to be a YouTuber" he captioned it.
Sivan has remained at his childhood home in the months since, wanting to be close to family and a familiar medical system. (Prior to the move, he'd been spending part of his time in Atlanta shooting a film by a writer-director Sivan refers to only as "Jared." An Instagram image of Sivan with Sweet/Vicious writer Jared Frieder suggests it could be Frieder's directorial debut, Three Months, a gay coming-of-age story complicated by HIV.) After a brief few weeks of monitored freedom — spent mostly at the beach with his childhood friends and recording a music video for "Easy," another new track — a spike in coronavirus cases forced the metropolitan Melbourne area back into lockdown. It's currently in stage four. People may only leave the house to buy groceries or for one hour of permitted exercise a day. Nobody can go outside at all after 8 p.m.
"This is getting a little bit depressing now," Sivan tells me from his teenage bedroom. His surroundings, cosy and understated, are a strikingly normal departure from the usual glossy pop stardom: just a bed frame and plain, white walls. He's dressed in an olive-green shirt, unbuttoned, with a black tee underneath and he's rolling a shell from a recent trip to the beach between his thumb and forefinger as if it were a worry doll. He seems anxious, bored, tired, or maybe a mix of all three. "I just feel like everyone was taking their liberties to bend the rules just a tiny bit. And it ended up catching up with us and kinda slowed the decline," he says. It's a cold evening in Melbourne, now deep in its winter. But there have been beautiful days: "All you want to do is be with people and have a barbecue and drink some beers by the beach or something," he shrugs. "This just feels very antithetical to everything that Australia is."
But he has also fallen back in love with the country where he was raised. Two years in Los Angeles, a place he often feels "a little bit lost in," has made the languidness of life in Australia seem more appealing. He's considering buying a house here and doing some kind of "half-and-half situation." The idea of starting a family at some point — in the next decade or so — sounds nice, too. "Everything just kind of clicks back into place for me and I feel like myself," he says of his surroundings, "and I have, for the longest time, longed to spend more time here. Maybe this has been the catalyst for some change."
It took writing through heartbreak for him to fully recalibrate. His eyes flit from one corner of his bedroom to another, as if he's debating how to phrase what he's saying: "It's so strange because I have written about my private life a million times, but there's something about this that hurt so much more."
Writing so openly is somewhat new for Sivan, even though he has, for almost a decade, built a robust personal brand by being himself. He was born in Johannesburg, South Africa, his mother a homemaker and his father a real-estate agent, before the family moved to Perth, Australia, when Sivan turned 2. He was raised Jewish and attended an Orthodox school. Like many kids, particularly queer ones, in the late 2000s, he found refuge online. In 2008, at the age of 13, he created a YouTube account where he posted videos of himself singing covers on his webcam that gained a steady following — somewhere in the region of 27,000 people. Eventually, he pivoted to vlogging, dissecting the "ANNOYING THINGS PEOPLE DO ON INSTAGRAM" and going "Cute Boy Spotting" with fellow internet creator Blessing. After being gradually welcomed into one of the first circles of popular YouTube vloggers alongside the likes of Tyler Oakley — admired for his position as an honest, sometimes mouthy teenager preaching to a choir of clones — Sivan's following spiked. Four years after making the creative content shift, more than 4 million people subscribed to his YouTube account. His "Coming Out" video, filmed in August 2013, has 8.7 million views.
Sivan signed a deal with EMI Australia in 2013 and released his debut EP, TRXYE, a year later. His 2014 debut album, Blue Neighborhood, distilled his conflicted feelings about coming out into semi-radio-friendly pop songs that were produced by the likes of Jack Antonoff. But it was his sophomore effort that solidified his stardom — the looser, winking ode to being queer, ecstatic, and wildly in love, Bloom. The 2018 album reintroduced Sivan as a young 20-something and became a rare example of LGBT pop music that felt wholly celebratory, free of bitterness and animosity. "When I look back, it's crazy, you know?" Sivan reminisces. "That period in my life felt like such a magical, magical time."
During the making of Bloom, Sivan had been in a relationship with model and actor Jacob Bixenman. Sivan acknowledged his partner as the reason for its optimistic outlook. In recent months, tabloids have speculated that the pair are no longer together after four years of dating, citing Bixenman's recent absence from Sivan's Instagram grid (the last post of them together was in November 2019), and their separate lockdown plans. Sivan is guarded when discussing what happened. Much of this new music, he says vaguely, is about being "a person going through life on your own." He says he follows the example of Amy Winehouse, another artist who covertly aired dirty laundry by leaving seeds of painful situations in the lyrics to her songs.
Sivan writes about his feelings in a way that flirts with commercial palatability, too, even though it hasn't come quite as easily to him as it has to some of his heterosexual counterparts. (Though his albums and EPs have consistently broken the U.S. Top 10, his highest-charting Billboard single, 2015's "Youth," peaked at No. 23.) But he's earned their admiration. "We are blessed to have him in our world," says Ariana Grande, a close friend who collaborated with Sivan on his 2018 single "Dance To This" and whose cameo-filled "thank u, next" music video he popped-up in. "Musically, he's able to express and articulate his emotions so perfectly that his voice makes me cry, and I feel like he's the only one who does that to me these days." He's also one of the few artists able to be mainstream-adjacent while also experimenting with left-field pop anarchists like British songwriter Charli XCX. They've only worked together remotely, sending voice notes and references via text to produce collaborations like last year's nostalgia-heavy "1999." "We just get each other and are excited by each other musically," she tells me.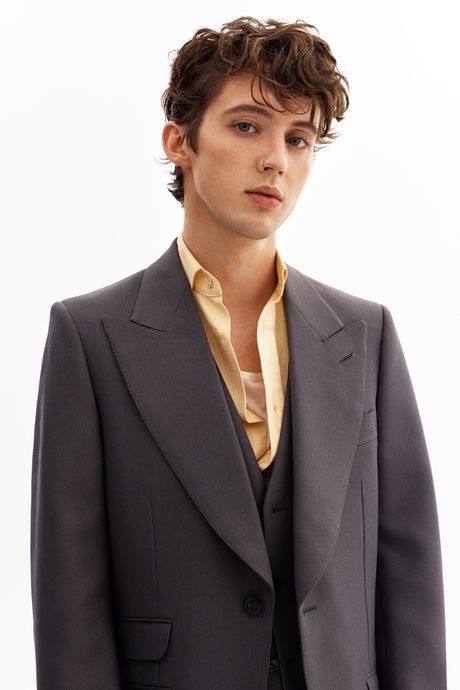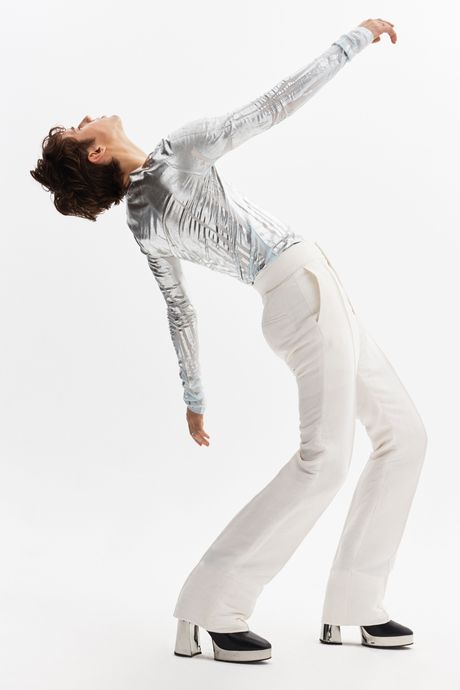 In A Dream is a first for Sivan. It is pure feeling, written "in the heat of the moment," and has no features. "When you're going through something like that, experiencing a million different emotions a day, one minute you think you're fine and the next you're not," he says. He can't recall the specific timeline in which the EP's six songs were written. "My mind was so active at that time; I wasn't sleeping that much. It would become routine for me to wake up at three in the morning and stay up until five." The day Sivan wrote the title track, he woke up crying. The night before, he dreamt of the person he had loved. He went into the studio after and tried to explain the emotions of the dream to Oscar Görres, the Swedish producer who predominantly works as part of Max Martin's Wolf Cousins cohort, known best for creating Billboard hits for Ariana Grande, Demi Lovato, and Katy Perry. For the first time in our conversation, Sivan wonders if he's "saying too much." "I said," he continues after a pause, "'It sucks that the only time you get to hang out with someone is when you're asleep.' I just woke up heartbroken. Truly."
That song began as a doleful, ruminative ballad about a relationship that lingers in the subconscious long after it's over. But when Görres — who helmed five of the six tracks on In A Dream — heard the story, his mind went elsewhere: maximalist percussion that would fit a Wham! song and grinding synths that take precedence over Sivan's echoing, angelic vocals and gentle guitar interludes. It's got humor to it: "Put my shoes on and run away, you still show up in a dream," Sivan sings on the chorus — as though he's being stalked in his slumber. The producer-writer relationship the duo shares helped here. "He wants to challenge and take risks musically, which I love," Görres says. "We have a mutual trust which gives us creative freedom. It's crucial to create a safe environment where you can try crazy ideas without fear of judgement. The happy accidents are oftentimes when the magic happens."
Meanwhile, "Easy" was so close to Sivan he didn't have the mental capacity to think about production at all. In the song, he asks someone he loves to "look at the space just next to your feet" before describing the way the wooden floor warps. It's vague in who it's about, but to Sivan, it "felt so explicit and blatant and personal and ugly and sad."
It almost didn't make the track list — until pop maverick Max Martin chimed in and said he loved it. During the EP's sessions in Los Angeles, "Max came into the studio and listened to a few songs, and he really freaked out about 'Easy,'" Sivan says. The song is performing better than a lot of other songs he has released thus far. (The video alone has accumulated more views than "Take Yourself Home" already; in a TikTok, Sivan says it has since breached more than 30 million streams). "There were all of these signs that people really connected to this song, but I think I'm just so sensitive about the subject matter," he says. "Priority number one was to get this off my chest and survive."
Two days after we first talk, Sivan answers the phone against a backdrop of darkening grey clouds and leafless trees, a mask pulled up past his nose. "I haven't been out today and the curfew is coming, so I want to quickly get my little exercise in. Is that okay?" He's going to take a slow stroll through a park he hasn't been to in a while where there are "a million" dogs. The clockwork routine of these walks is all that's keeping him sane right now. "There's the dog I thought was going to attack me," he says, flipping the camera on his phone to show me. "It's nice."
The night before, Sivan released "Rager Teenager!," a song about the pleasure of regressing to the days when life's responsibilities seemed to matter less. It was a rare slice of respite amid an otherwise loaded recording process. Sivan wrote the song — which is laced with purposely youthful lines like "I just wanna fuck shit up and just ride in your car tonight" — after a night out during which he realized the power that can stem from being free of your inhibitions. "It's easy to feel like your life is written, like it's going in a direction and that's the [only] direction it's going in. You don't realize that it's happening, but over time that becomes so comfortable. Then something will happen that will pull the rug out from under your feet and take you by surprise," he says. "I hadn't realized how comfortable I'd become. I was cruising through life. And then something like this [heartbreak] happens, and it shakes you. Little did I know that would be one of many wake up calls for 2020."
Another has been discovering more about his insecurities as a gay man. "Stud," a semi-sleazy club track, wrestles with the limiting ideas around desirability within contemporary queer culture. It was inspired, at least subconsciously, by an inexplicable yearning for validation from men who possessed bodies like Tom of Finland illustrations — stealth symbols of power and masculinity. "It never really got to me until it did," he admits. "I was feeling really insecure about myself and my body. Weirdly, I still have a secret Tumblr where I just followed porn and hot guys, right? I constantly was seeing the same body type that wasn't mine." Still, he's also become more aware of his own conventional beauty. "I would never say this in any other context, but I feel like I know I'm a cute white boy. A 'twinky' thing — I get it," he says, uncomfortable with the idea of addressing himself as such. "I fully recognize that so many people feel so much more shit than I do. I wanted to put it out on the table and talk about it."
Sivan is now en route to the grocery store before it closes, talking over the sound of traffic. He's not quite sure what his next record will sound like yet. "I'm excited to find that out," he grins. "I'm hoping to fucking God that it's a falling in love album — or maybe it's an 'I'm single and happy and at peace' album, but that part of the story is a different chapter."