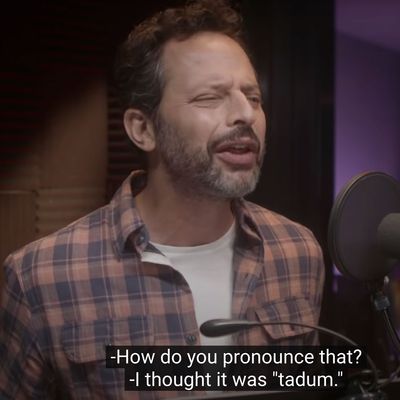 Wise words from Nick Kroll.
Photo: Netflix
Last week, Netflix surprised us with their take on their classic sound when they announced their first global fan event, called (drumroll, please) Tudum. The digital (hence global) fan event premieres on September 25 and will include a ton of Netflix celebrities as they reveal "exclusives" from the streaming service's upcoming slate.
But despite the announcement and the plethora of stars Netflix dangled in our face, there was only one thing that boggled our minds: Tudum? That's what they call that sound? "Tudum" was not what we imagined Netflix's signature intro sound to be spelled like. Even the stars in Netflix's Global Fan Event announcement video struggle with this disorienting news. Jason Bateman pronounces it as "Ta-dumb," while Charlize Theron appears to have never even heard of the word before. "Ta-dun?"
Of course, similar debates have raged before when it comes to high-profile TV sounds, including, perhaps most notably, the Law & Order one that people variously spell "dun-dun," "chung-chung," or even, if you can believe it, "doink-doink." So is that what we have on our hands here with Netflix? Another national disagreement about how to spell and pronounce a sound that has entered the regular rhythm of our daily lives? I set out to find out.
As someone whose only real passed AP test was music theory, I immediately listened to Netflix's trademark sound again with a musical ear. And, admittedly, it is a hard sound to describe; it's a short, percussive, almost boing-like tune. And when you think too hard about it, as I did "Tudum" starts to make some sense … but then so would "Dadum" and "Badum." Hell, even "Tadum" sounds more like it.
And it wasn't just me. An unscientific poll of other Vulture staffers revealed that most of them overwhelmingly favored "Badum" as the sound's proper spelling and pronunciation. One staffer astutely answered my inquiry by saying, "I feel like Badummmmm, because it's a hum." Ingenious. Another editor countered, saying, "It's so clearly a D, not a T: Dadum." Valid. One person said the word Tudum just makes them think of Tulum, the city in Mexico. Another Vulture staffer compared the sound to Cardi B's viral TikTok sound where she's interrupted as she says "today." Another inspired answer. But not one person thought it should be spelled "Tudum."
However, no one on staff at Vulture is a professional linguist, so we reached out to David J. Peterson, best known for creating languages for popular shows and movies like Game of Thrones (Dothraki) and Thor: The Dark World (Shiväisith). He said when he first saw the word Tudum, he instinctively pronounced it as "TOO-dum," and that if he were Netflix, he "would've spelled [it as] Tuh-Dum."
He went on: "The vowel that English speakers tend to ascribe to this sound is schwa (in the International Phonetic Alphabet [ǝ]). It's a sound present in English, but we don't have a single way of representing it, so if we have to, we tend to write 'uh.' Once you have the first syllable, it's easy to get the rest, so I really would've written the first syllable 'tuh' and set it off with a hyphen to let the reader know that syllable is supposed to stand on its own. Doing it as one unhyphenated word, it's hard to get an English speaker to put the stress on the right syllable (i.e., the second one)."
So, why didn't Netflix decide to go with a hyphen? David makes an astute observation: "Unfortunately you can't include a hyphen in a hashtag, so I guess they were stuck with a single word."
Yet according to our research, a small number of people at Netflix did actually consider a hyphenated word for their signature sound. On an episode of Twenty Thousand Hertz with Dallas Taylor in 2020, Netflix's vice-president of product, Todd Yellin, who led the process for Netflix's sound, did admit that the sound is "actually called 'ta-dum' internally." In the same episode, though, Taylor also spoke about the sound with Tanya Kumar, a brand-design lead at the company, and she clearly pronounces it as "Tudum."
The question remains: How did Netflix ultimately decide on "Tudum"? We asked the company for comment but have yet to receive an answer. For now, it's clear that Netflix is sticking with "Tudum" on an international scale; the word has already been established in Brazil for the company's fan event there. And Peterson, for one, thinks it could have staying power: "Who knows? If this is really successful, maybe we'll all be spelling the sound 'tudum' from now on!"