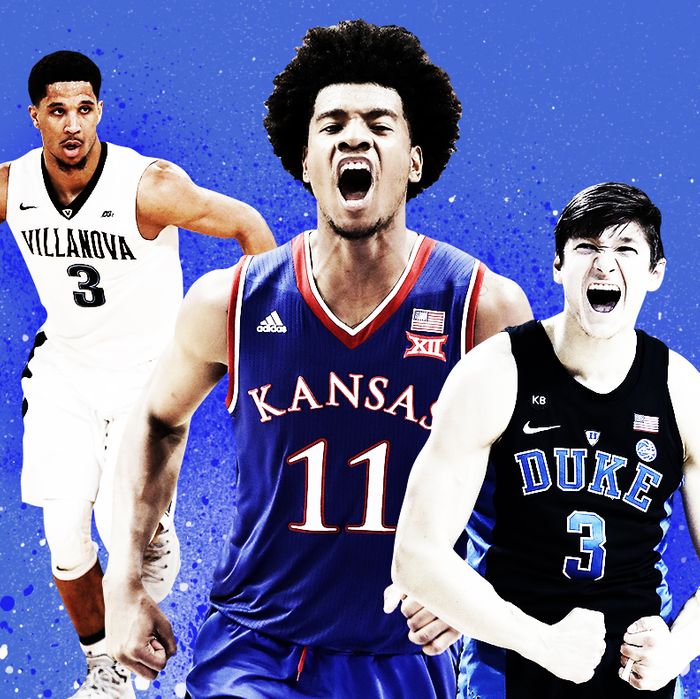 Photo-Illustration: Maya Robinson/Vulture and Photos by Getty Images
Your bracket will never be as perfect as it is on Thursday at noon ET. Here's the TV schedule for the First Four and First Round, so you can fervently watch teams you won't care about again until this time next year.
For details on how to view every game online, see our streaming guide.
First Four
Tuesday, March 14
6:40 p.m.: Mt. St. Mary's (16 seed) vs. New Orleans (16) (truTV)
9:05 p.m.: Kansas State (11) vs. Wake Forest (11) (truTV)
Wednesday, March 15
6:40 p.m.: NC Central (16) vs. UC Davis (16) (truTV)
9:05 p.m.: Providence (11) vs. USC (11) (truTV)
First Round
Thursday, March 16
12:15 p.m.: Notre Dame (5) vs. Princeton (12) (CBS)
12:40 p.m.: Virginia (8) vs. UNC Wilmington (9) (TruTV)
1:30 p.m.: Butler (4) vs. Winthrop (13) (TNT)
2 p.m.: Gonzaga (1) vs. South Dakota State (16) (TBS)
2:45 p.m.: West Virginia (4) vs. Bucknell (13) (CBS)
3:10 p.m.: Florida (4) vs. East Tennessee State (13) (TruTV)
4 p.m.: Minnesota (5) vs. Middle Tennessee State (12) (TNT)
4:30 p.m.: Northwestern (8) vs. Vanderbilt (9) (TBS)
6:50 p.m.: Maryland (6) vs. Xavier (11) (TNT)
7:10 p.m.: Villanova (1) vs. Mount St. Mary's (16) / New Orleans (16) (CBS)
7:20 p.m.: Saint Mary's (7) vs. VCU (10) (TBS)
7:27 p.m.: Purdue (4) vs. Vermont (13) (truTV)
9:20 p.m.: Florida State (3) vs. Florida Gulf Coast (14) (TNT)
9:40 p.m.: Wisconsin (8) vs. Virginia Tech (9) (CBS)
9:50 p.m.: Arizona (2) vs. North Dakota (15) (TBS)
9:57 p.m.: Iowa State (5) vs. Nevada (12) (truTV)
Friday, March 17
12:15 p.m.: Michigan (7) vs. Oklahoma State (10) (CBS)
12:40 p.m.: Baylor (3) vs. New Mexico State (14) (truTv)
1:30 p.m.: Arkansas (8) vs. Seton Hall (9) (TNT)
2 p.m.: Oregon (3) vs. Iona (14) (TBS)
2:45 p.m.: Louisville (2) vs. Jacksonville State (15) (CBS)
3:10 p.m.: SMU (6) vs. Providence (11) / USC (11) (truTV)
4 p.m.: North Carolina (1) vs. Texas Southern (16) (TNT)
4:30 p.m.: Creighton (6) vs. Rhode Island (11) (TBS)
6:50 p.m.: Kansas (1) vs. North Carolina Central (16) / UC Davis (16) (TNT)
7:10 p.m.: Dayton (7) vs. Wichita State (10) (CBS)
7:20 p.m.: Duke (2) vs. Troy (15)(TBS)
7:27 p.m.: Cincinnati (6) vs. Kansas State (11) / Wake Forest (11) (truTV)
9:20 p.m.: Miami FL (8) vs. Michigan State (9) (TNT)
9:40 p.m.: Kentucky (2) vs. Northern Kentucky (15) (CBS)
9:50 p.m.: South Carolina (7) vs. Marquette (10) (TBS)
9:57 p.m.: UCLA (3) vs. Kent State (14) (truTV)