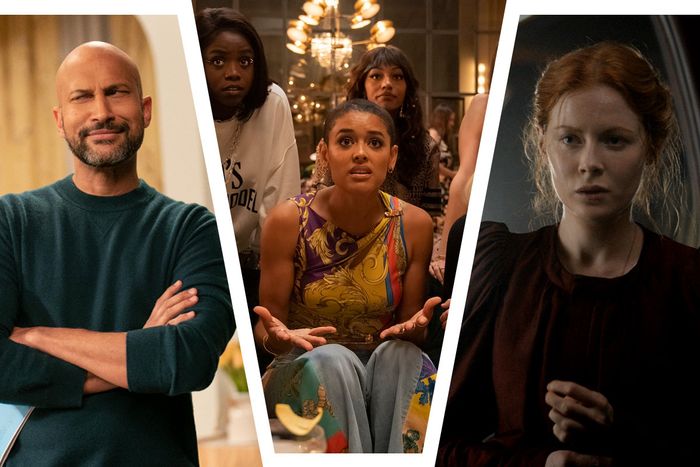 Reboot
(canceled),
Gossip Girl
reboot (canceled),
1899
(canceled)
Photo-Illustration: Vulture. Photos: Hulu; HBO; Netflix
Cancellation is so hot right now. Already in 2023, there's been a staggering amount of TV-show casualties across streaming services such as Max (formerly HBO Max), Netflix, and Hulu as well as cable-TV channels like Showtime and AMC. But that's not all — some networks are even removing existing IP from their service for the tax cut. Others, like Showtime's Three Women, which had already filmed episodes, and Netflix's The Seven Deaths of Evelyn Hardcastle, were cut before they made it to air. With all this uncertainty, it's time to take stock with an official list of the TV cancellations this year so far (including a few that were eventually saved and pulled out of purgatory). Shows like The Blacklist and Never Have I Ever, which are ending on their own terms, don't qualify. This is a list of shows that got the axe while fans watched helplessly. Did your fave make it through the purge?
61st Street (AMC)
What's it about? 61st Street is a drama focusing on institutional racism and corruption in the Chicago legal system and was canceled on January 6. Starring Courtney B. Vance, Aunjanue Ellis, and Tosin Cole, the series was intended to be two seasons, but even after the second was filmed, AMC preferred the tax break over airing the second season.
Number of seasons: One, with another filmed.
Saved!: On May 12, the CW picked up the first and second seasons of the once-AMC series. "There was a lot of love and hard work that went into making 61st Street," said Vance of the pickup. "I'm thrilled that The CW has enthusiastically given all 16 episodes of 61st Street a network home. With The CW, I'm confident that we will engage a universe of viewers who will celebrate the series with us. My cast, crew and I can't wait!" Season one will air fall 2023, and season two will join sometime in 2024.
1899 (Netflix)
What's it about? 1899 is a puzzle-box show set on a ship traveling from England to New York in, wouldn't you know it, 1899. The series was co-created by the creators of a different puzzle-box show, Dark, Jantje Friese and Baran bo Odar, who announced the cancellation on January 2, saying, "We would have loved to finish this incredible journey with a second and third season as we did with Dark. But sometimes things don't turn out the way you planned. That's life." Vulture described the series as "a highly watchable mindfuck." The cancellation of this puzzle-box show is especially difficult to swallow, as the puzzle will remain forever unsolved.
Number of seasons: One
Alaska Daily (ABC)
What's it about? Hillary Swank starred as a big shot New York journalist, who moves to Alaska and reports on the Missing and Murdered Indigenous Women (MMIW) epidemic, specifically the disappearance of one indigenous woman. The show also starred Jeff Perry, Grace Dove, Matt Malloy, and Ami Park.
Number of seasons: One
A League of Their Own (Prime Video)
What's it about? This reboot of Penny Marshall's 1992 film centered on a women's professional baseball team during the World War II era. The cast — including Abbi Jacobson, Chanté Adams, D'Arcy Carden, Roberta Colindrez, Gbemisola Ikumelo, Kelly McCormack, Molly Ephraim, and Melanie Field — were initially supposed to come back to bat for another season, but Amazon decided to strike the show out instead on August 18.
Number of seasons: One
American Auto (NBC)
What's it about? Starring Ana Gasteyer, Jon Barinholtz, Harriet Dyer, and Tye White, the series followed a group of executives at a car company in Detroit trying to reinvent the ever-changing automotive industry. However, creator Justin Spitzer has another workplace comedy in the works; NBC just picked up his pilot St. Denis Medical to series.
Number of seasons: Two
American Gigolo (Showtime)
What's it about? Based on Paul Schrader's 1980 film of the same name, American Gigolo (television's version) follows Jon Bernthal as Julian Kaye, an ex-convict attempting to make his way in the world after release. Adding insult to cancellation, after it was canceled on January 30, American Gigolo is one among many on this list that has been removed from its original platform for tax purposes: "It's about writing down millions in amortization costs these titles would have incurred in coming years," Vulture's Josef Adalian wrote about the practice made popular by Max's David Zaslav. American Gigolo is now looking for a new home, much like its protagonist.
Number of seasons: One
Avenue 5 (Max)
What's it about? Avenue 5 is a sci-fi comedy from Veep creator Armando Iannucci that follows an interplanetary cruise that has been knocked slightly off course. Hugh Laurie starred as the ship captain to crew members and passengers played by Zach Woods, Rebecca Front, Suzy Nakamura, Lenora Crichlow, Nikki Amuka-Bird, and Ethan Phillips. On February 10, Max (formerly HBO) cut their space voyage short for good.
Number of seasons: Two
Big Sky (ABC)
What's it about? A David E. Kelley crime thriller series, Big Sky was based on The Highway book series by C.J. Box. Season one starred Ryan Phillippe, but later seasons featured Supernatural's Jensen Ackles, Jamie-Lynn Siegler, and Reba McEntire. The show centered around a private detective agency in Montana, and the highway crimes people get up to under the big sky.
Number of seasons: Three
Big Shot (Disney+)
What's it about? Big Shot is a sports comedy that sees John Stamos start coaching a girls' high-school basketball team after being ousted from the NCAA. "One of the show's great assets is its cast of young women, who look like actual teenagers who might show up on an actual high-school basketball court," Vulture writer Jen Chaney wrote in a review of the first season. Unfortunately, per Deadline, Disney+ decided to bench the girls for good on February 17, along with The Mighty Ducks: Game Changers.
Number of seasons: Two
Blindspotting (Starz)
What's it about? Following the events of the film with the same name, Blindspotting starred Jasmine Cephas Jones as Ashley Rose, who has to deal with her partner and father of her child Miles being incarcerated by moving in with Miles's mother and his half-sister. Created by Rafael Casal and Daveed Diggs, the Starz show ended after two seasons alongside three other cancelations on the network.
Number of seasons: Two
Blood & Treasure (CBS, Paramount+)
What's it about? Blood & Treasure is an action-adventure drama that follows an antiquities expert (Matt Barr), and an art thief (Sofia Pernas), and their attempts to bring down a terrorist who steals treasure to fund his attacks. The series first aired in 2019, but it took a long pandemic-induced break before returning last year. Variety reported news of the cancellation on February 17.
Number of seasons: Two
Dead End: Paranormal Park (Netflix)
What's it about? Dead End: Paranormal Park is a show about a group of theme-park employees (and a 1,000-year-old demon) exploring the paranormal world. It features a gay, trans man and a bisexual, autistic Pakistani American woman as its leads and was canceled on January 13. The third season of the show already had a writers' room along with "scripts and designs and outlines," according to the show's creator, Hamish Steele.
Number of seasons: Two
Doogie Kamealoha, M.D. (Disney+)
What's it about? Inspired by Doogie Howser, M.D., Lahela "Doogie" Kameāloha is a doctor teenager who balances life working as a graduate student at a hospital in Oʻahu, Hawai'i, alongside her mother who is the chief of medicine. Starring Peyton Elizabeth Lee, Emma Meisel, Matt Sato, and Ronny Chieng, the Disney+ series was officially canceled five months after its second season dropped.
Number of seasons: Two
Doom Patrol (Max)
What's it about? The Doom Patrol is a group of misfit superheroes who are outcasts from society. A DC Comics show, Doom Patrol was canceled alongside Titans on January 25, following the DC takeover by James Gunn and Peter Safran, which was announced October 25, 2022. Doom Patrol has already aired the first batch of episodes in its fourth and final season, but still has six to go.
Number of seasons: Four
Fantasy Island (Fox)
What's it about? The remake of the 70's/80's drama, not an extension of the 2020 movie. Fantasy Island starred Roselyn Sánchez as Elena Roarke, a descendant of Ricardo Montalban's Mr. Roarke from the OG show. Guest stars included Andy Richter, Teri Hatcher, Cheryl Hines, Kyla Pratt, and Marie Osmond.
Number of seasons: Two
Gossip Girl (Max)
What's it about? A reboot of the CW prep-school classic Gossip Girl, nü–Gossip Girl flipped the script when it removed the eternal question "Who is Gossip Girl?" by making the illustrious stalker (Tavi Gevinson) part of the plot. Always stylish and with a newly diverse Gen-Z cast, the reboot "can't quite figure out whether it wants to upend the conventions of the original with some kind of Gen-Z revolution, or just carry on with the parties and glamour," Vulture writer Jackson McHenry wrote about the first season. Well, change that "can't" to a "couldn't." "We are currently looking for another home, but in this climate, that might prove an uphill battle, and so if this is the end, at least we went out on the highest of highs," said creator Joshua Safran when the show was canceled on January 19. XOXO
Number of seasons: Two
Grand Crew (NBC)
What's it about? A group of Black thirtysomethings hang out at a local wine bar (grand cru is a regional wine classification, get it?) and gets into romantic hijinx. Grand Crew was a hangout sitcom in the grand tradition of Friends and Living Single. Created by former Insecure writer Phil Augusta Jackson, the show starred such comedy ringers as Nicole Byer, Carl Tart, and Colton Dunn.
Number of seasons: Two
Grease: Rise of the Pink Ladies (Paramount+)
What's it about? Grease: Rise of the Pink Ladies is a musical romantic comedy that takes place four years before the events of the original Grease film. Marisa Davila, Cheyenne Isabel Wells, Ari Notartomaso, and Tricia Fukuhara star.
Number of seasons: One. Paramount Television Studies has the opportunity to shop the series elsewhere, according to a Paramount+ spokesperson.
Heels (Starz)
What's it about? Two professional wrestling brothers wrestle with scripted fights in the ring, trying to take over their dad's wrestling promotion, and gaining popularity as wrestlers nationwide. Starring Stephen Amell and Alexander Ludwig as the heel and face in the show, Heels finished airing its second season in mid-September, just ten days before its cancelation announcement.
Number of seasons: Two
Hell of a Week with Charlamagne Tha God (Comedy Central)
What's it about? Initially launched as Tha God's Honest Truth with Lenard 'Charlamagne' McKelvey, the late-night talk show hosted by Charlamagne Tha God covered current events with celebrity guests and lively panel discussions. Executive producer Stephen Colbert must have had a bad day on May 18 — per Deadline, that's when Hell of a Week's cancellation was announced alongside that of another Colbert project, Tooning Out the News. Number of seasons: Two
Home Economics (ABC)
What's it about? The sitcom followed three adult siblings (Topher Grace, Caitlin McGee, and Jimmy Tatro) in three different tax brackets. On September 29, ABC ultimately decided that the math didn't add up to continue the show.
Number of seasons: Three
How I Met Your Father (Hulu)
What's it about? Hey now, hey now, this is not what dreams are made of. The Hilary Duff-led sequel series to CBS's How I Met Your Mother has been canceled, according to Deadline. The show was framed around Sophie (Kim Cattrall) telling her son how she met his father, which involved flashbacks of her younger self (Duff) and a cast of friends played by Chris Lowell, Francia Raisa, Tom Ainsley, Tien Tran, and Suraj Sharma.
Number of seasons: Two
I Love That for You (Showtime)
What's it about? Vanessa Bayer stars in this comedy as a shopping-channel host who lies about her childhood cancer returning. Deadline reports that Showtime is open to another streamer stepping in to save the show, and frankly, we'd love that for them.
Number of seasons: One
Inside Job (Netflix)
What's it about? Inside Job was an animated series following the lives of a group of workers handling the world's conspiracies. While a second season of the show was ordered, Netflix ended up reneging on the renewal and halting season two, which will not be aired, the show's creator, Shion Takeuchi, said on January 9.
Number of seasons: One, though a season-two renewal was previously announced
Judge Mathis (Warner Bros.)
What's it about? Judge Mathis is a show where Judge Greg Mathis, well, judges. The courtroom TV series, which has covered more than 13,000 cases, won a Daytime Emmy in 2018. According to Variety, Warner Bros.'s verdict to cancel the show on February 17 alongside The People's Court came because daytime syndication just isn't doing so hot anymore.
Number of seasons: 24
Kindred (FX/FX on Hulu)
What's it about? Kindred was the first of quite a few planned Octavia Butler adaptations to come out. Created by playwright Branden Jacobs Jenkins, the show followed a young Black television writer who keeps getting transported back in time to the antebellum South. Kindred was canceled on January 30, and The Hollywood Reporter noted that Jenkins is "expected to shop the drama from FX Productions, as he envisioned a multiple-season run for the series."
Number of seasons: One
Let the Right One In (Showtime)
What's it about? Let the Right One In is an adaptation of a Swedish vampire novel, following a father caring for his permanently 12-year-old vampiric daughter. If that sounds fun to you, well … too bad! Not only is Let the Right One In canceled, but it was removed from Showtime's streaming platform, alongside American Gigolo, on January 30.
Number of seasons: One
National Treasure: Edge of History (Disney+)
What's it about? Set after the events of the second movie in the National Treasure franchise, the show follows a DREAMer named Jess (Lisette Olivera) who is searching for a lost Pan-American treasure and answers about her family. Deadline reported on April 21 that the series would not return for a second season, effectively killing hopes for a Nic Cage cameo.
Number of seasons: One
NCIS: Los Angeles (CBS)
What's it about? By far the most tenured show on this list, NCIS: L.A. ran for over 300 episodes. Unfortunately, the show simply became to expensive to produce, but for fans of the show (and the children of fans of the show), don't worry — the January 20 cancellation means that the creators have enough time to craft a finale for May, according to Deadline.
Number of seasons: 14
One of Us Is Lying (Peacock)
What's it about? One of Us Is Lying is a sad loss for Peacock, as it was its first pilot to go to series; but with Poker Face and The Traitors gaining the previous ugly stepsister of streaming services some real traction, it must have softened the blow. OoUIL follows a group of high-school student who are accused of murder and is based on a book of the same name by Karen M. McManus. The show was canceled on January 20 alongside Vampire Academy.
Number of seasons: Two
Pantheon (AMC)
What's it about? Pantheon is an animated series starring the voices of Daniel Dae Kim, Paul Dano, and Taylor Schilling and based on a series of short stories by Ken Liu. The show, which was canceled on January 9, follows a girl who receives help from a version of her recently deceased father, who uploaded his consciousness to the cloud. Pantheon is yet another show with one season aired and another season ordered whose second season was scrapped (despite being produced). Pantheon's first season has also been taken off of AMC+.
Number of seasons: One
Perry Mason (Max)
What's it about? The prequel to Perry Mason, also titled Perry Mason, has been canceled after two seasons, despite getting four Emmy nominations during its first season. The series followed the titular character as they made their way from private investigator to fancy lawyer in the 1930s. While Max (formerly HBO) is bidding farewell to the show, they're still open to working with producers Robert Downey Jr. and Susan Downey on future projects.
Number of seasons: Two
Physical (Apple TV+)
What's it about? Rose Byrne starred as 80's housewife who goes on a journey of self-discovery through aerobics. A dramedy heavy on the drama, Physical depicted the struggles of an eating disorder and the negative self-talk characteristic of it through Byrne's narration. Rory Scovel and Zooey Deschanel also starred. The show will air its final season on August 2. But Byrne will be right back on Apple TV+ with Platonic co-starring Seth Rogen.
Number of seasons: Three
Pitch Perfect: Bumper in Berlin (Peacock)
What's it about? This Pitch Perfect spinoff centered on Adam Devine's Bumper Allen and his musical career in Germany several years after the events of the original franchise. Flula Borg, Sarah Hyland, Lera Abova, and Jameela Jamil also starred. Per Deadline, strike delays ended up causing Peacock to say "Aca-wiedersehen" to an originally announced second season.
Number of seasons: One
Queen of the Universe (Paramount+)
What's it about? Queens of the Universe is a reality show that brings together drag queens from across the globe to battle in the singing competition. Judges include Leona Lewis, Trixie Mattel, Michelle Visage, Mel B, and Vanessa Williams.
Number of seasons: Two. It leaves Paramount+ on June 30.
Reboot (Hulu)
What's it about? Reboot was a meta little show about a group of actors attempting to work together when their old show, Step Right Up, gets rebooted, starring Keegan-Michael Key, Johnny Knoxville, Judy Greer, and Calum Worthy as the cast members and Rachel Bloom as the reboot-er. The show was canceled on January 30, as of February 8, looks like it won't get a reboot of its own.
Number of seasons: One
Red Table Talk (Meta/Facebook Watch)
What's it about? The Pinkett Smith family talk show has ended its run on Meta, née Facebook Watch, according to Deadline. The news came as Meta's Head of Development and Programming, Mina Lefevre, made her exit from the company. According to its producer, Red Table Talk is shopping around for a new room in which to place its titular table.
Number of Seasons: Five
Run the World (Starz)
What's it about? Starring Amber Stevens West, Andrea Bordeaux, Bresha Webb, and Corbin Reid, the series follows a group of Black best friends who are taking the world by storm, beginning with Harlem. The show went on for two seasons, and the second season finale aired this July.
Number of seasons: Two
Sex/Life (Netflix)
What's it about? Sex/Life is following the same fate as its many Netflix counterparts by being canceled after two seasons. Adapted from the book 44 Chapters About 4 Men, the series followed Sarah Shahi as Billie Connelly, a woman who began questioning her so-called perfect life with her husband and two children and yearned for the wild child days of her past. The short-lived series also starred Margaret Odette, Mike Vogel, and Adam Demos.
Number of seasons: Two
Single Drunk Female (Freeform)
What's it about? Samantha Fink, a 28-year-old alcoholic, attempts to stay sober after hitting rock bottom multiple times. She tries to avoid jail time, loses her job due to her alcoholism, and is forced to move back in with her mother. Starring Sofia Black-D'Elia, the Freeform series was canceled after two seasons alongside The Watchful Eye.
Number of seasons: Two
South Side (Max)
What's it about? South Side followed two best friends who graduated community college in the south side of Chicago and were ready to take on the world. Starring Sultan Salahuddin and Kareme Young, the series began on Comedy Central before moving to Max.
Number of seasons: Three
Snowpiercer (TNT)
What's it about? A show set in the world of Bong Joon Ho's film of the same name, Snowpiercer was actually canceled in June 2022. So why is it here? Because TNT announced the choice not to air the already produced fourth season of the show on January 13, despite originally saying the show would end with season four.
Number of seasons: Four-ish
Star Trek: Prodigy (Paramount+)
What's it about? Star Trek: Prodigy is a 3D animated series following a group of young aliens as they commander an abandoned Starfleet ship found in the Tars Lamora prison colony. Taking place five years after the events of Star Trek: Voyager, the group must work together to venture from the Delta Quadrant to the Alpha Quadrant.
Number of seasons: One. The second season is currently in post production with a source telling Vulture that Paramount+ plans to look for a new home for the series. Star Trek: Prodigy will leave the platform soon.
The Chair (Netflix)
What's it about? This is kind of a weird one. The Chair follows a university English professor named Ji-Yoon Kim (Sandra Oh) who becomes the chair of her department. It was originally billed as a limited series when it debuted in 2021, but Oh and creator Amanda Peet always said they wanted to tell more of this story. Later, Peet confirmed that it was not picked up for a second season this month, on January 10.
Number of seasons: One
The Company You Keep (ABC)
What's it about? This was Milo Ventimiglia's follow-up to his other hit ABC show, This Is Us. Based on the South Korean drama My Fellow Citizens!, the show was about a con man (Ventimiglia) falling in love with a CIA agent (Catherine Haena Kim). The show's sole season ended on a cliffhanger, with the central couple breaking up over each other's secrets, but with the CIA agent flipping the con man into being an asset in order to protect his family. Would these crazy kids ever have found love again? You'll have to go back to the source material k-drama in order find out.
Number of seasons: One
The Idol (HBO)
What's it about? The Weeknd (a.k.a. Abel Tesfaye) and Sam Levinson's strange take on the dark side of stardom and cults has finally come to an end. Starring Tesfaye and Lily-Rose Depp, the series followed a pop star named Jocelyn (Depp) who got caught up in club owner and cult leader Tedros (Tesfaye). The Idol, like most pop stars, fell into scandals of their own, from complete rewrites and new directors.
Number of seasons: One
The Game (Paramount+)
What's it about? The Game is a revival of the 2006 CW/BET series of the same name. It follows a group of pro football players that relocate from San Diego to Las Vegas, examining modern day Black culture.
Number of seasons: Two. CBS Studios will have the opportunity to place the series elsewhere, a Paramount+ spokesperson tells Vulture.
The Great (Hulu)
What's it about? Bringing a saucy vibe to imperial Russian history, The Great starred Elle Fanning and Nicholas Hoult as Catherine the Great and her on-again-off-again-off-with-his-head husband Peter III. The show earned seven Emmy noms in its run.
Number of seasons: Three
The Mighty Ducks: Game Changers (Disney+)
What's it about? A continuation of the '90s Disney franchise, The Mighty Ducks: Game Changers brought hockey coach Gordon Bombay (Emilio Estevez) back to the ice. He helps Evan (Brady Noon) and his mother Alex (Lauren Graham) build a team of underdogs to challenge the now-powerhouse Mighty Ducks. The show was canceled alongside fellow Disney+ sports show Big Shot on February 17.
Number of seasons: Two
The Mosquito Coast (Apple TV+)
What's it about? Loosely based on the 1981 novel by Paul Theroux (and its accompanying 1986 movie adaptation starring Harrison Ford), a billionaire (Justin Theroux, who is Paul's nephew) moves his family to Latin America and goes on the run from the U.S. government. Unfortunately for AppleTV+ subscribers, the show ended the second season on a massive, potentially deathly cliffhanger, so they'll just have to be satisfied with Severance season two.
Number of seasons: Two
The Mysterious Benedict Society (Disney+)
What's it about? Based on the iconic children's series of the same name, The Mysterious Benedict Society concerns a group of orphans who are recruited to help save the world by a mysterious man named Nicholas Benedict (Tony Hale). "Spoiler alert for how the story ends: The kids stay friends forever," series creator Phil Hay shared with the news on Twitter January 29.
Number of seasons: Two
The Other Two (Max)
What's it about? Two dysfunctional, fame-seeking siblings, Brooke and Cary Dubek, deal with their teen brother Chase Dreams suddenly becoming a pop sensation. The comedy series, which first began on Comedy Central, met its end surrounding allegations that resembled a The Other Two plotline. The Hollywood Reporter alleged that several members of the staff complained to HR about abusive behavior from co-creator Chris Kelly. However, the complaints were reportedly not a part of the decision process to renew the show.
Number of seasons: Three
The People's Court (Warner Bros.)
What's it about? The People's Court is a staple courtroom show that was most recently presided over by Judge Marilyn Milian. This latest revival began in 1997, while the original series ran from 1981 to 1993. The show has won four Daytime Emmys. Variety reported on February 17 that Warner Bros. was canceling the show alongside Judge Mathis because of the decline of daytime syndication.
Number of seasons: 26 of this iteration, 39 total
The Peripheral (Prime Video)
What's it about? Loosely based on the William Gibson novel of the same name, The Peripheral followed a VR gamer (Chloë Grace Moretz) who connects to an alternate reality that is more than it seems. The sci-fi series was initially renewed for another season, but Variety reported on August 18 that due to strike stoppages, Prime Video no longer saw a future for this futuristic show.
Number of seasons: One
The Resident (Fox)
What's it about? This medical drama stars Matt Czuchry as the titular resident. Per The Hollywood Reporter, Fox decided to pull the plug on the show set at Chastain Park Memorial Hospital on April 6, almost three months after season six (the shortest season so far) ended.
Number of seasons: Six
The Watchful Eye (Freeform)
What's it about? Elena Santos works as a live-in nanny for a rich New York family and uncovers deadly secrets for those who live in their building. However, unbeknownst to everyone else, Santos had secrets of her own. Created by Grace and Frankie's Julie Durk, the short lived drama only lasted for one season, as it was canceled alongside Single Drunk Female.
Number of seasons: One
The Winchesters (CW)
What's it about? As a prequel to Supernatural, the short-lived series followed the lives of Dean Winchester's parents and how they met. After a month in limbo and with attempts to find the show a new home, Jensen Ackles finally confirmed in June that it's finished. "With a massive Network shift coupled with an industry strike…welp…that's some unfortunate timing," Ackles said on Twitter, in reference to the WGA strike.
Number of seasons: One
The Wonder Years (ABC)
What's it about? Inspired by the 1988 series of the same name, The Wonder Years followed a Black middle-class family in Montgomery, Alabama. Set in the 1960s, the show was told from the point of view of 12-year-old Dean, whose older self (Don Cheadle) narrated the show. The not-so-wonderful news for The Wonder Years comes a month after its already-delayed second season finished airing.
Number of seasons: Two
Three Pines (Prime Video)
What's it about? In the series based on mystery novels by Louise Penny, Alfred Molina starred as chief inspector Armand Gamache, who is sent to solve a series of murders in Three Pines, Quebec. The first and only season of the show ended with a deadly cliffhanger. Showrunner Emilia di Giorlamo shared her disappointment with the cancellation on Instagram, explaining that "Leftbank, Sony & Prime Video all wanted to bring the show back but were unable to reach a mutually beneficial agreement."
Number of seasons: One
Titans (Max)
What's it about? The sister cancellation of Doom Patrol, Titans was another DC series that lasted four seasons. Luckily for fans, the cancellation on January 25 after the season-four mid-season finale leaves enough time for the final six episodes to wrap up the series with intention. "We have six episodes left to unleash upon the world that we hope will give our beloved characters the creative closure we all know they deserve," Titans showrunner Greg Walker said, according to Deadline.
Number of seasons: Four
Tooning Out the News (Comedy Central)
What's it about? Also known as Stephen Colbert Presents Tooning Out the News, Stephen Colbert's satirical show covered real news events with the help of some big comedy names. A mix of live-action and animation, it aired its first two seasons on CBS All Access (now Paramount+) before moving to Comedy Central. Per Deadline, the Emmy-nominated show was canceled on May 18.
Number of seasons: Three
Truth Be Told (Apple TV)
What's it about? The Apple TV drama followed Octavia Spencer as Oakland journalist Poppy Parnell, a podcaster who in the first season revisits the case that made her famous in order to find the truth. Each season saw Parnell investigating a different case, with the last season following an investigation of missing Black girls from a local school that lacked media attention. "I wanted to share the news that after three seasons of seeking truth and justice, Poppy Scoville is going on a much-needed vacation," writes Spencer on Instagram, announcing the cancelation.
Number of seasons: Three
Vampire Academy (Peacock)
What's it about?: Yet another book adaptation, this YA series by Richelle Mead gave exactly what it promised: a school full of vampires. Unfortunately, that wasn't enough for Peacock, which canceled the show on January 20. Too bad a beloved show isn't immortal.
Number of seasons: One
The Venery of Samantha Bird (Starz)
What's it about? Starring Katherine Langford as the titular character, the series follows a woman who falls in love with her childhood sweetheart, only for a darker side of the relationship to unfold. Due to the Hollywood strikes, the production stopped short of two episodes and never completed filming.
Number of seasons: None
Winning Time (HBO)
What's it about? HBO's dramatization of the Lakers' ascent to the heights of basketball fame. The show spent most of its time gearing up for the 1984 NBA Finals between the Lakers and Celtics.
Number of seasons: Two
Young Rock (NBC)
What's it about? Imagine if Dwayne "The Rock" Johnson was young. Or if Young Sheldon was Dwayne "The Rock" Johnson. You get it.
Number of seasons: Three
Ziwe (Showtime)
What's it about? Ziwe Fumodoh's wily talk and variety show began as a web series before migrating to viral Instagram Lives during the pandemic and ultimately ended up on Showtime. Ziwe has an often antagonistic relationship with her guests, attempting to bait them into saying something racist/sexist/anything-ist. The cancellation came on April 5, just a few days after Showtime exec Chris McCarthy announced that the network's new strategy will be to get franchises, anti-hero shows, and diverse cultures, according to Deadline. To McCarthy, we gotta say: Ziwe may not be a franchise … yet. C'mon, man!
Number of seasons: Two