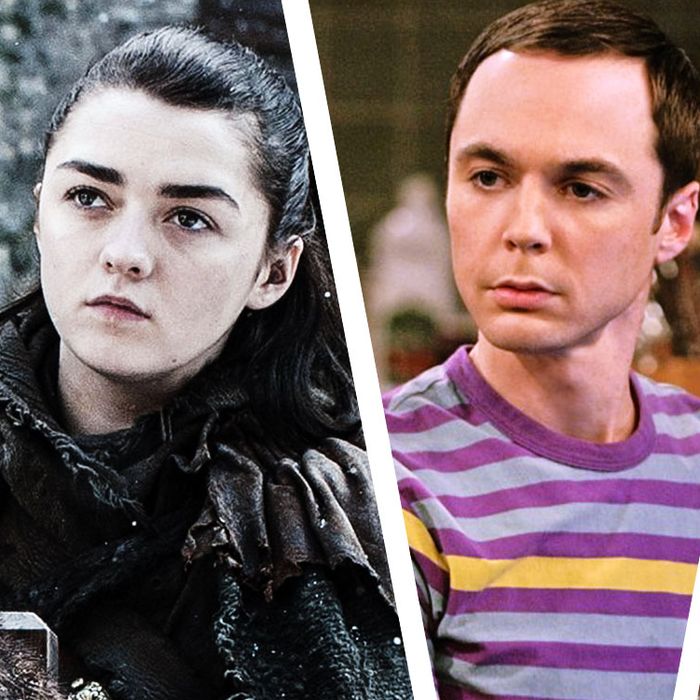 It might only be January, but our television overlords have already resolved to make us stroke our imaginary goatees while pondering an age-old question about finales: Would you rather have your favorite show say farewell on its own terms, or let it continue on, and on, and on, even if it turns to mush in the process? Well, it doesn't really matter what us viewers think, anyway, as we already know that for 20 shows, their upcoming (or current) season will double as its last. That number will likely be increasing in the upcoming months, too, so Vulture is keeping a running tally of every show we're going to lose in 2019. Just don't cry because they're ending. Smile because the content gods blessed us with them to begin with.
The Big Bang Theory
Finale date: May, CBS
Total episode count: 279
The elevator pitch: A whole lot has happened to our gang of nerds over the sitcom's 12 (!) seasons, but as a general plot rule of thumb: Two Caltech researchers, one who possesses basic social skills and one who's a major pain in the ass, live across the hall from a bubbly waitress, and a slow-burn of a romance begins for two of them. The researchers are also good friends with two others from the university, and in later seasons, two HBIC women are introduced as love interests. [Laugh track cue.] There's also a lot of fake eating.
Game of Thrones
Finale date: Summer, HBO
Total episode count: 73
The elevator pitch: George R. R. Martin's sprawling fantasy world is more than just a tits-and-dragons show, although, admittedly, it's sometimes a bit hard to keep up with everything (and everyone) that goes on. All you really need to know going in is that a bunch of noble families are engaged a near-constant, very gruesome battle to seize the Iron Throne, and take control of their homeland, a.k.a. Westeros. Don't get attached to too many characters.
Broad City
Finale date: March, Comedy Central
Total episode count: 50
The elevator pitch: It's 4:20 all the time for these relentlessly perky Jewish millennials, who just want to smile (and bang) their way through the many annoyances that come with being a young woman in New York City. They kind of have their act together, but also kind of don't, but at least we get to reap the comedic rewards of their schemes-on-schemes-on-schemes, right?
Orange Is the New Black
Finale date: Late 2019, Netflix
Total episode count: 91
The elevator pitch: The past of a well-off Manhattan woman comes to bite her in the ass when her drug-smuggler ex-girlfriend testifies in court that, about a decade ago, she transported some luggage full of drug money on her behalf. As such, she has to leave her cushy life and fiancé behind for a cool 15 months for a minimum-security women's prison, which is a lot more depressing than Martha Stewart lead us to believe. Even worse? Her ex is there.
Veep
Finale date: Spring, HBO
Total episode count: 67
The elevator pitch: The female vice-president of our fine country isn't exactly jazzed about being relegated to second-in-command status, and so, a calculated path of power moves are executed by her and her varied-intelligence staff to get that sweet, sweet, Oval Office spot — an ascension that, believe it or not, gets increasingly realistic with every passing month. Mostly, though, the show's a master class in how to curse.
Homeland
Finale date: Summer, Showtime
Total episode count: 96
The elevator pitch: The trials and tribulations of Carrie Mathison and her conspiracy cork boards would probably take over an hour to explain fully, but if you wanted to start right at the beginning: Working as an operations officer for the CIA, our bipolar heroine jumps ship to the counterterrorism unit to rescue a prisoner of war who's been captured by Al Qaeda for over a decade. However, upon his rescue, she believes he's actually been turned by the terrorist organization and is planning a massive-scale attack on the USA. Lots and lots and lots of increasingly wild things ensue.
Unbreakable Kimmy Schmidt
Finale date: January 25, Netflix
Total episode count: 52
The elevator pitch: A young woman manages to escape underground captivity 15 years after her abduction, and the first thing this "mole person" does is pack up and move to New York City — quickly finding a zany roommate, an even zanier landlady, and a stable job as a nanny for a tony Manhattanite. She still has a lot to learn about the modern world, obviously, but she has a pretty decent support system of people for whenever she epically fails, which is … a lot.
Mr. Robot
Finale date: Fall, USA
Total episode count: 44
The elevator pitch: A network engineer who can barely tolerate going to work with his medley of social and identity disorders finds solace in hacking people from around the world, people whom he believes deserve to get their lives destroyed. His vigilantism soon gets on the radar of an anarchist who oversees a secret group of people planning various acts of "hacktivism," but the line of what's real and what's not may prove to be too much for our hacker to handle — even if those acts are epic.
The Deuce
Finale date: Fall, HBO
Total episode count: 26
The elevator pitch: It's the 1970s in New York City's Times Square, and there's a whole lot of girls, girls, girls and porn, porn, porn everywhere you step. We get to see this burgeoning industry through the eyes of a mafioso twin brother duo and a loud and proud sex worker, who's able to squeeze the industry by its balls and sense the future is transitioning from a per-hour business to acting in and directing the films everyone wants to watch. We love an astute queen!
Jane the Virgin
Finale date: Mid-late 2019, the CW
Total episode count: 100
The elevator pitch: As a fun and clever take on the telenovela, a series of events leads an engaged young woman — who's waiting for her wedding night to lose her virginity — to accidentally get artificially inseminated at her doctor's appointment. She decides to keep carrying the child for the sake of the couple who desperately want to start their family, but a long and twisty road needs to new loves, heartbreaks, and a whole lot of mischief for our Miami girl.
Transparent
Finale date: Fall, Amazon
Total episode count: 41
The elevator pitch: Before the show as we know it imploded due to many sexual-harassment allegations coming to light against Jeffrey Tambor, Transparent quietly told the story of a retired professor who tells his well-off, Jewish family that he's transgender — a shocking announcement that spurs big changes for the wife and three children. The finale will be a musical episode.
Elementary
Finale date: Late 2019, CBS
Total episode count: 154
The elevator pitch: A postmodern reimagining of Arthur Conan Doyle's Sherlock Holmes stories, we get to follow our smart and intuitive chap and a gender-flipped Watson, who moves in with Holmes as a sober companion after an, uh, incident requires an intervention. They're soon consulting on crimes for the NYPD on a near-daily basis thanks to his virtuosity and connections, and what do you know, a beautiful partnership is solidified.
Crazy Ex-Girlfriend
Finale date: Spring, the CW
Total episode count: 62
The elevator pitch: A high-powered lawyer decides to abandon her life in Manhattan to move across the country to West Covina, California, to win back the affections of her camp boyfriend after a chance (or celestial?) encounter. A new job, new friends, new meds, and new stalker antics to win back the guy ensue — but trust us, it's so, so much more than that.
The Affair
Finale date: Fall, Showtime
Total episode count: 52
The elevator pitch: Before there was any mysterious behind-the-scenes tension, The Affair was a moody marital drama about the repercussions of two married people doing the bedroom tango in Montauk. The twist, though, is that you get to see their affair through different "perspectives," which makes you question who's the unreliable narrator and who's actually telling the truth. Hint: It could be both?
Gotham
Finale date: Spring, Fox
Total episode count: 100
The elevator pitch: Because we can never have enough Batman content, Gotham finds a way to infiltrate the early life of Bruce Wayne with a very crime-y lens. James Gordon is just starting out in the city's police department while our future superhero innocently heads off to middle school — or is he? — and Gordon, unsurprisingly, crosses paths with a lot of DC universe villains while trying to do his damn job.
Shadowhunters
Finale date: Summer, Freeform
Total episode count: 57
The elevator pitch: Abiding by the classic "what do you mean I have supernatural powers?!" plot, a Brooklyn girl gets a rude awakening on her 18th birthday when she discovers (1) She has angelic blood; (2) She now has to protect the world from demons and what-not; (3) Brooklyn is gentrifying. It doesn't exactly help matters that her dad is also evil and decided to kidnap her mom. Just let the girl go to school!
iZombie
Finale date: Summer, Freeform
Total episode count: 71
The elevator pitch: A normal gal in Seattle has the displeasure of turning into a zombie after a boat party, and, being ever-so-practical, realizes she has to change her life to adapt to (and hide) this newfound desire for brains. She breaks up with her fiancé and takes a job at a morgue to feast! on! dead! brains! with low-key assistance from her confidant/colleague, and, oh yeah, she also helps the police department solve crimes through dead-brain-osmosis. She's a real multi-hyphenate.
Killjoys
Finale date: Fall, Syfy
Total episode count: 50
The elevator pitch: The show's name is pretty literal, as it centers around a trio of intergalactic bounty hunters who have to suck it up and remain neutral while dealing with just about every problem their all-powerful coalition tasks them with fixing. Too bad a major class war is on the horizon.
Easy
Finale date: Late 2019, Netflix
Total episode count: 24
The elevator pitch: Every episode in this romantic-dramedy features a change of cast and narrative — truly an anthology! — but the fundamental tenets remain the same, which are different love stories around Chicago. The likes of Orlando Bloom, Dave Franco, Emily Ratajkowski, and Judy Greer pop up.
Vikings
Finale date: Late 2019, History
Total episode count: 89
The elevator pitch: If you like period dramas but don't want to be swept up in, say, ornate costumes and stuffy palaces, Vikings will transport you to the wonderful world of Scandinavia in the Viking Age where disease, famine, and more disease runs rampant — even if you're lucky enough to be running in the crew of legendary viking Ragnar Lodbrok. (A real, cool guy from back in the day!) Let us tell you, those ship journeys are tough.