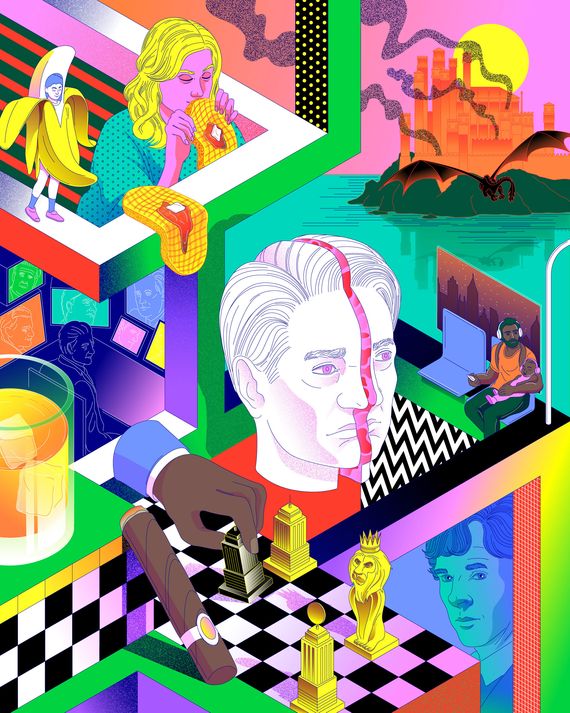 Clockwise from top: The sack of Kings Landing from
Game of Thrones
, Earn and his baby daughter from
Atlanta
, Agent Dale Cooper from
Twin Peaks: The Return
, Sherlock Holmes, the
Empire
chessboard, whiskey and cigars from
Mad Men
,
The Newsroom
, George Michael's banana costume from
Arrested Development
, and Leslie Knope's waffle obsession from
Parks and Recreation
.
Illustration: by Ari Liloan
The evolution of television in the aughts was a story bigger and more surprising than any series dared to invent. When this decade started out, people heard the word "television" and pictured a rectangular screen sitting on a cabinet or hanging on a wall. The cream of TV's crop was still on cable. The most attention-getting work was still in the hour-long drama format. But as Netflix rented more and more seasons of existing series to draw eyeballs to their streaming platform (the old syndication model moved to the internet), it quickly became clear to writers, directors, and producers that the standard 60- or 30-minute episode was arbitrary, opening up all sorts of new possibilities for structuring stories and delivering fresh dollops of characterization and plot.
Then came the boom in original content, which begat the rise of not only Netflix, but Hulu, Amazon Prime Video, YouTube, Apple TV+, and the juggernaut Disney+, all treating TV as a way of drawing traffic and enticing new subscribers (the premium-cable business model all over again, somewhat modified). The tail wags the dog now, to such an extent that cable channels and networks alike have essentially become branded production houses supplying shows to streaming platforms that increasingly seem to be the only place people are interested in watching TV anymore. On the cusp of 2020, it's hard to say what, exactly, the word "television" even means, now that everything is classified by media corporations as "content." The most financially successful film series of the decade, the Marvel Cinematic Universe, was plotted and written as if it were an enormous TV series that released three episodes a year that only played in theaters, while at the same time, HBO threw mountains of cash at Game of Thrones, a TV show that was as lavish as any Marvel installment and generated prerelease buzz by screening episodes in IMAX theaters. The 18-hour Showtime series Twin Peaks was claimed as the decade's best movie by a Cahiers du Cinéma poll, while Netflix's The Irishman, Dolemite Is My Name, and Marriage Story are essentially TV movies that got theatrical releases in order to satisfy Oscar eligibility rules. In terms of industry structure and artistic self-regard, the difference between 2010 and 2019 in TV is as drastic as the difference between 1945 and 1955 in the movie business, which was transformed by the threat of a rival medium called — you guessed it — television.
That's a lot to take into account when you're doing a critical survey of the decade in television, and we'd be lying if we said we covered all of it. The word "prestige" has been thrown around a lot, but in an era with so many shows — good, bad, and somewhere in between — there are also many different ways to define quality. The following list, compiled and written by Vulture's TV critics and editors, is an ambitious and surely doomed attempt to create a taxonomic overview of the medium in the past ten years. It focuses on the shows more than the technology, the format, or the platform — though hopefully you'll gain insight into the effect of those last three forces by reading what we have to say, positive and negative, about your favorites.
We kept our criteria simple. First, we only wrote about scripted programs, limited-run series, and anthologies, but ruled out TV movies (does that phrase even make sense now?), unscripted programs, news, sports, and so on. Second, if a series started its run prior to 2010, it was deemed ineligible unless it aired the majority of its episodes in this decade. (That resulted in the exclusion of Two and a Half Men and the inclusion of Mad Men and Breaking Bad; Dexter, which aired exactly half of its episodes in this decade, was a coin toss.)
There is no such thing as objective criticism, and this list certainly isn't pretending to be anything of the sort. We included and excluded shows, praised or panned them, and chose particular lenses through which to view them, based on our own interests and value systems. Each section only mentions the series that we felt best represented that tier of quality. Our fondest hope is that our list will give you a sense of the vastness, richness, and ambition of scripted television in the past ten years, and a sense of what we thought was (and wasn't) worth shouting about.
Table of Contents
The Best Show | The Runners Up | Indisputable Classics | Disputable Classics | Prestige TV That Was Actually Good | Total Delights | Better Than Their Titles | The Unstoppables | Mad Geniuses | Should Have Been a Limited Series | Laundry Folders | Beautiful Disasters | Glowdowns | Prestige Tryhards | Actual Disasters | The Worst Show
The Best Show of the Decade
Twin Peaks: The Return
(Also file under: Beautiful Disasters, Mad Geniuses, Prestige TV That Was Actually Good)
As prophesied by Laura Palmer on the original Twin Peaks, co-creators David Lynch and Mark Frost returned for … well, not exactly a continuation. We're still arguing about what, exactly, The Return was, what it was saying, what it was doing, what it all meant. Owing more to Lynch's aggressively experimental post–Twin Peaks output than to the more narratively anchored work he'd done in the lead-up to the original ABC series, the sum total felt like an enormous, unsettling, provocative, playful deconstruction of Twin Peaks and everything it meant. Many derided it as unnecessarily obscure, intellectual, and cold, and complained that it appeared to be toying with the audience; others discerned a subterranean logic and structure — seemingly inspired by painting, music, and gallery installations — and found it funny, beautiful, terrifying, and at times intensely moving.
Other shows made powerful impressions during the past decade, but no other hinted at an entirely new way of making series television. No series sparked such intense and complex debates about whether it was a TV show — dependent for its impact on weekly release, as well as a ritualized structure, complete with opening and closing credits — or a continuous 18-hour movie cut into same-size pieces. And no series was as determined to look beyond the present moment and peer into the future of the medium. Even the greatest TV achievements of the decade — including The Leftovers, Mad Men, and Breaking Bad — were to some extent drawing lessons from the original Twin Peaks. Lynch and Frost, meanwhile, devised a dazzling new thing that had the characteristics of the series that inspired it, but that otherwise insisted on confounding all expectations of what television could be. Like the monolith that triggers the events of 2001: A Space Odyssey, The Return is so unlike any object that had previously inhabited a once-familiar landscape that we have no choice but to treat it as an imperative to evolve. —Matt Zoller Seitz
Skip to the worst show of the decade ➽
The five shows that missed the top spot by the slimmest of margins.
A testament to the power of good old-fashioned storytelling, The Americans never formally pushed the boundaries of television, but it remains a standout for the clockwork precision of its narrative, the transcendence of its performances, and the intelligence of its direction. It was provocative in its exploration of desire, national loyalty, family, and marriage. Its cast sizzled with pitch-perfect chemistry. Even as its story twisted and turned, the show never lost sight of the internal machinations of its morally and personally tangled cast of characters. I return to the show most often to watch Keri Russell and Matthew Rhys, who imbued the fraught arc of their show's core relationship with fury and grace. —Angelica Jade Bastién
A merciless narrative contraption that ensnared viewers from frame one and left them elated or furious (or both), Vince Gilligan's Albuquerque-based crime thriller balanced character comedy, psychological drama, social satire, and ultraviolence that inspired heated arguments about the ethics of rooting for bad people. In the end, it also represented the purest possible version of binge TV. This was ironic in retrospect: The show debuted in 2008, premiered new installments every week on an ad-driven cable channel, but eventually built its audience on Netflix. It's a bridge between TV's current era of serialized storytelling and the one that it effectively erased. —MZS
Looking back, Enlightened's focus on latent female and anti-Establishment rage, the insidiousness of social media, and the wellness obsession seems prescient. Sublimely written by Mike White and heightened by Laura Dern's performance as Amy Jellicoe — one of the best of her career, which obviously is a bold statement — Enlightened was seminal television that feels even more seminal in retrospect. The promotional image of Dern from season one, her mascara smudged, her lips curled into a fed-up snarl, isn't just the sight of a woman who is "over it," as Amy once put it, but a woman who's ready to start a revolution. —Jen Chaney
The Leftovers
(Also file under: Mad Geniuses)
Like Lost, Damon Lindelof's previous decade-defining show, The Leftovers presented a supernatural circumstance unlike anything we've experienced and made it a vessel for understanding how to cope with trauma. The HBO drama asked, "How do you go on when the world has gone mad?," and the answer was, "You try to keep moving and you try to rebuild." The Leftovers itself did exactly that: After a very solid first season, it dramatically shifted settings and added characters in its second season, resulting in a ten-episode masterpiece. Then, its third and final season culminated in spectacular fashion, resolving certain questions without definitively answering its central mystery. The Leftovers gave us some of the most unforgettable, haunting images I've ever seen on television, from the sight of Nora Durst (Carrie Coon) discovering wax replicants of her husband and children sitting at the kitchen table, to a shaky-voiced Kevin Garvey doing Simon & Garfunkel karaoke to sing himself back home. Every actor in the cast was a marvel, but Coon gave the performance of the decade as Nora. —JC
One of the last great dramas to come out of the premium-cable era that birthed The Sopranos, The Wire, and Deadwood, Mad Men was likewise anchored to a charismatic white anti-hero who tore audience sympathies in conflicting directions. But Matthew Weiner's '60s character epic doesn't feel like a relic, because it embedded a self-obituary into the fabric of its narrative. The series was obsessed with the ends of eras, as well as the complex reasons why people tend to be nostalgic for earlier ones. ("The pain from an old wound," Don Draper once defined nostalgia, during a scene in which he publicly strip-mines affection for a family he has neglected.) Every episode contained sharp observations about the decline or death of a once seemingly secure institution, lifestyle, or mode of behavior, whether it was the old Penn Station, white fetishization of the antebellum South, the dominance of magazine and newspaper ad money over television, the tradition of open and unpunished sexual harassment in the workplace, or the international financial and military dominance of the United States itself. The opening credits sequence of a man imagining himself falling was a premonition of what was in store for Don, for most of the other major characters (with conspicuous exceptions like Elisabeth Moss's Peggy and Christina Hendricks's Joan), and for the American decade they swaggered into and would limp out of. —MZS
Indisputable Classics
We'll be rewatching and reanalyzing these masterpieces for decades to come.
A gut punch and a love letter to a place and its people. Donald Glover's FX series was transfixing from the jump as it prodded ideas about fame, art, and black identity. In its second season, Atlanta became even more audacious, telling contained stories that veered in surprising aesthetic and narrative directions, even playing with the visual and narrative traits of horror. Bold, tonally experimental, and trenchantly curious about black lives, Atlanta isn't just one of the most mesmerizing shows on television. It once again reshaped our idea of what a TV comedy could be. —AJB
Potentially a bad idea on paper, this Breaking Bad prequel from Vince Gilligan and Peter Gould turned out to be one of the decade's most richly observed character dramas about morality, ethics, and the difference between the two. It avoided most of the pitfalls inherent in "what happened before" stories, played fascinating games with chronology and tone, and balanced sardonic humor, empathy, shocking violence, and a genuine sorrow at people's inability to see themselves. —MZS
Pamela Adlon's series about a divorced actress raising three daughters in Los Angeles was one of many examples of the half-hour, auteur-driven format of comedy in theory — and along with its FX colleague Atlanta, it was one of the very best. The scripts drew on Adlon's life and career as well as her affinity for John Cassavetes and other heroes of '70s independent cinema, but the documentary-raw acting and clever banter collided with Adlon's intuitive, often hauntingly beautiful visual and musical choices, creating a work of extraordinary tension, complexity, and truth. —MZS
A perfect treat, akin to slipping into a warm bath after a long day. Bob's Burgers is a hilarious, moving exploration about class and family elevated by its whimsy and use of song. But what makes the show particularly charming is its voice acting, particularly by John Roberts and Kristen Schaal. —AJB
After a funny and promising first season, BoJack really locked into its identity as a biting yet whimsical window into Hollywood — sorry, "Hollywoo" — and as a sad but beautiful meditation on depression and how easy it is to lose track of the person (or animal) you always wanted to be and settle for being the unsatisfied person (or animal) you've become. BoJack's rich canvas of inside jokes, pop-culture nods, and emotional insights looked like nothing else on television, which is why it will be so missed when it ends its run in early 2020. —JC
This cringe comedy from star and co-creator Lisa Kudrow and her creative partner Michael Patrick King had a brief run in 2005, then returned in 2014 with another eight stellar episodes. It managed to be even more corrosive the second time around, thanks in large part to the fact that its lead character, has-been sitcom star Valerie Cherish (Kudrow), was nearly ten years older and even more marginalized by a youth-obsessed entertainment industry and her own clueless chutzpah. Nervy and unrelenting, it cleanses bullshit from the brain and leaves hard truth. —MZS
What does a perfect television show look like? I'm pretty sure it strongly resembles Fleabag, a two-season study of a broken woman trying to rebuild her life and repair her shattered heart. Star and creator Phoebe Waller-Bridge emerged as one of the decade's brightest new talents largely on the strength of this British import, which combined fourth-wall-shattering humor with intimate depictions of family and romantic relationships in a tone that can only be described as Waller-Bridgean. The first season was a bracing origin story; the second was a masterpiece about the love between an almost healthy woman and a priest who couldn't be denied. Fleabag made you feel the way Fleabag and the Priest felt about each other: It made you realize how lucky you were to be alive to see it. —JC
Just when you thought you'd had enough of serial killers, here came Hannibal. Seemingly unconstrained by broadcast-network timidity about visual excess, narrative obscurity, and ultraviolence, Bryan Fuller and his writing and directing team created a sumptuously photographed, proudly dreamlike, polymorphously sexual version of Thomas Harris's fiction, weaving in characters and plotlines from all of his Hannibal Lecter books (except The Silence of the Lambs, which they could never get the rights to), and creating perverse but achingly sincere platonic love stories between psychiatrist and serial killer Hannibal Lecter (Mads Mikkelsen) and FBI profiler Will Graham (Hugh Dancy). If Twin Peaks: The Return didn't exist, this super-Lynchian show would be a lock for the most stylistically audacious series of the decade. —MZS
(Also file under: Better Than Their Titles)
One of the best dramas of the decade that most people never saw, Halt and Catch Fire was technically about the personal computer revolution of the '80s, and later, the early days of the web in the '90s. But really it was about how challenging it is to make new things, especially among passionate people. Observant, replete with unexpected and great soundtrack choices, and blessed with four lead actors — Lee Pace, Mackenzie Davis, Scoot McNairy, and Kerry Bishé — who made every scene sing, Halt and Catch Fire was never flashy, and that made it a rare, special creation. —JC
All of the greatest things about TV, wrapped up in a package so dense and poignant and unerringly delightful that it's easy to forget that it's also a masterful piece of storytelling. Jane is fitted to the decade in the most graceful way possible, managing to be political, without feeling trite, and personal in a way that was always earned. Glorious, saturated telenovela brilliance. —KVA
Justified handled the tropes inherit to crime stories and Westerns with panache and ingenuity. It had a keen, mordant wit. But more than anything, it was watching Raylan Givens (Timothy Olyphant) and Boyd Crowder (Walton Goggins) play off one another that made this series so powerful and addictive, revealing fascinating dynamics about geography as identity, masculinity, and the South. Or put another way, as Boyd says to Raylan in the show's final moments: "We dug coal together." —AJB
The definitive sketch comedy series of this decade. Jordan Peele and Keegan-Michael Key had free rein in their Comedy Central show to become whatever eccentric personalities popped into their heads, from a substitute teacher who pronounces every white kid's name wrong to a pair of valets who fanboy about Liam Neeson until they explode. The duo was also responsible for the best comic riff on the Obama years: Luther, played by Key, acted as the anger translator for the president, played by Peele, whose impression blew every Saturday Night Live attempt out of the water. The bit was so good Obama himself even borrowed it at a White House Correspondents' Dinner. —JC
Creators Leslye Headland, Natasha Lyonne, and Amy Poehler show an assured handling of tone as their Netflix series travels from mordantly witty to achingly sad and back again. It is a show made to be watched and rewatched, if only to appreciate its meticulously plotted narrative of life, death, and resurrection. There's the moxie and melancholy of Lyonne in a truly fierce performance as Nadia. There's the tender excavation of depression through Alan, brought to life with honesty by Charles Barnett. Russian Doll has verve and distinction, even as it wears its influences clearly. —AJB
Brought back after 13 years, the fifth and final season of Samurai Jack is a piercing depiction of loneliness and pure visual poetry. Jack (voiced perceptively by Phil LaMarr) is a worn-down hero beset by visions in the dystopian future where he remains stuck by Aku (now voiced by Greg Baldwin). Bloodier and even more thrilling than previous seasons, you can find the influence of everything from Lawrence of Arabia to Wile E. Coyote cartoons. Its fight sequences use color, sound, and composition with an audacious grace that puts big-screen animation to shame. —AJB
There's no better representative of what TV became at the end of the decade. Just as tellingly, there's no better representation of what the world felt like at the end of the decade: alternatingly hilarious and so tragic that it's hard to bear. Succession remembered the lessons of great prestige TV that too many imitators forgot this decade, especially that the most stunning twists can come only from exquisite character development. —KVA
Veep
Somehow, this brilliant HBO political comedy managed to stay five steps ahead of the actual madness in Washington, introducing what seemed like wild story lines and jokes only to frequently see them pop up on cable news days, weeks, or months later. "Our show started out as a political satire," Julia Louis-Dreyfus said while accepting her fifth Emmy for playing Selina Meyer, "but it now feels more like a sobering documentary." She was right. She was also extraordinary as a vice-president angling for the Oval Office with a narcissism that knew no bounds, while backed by the most agile scripted comedy ensemble of the decade, including her right- (and left-) -hand man, Tony Hale's doting Gary. —JC
Ava DuVernay's retelling of the so-called Central Park Five case reclaimed the suspects' lives from the ash heap of history, depicting them as individuals whose lives were tragically interrupted and permanently damaged after being railroaded through the criminal-justice system. Not satisfied with mere docudrama thoroughness, DuVernay reimagined the case as a fever dream of New York City in the '80s, its racial and class inequities echoing problems that are magnified today. The final chapter, a full-on dive into intensely emotional expressionism, is the director's best work to date. —MZS
Disputable Classics
Okay, we argued about these shows, but at least one of our critics fought for their place in the high canon.
Jump back to Indisputable Classics ➽
Adventure Time
This long-running (283 episodes!) drama-comedy-musical series adventures of Finn the Human and his best friend, Jake, a shapeshifting dog, was the closest thing to the American version of a Hayao Miyazaki TV series. —MZS
Not to be confused with FX's American Crime Story, but likewise an anthology series set in the real world, this project from Oscar-winning screenwriter John Ridley was an updated take on "social problem" dramas of the '50s and '60s. Each season focused on a specific crime; the writing emphasized how those crimes caused wider repercussions and were created by social forces that nobody had properly examined. A ferociously committed, at times punishingly austere style doomed it to marginal status, but the fact that it ever got aired on a U.S. broadcast network is cause for celebration. —MZS
Two seasons in, the story of a hit man desperate to ditch his murderous career path and take up acting is already a show damn near close to perfect. Co-creator Bill Hader, who has won back-to-back Emmys as Outstanding Lead Actor, continues to find greater depth and nuance to his portrayal of Barry Berkman. The supporting characters, from Sarah Goldberg's Sally to Stephen Root's Fuches, keep revealing new shades to their personalities, thanks to the sharp writing and committed performances. The ambition of the filmmaking keeps rising, too. The only thing keeping Barry from being called perfect is that we need to see the story all the way through. —JC
Casual
One of the earlier Hulu originals, Casual started out as a family dramedy fixated on how technology affects the way we relate to one another. But it eventually branched out in ways that made it a broader meditation on how we live now — and courtesy of its time-jumping final season, how we might live in the future. Its finale was one of the finest, loveliest series endings of the whole decade, and I still feel like I was one of only a handful of people who saw it. You've got the next decade to change that. —JC
From the daring opening sequence of the pilot, which compressed a season's worth of backstory into five minutes, through its final run of episodes, which took the characters through the cycles of grief and into a state of wary optimism, this Amazon comedy about a suddenly married couple tackled familiar material in fresh and exciting ways. Co-creators, co-writers, and co-stars Sharon Horgan and Rob Delaney operated at a mind-meld level, balancing outrageousness with tough-love realism. —MZS
Community
Dan Harmon's galaxy-brained sitcom gleefully ignored plausibility, creating a world unto itself that echoed everything from Gilligan's Island and Lost to Solaris and No Exit, riffing on pop culture, philosophy, physics, psychology, history, art, music, love, sex, death, labor relations, and anything else that struck its fancy. Creatively strong enough to survive the temporary departure of its founder and a final stretch on Yahoo, a platform that almost nobody knew was even airing TV series, it's one of the most peculiar and memorable achievements of a rich decade. —MZS
(Also file under: Mad Geniuses)
Co-created by star Rachel Bloom and Aline Brosh-McKenna, this CW musical series was an early example of a TV show putting a compelling yet often unsympathetic and occasionally frightening woman at the center of the story, a privilege more often afforded to darkly charismatic male leads. Yet the show remained light on its feet even when Rebecca and her almost equally messed-up friends, lovers, and co-workers were at their most tormented, switching between screwball comedy, wrenching psychodrama, and consistently clever, sometimes powerful musical numbers. —MZS
The inevitable observation about Girls is that it defined a voice of a generation in this decade. But the truth is that it defined an entire kind of TV show: the New York post-comedy shaped by millennials coming of age (or their failure to do so). The long cultural reach of Girls is notable in and of itself, but the show is also better constructed, more thoughtful, and funnier than the version of it that got flattened into easy think-piece fodder. —Kathryn VanArendonk
A spinoff that brilliantly differentiated itself from its predecessor by embracing our surreal and often terrifying reality. No show on TV deals what it is like to live under the reign of Donald Trump with the honesty, insight, and humor of The Good Fight. It's willing to take risks no other show would, like dropping an animated sing-along number about NDAs into the middle of an episode. An actor's playground through and through, the crown jewel of the series is Christine Baranski's performance as Diane Lockhart, a character she has been playing for nearly a decade. —AJB
The Good Wife upended expectations of what a network legal procedural could be. (What other show pulled off a main character's death with such grace and secrecy?) Brazenly curious about technology, adultery, marriage, politics, and the ways women must navigate male-dominated worlds, the show hit its greatest heights with its lead Alicia Florrick (Julianna Marguiles), an anti-heroine who grew harder and more willing to wreck friendships to reach her goals. It was unfortunately held back at times by its treatment of race (in particular, Archie Punjabi's Kalinda Sharma), the rare topic it never went deep enough on. But when everything clicked into place, it was transcendent. —AJB
Jack Amiel and Michael Begler's Cinemax drama put a period twist on the prime-time hospital soap formula, spotlighting a struggling New York Hospital in the early 20th century. The result was something like E.R. in bowler hats and petticoats, dynamically directed by executive producer Steven Soderbergh, who also served as his own camera operator. The scripts focused on social problems that resonated with 21st-century American life, including racism, sexism, anti-immigrant attitudes, the extreme concentration of wealth, class resentment, even the failure of the state to manage the spread of disease. Superb performances by Clive Owen, Eve Hewson, Jeremy Bobb, Juliet Rylance, and — in a breakout role that made him the star he was destined to be — Andre Holland. —MZS
A wildly underappreciated show that deserved a much bigger audience, Lodge 49 was an aimless and existentialist meandering through the ruins of post-capitalism set against a beach noir backdrop dotted with swimming pools. If you didn't watch it, you're far from alone, but you missed out on something special. —KVA
Created by Ava DuVernay, this OWN drama cements its greatness for two reasons: the luscious cinematography that turns rural Louisiana into a bejeweled landscape, and the lead performances that create a moving portrait of a family mired in crisis. —AJB
Uncompromising is the word for this Sundance TV drama from actor-writer Ray McKinnon, about a death-row inmate (Aden Young) sprung from prison on rape and murder charges who struggles to reenter life in a town where most of the residents still treat him as a pariah. That the series initially refused to even address the question of his guilt or innocence was frustrating at first, but once you settled into its contemplative, somewhat theatrical groove, you could see that it was provoking deeper questions about incarceration than television typically asks. —MZS
Steven Universe
A magical, weird series that adults could enjoy without pretending like they were only watching because they had kids. —JC
Transparent
It became outdated in the world it helped create, but Transparent still marks an important crest in the decade's wave of amazing, artful, serious TV comedies. —KVA
Based on a true story of rape and victim shaming, this Netflix series is the True Detective that never seemed possible: an ambitious, crime-focused series driven by and focused on women but devoid of excess pretension. This is absorbing, gratifying TV, elevated even further by superb performances from stars Merrit Wever, Toni Collette, and Kaitlyn Dever. —JC
A transcendent, weird series that stills retains a sense of play. There is so much to adore about Watchmen, but above all, there is Angela Abar, one of TV's most immediately transfixing characters. Her story allows a window into considerations of generational trauma, black life, and politics, anchored by Regina King's steely performance. —AJB
Lit, costumed, scored, and directed like a bizarre fusion of a theological tutorial and '90s music video, this series was so intensely stylized that it often played like a parody of auteur-driven TV. But creator, director, and co-writer Paolo Sorrentino always made sure we knew that the show wasn't kidding when it contemplated matters of morality, politics, temptation, and faith. And it gave Jude Law one of his greatest roles as Pope Pius XIII, a.k.a. Lenny Belardo, the first American-born head of the Catholic Church. —MZS
Jump back to Indisputable Classics ➽
Prestige TV That Was Actually Good
The small-screen equivalent of good Oscar bait, these shows backed up their big ideas, big names, and big money with real substance.
A heartbreaking true-crime drama about the Munchausen-by-proxy case involving Dee Dee Blanchard and her daughter, Gypsy, elevated by extraordinary performances by Patricia Arquette and Joey King. —JC
Horrifying, beautiful, surprising, bleak, electric. The best Margaret Atwood adaptation of the decade. (Tough luck, Handmaid's Tale.) —KVA
Ryan Murphy's dramatized take on the O.J. Simpson trial and the murder of Gianni Versace transformed salaciously covered scandals that we thought we knew into sophisticated dramas that reopened our eyes. The People vs. O.J. Simpson especially took us inside the minds of individuals who were, in the mid-'90s, some of the most judged people in America, adding new details and perspective to a story that had seemingly been wrung dry of lessons. —JC
Babylon Berlin
(Also file under: The Unstoppables)
This German-language Weimar fantasia should've been one of the best-known shows of the decade. It should've inspired endless think pieces about its political relevance, breathless coverage of its hair-raising twists, and Pinterest boards about how to steal its fashions. It should be memed. There should be viral clips of people reacting as they watch the end of season two. Instead, it will stay one of TV's best-kept secrets. —KVA
One of the decade's most majestic and compelling examples of feel-bad TV, this HBO miniseries from writer Craig Mazin and director Johan Renck treated the Chernobyl nuclear disaster as a case study in governmental mismanagement, showing how official corruption, ignorance, and ass-covering made an already terrible situation worse. —MZS
If it's possible for a show to be both stolidly built and exquisitely refined, that's what The Crown is. Its bones are big obvious prestige mainstays — power! Masculinity! Sadness! — and its performances are delicate and profound. —KVA
David Makes Man
A portrait of a young black man growing up in Miami public housing, this OWN series, created by Tarell Alvin McCraney, writer of the play that inspired Moonlight, is simultaneously brutally honest and bathed in lovely magical realism. —JC
David Simon and George Pelecanos's series about sex trade in New York City in the '70s and '80s was the opposite of titillating. Pornography, streetwalking, and brothels were treated as forms of work, and the accompanying organized crime money, media fascination, and government crusades serve as manifestations of capitalism's tendency to commodify everything and prize profit over safe working conditions. —MZS
Deutschland 83/86
An excellent, tense drama about the Cold War across East and West Berlin. Effective display of many enviable pieces of vintage outerwear. —KVA
A go-for-broke, explicit, and emotionally turbocharged teen melodrama from writer-producer-director Sam Levinson, Euphoria played like the result of a thought experiment: What would happen if you crossed Boogie Nights with My So-Called Life, then cast Zendaya in the leading role? Favoring dreamlike or hypertheatrical visuals over plain vanilla "realism," this was a rare series that bent images, sounds, and music to reflect characters' inner states. —MZS
Turning an Oscar-winning, beloved Coen brothers movie into a TV show sounds like a task better left unattempted. Noah Hawley not only successfully did it; he did it in three completely distinct yet interconnected seasons that were masterfully composed and written with such deadpan humor that one could have mistakenly thought the Coens had made the whole thing themselves. (Ethan and Joel Coen actually acted as executive producers.) —JC
Catnip for Broadway-musical-history buffs, this account of the marriage of choreographer-filmmaker Bob Fosse (Sam Rockwell) and dancer turned producer Gwen Verdon (Michelle Williams) took a refreshingly unconventional approach to biographical drama, concentrating on discrete sections of its main characters' lives and paying unusual attention to the details of the work itself. —MZS
A show that made historical lesbianism feel modern just by the remarkable way its lead character walked. —KVA
Widely maligned and neglected by an entertainment press that seemed mainly interested in the project's cost, this exuberant, exhausting, wildly overscaled period piece from director Baz Luhrmann and Pulitzer Prize–winning playwright Stephen Adly Guirgis felt like an answer to, and continuation of, Mad Men. The story depicted New York's transformation in the era of hip-hop, disco, urban decay, and proto-gentrification. But the real draws were the heartfelt performances and the playful, collagelike montage filmmaking that cut-and-pasted images to create new ones in the manner of a DJ overlaying tracks from multiple turntables. Watching The Get Down captured the experience of listening to one of those grandiose '70s two-record "concept" albums through headphones while baked, free-associating until the sun comes up. Pictures as music, music as pictures. —MZS
A gorgeous Western with all the cinematic vistas of a John Ford film and a lot of the other hallmarks of an old-fashioned entry in the genre, including gun battles, horses, and showdowns on Main Street. But it was also something else: a Western set in a town where the women were in charge and its female characters actually had agency. That gave the limited series a refreshing perspective shift to add to its embarrassment of other riches. —JC
Is there a more prestige-TV move than casting Julia Roberts, whose star turn in this psychological brain bender marked her first lead role in a scripted series? That certainly generated some attention for the Amazon series, based on the podcast of the same name and directed by Sam Esmail as a blatant homage to Alfred Hitchcock and '70s conspiracy thrillers. This had all the ambition and intelligence of a prestige drama but packaged in half-hour length boxes that made it immensely bingeable. —JC
All newly minted Florence Pugh stans should start here, with this artful John le Carré miniseries that stars Pugh in an impossibly blonde, improbably dangerous partnership with Alexander Skarsgård. What is prestige TV for if not this? —KVA
Manhattan
It was an experiment on WGN, a network that never really worked, but that wasn't the show's fault. All the thematic ideas that prestige TV came around to later in the decade (male geniuses are suspect archetypes!), Manhattan already knew. —KVA
Aziz Ansari and Alan Young co-created this comedy that initially sounds like another Seinfeld — Let's hang out with a funny aspiring actor and his friends in New York! — but was actually a study of diverse cultures and what happens when they bump up against each other. Sometimes Master of None was a gorgeous Italian film, sometimes it was an exploration of immigrant family dynamics, and other times it was a funny show about the craziness of dating. Always, it was eager to take odd turns rather than drive down the middle of the road … well, except for that time when Dev (Ansari) and his friend Arnold (Eric Wareheim) drove their car down a very tight alley in Italy. —JC
Mildred Pierce
This Todd Haynes–directed HBO miniseries, which slots a brilliant, gutting Kate Winslet performance into the titular role played by Joan Crawford in the 1945 noir film version, is the best-case scenario for TV aspiring to be "like a movie," full of lush, baldly cinematic style and canny performances that bring out the soul at the heart of a gripping mother-daughter melodrama. And those pies! Easily the best pie action TV has seen since Pushing Daisies. —Genevieve Koski
Serenely defiant in its too-muchness, this combination techno-thriller, social satire, and family dysfunction melodrama wasn't just a showcase for star Rami Malek's ability to make even the most preposterous situations seem sensible and emotionally plausible. It also introduced the world to showrunner Sam Esmail's boundless invention behind the camera. —MZS
Directed by Lisa Cholodenko and adapted by playwright Jane Anderson from Elizabeth Strout's novel, this small-town miniseries about a retired schoolteacher (Frances McDormand) was a rare example of a lavishly produced drama with no genre elements, set entirely in a world of mundane people and events. The multigenerational story was so finely observed that the result tore viewers' hearts out. —MZS
Bold, caustic, sincere, unabashedly melodramatic, and featuring eye-popping costumes and a magnificent period soundtrack, this drama from Ryan Murphy, Brad Falchuk, and Steven Canals was most radical in how traditional, even corny, it could be. Focused on New York City's ballroom scene in the '80s, it tells the stories of LGBTQ characters trying to find happiness and financial sustenance during the plague years. Characters who'd been ostracized by their blood kin and marginalized by American culture create their own family units for mutual support, reenacting purifying rituals — such as nightly personal updates around the dinner table — that had been toxic in their previous lives. —MZS
A lot of prestige shows attempt to create mood. Les Revenants, the French mystery that aired in the States on the Sundance Channel, did not need to try. It just did it effortlessly. As dead people suddenly reappear, fully alive, in a small French town, this import takes its time to explain why, yielding a melancholy drama that makes you feel like you're living inside of it instead of merely watching from the other side of a screen. —JC
Rubicon 
A legendary one-and-done show, this brainy thriller focused on an elite group of New York intelligence analysts, one of whom (James Badge Dale) starts to believe that a shadowy cabal is manipulating world events. Modeling its look and feel on '70s paranoid-conspiracy thrillers like The Conversation and Three Days of the Condor, it now feels like a streaming show that premiered many years ahead of its proper time. —MZS
Sharp Objects
Jean-Marc Vallée directed this adaptation of Gillian Flynn's novel, under the auspices of showrunner Marti Noxon, and gave it a language that mixed southern Gothic with stream-of-consciousness and a healthy dose of Led Zeppelin. The cast — Amy Adams, Patricia Clarkson, Chris Messina, Elizabeth Perkins, and future Little Woman Eliza Scanlen — was superb. The final scenes of this immersive, unforgettable work gave me chills like no other series, limited or otherwise, that I saw all decade. —JC
Show Me a Hero
David Simon's most brutal, clear-eyed work of the decade. The tragic arc of its protagonist sketched within the space of a limited series makes Simon's typically wide-sprawling gaze feel more focused without losing any of the breadth. —KVA
Kit Steinkellner's thoughtful, honest Facebook Watch series explores the effect of one man's death on a grieving young widow (Elisabeth Olsen), her mother (Janet McTeer), her adopted sister (Kelly Marie Tran), his brother (Jovan Adepo), and concentric circles of relatives, friends and co-workers. In season two, it expanded its reach, taking into account the feelings of confusion and guilt that accrue when people try to move on after a catastrophe. —MZS
Total Delights
Perpetually underrated as comfort food, but always delectable.
If every superhero show had been more like this one, TV this decade would've been more fun, more stylish, and much more appealing. —KVA
Puberty has never been as enjoyable as it is on this animated comedy in which Nick Kroll and John Mulaney provide the voices for two best friends dealing with their changing sexuality alongside their middle-school peers. Crude, progressive, bawdy, and occasionally even touching, this is a cartoon Wonder Years: Masturbation Edition. —JC
Nobody had more fun making TV this decade than the people onscreen and behind the scenes of Billions, and it translates into a TV show that's just a gloriously satisfying good time. Plus wealth porn. —KVA
Kenya Barris's series builds upon the structure and beats of a classic family sitcom, adding history lessons that place the Johnson family's daily experiences in the broader context of America's racial, social, and political past. The rare network comedy that's both enjoyable and vital to the conversation. —JC
As 20-something Brooklynites, Abbi Jacobson and Ilana Glazer took everyday activities — using kettlebells at the gym, going to Whole Foods after dental surgery, checking a coat that belongs to Kelly Ripa — and transformed them into artful comedies of errors. —JC
The unexpectedly loud outcry when Fox canceled this Andy Samberg–starring cop comedy, and the ensuing cries of "Noice!" when it was picked up by NBC the following day, indicate just how deeply these hijinks-loving law-enforcers wormed their way into viewers' hearts. Since its relocation, B99 has settled further into its ensemble-driven comedic groove, maintaining an ever-expanding collection of callbacks, in-jokes, and elaborate heists, and managing to keep its central romantic pairing fun and viable in a post–Toit Nups world. —GK
This IFC comedy from Bill Hader, Seth Meyers, Fred Armisen, and Rhys Thomas represents a new definition of niche programming: a weekly send-up of documentary cinema so specific that it elicits knowing laughter from fans who've watched the films being parodied so many times that they can catch a sly reference to a particular line or shot. What saves it from preciousness is the way the creators treat every episode as a chance to create incisive and unexpectedly compassionate portraits of characters who remain blissfully unaware of their own ridiculousness. —MZS
(Also file under: Mad Geniuses)
This Hailee Steinfeld–led series about Emily Dickinson, apparently designed solely for millennial fans of The Toast and Kate Beaton comics, is the best reason to believe Apple TV+ might actually be something you need. —KVA
A densely packed show full of comic TV pleasure, Derry Girls is proof that specificity is the best way to tell universally delightful stories. —KVA
Maybe not the best show made by Danny McBride, Jody Hill, and David Gordon Green this decade — Vice Principals and The Righteous Gemstones pushed their TV ambitions to even weirder heights — but definitely the most significant. Also the most raunchy: While the saga of Kenny Powers isn't the kind of thing that you'd gather the family together to watch, it's proof that comedy doesn't need to be warm and cuddly to be delightfully funny. —Chris Heller
The Goldbergs
Blissfully comfortable with being comfort food, to the point where it openly acknowledges what kind of show it is, this ABC sitcom is the warm affirmation of the rituals and shared experiences of family life. —MZS
A cheery disposition always belied this sitcom's weighty ethical concerns and the dire circumstances of its cast of characters. (They were in hell, after all.) In its four seasons, The Good Place left no stone unturned in its exploration of the afterlife, the possibility of soul mates, and the importance of community. What makes the series so entrancing is the chemistry of its cast, its characterization, and the tremendously balanced, engrossing performances by Ted Danson, Kristen Bell, William Jackson Harper, Manny Jacinto, and D'Arcy Carden, especially. —AJB
Somewhere between Chardee MacDennis and Swole Mac coming out to his dad via interpretative dance, the Gang finally caught up with the times. They're still assholes, of course, but along the way It's Always Sunny pulled off an admirably rare accomplishment for any long-running sitcom: Its main characters got deeper and more complex, rather than flattened into caricature, changing and evolving without undermining the show's remarkably consistent comedy. —CH
A funny and insightful meditation on romance, race, and gender. Issa Rae's alter ego is so charming, relatable, and expressive — you can always tell what Issa is thinking from just a single glance at her face — that you want to stay in her company as long as possible. —JC
The greatest trick The Last Man on Earth ever pulled was keeping the unfathomably obnoxious Phil Miller, a.k.a. Tandy, at the center of four seasons' worth of post-apocalyptic nonsense and never becoming unbearable. Credit Will Forte's ability to guilelessly navigate the cringiest of cringe humor, with a big assist from a core supporting cast — particularly Kristen Schaal and Mary Steenburgen — capable of tempering Phil's idiocy while bringing their own distinct eccentricities to the table. The image of a fake-eyebrowed Forte and Schaal messily making out amid a chorus of singing Big Mouth Billy Bass is burned into our brains forever. —GK
Watching The Magicians feels like the TV equivalent of eating Pop Rocks: fizzy, surprising, campy, and ultimately very sweet. —KVA
For unto us a Baby Yoda was born. —KVA
Miss Fisher's Murder Mysteries
(Also file under: Laundry Folders)
With glamorous costume design, thrilling mysteries solved by a female character who laughs in the face of convention, and a charming will-they-won't-they romance, it is too easy to fall in love with Miss Fisher. —AJB
The ideal combination of pointed political timeliness and timeless sitcom storytelling. Plus, of course, Rita Moreno. —KVA
This entertainment industry satire and story of dysfunctional siblings (Heléne York and Drew Tarver) has a biting sense of humor and a heart of gold. It also has a gift for creating punch lines ("In this climate?") with memorable payoff. If it's not quite a laugh a minute, it's at least a laugh every two or three. —JC
Parks and Recreation
Every episode is like going home again to hang out with dear friends. Yes, the government in Pawnee doesn't run smoothly. Tom Haverford (Aziz Ansari) and Jean-Ralphio (Ben Schwartz) definitely make questionable choices, but the goodness at the core of so many of the principal characters — Leslie Knope (Amy Poehler), Ben Wyatt (Adam Scott), Ron Swanson (Nick Offerman) — and the comedic talents of this formidable cast make Parks and Rec a hilarious comfort. Go ahead. Treat yo'self. —JC
Peaky Blinders 
[Extremely Peaky Blinders voice] Peaky Blinders! —KVA
How's this for a pitch? Maya Erskine and Anna Konkle, the 30-something co-creators of this Hulu comedy, play preteen versions of themselves opposite actual middle-schoolers. An awkward, amusing, bittersweet portrait of girls dealing with hormonal change at the turn of the millennium, PEN15 was met with warm reviews but didn't generate as much buzz as it deserved. By placing grown-ups back in kid bodies, this millennial coming-of-age story did something most coming-of-age stories don't: It reminded us, at every turn, about the degree to which we all carry our formative experiences with us into adulthood. —JC
A show about best friends who move in together after one of them gets pregnant and divorces her husband, Playing House is both one of the most moving portraits of female friendship this decade and one of the silliest shows around. —KVA
One of the decade's most joyous, warm, empathetic, big-hearted shows, Schitt's Creek could've launched itself to iconic status on the virtue of Moira's wigs alone. —KVA
A rock solid sitcom that's reliable, bingeable, hilarious, and remarkably fearless. —KVA
Female bird best friends star in a lovely show that gets canceled by Netflix after only one season in a case of animated aviary discrimination. —JC
Nothing says comedy like the story of a woman who was kidnapped, held hostage for years, and ultimately set free again into the harsh outside world, am I right? Actually, in the hands of Tina Fey and Robert Carlock, that turned out to be true. Kimmy Schmidt handled the issue of trauma at its core with sensitivity while still rattling off jokes at such a high speed that if you blink, you'll miss a good one. —JC
A (very funny) answer to the question: What if goofy vampires lived together in a shared house on Staten Island? —KVA
This is a love story about two people doing everything they can to resist a committed, loving relationship. It's also a comedy about four dum-dums living in Los Angeles and constantly getting themselves into asinine situations. Sometimes, at its best, it's both at once. —JC
Better Than Their Titles
First impressions can be very wrong.
Creators Michelle and Robert King were ahead of their time with this one-season CBS series about bugs from outer space that invade Congress, turning politicians into partisan hard-liners with no sense of right and wrong. Its title made it sound like a comedy about potheads. But in reality, BrainDead, whose single season aired in the summer of 2016, was a quirky, genre-juggling preview of America's political future. —JC
But do trust that the combination of a no-holds-barred Krysten Ritter and a highly meta James Van Der Beek, playing a parodically dickish version of himself, made this short-lived Nahnatchka Khan comedy so much more than its self-consciously insolent title. —GK
Everyone who failed to watch Downward Dog because it had a yoga title and a silly premise about a talking dog missed something rare: an actually good show about a talking dog. —KVA
The title left something to be desired, but this comedy — about the star of a legal drama (Rob Lowe) who becomes convinced that his acting experience qualifies him to be a real lawyer — was clever and highlighted by great chemistry between Lowe and Fred Savage. Though it was canceled after one season, it's fun to imagine, in the words of Lowe's Dean Sanderson: But what if it wasn't? —JC
Happy Endings
(Also file under: Total Delights)
Get your mind out of the gutter and into the madcap yet low-key adventures of six friends navigating life, love, and friendship dynamics in the big city — no, not that one, Happy Endings is set in Chicago — with a healthy dollop of pun-centric, borderline-absurd humor. —GK
Hot in Cleveland
How could anyone doubt Betty White? —CH
A good show with a title so bad, they actually changed it after the first season. —CH
Selfie
Easily the decade's best network sitcom inspired by a George Bernard Shaw play and/or Lerner and Loewe musical. —CH
Suburgatory 
The name makes this ABC comedy sound like a punishment for everyone involved, but it was a much weirder, sharper show than the average sitcom. Special plaudits to Cheryl Hines as the kooky next-door neighbor. —KVA
Terriers
One of the greatest TV losses of the decade is whatever could've happened after the first (and sadly only) season of this unimpeachable beach noir. It really shouldn't have been named after a dog breed. The dog in the show isn't even a terrier! —KVA
A funny Thirtysomething for the 2010s, except with more of a non-mainstream, cockeyed point of view. Created by the Duplass brothers and Steve Zissis, this two-season gem was especially attuned to the rhythms of upper-middle-class Gen-Xers and the way they navigate marriage, relationships, and their stubborn fixation on their childhoods. —JC
Trophy Wife
Malin Akerman, who played the titular wife to Bradley Whitford's middle-aged, twice-divorced lawyer guy, is on record as being initially put off by the meant-to-be ironic title of this blended-family comedy from Emily Halpern and Sarah Haskins. But she got over it, and so did we, thanks to Trophy Wife's distinct comedic chemistry among its top-notch cast, including a decidedly above-average roster of kid actors. (We miss you, Bert!) —GK
The Unstoppables
Shockingly addictive shows that seized your attention and refused to let go, even if it was 2 a.m. and you had work in the morning.
If you told me this show was developed in a bingeworthy lab by scientists with Ph.D.'s in bingeability, I would believe you. What begins as a dramedy about the relationship of two women (Christina Applegate and Linda Cardellini) in a support group for aggrieved spouses turns into a murder mystery and comedic saga of multiple betrayals with a series of cliffhangers. Each episode bets you'll immediately click on the next one. Each episode wins that bet. —JC
Justin Simien's TV adaptation of his same-name breakthrough feature about relationships, race, and politics on an Ivy League college campus devised a self-enclosed, exhaustively detailed, meticulously directed world with its own rich history and cosmology. Too bad that it got canceled after season four. Like Sam Esmail's Mr. Robot, the series remained mesmerizing even if you didn't like or approve of certain storytelling choices, simply because the creator seemed determined to keep stacking audacious gambits on top of each other in an endless game of narrative Jenga. —MZS
The sadly canceled Amazon series starring Maya Rudolph and Fred Armisen appeared, at first, to be a story about a married couple. Then it wasn't. Then it really wasn't. But by the end, in a way, it kind of was again? If this sounds vague, it's because I'm trying to avoid spoilers. One of the most remarkable things about Forever was the way it reinvented itself from one episode to the next so that the audience was never sure what it might get. What could rightly be called an existential story about life and the afterlife can just as rightly be described as proof that reincarnation is possible. —JC
Fringe
At once an expert procedural about the weirder diversions of science fiction and a moving meditation on the roads left untaken, Fringe was propulsive because you couldn't help but feel invested as the lives of its characters, which unfolded in uncanny, heart-wrenching directions. Much of the praise goes to its lead actors, particularly John Noble (playing permutations of the lonely, deconstructed mad scientist Walter Bishop) and Anna Torv (adding untold layers to Olivia Dunham). —AJB
It's amazing that something as glaringly campy as the Gorgeous Ladies of Wrestling inspired a Netflix show that celebrates '80s cheesiness but still explores its characters with a deep sense of care and respect. GLOW is bingeable not because of plot twists but because it makes us care about these women so much. —JC
An easy show to fall for. Its plot is lively and surprising. Its comedy is dark and revelatory about the constraints of modern womanhood and motherhood. There's even a complicated, overheated, emotionally complex romance. After I finish one episode, I am always eager to start another. —AJB
Scary enough to make you watch it with one eye closed, not so scary that you stop yourself from devouring each and every episode. A classic case of "I need to finish to know what happens!" —KVA
Love
What made Love bingeable was the fact that it was a will-they, won't-they story. You kept watching to find out whether two people who don't seem like a great fit — the nerdy, overly nice Gus (Paul Rust) and the damaged, acerbic Mickey (Gillian Jacobs) — will or won't make it work. The answer was ultimately revealed in a series finale that was surprising and sweet, but not too sweet. —JC
(Also file under: Glowdowns)
If yours is the kind of brain that gets hooked by the rhythms of Amy Sherman-Palladino's patter, Mrs. Maisel will grip you and refuse to let you go. Twee, rhythmic, confident, and incredibly mannered. —KVA
This spellbinding Netflix drama excels owing to its icy tenor and how precisely it handles the tropes inherent to true-crime procedurals. In charting the extreme violence of men — serial killers, predominantly — Mindhunter deflates the mythos surrounding these figures. —AJB
This series' towering achievement will always be Tatiana Maslany's central performance(s). As it asked Mas to inhabit more and more clones in later seasons, sometimes those risks didn't quite land. But until the end, Orphan Black remained irresistible for the way it used increasingly complex sci-fi trappings to explore the many ways women's lives are circumscribed by larger forces. —AJB
A clever cross between the millennials-in-Brooklyn vibe of Girls and a murder mystery, this TBS show is just as binge-worthy as anything Netflix has ever produced, particularly in its first season. On one hand it was a twisty whodunit; on the other it was a very funny, clever commentary on how grief can easily turn into something selfish and performative. —JC
Stranger Things
Decades from now, when historians try to understand what a peak Netflix show was, they will look to Stranger Things, an homage to the sci-fi and horror movies of the 1980s that's perfectly attuned to today's streaming appetites. Audiences who started with episode one quickly became desperate to get to the bottom of what happened to the missing Will Byers, what was really going on in Hawkins, Indiana, and dammit all, whether Barb might actually be okay. (Spoiler: Barb would not be okay.) —JC
The ending of the Hulu season was controversial but also such a good decision. Everything leading up to that shock is a great reminder of what made Veronica Mars one of the most bingeable shows of the previous decade. It was grimly dark, unafraid of sardonic humor, and while it loved its heroine, it was also honest about her flaws. —KVA
Some of the best TV binges feel like getting on a roller coaster that cannot possibly go any faster … and then, somehow, it just keeps accelerating. Such is the case for You, a nightmarish stalker thriller that works best if you take a deep breath and hang on for dear life. —KVA
Episodes of this TV Land comedy have a potato-chip feel, in the sense that you cannot stop snacking on them until you've finished every last one. But Younger is far from disposable. It's a smart show about publishing and ambition, packaged in glossy, goofy, romantic bite-size pieces. —KVA
Mad Geniuses
God bless these weirdos for bucking all the trends.
A show about teen ballerinas and wacky small-town shenanigans starring Sutton Foster as a former chorus dancer is even more bizarre than it sounds. The weirdest Amy Sherman-Palladino show of the decade. —KVA
Los Espookys
Even in an era when TV has leeway to get weird, Los Espookys was still one of the decade's weirdest shows. I mean that in a good way. Its premise, about the adventures of professional horror hoaxers, is unlike anything else on TV. So is its interchangeable use of Spanish and English and its idiosyncratic sense of humor. I can't think of another series that staged a fake exorcism and also had a running joke about Herbalife. Can you? —JC
The web series-turned-HBO anthology that follows a pot dealer on his New York City routes is unpredictable in the best way. One episode may unfold entirely from the perspective of a dog. Another may hang out with an older couple contending with an Airbnb that's less than ideal. You just never know, and that's a big part of the High Maintenance high. —JC
The robot show that was far more interesting and relatable than anything that's happened on Westworld. —JC
This show about Kathryn Hahn having a sexual obsession with Kevin Bacon didn't need to include a perfect episode about female sexual experiences, but, happily, it did. —KVA
The brainchild of Zach Kanin and Tim Robinson is a short, perfect, daffy set of sketches. Each one goes right about where you think it's going to, then accelerates off an impossibly funny cliff you never saw coming. —KVA
A Japanese series about an office-worker whose entire life revolves around tricking his co-workers into thinking he's a great employee, when in fact he spends most of his time eating amazing desserts. Even weirder than Cats. —KVA
Legends of Tomorrow
The rare superhero show that's made primarily for comic-book fans. In one episode, a telepathic gorilla travels back in time to try and kill a young Barack Obama! Beyond weird. —CH
A series that reveled in the fantastic. It never quite reached its aims consistently, but it was dazzling to watch Noah Hawley and his collaborators try as they pivoted from Bollywood numbers, to trippy cult encampments, to time travel-induced meditations on family. The performances were marvelous, especially Aubrey Plaza's zany, dangerous Lenny Busker, Navid Negahban's devious, entrancing Shadow King, and Dan Stevens's aching portrayal of David Haller. —AJB
How many network procedurals have dared to ask what would happen if you layered a Ferris Bueller–esque, fourth-wall-breaking narration on a story about sci-fi superpowers bestowed upon a nerd? Just one. This one. —KVA
(Also file under: Prestige Tryhards)
This limited Netflix series starring Emma Stone and Jonah Hill defied logic and genre. You could call it a pharmaceutical sci-fi show. You could call it an action-thriller, or a romantic comedy, or an opportunity to watch Justin Theroux in an unflattering wig. None of these descriptions is inaccurate! But the best and shortest one consists of three words: It's a trip. —JC
My Little Pony: Friendship Is Magic
Yes, a rebooted kiddie series based on an '80s line of plastic horses inspiring a legion of adults to dub themselves "bronies" may have seemed weird, but the most unusual thing about the Lauren Faust–created Friendship Is Magic was the utter lack of cynicism or self-consciousness that inspired such passion. The series' unique sense of humor, capable of speaking to adults without talking down to kids, coupled with an irresistible candy-colored aesthetic and original songs that didn't make you want to tear out your eardrums, made it the sort of commercial juggernaut you could feel good about rooting for, no matter your age. —GK
A one-of-a-kind show. Loosely inspired by the reality TV makeover genre, this semi-scripted Comedy Central series followed Nathan Fielder as he tried to help struggling small businesses find their footing. The hook was whatever outlandish advice he cooked up — fake a viral animal video to promote a petting zoo! Give away "free" gas through a baroque rebate scheme! Turn a coffee shop into a (fake) Starbucks thanks to a loophole in parody law! Sell alcohol to minors … that they can't pick up until they turn 21! — but the real genius was how Fielder managed to draw out the bizarre, absurd, and baffling eccentricities within everyone he met. A comforting reminder that we're all weirdos, really. —CH
Of all the audacious shows this decade, The OA possessed the most audacity. The Netflix series from Brit Marling and Zal Batmanglij was daring in form — it served up a telepathic octopus, talking trees, and interdimensional travel — but its biggest gamble was its earnestness. This was a show that implied that a choreographed dance routine could stop a school shooting, heal the dying, and even be deployed as a cure for societal ills. The OA took big swings without a hint of irony, hoping that viewers would buy into a world where hope could be manifested by magic. And that risk paid off. —JC
A dose of awkwardness that'd feel almost unbearable, except that its story of coming out and young adulthood is anchored by such pitch-perfect, well-written characters. —KVA
An evocative, intellectually curious, and provocative examination of the multiplicity inherent to black life explored in collages, conversations, and shows-within-the-show. Random Acts of Flyness resists convention to create something bold, challenging, and resolutely black. —AJB
Simultaneously one of the most depressing and funniest shows of the decade, Andy Daly's pitch-black comedy about a professional critic who "reviews" life on a five-star scale was something you either loved or hated. (Leading a cult? Two stars. Marrying a stranger? Five stars!) Earns its spot on this list for the pancake episode alone. —CH
A sitcom tailored for the irony-poisoned and/or extremely online among us. Would've been ranked higher if not for the Szechuan sauce thing (desperate), the Pickle Rick memes (boring), and the Elon Musk cameo (desperate and boring). —CH
The offbeat rhythms of this Netflix comedy about a mixed marriage (one zombie, one not) never appealed to a huge audience, but its sheer silliness was almost unparalleled. —KVA
Undone
The rotoscope animation may seem like the weirdest thing about this 2019 Amazon series, but the metaphysical family mystery at its center is even stranger. Luckily, this series from BoJack Horseman's Raphael Bob-Waksberg and Kate Purdy pulls off both with grace and style to spare. –GK
Should Have Been a Limited Series
The shows that were almost single-season gems, until a network and/or showrunner decided to go back for seconds. Or God forbid, thirds.
Forget the relatively underwhelming second season. The transcendent dick jokes in American Vandal's first season earn it this place, among the shows that were truly great and then just didn't know when to stop. —KVA
Big Little Lies
If this alluring series filled with characters deeper than they appear had only made a single season, it would have wound up in the "Indisputable Classics" tier. But it went forward with that second Meryl Streep season, which started really strong and then devolved into a weird courtroom drama too self-conscious about replicating its original appeal. —JC
A modern-day British Bonnie and Clyde of sorts, the first season — about a pair of depressed teens who find solace in and trouble with each other — had a half-bleak, half-hopeful, Tarantino-esque vibe to it. Because it ended on a cliffhanger, a second season followed. But I can't stress this enough: That season should not have existed. —JC
A thrilling, intense, supremely scary first season about catching a serial rapist. After that, it was still a scary show about catching a serial rapist, except it was much less thrilling, intense, or supreme. —KVA
Iconic costume design and a legendary source novel can only sustain a TV show for so long. In the case of The Handmaid's Tale, that period was one season. —KVA
A rarity among the decade's serious comic-book shows, Jessica Jones briefly achieved the apparently unachievable: being a very good, very bleak Marvel show. "Briefly" being the key word here. —KVA
Based on the Danish drama Forbrydelsen, Veena Sud's gloomy procedural was long on rain-choked Pacific Northwest atmosphere and expertly performed by Mirielle Enos, Joel Kinnaman, and Billy Campbell but too cavalier in using arbitrary twists to pad out a season's worth of episodes. By the time it limped into its final year, it lost so much goodwill that not even its rally toward a tough, thought-provoking final leg could dim the sense that great talent had been misapplied. —MZS
The second season was a moving, queer retelling of the Bluebeard fairytale, but Killing Eve did lose something essential by returning: much of the grotesque, riveting threads that quickly made it such an object of obsession. Eve and Villanelle were mired in subplots that kept them away from one another, while the story lacked the zest, excitement, and cunning reversals of season one. The performances by Sandra Oh and Jodie Comer remain a wonder to behold, though. —AJB
Hear me out: What if we really didn't need to know how Jack died in the Crock Pot fire? Imagine This Is Us tying up just a few more of its loose ends and closing out on a high note in its first season, instead of trying to generate more mysteries and plot twists season after season. Even though it would have deprived us of quality Sterling K. Brown time, doing it that way would have cemented its place in TV history as a great show that blended family drama with Lost-style mystery. —JC
The first season was a hollow march into the extremes of human nature marked by restraint and intensity. The second should have been similarly great, which made its failure all the more disappointing. —KVA
This U.S.-New Zealand co-production from director Jane Campion confirmed, beyond any doubt, that Mad Men star Elisabeth Moss could anchor a complex procedural with metaphor-laden visuals and strong feminist themes. Season one was perfect, easily one of the finest miniseries ever aired. But it was so meticulously contracted around the heroine's personal journey toward catharsis that the second season couldn't help but feel like an attempt to squeeze more juice from an orange that was all rind. —MZS
David Simon and Eric Overmyer's drama about New Orleans in the aftermath of Hurricane Katrina decided early on to distribute its attention democratically amongst a handful of lead characters and not vary the emphasis too much. That made it a tough sell for audiences who'd loved The Wire, but perhaps didn't realize how much the cops-and-robbers plotline enabled them to appreciate the macrocosmic and microcosmic observations about city life. It struggled to remain compelling after the sting of disaster began to fade, though the sheer ordinariness of the plotting compelled respect. —MZS
Oh, UnREAL. What a devious delight it was in its first season, which explored the self-destructive gravity of a reality-TV landscape, anchored by Shiri Appleby and Constance Zimmer's deliriously entertaining performances. Then, it doubled down on the trashy irreverence of its show-within-a-show and lost track of the complexity in its main characters that made them so beguiling in the first place. —AJB
Laundry Folders
These are pleasurable shows, but they don't require your eyes to be glued to the screen. Best enjoyed while getting the chores done.
Rarely has there been more discussion about how little discussion there is about a very popular TV show. Possibly because there's just not that much to say! —KVA
A perfect swirl of compelling and repetitive storytelling about three young best friends in the fiery world of New York publishing. Pay attention when it veers into ridiculous/great; start matching socks when it dips into ridiculous/annoying. —KVA
Bones
Perhaps the best laundry-folding TV show ever created, Bones is lightness and darkness bound together in a comforting pattern of unspeakable crime and clockwork resolution. It is also unutterably silly. The main character is named Bones and she studies bones. Why does anyone ever watch anything else? —KVA
This decade produced several comedies that sent up the arts-and-entertainment complex. But this Hulu series starring Billy Eichner and Julie Klausner, prematurely canceled after three seasons, was breezier and snarkier than all the others. Ideal for when you want to snort at Kevin Spacey jokes. —JC
One of the smartest, most diverting pieces of escapism this decade, which is reason enough to make it worthy viewing. But if you fold laundry while watching, Downton Abbey goes to another level. Sometimes you can sync up your chores with the folding of linens by Anna (Joanna Froggatt) and other members of the Downton staff. Then, when upper-crust types like Lady Mary Crawley (Michelle Dockery) appear onscreen, you can wrap your laundry around yourself as if you, too, are an elegant aristocrat. —JC
A perfect background show, designed to comfort. You almost always know where it's going. Its cast has warm chemistry, particularly Jonny Lee Miller and Lucy Liu, whose tender friendship as Sherlock and Dr. Joan Watson anchor the series. —AJB
An enormously sweet family drama that's also admirably honest about trauma and teen strife. Bonus: You can wipe away all your tears on the towels you just folded. —KVA
Quit griping and watch this highly unobjectionable Netflix comedy with your mom already. It'll make her happy and there are definitely worse things in the world than watching Jane Fonda and Lily Tomlin do their thing, one neutral-toned half-hour at a time. —GK
Household chores are forever, and so is Grey's Anatomy. This decade, ABC's long-running medical procedural proved that it could kill its beloved leading man and still find ways to keep its team of emotionally damaged doctors and nurses on their toes. —KVA
Oddly staid procedural based on the premise that federal agents would let a fake magician crash on the departmental sofa. —KVA
Mom
Dysfunctional mother-daughter duo Christy and Bonnie Plunket may find it a struggle to navigate sober life, but watching Allison Janney and Anna Faris trade prickly barbs that always stay just this side of over the line may just be the easiest thing in the world. —GK
Who's that girl? Who's that girl? It's you, watching New Girl again! And, oh dang, you're just gonna keep watching after you've finished ironing, aren't you? —KVA
You go ahead and clean out your sock drawer while watching This Is Us. I'll be over here straightening up and hanging on to Parenthood. Jason Katims's warm ensemble follow-up to Friday Night Lights was made great by an incredibly appealing cast that has only risen in impressiveness as the years have passed (Michael B. Jordan was in this, and so was Rosa Salazar), as well as its balance between realism and sentimentality. —JC
Ray Donovan
(Also file under: Prestige Tryhards)
Peak Dad TV. —CH
A tech-industry satire that earns its rightful place in this category because it's as reliable as a Swiss watch. Every time its hapless anti-hero (Thomas Middleditch) succeeds, he's always five steps away from falling straight onto his face again. —KVA
At its best, this comedy-drama-thriller set at a white-shoe law firm played as if somebody had taken a trailer for a Steven Soderbergh heist movie and turned it into a show. There was plot aplenty, but the real show was the rat-a-tat dialogue, the twisted screwball flirtations, the scenes of cynical badasses in expensive clothes telling each other how it's gonna be, and most of all, the shots of characters walking down hallways as if they know full well how cool and sexy they are. —MZS
Beautiful Disasters
Are these shows great? Probably not, but we still couldn't look away.
Bryan Fuller and Michael Green's adaptation of Neil Gaiman's novel dared to be slow, grandiose, daring, and sometimes impenetrable. The best stuff concentrated on spectacle, dry wit, and satire; the more forgettable stuff rehashed Quentin Tarantino and Robert Rodriguez–style ultraviolence. But it remained mesmerizing because from hour to hour and scene to scene, you truly never knew what it was going to try next. —MZS
Using TV characters as stand-ins to have a Socratic dialogue on issues of the day was always going to be more effective in theory than in practice. —KVA
Dark
(Also file under: Prestige Tryhards)
This wackadoodle German-language Netflix drama about time travel, evil Catholic priests, and nuclear apocalypse takes itself way too seriously, except for the blessed moments when it drops the façade. Responsible for the second-most unintentionally funny TV line of the decade: "Her husband, who's fucking my mom, is looking for his son, who's my father! A few days ago I kissed my aunt!" —CH
The Carrie-Brody relationship was supposed to end after season one, but got a reprieve that kept it going for two more seasons even though there wasn't much left to say. Still, the producers and writers managed to reinvigorate Homeland in season four and beyond, with an escalating series of preposterous twists that brought it closer in spirit to its American TV forerunner, the louder and pulpier 24 (with which it shared two key producers, Howard Gordon and Alex Gansa). The core cast — Claire Danes, Mandy Patinkin, F. Murray Abraham, Rupert Friend, and (in the early years) Damian Lewis — kept the flame burning. —MZS
Luck
David Milch and Michael Mann's HBO series about gangsters, gamblers, jockeys, and stablehands at a seedy Southern California racetrack combined the hard-nosed, profane philosophizing of a David Mamet play with a contemplative, at times theological aura that turned dialogue and action into spectacles to meditate upon. It seemed like it could be a modern-day answer to Milch's beloved Deadwood when the network pulled the plug during the production of season two, after a string of accidental horse deaths. —MZS
A guy accidentally decapitated himself with an axe in the seventh season and it was still, like, the 17th most outlandish thing this show did. —CH
The problem with a high-stakes soap thriller about knocking off a list of people one by one? Every time someone gets crossed off the list, the machinations needed to keep the show moving forward get more desperate and absurd. —KVA
Although it wore out its welcome through sheer dogged intensity and absurdity, Shonda Rhimes's D.C.-set political thriller was initially a blast, covering a lot of the same ground as House of Cards, but with a less-self-serious attitude about its soap-opera shenanigans. The tone was like Dynasty meets Tom Clancy. It was remarkable how astute Rhimes and her writing staff managed to be about race, sex, family dysfunction, homophobia, and the relationship between civilian government and the military and espionage complexes, while still giving audiences the regular, mandatory jolts of "Holy shit, I can't believe they did that!" —MZS
Smash
(Also file under: Actual Disasters)
The irony of this show's title is how it was intended as the "celebrated success" definition of the word. As in, "It's an absolute smash!" Instead, the short-lived NBC show about two women vying to play Marilyn Monroe in a fictional musical wound up capturing another meaning of "smash." Like, "What if you took some great original songs and an electric performance by Megan Hilty, but then you smashed it up into a huge mess?" —KVA
Under the Dome
An incredible performance by Toni Collette (and an unhinged turn by Brie Larson as a cam girl?!) made this series electric in spite of its inability to reckon with its own central premise. Dissociative identity disorder is a lot to hang on a family comedy. —KVA
The only show brave enough to give us a sloth that triggered earthquakes by screaming, electrified ants that tried to blow up the Large Hadron Collider, a hurricane-inducing jellyfish, an invisible snake, a car dropped directly into a volcano, and a prison break led by a pack of wolves. Responsible for the most unintentionally funny TV line of the decade: "I don't know which was worse, being attacked by lions or discovering my sister is sleeping with my fiancé." —CH
Glowdowns
When a show starts off rocky but gets better, that's a glow-up. (The Leftovers and Halt and Catch Fire are perfect examples.) A glowdown is the opposite: a show that starts strong, but slowly breaks down until it's a shell of itself.
Shouldn't have killed off Lexa. —CH
What began as an intriguing, multiple-POV prestige drama about marital dysfunction and loss devolved into an occasionally maddening, still somewhat addictive prestige wannabe. The Fiona Apple theme song was always good, though. —JC
The anthology series that kicked off an entire trend is a glowdown on two levels. Its seasons progressively lost luster after the first two, and each individual season experienced its own glowdown, reaching a point where the grotesque, creepy promise of the premise flamed out by the end. At least we'll always have the Rubber Man Halloween costumes. —JC
Almost Every Reboot and Revival
Not every attempt to resurrect a popular show from a previous decade qualified as a glowdown. (See: One Day at a Time and Twin Peaks: The Return.) But a whole ton of them did. MacGyver? Glowdown. Fuller House? Have mercy, a glowdown. Both 90210, the CW reboot that ended its run in 2013, and the more meta BH90210? The rare glowdown twofer. So many revivals, so many tarnished reputations.—JC
Archer
A glowdown with an asterisk, because even as Archer slipped in quality from its early-season highs, it found increasingly wild ways to blow itself up. What other show would dare try a three-year experiment that slipped from noir crime mystery to '30s action-adventure drama to future sci-fi space epic? —CH
(Also file under: Actual Disasters)
A lesson in what happens when you lose your underdog status. The glories of Arrested Development's three Fox seasons were in their subversiveness, the sense that the show was thumbing its nose at its network, its genre, and at wealth itself. The Netflix seasons were bloated, self-satisfied, and empty. —KVA
Many episodes are terrible. Some are fantastically great. The trend has shifted far too often toward "terrible" lately. —KVA
Dexter
Yes, the series finale was an all-time stinker. But years before Dexter and his Dark Passenger sailed off into that hurricane, this Showtime drama slumped into a tailspin and never recovered. —CH
The Fox hip-hop drama that went from must-see TV — it didn't invent livetweeting, but it perfected it — to that show associated with a major offscreen scandal. —JC
Episodes 
An American-British co-production, this comedy from David Crane (Friends) and Jeffrey Klarik leaned hard on brilliant casting throughout its first season. But despite the chemistry of co-stars Stephen Mangin and Tamsin Greg (as the married team of English writers remaking their hit Britcom in America) and Matt LeBlanc (as the cunning American star), the series hit a point of diminishing returns in season two and shrunk more and more by the year. —MZS
Never lived up to that pilot. —KVA
How to Get Away With Murder
Wait, Wes is alive again? No better sign of a glowdown than a late-season resurrection. —CH
Schumer's sketch-comedy series was so whip-smart, especially in its third season, that its decline was almost inevitable once she blew up as a movie star. —JC
Modern Family
It'd be wrong to say that Modern Family didn't feel at least a little modern when it premiered in 2009. By 2019, it feels practically antediluvian. —KVA
Gorgeous design and an interesting alt-history premise, regularly hampered by its plodding pace and humorlessness. —KVA
An amazing first episode undone by a quotidian and unenlightened ending. —KVA
At its start, OITNB was one of the most daring, promising shows on the streaming frontier. The first season not only performed a nearly impossible balancing act by steering skillfully between gravity and humor, it also seemed to promise that the show understood and was dismantling its protagonist's frustratingly limited perspective. With time, though, OITNB gradually undercut its own storytelling project. It refused to abandon characters who had no more place on the show. It dawdled when it should've rushed, and rushed when it should've slowed down. By the end, even its ambitious final season couldn't fix the show's pacing issues and its refusal to kill its darlings. —KVA
Once time-traveling doctor Claire Fraser and her bonny Scottish beau, Jamie, reunited in the past … future … future-past — look, it's complicated, but once the tragic romantic couple left 18th-century Scotland and its knee-bearing kilts behind for the American colonies (and their booming slave trade), things got a lot less sexy and a lot more questionable. But hey, now that the Frasers are facing down the dawn of the Revolutionary War, maybe things will get hot and heavy again? —GK
Set amongst the pretentious, largely humorless twits of upper-middle class white Portland, this corrosive IFC sketch series from stars Fred Armisen and Carrie Brownstein and director Jonathan Krisel made an impeccably timed debut in 2011, just in time to take the piss out of the complacent mainstream liberalism that was about to settle into the national marrow. But eight seasons of hitting the same note on the piano moved it from "Oh, my God, have you seen this?" to "That's still on?" —MZS
Riverdale
That Hot Archie Show that intrigued you at first, but after a season or two, only seemed interesting to your 14-year-old niece. —JC
(Also file under: Prestige Tryhards)
The early episodes of Sherlock felt like something nearly impossible: a vibrant reinvention of a beloved character that still felt like a true version of the original. Then the show got so obsessed with plot complication, mechanics, trickery, and surprise that it betrayed its characters, shot itself in both feet, fell over, buried itself, and tried to solve its own murder. (This metaphor makes more sense than anything that happened in season three.) —KVA
After a promising debut season about Shakespearean motorcycle boys vroom-vrooming around California, Sons of Anarchy was sadly ruined by the fact that only so much story can be sewn together with long shots of motorcycles whipping around highways. —KVA
🎵 Carry on my wayward sons / For there'll never be peace because you're gonna keep killing demons forever / Can't lay your weary heads to rest / So many demons! 🎵 —KVA
Began in glorious southern Gothic mode, full of vampires and sex and camp. Ended like a tedious glossary of every mythical creature. —KVA
Remember the post-Twilight vampire mania of the late aughts? So does this CW series, which took another YA book series about blood-sucking high-schoolers and spun it into eight seasons' worth of soap operatics buttressed by the sort of impenetrable supernatural mythology capable of supporting not one but two spinoff series: The Originals and Legacies. —GK
Some viewers are still loyal to AMC's zombie-pocalypse saga, but let's be honest: The show's best years passed at least six seasons ago. —JC
Who Is America?
Consumed by the media attention it so clearly wanted to attract, Sacha Baron Cohen's first TV show in 14 years dove headfirst into the culture wars that most pop culture tries to avoid. But by the end of its seven episodes, after the shock faded from its surprise debut, Who Is America? didn't say anything new, noteworthy, or revelatory. It didn't even answer its own titular question. —CH
Prestige Tryhards
Too thirsty, too unoriginal, and (often literally) too dark. 
Jump back to Prestige TV That Was Actually Good ➽
It had a great cast. It told a provocative story about [whispers] family secrets. There was so much atmosphere on this show that a charge for staying at the Rayburns' Key West hotel actually appeared on my credit-card bill. But in the end, it only resonated on a surface level. —JC
Ticked most boxes on the prestige-TV checklist: dark, violent, male, serious, historical, slow, and complicated plots about drugs, guns, and gangsters. Forgot to add: any kind of forward momentum. —KVA
Doppelgängers should be way more fun. —KVA
A good-natured series about stand-up comedy life that got lost in the many other shows about comedians living in New York. —JC
From Kramer vs. Kramer and War of the Roses through Once and Again and Marriage Story, we've seen plenty of funny-harrowing counts of rich people getting nasty after they split up. This is not one of the better ones, mainly because the HBO series always seemed determined to split screen time as equally as possible between Sarah Jessica Parker's anxious, self-flagellating cheater ex-wife and Thomas Haden Church's self-righteous but buffoonish ex-husband, and only the former was compelling enough to merit that level of scrutiny. —MZS
While Billy Bob Thornton's star turn and a first-rate supporting cast made it watchable, this Amazon series from David E. Kelley and Jonathan Shapiro stumbled right out of the gate, trying too hard to be a neo-noir cousin of FX's Damages and indulging too many comic-book flourishes for a story supposedly rooted in reality (including William Hurt's boss character, a disfigured Dr. Mabuse type). The second season course-corrected somewhat, but with so many series actively producing new episodes, how many people noticed or cared? —MZS
This epic drama about the building of the transcontinental railroad boasted splendid production values and scenery and a large cast full of game character actors (including Tom Noonan as a priest, Common as a freed slave, and Colm Meany as a titan of industry). But despite a sort of woozy, '70s pot-Western grandiosity, it never clicked the way it wanted to, aiming for the anti-capitalist satire and gutter poetry of Deadwood but too often landing in the vicinity of B- stretches of Sons of Anarchy. —MZS
(Also file under: Actual Disasters)
An HBO series created by True Blood's Alan Ball, starring first-rate actors, but so intent about addressing "the current national climate" that it was completely insufferable. —JC
This series put Netflix on the map by snagging a top cast of Oscar- and Emmy-winners and nominees and impressed glitz-minded viewers by filling the screen with sepulchral images befitting a political melodrama that aimed to be Richard III by way of a James Patterson novel. (The source material, a long-running, same-name British series, was leaner and meaner.) But it exhausted its inventiveness by season three and spent the rest of its run trying and failing to justify its own decision to keep making new episodes. By the time star Kevin Spacey's sexual-misconduct scandal certified its end, a mercy killing had been long overdue. —MZS
Low Winter Sun
A textbook example of the mistaken belief that dark cinematography, wanton viciousness, casual nihilism, and a lack of humor equal "serious art," this adaptation of a same-titled British series became synonymous with the excesses of prestige TV, drawing all the wrong lessons from the acclaim heaped on its AMC sibling Breaking Bad. You know you've screwed the pooch artistically when an actually good show makes fun of you, as The Good Wife did by having its characters watch Darkness at Noon, a self-serious crime drama in which a corrupt detective stands over a woman's corpse and intones, "People just think there are black hats and white hats, but there are black hats with white linings." —MZS
Luther
Did you know British cops can be both hot and sad? —KVA
Why would you cast Lizzy Caplan as a lead character, then make the show about the genius of her boring male partner? —KVA
All that money bought Apple a great Jennifer Aniston performance and a thoughtful set design, but it couldn't make The Morning Show better than "fine." —KVA
A prototypical anti-hero story about an upper-middle-class couple that gets sucked deeper and deeper into running a money-laundering operation for a Mexican cartel, Ozark feels like a lesser Breaking Bad. But because it features strong performances from Jason Bateman, Laura Linney, and Julia Garner, as well as a lot of scenes that take place in grim shadows, it seems more highbrow than it actually is. —JC
This Hulu series about a cult loosely based on Scientology had a chilling low-key energy in its first season, but quickly ran out of fresh avenues to explore, landing somewhere between the dystopian brutality of The Handmaid's Tale and the alternative morality of Big Love. —MZS
The Returned
The American version of Les Revenants that was a pale imitation of Les Revenants. —JC
The first show created by filmmaker and Academy Award winner Cameron Crowe, this Showtime drama that followed a rock crew on the road had all the makings of an Almost Famous for TV. But like Vinyl, another prestige try-hard about the business and relationships of rock and roll, there wasn't much outcry when it was canceled after a single season. —JC
A hit-and-miss attempt at a big-canvas, socially conscious tearjerker, this miniseries from The Killing's Veena Sud followed a fatal hit-and-run case where the driver, a cop (Beau Knapp), conspired to keep the killing a secret from the victim's parents (Regina King and Russell Hornsby). The series was at its weakest when presenting the usual procedural tropes and bad-cop glowering, and never stronger than when dwelling on how a staggering loss tests a devout mother's faith. —MZS
A waste of Margo Martindale. —KVA
Aiming to be a '70s cousin of Mad Men, but with Bobby Cannavale's record producer as a coked-up Don Draper, Terence Winter's hyperexpensive HBO period drama produced a notable pilot directed by Martin Scorsese (working in Wolf of Wall Street mode, and staging one of his all-time wildest finales, set in a club where the power of rock literally brings the walls down). But having the hero commit murder in the very first episode left it with nowhere to go, and the mix of chaotic plotting, obligatory debauchery, and the periodic deployment of real-life pop stars as human Easter eggs made the whole thing more exhausting than elating. —MZS
Westworld is to great prestige TV what a Westworld robot is to a real person: convincing on the outside, but there's only soulless machinery underneath. —KVA
Jump back to Prestige TV That Was Actually Good ➽
Actual Disasters
The shows we wish we could forget.
Jump back to Beautiful Disasters ➽
The first season of this adaptation of Jay Asher's novel about a teenager who commits suicide, leaving behind a bunch of mixtapes as a suicide note, wasn't exactly good. It was melodramatic, overly long, and not realistic in its portrayal of mental illness. But you could sort of see why teens would be interested in it. The second and third seasons, on the other hand, got sloggier and sloggier. Ultimately, this show served as a textbook case in not knowing when to let things lie. —JC
They had it and they blew it. Manny Coto and Evan Katz's 2017 follow-up to the long-running action series replaced CTU agent Jack Bauer with an African-American war veteran (Corey Hawkins), but failed to ask how this franchise would be shifted and refreshed as a result of that casting change. The script was a gloss on the usual — Middle Eastern terrorists plot attacks on U.S. soil; conspiratorial shenanigans impede the hero's progress — even though fear of homegrown white supremacist terror was on the rise in the United States and a black hero was the perfect avatar for dealing with it. Not on Fox, though. To add insult to injury, the action mostly sucked. —MZS
What happens when you let Sons of Anarchy creator Kurt Sutter produce a historical epic? A lot of violence and heavy-metal-album-cover posturing and not a lot worth remembering. —MZS
Characters do not need to be conventionally likable to make a TV show compelling, but they do need to be more likable than everyone on Camping. —KVA
Feed the Beast
The David Schwimmer–saince hit a speed bump with this 2016 AMC series about the restaurant business, the mob business, and a bunch of other business that never rose to the level of compelling. —JC
The TV equivalent of a monkey's-paw curse, where you get what you wanted but it turns out to be terrible. Belongs here for the body-shaming jokes, the bizarre pacing, an unromantic romance plot, the fact that it turned one of its lead characters into an uninteresting shambles of a person, and that execrable ending. —KVA
If the "cool girl" trope hit its peak around the time the movie version of Gone Girl was released, its final gasp came in this Netflix series, which ran for a single season in 2017. Based loosely on Sophia Amoruso, who started the online fashion retailer Nasty Gal, Girlboss was about a young entrepreneur (Britt Robertson) who was an impulsive, badass, unfocused feminist. She was supposed to be charming in her recklessness. Unfortunately, she was just a manic-pixie jackass. —JC
The show was called Gypsy. But it really should have been named after the question viewers asked as they watched it: "What is Naomi Watts doing in this show?" Presented as a TV showcase for Watts and a sexy psychological thriller about an unethical therapist, it was instead a sedative in streaming form, a show guaranteed to coax you into slumber as you muttered sleepily, "Seriously, what is Naomi Watts doing in this show?" —JC
The Netflix series about a beauty pageant glow-up rapidly turned into a stew of equal-opportunity stereotyping, tonal wrong turns, and bizarre plot developments. There are so many shows on Netflix it's impossible to say which one is the "worst." But this has got to be up there. —JC
That blond trust-fund kid who went to China for a month and came back wearing a kung fu uniform, walking around barefoot, and throwing the word chi into conversations where it didn't belong? Netflix made a show about him, and it ran for two seasons. —MZS
Heroic white man CIA agent fights the evil brown men who hate America. Stuff goes boom. —KVA
It made King of Queens look like Shakespeare on network TV. —JC
This could've been a great sitcom about rural America and cycles of poverty and families who feel left out of the economy. Instead, it was a feckless depiction of masculinity that substituted fart jokes for insight. —KVA
Rob! 
Watching Rob! was like trying to eat a candle while it was burning. —KVA
(Also file under: Prestige Tryhards)
A strong candidate for the most disappointing follow-up to a classic series, Mad Men creator Matthew Weiner's anthology of long episodes about the descendants of Russia's Romanoff clan started out as a somewhat intriguing meditation on privilege and whiteness but soured into the TV version of a collection of undercooked short stories, self-published in hardcover and on the most expensive paper available. The episode where Weiner offers a weak defense against sexual-harassment allegations manages to combine straw-man arguments, whataboutism, and "who can really know the truth?" hand-waving, none of it a tenth as compelling and stingingly honest as Mad Men episodes dealing with the same material. —MZS
Should be rebooted so younger generations have a chance to roast it too. Think of the TikTok parodies!—CH
Jump back to Beautiful Disasters ➽
The Worst Show of the Decade
(Also file under: Actual Disasters, Prestige Tryhards)
Wherein Aaron Sorkin nearly threw away any goodwill that his considerable talent had built up over the decades. The basic idea of season one, which aired in 2012, was that we were watching a behind-the-scenes account of editorial decisions at Atlantis Cable News (Atlantis is a lost continent, get it?) as actual news happened in 2011. This allowed Sorkin — whose time working on Sports Night and The West Wing made him think he possessed a godlike knowledge of how journalists should do their jobs — to armchair quarterback the previous year's major news events, inserting a fictional organization into real-world decisions to explain how things should have been done. Along the way, we had to spend time with the show's protagonist, a condescending blowhard authority figure of approximately Sorkin's age and background (Jeff Daniels); his producer and former lover (Emily Mortimer), who was considerably younger; his young female associate producer (Alison Pill), often borderline incompetent; a female economics correspondent (Olivia Munn), also kind of an idiot; and various male associates who all seemed to have a much better handle on their jobs. The second season scrambled the show's chronology, creating a detective story about journalistic accountability loosely drawing on the Operation Tailwind scandal, but the aggressive wit of the staircase attitude toward news gathering persisted, and there was nothing to be done about the characters, who for various reasons (primarily hyper-verbosity and shallowness) were too annoying to get invested in. No show this decade better exemplified the most irritating tendencies of serialized TV as it strained for profundity and cultural significance. —MZS