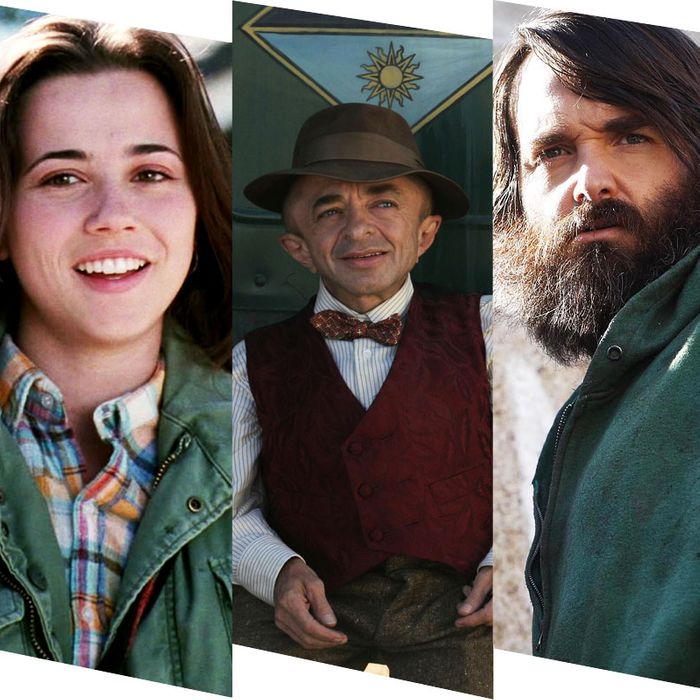 Fans of David Milch's Deadwood were given a gift denied to almost all fan bases of canceled TV shows: closure. Deadwood: The Movie, premiering almost 13 years after the HBO critical darling was unceremoniously cut off, allows fans to catch up with characters they never thought they'd see again in any form. It got us thinking: What other shows need the same treatment? We're not demanding a reboot or a new season à la Twin Peaks — although that would be fine too in a lot of these cases — but just a feature-length film to tie up loose ends and give us the goodbyes that the cruel television industry has withheld from us for so long.
There are dozens of shows that can be classified as "brilliant but canceled," but these are the programs from that subcategory that really feel like they have something more to say (unlike HBO's incredible Enlightened, for example, whose second and final season finale felt satisfying). And if any of these show's do end up getting a movie made, we're taking full credit.
Carnivale
(2003–2005)
If you put the tent up, they will come. There's a whole legion of fans — some of whom self-identify as "Carnies" — looking at the Deadwood movie and asking, "Why not us too?" Both cancellations came about in an era when HBO was trying to find its next big hit and axing shows with large budgets (Deadwood, Rome, Carnivale). The cult status of this two-season wonder has only grown over the 14 years since its cancellation with fan sites, forum activity, and even something called CarnyCon. Set during the Great Depression, Daniel Knauf's vision followed the people of a traveling carnival and weaved a deep sense of American mythology through the lives of its unforgettable characters. Nick Stahl and Clancy Brown led the series as two very different men who discover they have very unusual powers. It was a moody, smart show that drew comparisons to Twin Peaks but never quite got its hooks into average viewers. Despite that, fans have clamored for its return for over a decade now, especially after it ended with a cliffhanger that just begs for resolution.
Community
(2009–2015)
They got six seasons, now where's the movie? To be honest, it was an effort just to get this Dan Harmon creation to six seasons — Harmon was fired for a season, it went to a streaming service, etc. — but if the show can survive that, it can get a movie across the finish line, right? The fandom around Greendale Community College and its unforgettable students was always fiercely loyal, and some of the graduates (Donald Glover, Alison Brie) have only grown more popular since this TV school shuttered for good. Community aired on NBC for five seasons, pushed through some behind-the-scenes drama, and even had a sixth season air on something called Yahoo! Screen. An in-joke on the show produced the hashtag #SixSeasonsAndaMovie, and it looked like it might come true. Producers and even Harmon have talked about it, with Harmon saying he needs to miss the Community crew before he can think about writing their reunion film. Cast members like Danny Pudi and Joel McHale were talking about how much they want to do it just last year. It's high time.
Freaks and Geeks
(1999–2000)
Picture it. In fall 2020, two decades after NBC canceled one of the best shows it ever had the privilege to air, the network pays whatever it takes to bring Judd Apatow and the cast back together for a reunion. There are so many ways it could be done. A 20th high-school reunion seems kind of obvious. What about a Big Chill version in which one of the characters — whoever is too busy to do the reunion (looking at you, James Franco) — has died and everyone is getting together for his or her funeral? Freaks and Geeks was so far ahead of its time in the way it wrote to both adults and teenagers about adolescence that it would still be a massive critical darling (and probably find a bigger audience) if NBC aired it today. And the cast remains one of the most remarkable future-star factories of all time: Franco, Linda Cardellini, Seth Rogen, Jason Segel, Martin Starr, Ben Foster, Lizzy Caplan, and more. It might cost money to get them all back together. It would be worth every penny.
Gravity Falls
(2012–2016)
Alex Hirsch's brilliant Disney Channel creation was reportedly canceled on its creator's terms, so it's a little different from other shows on this list, but we're still clamoring for more adventures of Dipper and Mabel Pines and the weird happenings of the Mystery Shack. Part of the pain comes from the fact that animated hits typically go on for years and years, but there were only two seasons of Gravity Falls — a scant 40 episodes. With phenomenal voice work by Jason Ritter, Kristen Schaal, Linda Cardellini, and others, Gravity Falls was one of the smartest family shows of the '10s, a program that plays equally to kids and their parents or guardians. It ended in 2016, and there have been rumors of a movie ever since (Hirsch did produce a graphic novel of new adventures). This is a show that will only grow in popularity when people find it on Disney+. Hey, Mouse House, why not launch a series of movies on your new streaming service?
Hannibal
(2013–2018)
On the one hand, the fact that we got a show as dark and brilliant as Bryan Fuller's Hannibal on NBC at all was something of a miracle, especially for three whole seasons. On the other hand, we need more Dr. Lecter. Mads Mikkelsen stepped into the iconic shoes of Hannibal Lecter and made the character his own, just as Fuller weaved elements of the Thomas Harris novels and the films adapted from them into his violent, beautiful vision. After its cancellation in 2015, there were rumors of other networks' picking it up or even producing a film, but talks reportedly fell apart and everyone moved on. For now. If we had to bet on one show from this list actually returning, it would be Hannibal, and that's (mostly) not just wishful thinking. Earlier this year, Mikkelsen revealed that Fuller was still working on something related to Hannibal, a possible fourth season — a reworking of Clarice Starling and The Silence of the Lambs. Yes, please, now.
Jericho
(2006–2008)
This CBS hit returned from the dead once — why not again? It was canceled after its first season in 2007, but fans were so smitten that they started a grassroots campaign that persuaded CBS to change its mind … and it actually worked! Then CBS canceled it again. The fans remain rabid, however, because of how many plot threads season two left unresolved, and there were rumors of a film way back in 2009. Interest has remained strong enough that there have been "seasons" in comic-book form about this postapocalyptic vision of how people would band together and break apart after society crumbled. Given how much we've loved incarnations of the end of the world in the decade since the show was canceled — everything from Mad Max: Fury Road to The Walking Dead — it feels like Jericho was ahead of its time.
The Last Man on Earth
(2015–2018)
"Oh farts." Will Forte's four-season Fox comedy ended with a cliffhanger, as everyone's favorite group of survivors discovered that they were very much not alone. For its 2015–18 run, Forte and his talented ensemble deftly balanced episodic comedy with an overall arc about the quirky personalities who thought they were, yes, the last people on Earth. And then the fourth season ended with a surprise: They spotted dozens of people in gas masks. And then … Fox canceled it. Sixty-seven episodes of plot, and we don't get to know what happens next? Let's tie it up! Forte has even revealed what was going to happen next. Surely Netflix, Amazon, or even Fox could make this happen for the fans who have devoted dozens of hours to this show.
Pushing Daisies
(2007–2009)
Bryan Fuller's fantasy-mystery hybrid was one of the best shows of the aughts but never quite found the audience it needed to stay on ABC. One has to imagine that if the show had been canceled after only 22 episodes today, some streaming service would pick it up and continue the adventures of Ned, Chuck, Emerson, and Olive Snook. Lee Pace starred as a baker who can bring dead things back to life. Want to know who killed someone? Ned can wake them up and ask them. The concept probably sounded too cheesy and out-there for 2007–8 audiences, but those who did check out this wonderful show fell in love. In just two seasons, Pushing Daisies landed 17 Emmy nominations and has been rumored for reboot in some form for the past decade — there were even stories of a potential Broadway musical. It even won an award in 2015 from Esquire for the show that fans most wanted to see rebooted. Cheers to that.
Reunion
(2005)
Some shows are on this list because they were brilliant. Some shows are on this list because they were beloved. ABC's Reunion wasn't really either, but there's something so cruel about the way it ended. It's a mystery that never got solved. Imagine reading half of a mystery novel only to learn that the back half is full of empty pages. That's what happened to fans of Reunion, a 2005 drama about the murder of someone on the night of their 20-year class reunion. The show jumped back and forth in time, filling in the lives of the leading character and inching closer to which one may be a killer. And then it was canned after only nine episodes had aired (four more were filmed but never broadcast in the U.S.). In some international markets, a narrator tied up some of the plot threads, but it'd definitely be appropriate for a show called Reunion to have one of its own to solve its mystery.
Santa Clarita Diet
(2017–2019)
The ink is barely dry on the eviction notice given to this show by Netflix, so the cast and creative team are probably still available. Grab them while you can and give us a Netflix original movie that ties up the saga of Joel and Sheila Hammond, California Realtors caught in a unique situation when Sheila dies and comes back to life with a taste for blood. The depressing thing about the SCD cancellation is that the show has gotten smarter and funnier with each season, and it contains a ramifying mystery that will now never be solved. The chemistry and timing between Timothy Olyphant and Drew Barrymore have only improved as it went on. Why give a show like this so much time to develop into something great only to pull the rug out from under it? And what's particularly frustrating is that Netflix shows often have a clause that stops them from being picked up by another network for as many as five years or more. If it takes that long, forget one movie — maybe someone like Amazon or Hulu could do a few. And maybe they could each be half an hour long. And there could be like 12 of them.
Southland
(2009–2013)
One of the best cop shows of the Peak TV era, Southland was already resurrected once — rebooted by TNT after being canceled by NBC after one season. It really found its footing on TNT, developing into a brilliant ensemble piece anchored by Michael Cudlitz and Regina King. However, it ran for only four more years there. Not only did it feel like there were more stories to tell with these rich, complex characters, but the fifth season ended on a cliffhanger, with Cudlitz's John Cooper being shot by responding officers after an altercation. It feels like a cheat that TV history should correct. If you need any more convincing: Regina King, who's won a gaggle of Emmys and an Oscar since then, says she's ready.
Terriers
(2010)
FX has been one of the most ambitious and protective networks when it comes to nurturing unique programming (Legion and Baskets likely wouldn't find a home anywhere else). So what happened with Terriers? It would appear to have fallen awkwardly between the network's two eras — the one that defined it with shows like The Shield and Rescue Me and the current one of daring programming like Pose and Fosse/Verdon. Donal Logue and Michael Raymond-James starred as California private eyes in a program that also pushed genre definitions a decade before that was commonplace. Critics adored Terriers, with a number of important ones putting it on their top-ten lists, but that wasn't enough to keep it from being canceled after only 13 episodes. FX has come so far since axing this in 2010, why not close the circle by giving fans a reunion movie a full decade later?