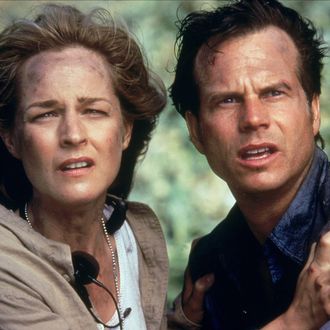 Twisted.
Photo: AJ Pics/Alamy Stock Photo
Over 25 years after Twister twirled its way into moviegoers' hearts, Universal Pictures and Steven Spielberg's Amblin Entertainment are planning a "big scale" sequel called Twisters. And now it looks like Twisters has not only swept up their director but their cast as well. Anthony Ramos, Daisy Edgar-Jones, and Glen Powell are reportedly in talks to star in the film according to Deadline. Minari director Lee Isaac Chung is reportedly on board to direct the film, according to Variety. Deadline also reports that "Spielberg himself flipped for the script by The Revenant scribe Mark L. Smith, and his enthusiasm provided the impetus for the fast-tracked film." Universal and Amblin announced a release date for July 19, 2024 and sources say they're hoping to bring back Helen Hunt. This sounds like it will either be incredible (if they showcase practical effects) or mid (if they don't). Now the only thing left for them to do is to bring back Twister … Ride It Out.
This post has been updated.