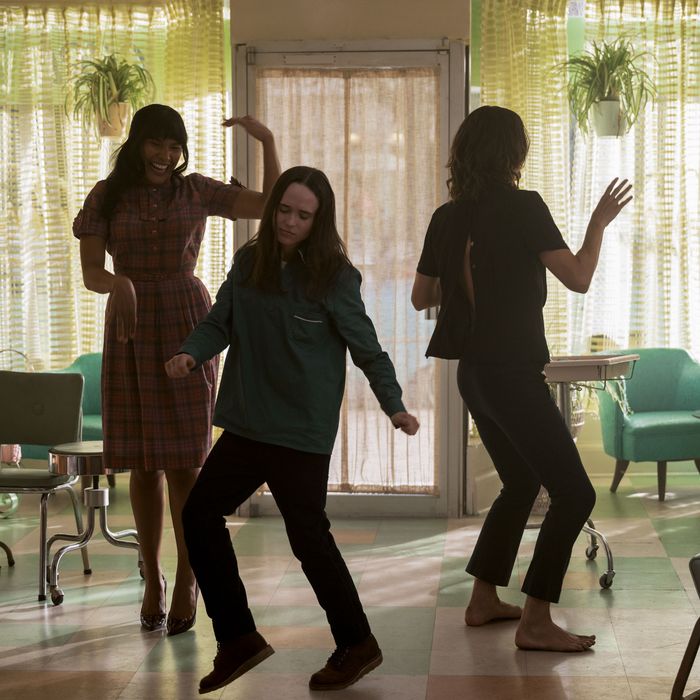 Even at its best, The Umbrella Academy tends to be heavier on style than substance — and from the very beginning, a big part of that has been the music. The very first episode had a now-famous dance sequence set to Tiffany's "I Think We're Alone Now," which played when the Hargreeves siblings were, uh, alone now. A fight scene was scored to They Might Be Giants' "Istanbul (Not Constantinople)" for reasons that were, and remain, mystifying and unfathomable. Woodkid's "Run Boy Run" played when a boy was running.
And if season one of Umbrella Academy had the occasional obvious-slash-obnoxious needle drop, season two is more than happy to double down on the show's more-is-more approach to its soundtrack. Within the first five minutes of the season two premiere — five minutes! — Umbrella Academy has already blasted songs by Bobby Darin, Maxine Nightingale, and Frank Sinatra through your TV speakers.
Season two doesn't exactly let up from there. Sometimes it even works! And sometimes it definitely doesn't. So in the same skeptical spirit that animates Umbrella Academy itself — and with your requisite spoiler warning — let's rank season two's biggest needle drops, from least to most embarrassing:
16. "Hello," by My Kullsvik
The scene: The Swedish assassins send their dead brother off with a Viking funeral (episode five).
Umbrella Academy is big on ironic counterpoint, but it's rare that the show actually makes the song its own joke. The Viking funeral sequence is a welcome exception, as the very familiar instrumentation of Adele's "Hello" kicks in — only to surprise audiences when the vocal track turns out to be a Swedish-language cover version. It's unexpected and weird and oddly poignant — and the perfect choice to give some added weight to the death of a Swedish assassin whom the show never actually bothered to develop. (And if Umbrella Academy was really bent on using an Adele song, bonus points for staying away from "Rumor Has It.")
15. "Right Back Where We Started From," by Maxine Nightingale
The scene: A montage catches us up on the Hargreeves children starting new lives in Dallas (episode one ).
This show loves a good jaunty montage, and season two's first one is also its best. (There's a reason, after all, the premiere episode is named after this song.) It helps that "Right Back Where We Started From" is thematically appropriate for a time-travel story without being too on the nose — an impulse, as we'll see, that Umbrella Academy doesn't always resist.
14. "Major Tom (Coming Home)," by Peter Schilling
The scene: An episode-opening montage depicting the young Pogo's journey into — and back from — outer space (episode five).
There's not nearly as much Pogo in season two as I'd like, but the show almost makes up for it with this zippy opening montage, which depicts the chimp's outer-space journey alongside a song about … a guy's outer space journey. Look, subtlety is not Umbrella Academy's strong suit.
13. "Sunny," by Boney M
The scene: Another episode-opening montage depicting Klaus's rise as an international cult leader (episode three).
Would you believe it's another episode-opening montage? This one catches us up on Klaus's rapid rise as a cult leader, as he goes from Baja, Mexico, to Varanasi, India, to San Francisco, California. It's nothing special, but damn, that song is catchy.
12. "Twistin' the Night Away," by Sam Cooke
The scene: Several of the Hargreeves siblings get drunk and dance around a beauty parlor (episode five)
This otherwise pointless scene is season two's clearest effort to replicate the semi-viral "I Think We're Alone Now" sequence from season one. And honestly? Not bad!
11. "Pepper," by Butthole Surfers
The scene: While being interrogated, Vanya gets dosed with LSD and goes on an extended drug trip (episode eight).
A weird, trippy song for a weird, trippy drug trip. Maybe they picked it because the lyrics have a Dallas reference? Either way, just be glad it wasn't "Incense and Peppermints" or "Strawberry Fields Forever."
10. "Beyond the Sea," by Bobby Darin
The scene: Klaus and Ben realize they've landed in Dallas circa 1960 (episode one).
The first song in season two sets the tone for the show's general approach to music: liberal use of pop songs that have already been overplayed in other stuff. At least this one is period-appropriate.
9. "Wicked Games" by Parra for Cuva (feat. Anna Naklab)
The scene: A climactic montage says good-bye to 1963 as the Hargreeves siblings go back to the future (episode ten).
One last montage to round out the season. And it's a big one! David heads off to the Army, the surviving Swedish assassin joins Klaus's cult, Harlan still has superpowers, etc., etc. Just one question: Why, of all things, a cover of Chris Isaak's "Wicked Game"? It's like they saw the song's first lyric was "The world was on fire, and no one could save me but you," and went, "Eh, close enough."
8. "My Way," by Frank Sinatra
The scene: Five watches as his siblings fail to prevent the nuclear apocalypse (episode one).
Full disclosure: I am on the record arguing that "My Way" is a singularly awful song. (In my defense, so is Frank Sinatra.) But the editing mostly saves this one, as each of the Hargreeves kids deploys some cool superpower at each of the song's most brassy and bombastic beats. Still, it's another song where it feels like they read the opening lyric — "And now the end is near, and so I face the final curtain" — and went, "Yeah, this is about the apocalypse."
7. "Dancing With Myself," by Billy Idol
The scene: Five fights with the version of himself sent back in time to kill JFK (episode 9).
Now we're really getting to Let's-wrap-this-up-so-we-can-knock-off-early territory. "Five is fighting with himself. Why don't we go with … 'Dancing With Myself'? Great work everybody! See you on Monday!"
6. "I'm a Man," by the Spencer Davis Group
The scene: Diego fights with the younger version of Reginald Hargreeves (episode two).
None of the Hargreeves siblings had the warmest relationship with dear old dad, but Diego is uniquely defined by his rage against Reginald. So how best to score his long-desired confrontation with the father who makes him feel like a scared, vulnerable little boy? "I'm a Man." Good stuff.
5. "Renegade," by Styx
The scene: Klaus decides to go on a wild bender (episode four).
Because I shouldn't be thinking about the Pittsburgh Steelers when I'm watching Umbrella Academy.
4. "Bad Guy," by the Interrupters
The scene: Five and Lila fight in a warehouse (episode five).
Because it's a ska cover of a Billie Eilish song. Next!
3. "I Was Made for Lovin' You," by Kiss
The scene: Five, Diego, and Lila fight the Swedish assassins at the embassy (episode four).
Just … why?
2. "Crazy," by Daniela Andrade
The scene: Diego is locked up in an asylum (episode one).
Two of my least favorite tropes: a song that almost directly comments on what the character is experiencing, and a grim, slowed-down cover of a song that was originally way more upbeat. And they managed to squeeze both into the same scene!
1. "Everybody (Backstreet's Back)," by the Backstreet Boys
The scene: Allison fights the Swedish assassins who invade her home (episode seven).
This is the worst-case scenario for an Umbrella Academy needle drop: a song that actually undercuts the emotional power of the scene. Umbrella Academy at least attempts to clumsily justify the song's inclusion when Klaus gives his last words of wisdom to the cult: "Oh my god, we're back again. Brothers, sisters, everybody sing. We're gonna bring you the flavor, we're gonna show you how." But that punch line didn't need to extend into the fight scene immediately following Allison and Ray's poignant good-bye, or blare cheerily over a legitimately horrifying moment when Allison uses her superpower to make one brother strangle the other to death. Overplayed, anachronistic, and all-around off-putting, this is the moment in season two that actually gave me secondhand embarrassment.