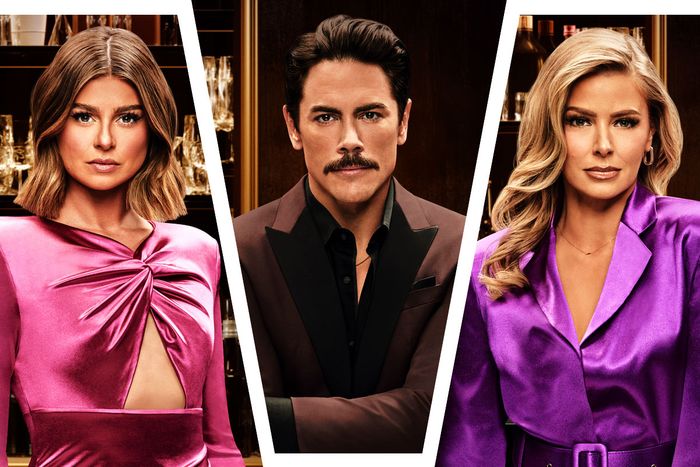 Photo-Illustration: Vulture. Photos: Tommy Garcia/Bravo
On the evening of March 3, Vanderpump Rules set the internet ablaze when TMZ broke the news that one of reality TV's favorite couples, Ariana Madix and Tom Sandoval, had split and that Sandoval was having an affair with castmate Rachel "Raquel" Leviss (you may know her better as the "Bambi-Eyed B*tch"). Since then, private digital detectives like myself have spent countless hours going back through the fingerprints of Instagram, Bravo clips, and Reddit to find out what really happened. And a lot happened — enough for a detailed timeline dating back to 2013. The stakes of this drama feel higher than those of any other reality-TV couple, and these people, whom we've followed with hungry, shallow interest, are acting intensely in character.
With more episodes of Vanderpump Rules on their way (and an emergency episode coined, you guessed it, "Scandoval"), it's necessary to catch you up to speed on all the drama surrounding the series, the exes, and the actual restraining orders. (Before we go on, I just want to clarify one thing: Andy Cohen can attest to the fact that I was the first to add "#Scandoval" to the Bravo lexicon.) Read on for the essential #Scandoval timeline, and remember that we will still have to wait until May to see the reunion play out on television.
The Background (2013–2021)
January 7, 2013:
Vanderpump Rules, a show profiling the young, attractive servers and bartenders of restaurateur Lisa Vanderpump's West Hollywood restaurant SUR (Sexy Unique Restaurant), premieres. Tom Sandoval, a bartender trying to make it as an actor, is cast in the first season, and Ariana Madix, a bartender, appears on several episodes as a guest until she is made a series regular, on November 4, 2013, at the start of season two.
February 10, 2014: 
During the season-two Vanderpump Rules reunion, Madix and Sandoval confirm that they are officially in a relationship. It is later revealed that the relationship overlapped with Sandoval's relationship with cast member Kristen Doute.
November 7, 2016:
Rachel "Raquel" Leviss makes her first appearance in episode one, season five, when she is introduced as the girlfriend of cast member James Kennedy.
May 2021:
Leviss and Kennedy get engaged! And Sandoval lends Kennedy $25,000 to pay for a lavish Coachella-themed proposal in Palm Springs.
September 28, 2021:
After three seasons as a recurring character on the series, and following the departure of several of the show's main characters, Leviss is cast as a lead, finally appearing in the show's intro.
December 5, 2021: 
In a joint statement, Leviss and Kennedy call off their engagement. "After these five wonderful years we had together, we decided we have two different goals," the pair writes. Leviss keeps the couple's dog, Graham. It's called setting boundaries.
The Affair (Spring 2022–Present)
April 2022: 
Rumors circulate about Leviss making out with fellow VPR cast member Tom Schwartz at Coachella. Schwartz is not at the festival, however, although Tom "Paint the Nails White" Sandoval is. On April 17, Leviss posts a blissed-out photo of her and Sandoval, along with the caption, "I'm on an island." It's hard not to wonder, in retrospect, what kind of island that was, exactly.
Summer 2022: 
The #Scandoval officially begins, according to sources close to the couple. A series of since-removed Reddit threads allege that the seven-month-long affair gets hot and heavy over the summer. There's a claim that the affair takes place while Madix is at home and sleeping, and another that Madix nearly catches them on at least one occasion when she sees Sandoval exiting the guest room in the middle of the night. The excuse? He was getting her a glass of water. Sure, Tom.
August 26, 2022: 
According to Us Weekly, Leviss and Tom Schwartz kiss at Scheana Shay and Brock Davies's Cancun wedding.
September 20, 2022:
Leviss posts from the Vanderpump Rules season-ten wrap. "We got to celebrate the wrap of Season 10 by going to the last day of our favorite festival @lifeisbeautiful #lifeisbeautiful2022," the caption reads. The video speeds through a colorful concert and quickly turns to an image of her atop Sandoval's shoulders, in what can only be called gross foreshadowing.
October 2022:
Leviss's lightning bolt necklace makes its first appearance in her Instagram posts, which fans and Redditors have speculated is a secret love symbol between her and Sandoval to one another (he wears a matching one, which begins appearing on his feed around the same time). Sandoval, notably, also dresses up as Leviss for Halloween.
January 9, 2023: 
In response to circulating rumors, Madix denies that she and Sandoval have an open relationship. But maybe she was just the last to know about it. "We are not in an open relationship," Sandoval says, smirking, during an E! interview recorded in February. "Anymore," Tom Schwartz adds. "Yeah, that was last week," Sandoval says. And all the weeks leading up to it, it turns out.
February 2023:
Interviewed by E! for the season-ten premiere, Leviss gushes about her new best friend, Sandoval. "He just is so in touch with himself and is fully accepting of who he is and is so confident, and I feel like he looks at me like a little sister and is so supportive," she says.
The Fallout (March 1–Present)
March 1, 2023:
While Sandoval's band, Tom Sandoval & the Most Extras, performs in L.A., Madix sees a sexually explicit video from Leviss on Sandoval's phone. Madix then uncovers the affair and calls Leviss, who has just finished taping Watch What Happens Live With Andy Cohen in New York. (On that same show, Leviss cops to finding Sandoval more attractive than Tom Schwartz, the Tom we all knew her to be romantically involved with, surprising both Cohen and co-star Shay.)
Shay, who is out with Leviss at the time in New York, finds Leviss outside of a bar on the phone with Madix, according to "Page Six." Leviss confesses the affair to Shay while Madix is still on the phone. Shay and Leviss get into an altercation, and Shay changes her flight home to avoid being on the same one. Although Shay has not confirmed this altercation, Leviss's sister, Kate Couture, has.
March 3, 2023:
News breaks of the #Scandoval. All cast members of Vanderpump Rules, with the exception of Tom Schwartz, unfollow Sandoval and Leviss on social media. Existing and former cast members begin to post Instagram and Twitter updates in solidarity with Madix.
On the night of March 3, Shay and former cast member Doute are both seen with Madix. Filming resumes, and Madix and Sandoval discuss the affair on-camera, which, according to "Page Six," Madix says makes her feel "gaslit."
March 4, 2023:
Fans of Vanderpump Rules flock to the internet to spam Schwartz & Sandy's — the bro-ish, strip-mall-bar concept conceived by Sandoval and his wingman — with bad Yelp reviews. Sandoval issues a milquetoast statement to the world via his Instagram page, apologizing to everyone but Madix.
Met with jeers at his evening performance, Sandoval makes a public comment, describing himself as "one of the most hated people in America," and responding to chants of "Ariana" with, "We love her." Sandoval is seen heading to Leviss's apartment for some late-night lightning bolt action. The two film a scene, according to multiple reports, as well as an on-camera kiss, although Sandoval later asks for a reshoot, threatening to stop filming if he does not get his way.
On the Instagram page for Schwartz & Sandy's, Sandoval's fumbling bar, an unsigned post appears, presumably from angry daddy figure and investor Greg Morris, imploring patrons to stop panning the business. "Those of us who are not famous have dedicated our time, hearts, and money to make this restaurant a reality. We too are disappointed by the current situation, as Ariana has always been a good friend and a great supporter of the restaurant."
Lisa Vanderpump makes no public comment on her partnership with both philandering Toms, although she responds to Andy Cohen on Twitter and announces that she will appear on Watch What Happens Live on March 8 to discuss the fallout.
Leviss's crisis PR strategy is allegedly leaked via DeuxMoi, indicating that she intends to lay blame at the feet of others for her role in the #Scandoval by claiming that her sexually explicit FaceTime video was illegally filmed and that she is a victim of manipulation and abuse.
March 6, 2023:
James Kennedy confirms that confessional filmings have resumed, and posts a picture with season ten's active filming with the name "Scandoval" on it. On his daily radio show, Andy Cohen confirms the season has been extended by two weeks and that the reunion has not yet filmed.
Doute teases that she may be returning to Vanderpump for the remaining episodes as an ally to Madix. According to TMZ, the porn site CamSoda offers Sandoval $540,000 to livestream 12 shows with his cover band so that he will not suffer the slings and arrows of real consequences for his actions.
March 7, 2023: 
In her first public acknowledgment, Leviss, through her "Mickey Mouse" lawyer, sends out a legal threat to cast member Lala Kent — and possibly to others. In it, Leviss's attorney alleges that a sexually explicit video of his client was recorded "illegally" and "without consent," and that distribution of it will be met with legal action, pursuant to a California law against revenge porn. Leviss's attorney may have some work to do, since he seems unaware of California Rule 4.2, which prohibits an attorney from directly contacting a represented person. Everyone knows that Kent's attorney is prominent entertainment lawyer Darrell D. Miller, and, within hours, Kent makes and sells "Send it to Darrell" merch to emphasize her high-profile representation.
Leviss's legal team also sends a separate letter to Sandoval, which is obtained by Entertainment Tonight. "We understand that sometime recently you and Ms. Leviss engaged in an intimate exchange on FaceTime, which you recorded without the permission of Ms. Leviss. California is what is called a 'two party consent' state, and accordingly such recording is illegal and can expose you to both civil and criminal penalties," the letter reads. It is allegedly a violation of Bravo reality stars' contracts to sue one another, which Leviss may or may not know.
Leviss files an order of protection against Shay, which is granted. The two are scheduled to appear in Los Angeles Superior Court on March 29 for their hearing. California's Civil Harassment Restraining Order would prevent the cast members from legally being in the same place, thereby jeopardizing filming of the reunion, which is set to occur the week prior to the hearing.
March 8, 2023: 
Around 1 a.m. ET, Sandoval issues a second apology, this time directly addressing some of the damage done to Madix. "I want to first and foremost apologize to everyone I've hurt through this process," the cover-band front man shares on Instagram. "Most of all, I want to apologize to Ariana. I made mistakes. I was selfish, and made reckless decisions that hurt somebody I love."
A few hours later, Levis finally issues her own apology. In a statement to Entertainment Tonight, Leviss apologizes "for my actions and my choices foremost to Ariana, and to my friends and the fans so invested in our relationships. There is no excuse. I am not a victim and I must own my actions and I deeply regret hurting Ariana. I am reflecting on my choices, speaking to a counselor, and I am learning things about myself such as my patterns of codependency and addiction to being and feeling loved. I have sought emotional validation through intimate connections that are not healthy without regard for my own well-being, sometimes negatively affecting others and often prioritizing the intimate connection over my friendships. I am taking steps to understand my behavior and make healthier choices."
March 21, 2023: 
Madix, who has been largely quiet during #Scandoval, breaks her silence publicly, speaking on the record about Leviss. (She pretends not to know her, for what it's worth.)
March 22, 2023:
Leviss shows up in the parking lot of a nail salon in Valley Village looking shockingly similar to a Dementor and giving a very long, unscripted interview to TMZ about her affair with Sandoval — just hours before the reunion was set to film. The next morning, the cast shows up just to tear one another down.
Lifetime announces Madix will star in the upcoming movie Buying Back My Daughter.
March 23, 2023: 
The cast members of Vanderpump Rules film their season-ten reunion. They ditch their phones and meet up for hours of filming, and according to leaks to the press, Leviss and Sandoval are fired at from all sides for hours straight.
During the reunion, an altercation allegedly takes place, and Cohen gets involved. The near-fight, according to multiple reports, doesn't involve Madix, Sandoval, or Leviss.
Another report, this time from Us Weekly, states that the entire cast — and especially Kent and Kennedy — went completely crazy on Leviss and Sandoval during the reunion, refusing to let up for the duration of filming.
After the cast is done with them, the new most-hated couple in West Hollywood retreats to the parking lot in outfits fit for a funeral to smoke cigarettes and groan about their noncelebrity status by the grill of a Chevy minivan. Later that night, according to TMZ, the pair has dinner together at the Musso & Frank Grill, where they order oysters, red wine, and entrées.
Another reunion note: According to a letter distributed by Shay's attorney, Neama Rahmani, Cohen was forced by Leviss to serve Shay a false letter of dismissal for the outstanding restraining order.
"Even if Rachel had the correct document, which she didn't, it wasn't filed with the court," Rahmani wrote in a statement following the reunion. "There is no file stamp in the top right corner. This was just another public relations stunt by Rachel and her team. If Rachel really wanted to make this go away, she would come out and publicly say the 'punch' never happened and she is sorry for all the harm she caused Scheana, Ariana, and her other friends." The false document also uses Leviss's stage name, Raquel Leviss, as opposed to her legal name, Rachel Leviss. Leviss and Shay will still have to appear in court on March 29 to resolve the matter even if Leviss does, in fact, intend to drop the restraining order, as she now says she wishes to do.
That same day, Madix hosts a giveaway for vibrators on Instagram.
March 26, 2023:
"I don't know what they do," Madix says when asked about the new Scando-couple. "At this point, I don't care about anything that either of them does."
April 10, 2023: 
In a move that reeks of desperation (or is that just his Designer Impostor perfume?), Sandoval, with the help of his band manager, Jason Bader, scores an interview with germophobe Howie Mandel, a guy who has literally never seen a single episode of Vanderpump Rules. Mandel's production company, Alevy, is headed by one Kimmie Bader, who — you guessed it — is married to Sandoval's bud. During the painful podcast, the mustachioed Sandoval proceeds to lie about his relationship, claiming that he had already broken up with Madix and that the affair was an open secret among castmates. He also claims that she forced him to fertilize embryos, a procedure that sort of plays out during season ten. Madix has countered the narrative put forth by her ex, saying he hasn't been truthful.
April 16, 2023: 
Madix is first seen with her new boyfriend, New York–based fitness trainer Daniel Wai, at the Coachella Music Festival.
April 30, 2023: 
Lala Kent, Ariana Madix, and Lisa Vanderpump are all invited to the White House Correspondents' Dinner. "The untouchable Tucker Carlson is out of a job," quips host Roy Wood Jr. during the roast. "But to Tucker's staff, I want you to know that I know what you're feeling. I work at The Daily Show, so I too have been blindsided by the sudden departure of the host of a fake-news program. Tucker got caught up. Got caught up like that dude from Vanderpump Rules." Madix covers her eyes in obvious disbelief.
May 16, 2023:
Kent, Madix, and Shay team up for an Uber Eats commercial that plays on Shay's girlie hit, "Good As Gold." Madix also enjoys collaborations with Bloomingdale's and Bic razors, as well as a role on Dancing With the Stars.
May 17, 2023: 
On the day that the finale is set to air, "Page Six" confirms that Leviss and Sandoval have "called it quits." Neither reality star speaks on the record about the alleged split.
Later that evening, the final episode of the season airs, beginning with one-on-one interviews with Madix and Sandoval. The juicy episode, which films confrontations between Madix and Sandoval in their Valley Village home, also breaks down the so-called fourth wall, referencing events like BravoCon, appearances on Watch What Happens Live!, and the appearance of the cameras.
In one of the most cringeworthy moments of reality television, Sandoval goes over to Leviss's disco-lit apartment and tells her that his parents love her, only to have her hear him incorrectly. "I love you, too!" she says gleefully, but he checks her. "I said they love you." Honestly, watching one villain destroy another villain may make the entire episode worth watching. They were doomed from the start.
Madix appears on WWHL! following the finale to weigh in on the episode and answer questions. Are they really broken up? She doesn't think so. Turns out, Leviss is still sending letters to the house.
May 24, 2023: 
Appearing on Alexandra Cooper's Call Her Daddy podcast, Madix reveals that Sandoval and Leviss had sex in the guest room while Madix was asleep in the next room. "He left the bed and then went to the guest room and fucked her," she says.
May 25, 2023: 
Peacock releases the full, uncensored version of the first part of the three-part reunion. In it, James Kennedy calls Sandoval a "worm with a mustache" and an "ugly fuck" (which Andy Cohen momentarily thinks is directed toward him); Schwartz reveals that he has known about the affair since August; Leviss, cordoned off in a trailer wearing a preteen-appropriate heart sweater, looks bitter and angry for the majority of an hour, particularly when she learns that Sandoval and Madix were still sleeping together in January; and Kent checks Lisa Vanderpump, who just cannot stop defending these terrible Toms.
In the uncensored version, we learn, too, that Sandoval originally refused to let Madix know when he would and would not be in the house, which she refers to as "retraumatizing." We get plenty of extra Schwartz and Maloney time (talk about digging a deeper grave), and we get Cohen gracefully swearing at Kennedy: "Just stay in your fuckin' seat, okay?" Mom, Dad, and everyone else are really, really mad.
As for Madix, well, we learn that her last words to Leviss were sent over text, 48 hours after news of the affair broke. "Shut the fuck up you RAT," the screenshot reads, in response to a tepid apology (this episode is full of them).
Keep the rosé cold, because #Scandoval isn't quite over yet.
This story has been updated with additional drama.