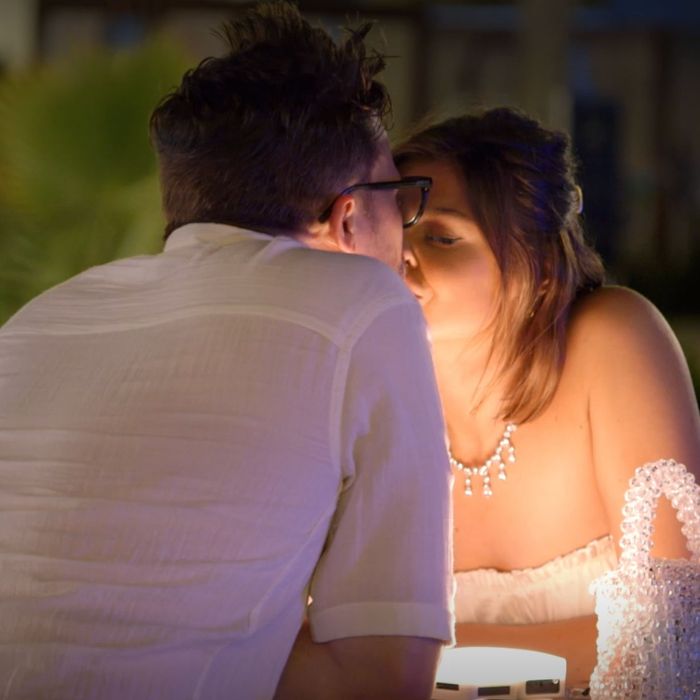 Holy jeekers, what do we do with this whole episode? I mean, it's one banger after another from start to finish: Tom and Raquel's kiss, Katie's rage texts, Scheana telling everyone it happened, Ally calling James and Lala disgusting, Katie and Kristina Kelly (always both names!) watching the wedding in robes from the balcony, James blowing up at Schwartz in front of Ally, James and Raquel fighting at dinner, Sandoval beaming and growling and Raquel and Schwartz's hookup, Ariana thinking Raquel is absolutely insane, Katie and Tom finally ending the illusion of their friendship right there at an all-inclusive resort in Mexico. Even without the #Scandoval of it all, this is an insane episode.
But with the Scandoval of it all, this turns all of us into McGruff the Crime Dogs, at home using Reddit, common sense, a heavily-edited reality television program, and the screen-capped Instagram stories that someone posted on Twitter to figure out what the hell is going on here. Okay, so what we know, thanks to Howie Mandel's podcast of all the Deal or No Deals out there, is that Sandoval and Raquel had already kissed by the time they were at Scheana and Brock's wedding in August. Thanks to Tom Schwartz's attempt at slam poetry on Watch What Happens Lives, we also know that they eventually hooked up in August and he knew about it. That means the wedding and whenever they first did the nasty were in the same vicinity time-wise. I have used a lot of dating apps, but I have never used carbon dating, so maybe I have this all wrong. I don't know.
Anyway, that means that Raquel had already kissed Sandoval by the time she got to Schwartz. I know why Tom did this (and we'll get into that in a bit), but what is Raquel doing here? Not only is she kissing Tom while holding a Guinness Book of World Records trophy for Least Dress, but she's also in her confessionals talking about how she feels like this could be something. So she has started an affair with a man and is now pretending to have feelings for his best friend? Is this for the show? Was this a producer's idea? Or did she come up with it on her own and this is how Raquel will solidify her future in the reality television arts and sciences? Basically, is she doing it for clout?
Or does she really feel something for Schwartz? Did she kiss him because she's single and he's single and she doesn't get to meet lots of other dudes who aren't going to use her to get on the show? I don't know, but she is working her way through this friend group like her lips have a revenge list à la Kill Bill. That can't be real, can it? And if she is feeling things for all of these men, if she does need guys' approval to find her worth, as Lala says, then she is definitely heading for a mental breakdown (also as Lala says). Or is this the mental breakdown? I don't have answers to any of these questions, and because I can't find the center of reality in my reality TV, it's beginning to make me question this whole enterprise.
Right after this happens, Scheana, earning her Production Meddling Degree from Kyle Richards University and Ozempic Clinic, calls Lala on speaker to ask if she saw Schwartz and Raquel making out. Of course Katie and White Kanye were sitting right there to hear about their respective exes riding the Cancún Express with each other. Katie says that she hates Tom Schwartz, which should be her most familiar emotion by now. For this, I do not blame her. She naturally goes back to her room and sends him literally a full screen of texts that are just individual "I Hate You"s sent minutes apart so they earn their own time stamp. That was completely earned by Schwartz, even if maybe slightly excessive.
It's Lala and James who are handling it worse than anyone. Lala says to him, "Your ex is a hoe. A cheap broke down hoe." Come on, we can't be both sex-positive and slut shaming simultaneously. James is talking about how Schwartz always had the hots for her, as would any guy, and how Schwartz wants to fuck her in the mouth, the ass, the pussy, the ear hole, the elbow fold, that weird webbed thing that is behind your kneecaps. He does this in front of his girlfriend! He does it the next day at the pool again when James is giving Schwartz a hard time about kissing his "ex-fiancé." He's not wrong when he says, "'I hope everyone sees the calculated-ness [Schwartz has] done and how he's maneuvering around. It's just so sneaky." However, James, your girlfriend, who you're more in love with than anyone ever, is sitting right there. Why are you so pressed? And if you're going to be that pressed, don't do it right in front of her salad.
Ally has a glimmer of hope later in the episode, though. As James and Raquel are bickering at dinner, Ally makes a big show of saying she's leaving the table to say goodbye to Katie and Lala in the lobby, name-checking Raquel's enemies and subtly aligning herself against her. Top-notch shade. She could do well here.
The real conflagration is between Tom and Katie, and I call it that because Katie says she wants to set Schwartz on fire. It all comes to a head after the wedding, and Schwartz approaches Katie and Kristina Kelly, who are having some all-included dinner. When he arrives, Katie's eyes are rolling harder than every Euphoria character at some phenomenal-looking backyard kegger. Katie then lays out her case perfectly and succinctly. "You told me for months you would never ever do that, and then you did it in the most humiliating public way to me," she says. Yes, they're divorced. Yes, it is a "silly little thing." Yes, it shouldn't matter that much. But know what? It does. As she said, this was the one thing she asked for.
But that is why Tom did it. Not even an infinite number of Miss Cleo-es at and an infinite number of tarot decks could figure out Raquel's motivation, but Schwartz's is simple: he wants to be done with Katie. He is so spineless, so passive-aggressive, that the only way he could see to get out of having to be nice to her was to do the only thing she asked him not to do. Katie didn't have to add, "I think you're pathetic, I think you're drunk, and I think you're a loser," but it sure didn't hurt.
Honestly, I think it's best that it happened. As Schwartz said, these two need to be done. That's what divorce is about, and honestly, I think all of these exes being on the show with each other and their new people is driving them all a little insane. This is not a natural way to live, and I don't know that we should support it. (Oh my god, what will next season look like? My brain just ate seven handfuls of chocolate chips right out of the bag and then died.)
Contrary to what Lala would erroneously lead you to believe, everyone is there for Scheana's wedding. I want to be all snarky and make fun of her getting married on a Tuesday in summer at a free hotel when she was already married a year ago so that Brock wouldn't get deported, but, know what, I kind of loved it. The whole thing is pretty amazing. Scheana's dress is just the right level of slutty and she looks amazing in it. Summer is adorable as a flower girl, and Brock looks very handsome in his all-white tuxedo, even though I prefer him in a toddler-sized bathing suit. Even the casual bridesmaids' dresses and the groomsmen's shirts, which seemed to be manufactured without buttons, were kind of cool.
And it really got me, our Sche-Sche talking about how she had a pit in her stomach during her first wedding (and considering it was a mid-riff baring dress, we probably could have seen it), but this time she knows it's right. "I feel lucky that I get to be this happy," she says, and a tear fell out of my eye and cascaded down my cheek and rolled down my arm where it drew "It's All Happening" toward my wrist. Even Kristina Kelly and Katie, in their white robes on the balcony, looking over the events like they're auditioning for a reboot of the Grumpy Old Men franchise.
The one oddity from the wedding, however, is that we never caught a glimpse of Jax, Brittany, or Kristen, who were also down there for the festivities, especially considering how important they've become in the Scandoval of it all.
Oh wait, and just when you thought we were done with the wedding, there is still one more fight to be had between Raquel and Lala, who has found a way for me to find her less and less likable with each passing week. When Raquel tries to apologize for calling Lala a bimbo mistress (if the Moon Boot fits), they then get into a discussion about how Raquel didn't like how the girls ganged up on her and judged her in Las Vegas. Lala tries to tell her that never happened, and we are treated with an editor's delight of a highlight reel of the three of them judging and being mean to her the entire trip. Lala's mad that Raquel kissed Schwartz and pissed off Katie, which is valid, but it doesn't mean that gives you a retroactive excuse to be mean to her. What Lala did was bad, what Raquel did was bad, but what we really know is that Raquel is about to do (or has just done) something much worse.