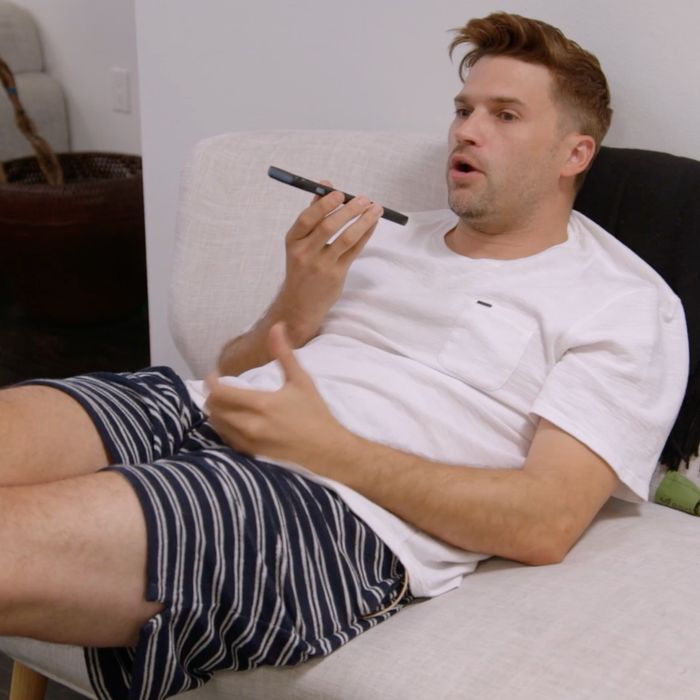 Of all the supersize episodes Bravo has given us over the years, this is the closest we have ever come to all killer, no filler. Okay, fine, there was a bit of filler both in the faces and on the episode, like Ariana's fertility journey, Lisa's reintroduction to RHOBH lunch with Garcelle Beauvais, Lisa's dead miniature pony, most everything that is going on with the opening of Schwartz & Sandys. But everything aside from that is insane, explosive, and a bunch of other adjectives you would find in the trailer for a '90s buddy-cop movie.
The episode starts wrapping up the fallout for Scheana's Never-Ending Wedding Story 2023. Katie picks up the dogs at Schwartz's and says, "You suck, baiiiii," which is sort of perfect. (Though the best thing about the scene is Schwartz calling Sandoval while he is filming his confessional, which made this feel way more like real life than a reality show.) Then we have Raquel meeting with Charli in the park to tell her it wasn't cool to make out with Schwartz, which makes Charli the best damn friend on this whole damn show.
I'm sorry, but no matter how much Tom, Tom, and Raquel try to minimize the kiss, Katie is right. Yes, it was just a kiss between single people. Yes, it didn't mean that much. Yes, they didn't sleep with each other. That is all true, and they would be right except for a tiny fact that Ariana reminds us of: They made a deal. The deal was don't muck around in the "friend group" and, specifically, don't kiss Raquel. Schwartz had to do one thing, and he failed.
Does that mean Katie is right about everything? No. Let's start with the ugly leather beret she wore to Tom and Ariana's house. I mean, what the hell is that thing? Did she get it from the Ashlee Holmes RHONJ season-two collection for Kohl's? What was that hat? Also wrong, Katie sending a bunch of texts to Jo, Schwartz's temporary roommate, who she described as Kristen Doute's crazy friend. I have never once agreed with Katie, but she is correct; if you are Kristen's crazy friend, you might as well have the clown emoji tattooed on your face because, sis, ya burnt. Also wrong of Katie: calling Raquel a whore. I would be fine with almost any other epithet: snake, coward, rat, bitch, jerk, asshole, twatwaffle, douchenoodle. Anything, but Katie decides not just to go with whore but to double down on it when Ariana defends Raquel against the name.
Yes, it must stick in her craw every time she says something like this. We're starting to get the first glimpses of Scandoval peeping out of the cover of darkness and into the TMZ light. Ally, James's mummy surrogate, tells the girls she saw Raquel and Sandoval dancing together at the Abbey (a gay club that has been taken over by the straights and is a Pumptini's throw from SUR). It was so inconsequential, at the time, she didn't even mention it until the cameras were down.
However, Sandoval's reaction to her is most telling when he and Schwartz go to see Lisa at SUR. She sits between the Toms and Sandoval, wearing a killer '70s-inspired shirt, and he beams at her so much he looks like he just ate 19 tabs of Molly. Even Lisa notices the giant smile on his face that is so big it turns his mustache inside out.
The opposite is when Tom is sitting on the couch with Ariana and tells her that lately she disagrees with everything he says. He feels like she always takes the other person's side against him. I will now tell Sandoval what I told Katie when she had the same complaint: Maybe stop being wrong about everything. I think that, of all the people on this show, Ariana is the fairest and has had Tom's back plenty in the past when he didn't even deserve it. However, this speaks to his frame of mind before committing the crime. OMG. Look at that last sentence. I could be a writer for SVU.
Speaking of Katie, of course, we must address her new man Satchel, who she says was named after Satchel Paige, but maybe his parents just named him after a man bag. It is completely possible. I mean, his name is Satchel. Of course MusicKillsKatie is dating a human that is entirely made out of pipe cleaners, whose name is Satchel. Sometimes you have to let the jokes write themselves, and today that joke is Satchel's pants.
The other giant drama of the episode, aside from Katie, Tom, and Raquel, is Oliver, his wife, and Raquel. As this season continues, it's making me a little sad because I feel like we're watching Raquel have a nervous breakdown in slow motion, especially now that she has checked into a mental-health facility.
I don't know if Raquel is acting erratically or just ill-advisedly. She is about to go on another date with Garcelle's son, Oliver, who is in town seeing his son, but before she can, she finds out that his wife is posting on social media all of these stories about how they're still married and he's been cheating on her with all of these women, including Raquel. When Raquel hears the news, she doesn't think, "God, I should get so far away from this I'd need a wormhole to get back to it in this lifetime." Instead, she thinks, "Know what I should do? Call the wife." No no no no no no no no. Do not call the wife. Do not ever call the wife who is acting out on social media. Even if what she says is the absolute gospel, someone behaving like that can't be a good influence in your life.
I'm not here to say whether it is Oliver or the wife I think is telling the truth. I'm sure there is truth in what both of them say, but I honestly don't care enough to decipher their wildly diverging stories. I can say that Raquel had no clue he was married when they made out or when she agreed to the second date. When this started online, she should have been like, "Know what? I'm out. Never call." But she didn't; she showed up with cameras in tow. That night on her way home, she should have thought, "I'll apologize to Lala the next time I see her at an all-cast event." No, that is not what she did. She thought it would be wise to show up at Lala's birthday party, which was full of her haters and enemies, to apologize to this girl. I mean, this is more insane than seeing The Joker 2: This Time With Gaga while high on bath salts.
Now that we're talking with Lala, I will start with a compliment and say she looked absolutely stunning at her birthday party, like something from one of the good Fellini movies. That is really the only nice thing I have to say about Lala. Okay, maybe one more: This was a good illustration, to both Raquel and the audience, that we may think we know what happens when a woman sleeps with a married man, but we have no idea if or how she was led into it. So, yes, we shouldn't call Lala a mistress for having sex with Randall when he was still married. Just like Raquel, she might have had no idea.
The problem is, even if we excuse that, Lala is not blameless. Both Lala and Raquel might have hooked up with married men unwittingly, but Lala already admitted that she slept with DJ James Kennedy when she was in a relationship with Randall, and he was in a relationship with Raquel. Even if she's not a mistress, she's more of a cheater than Raquel. Well, she was more of a cheater at this point than Raquel was, but we all know that Raquel decided that she was going to hold the WWE World Heavyweight Title Belt in Cheating before we would even see the next Wrestlemania.
That is why I found Lala's whole, "Oh, Raquel is a mistress just like me" schtick so annoying. Even at the end, when she says something to the effect of, "I don't really mean you were a mistress; I was just doing a bit because I'm an absolute asshole who wouldn't know the golden rule if it sat on my face and sang me a nursery rhyme." What makes it even more annoying is that now that Raquel has been shown to be a cheater, we found out she was as awful as Lala, Katie, and Kristina Kelly (always both names!) treated Raquel; they will feel forever justified and vindicated in some nasty behavior. And Raquel walked away from Lala, who went back to her birthday, back to her friends gathered around a table celebrating her, loving their togetherness, welcoming a man named Satchel and not even thinking that's weird. But that was the end of it, the end of celebrating the end of togetherness but, sadly, just the start of Satchel.