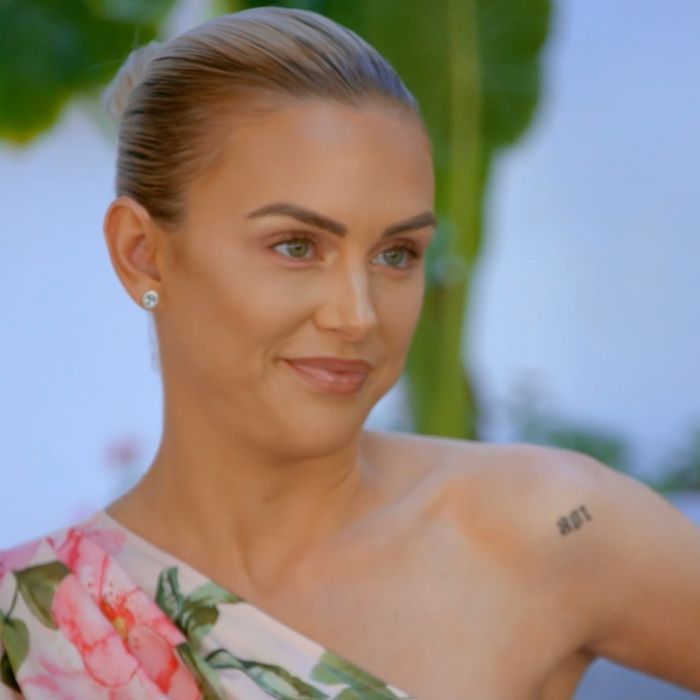 Like an unscented fart coming out of the bum of an uncorrupted saint, we didn't have even a whiff of #Scandoval this episode, and I think we're the better for it. We can now turn away from Sandoval and Raquel for a bit to focus on the real villain of this show: James Kennedy. That visit from his father, Andros, who is essentially PK if things went bad, was essentially his villain origin story. James was so clearly fucked up by his early life that he is trying to become his father and date his mother. It's like he's trying to correct the sins of the past by redoing them the right way. The problem is that he hasn't learned from the past, so like a one-hit wonder playing a state fair, he is bound to repeat it repeatedly.
Just look at the little visit from his father at the top of the episode. James says he wants to be in the music business like his father. And what sort of advice does Andros have for his alcoholic son? "Binge drinking is just a rite of passage," he says. Then he tells him that he can't imagine being a DJ without having a drink. Congratulations, you just guaranteed that your son will never be able to hold down a job because alcohol will ruin it all. I hope he's happy about that.
Speaking of James, Ariana, Scheana, and Lala invite his newest mother imposter, Ally, out for lunch to get her to be part of the group. When they sit down, Lala is still mad that Raquel, James's ex, called her a "mistress bimbo while she's in a pink sarong and high heels at a pool party in Valley Village." Lala calls her a baby prostitute, forgetting that we have seasons, may I repeat seasons, of her wearing skanky outfits on this very show, including the dress that Lisa forces all of her hostesses to wear. Also, hasn't she been kicked out of her Hollywood home that was paid for by the married man she was sleeping with? Sorry, Lala, but we are considering the source and disregarding the remark.
Lala next goes out to dinner with Scheana and Brock, and it's really her apology tour for what she said last year, including that someone compared Brock and Randall, and she called her ex-fiancé a "stand-up guy." Um, do stand-up guys get exposés in the Los Angeles Times? Yeah, I didn't think so. Lala apologizes for bringing up Brock's issues with child support and his baby's mama, but then he says he forgives her because that forced him to do the right thing and get all paid up on his child support. Yeah, I will need to see those receipts from Sheila back in Australia, who supposedly cashed all those checks, before I believe it.
Scheana then has to go to her surprise shower at Villa Rosa, a Sephora that real humans live in, and when she enters, they all sing "Good As Gold." Yes, her single is a certified bop, but Scheana needs to drop at least one more hit, because if she doesn't, they're going to be singing this nine-year-old song at her funeral. Actually, that's not such a bad way to go. Know who is not at the party? Katie Maloney Schwartz Maloney and her bob of sadness were either in Kristina Kelly's (always both names!) backyard planting flowers or at home making Cup O' Noodles for herself and Butters, the dog who you know eats food off of Katie's fork and she just lets him.
Not much happens at the reception other than James dropping the bomb that he should marry Ally and "put a bunch of babies in her," and everyone tries to convince him that is a bad idea. Everyone except, you guessed it, his father, who, in the opening scene, told him he should just go for it. If this man were a fortune cookie, you would open him up and it would say, "Man who does not do hookers and blow ends up hooked into blowing it."
Also, at the shower and the impromptu after-party at Schwartz & Sandy's (okay, honestly, points to James for asking, "How many soft openings are we gonna have?"), Schwartz and Raquel were getting their flirt on a bit. But, know what, it seemed like honest fun. He tells Raquel that he has an LVP tattoo on his ass. "I'll show you in Mexico," he says. That's the cheeky thing you say with friends you're attracted to. As long as it is consensual, flirting never hurts anyone. We all have a friend or two that we find attractive that we talk to like this and we know that nothing is ever going to happen, but doesn't it feel good to feel hot and let someone hot make you feel that way? Usually, this is a sensation I only get from Tenga devices, but I guess you can feel like this from humans too.
At the after-party, James asks Scheana and Brock if Ally can attend the actual wedding, and they give him a "hard maybe," which is what most guys at the bathhouse consider me. Then, in his confessional, James says that if they said no, he wouldn't attend anyway because James Kennedy enjoys nothing more than blowing up a perfectly good friendship for no reason.
Next thing you know, we are at the Dreamz resort and (possibly?) casino in Playa Del Carmen, who I believe was one of Jax's two girlfriends somewhere around season three. My favorite, favorite, favorite thing about this whole episode is what Katie finds out when she checks into the room she refused to give up for Scheana's wedding. Sche-Sche had her moved into the tower on the opposite side of the resort and had her access to the wedding areas cut off. At this point, Scheana has spent a whole decade learning about pettiness from Katie, Kristen, Stassi, and the rest of their clique, and she was paying attention. It's so great to see the Witches of WeHo's spells finally turned against them. (P.S. Scheana admits she doesn't talk about it often, but she's half Mexican. It took us longer to hear about this than it did about what happened to Katie and that skylight.)
In the lobby, before they can even swill down their welcome drink, James is bothering Ally for "tongue kisses" in public, and she turns him down. Ugh, poor Ally. Does she not realize that all of this (gestures around wildly) really has nothing to do with her? She was just in the wrong place (a Tom Sandoval concert) at the wrong time (when is the right time to be there?), and she ended up being the tool James is using to try to get back at Raquel. Ally could be anyone. She could be a blow-up doll with Teresa Giudice's last remaining brain cell and James would have taken her to this wedding, lavished a swim-up room on her, and tried to get in some heavy petting in the shared lobby.
Sure, things were awkward all around. Ariana says, "Tom is my prisoner; I have him all to myself," while he's sneaking out in the middle of the night to get it on with Raquel in a room with a galaxy projector. But things were even frostier with James and Ally. As they're in the room, he brings up Raquel once again, and Ally says, while physically recoiling from his touch, "We all know Raquel is here. Can we stop talking about her for like five seconds?" But that is against the point of Ally. She is not there to be her own person. She is there to be the anti-Raquel. Everything James is doing with Ally is revenge on the Raquel voodoo doll he holds in his mind.
Then we get to the big, fat bust-up at the rehearsal dinner. Well, do you even need to rehearse for a resort wedding? I feel like they have this all mapped out and down to a science. It's less of a wedding ceremony and more like making Swedish meatballs at Ikea. Anyway, James comes in, and we hear from everyone involved that there was an incident off-camera. Apparently, one of Brock's friends was super-drunk. I assume it is an Australian, because we're happy if those people leave the house wearing shoes, and even if they do, we know they're not sober. This guy tried to put his arm around James, and James responded by body-checking him and almost starting a fight.
Ariana witnessed the whole thing and wasn't happy about James almost starting a fight, nonetheless at Scheana's wedding. But James is yelling about it, how drunk the guy was, what a jerk he was, and how they should all be lucky that he didn't punch the guy in the face. It's the usual White Kanye behavior, any excuse other than taking accountability for his own actions. Finally, Ariana says that James is berating her, which he denies. But then it's Ally, yes Ally, who chimes in and says, "Yes, you are."
Ally says in a confessional that sitting next to James makes her question everything about why she's in Mexico and dating him. Yes, I think it is making her question everything, but I think it is making her question if being on this here show is worth putting up with James. We know Raquel's answer. Five years of this kind of torture was all she could bear, but she got her reward, a low level of fame, and a TMZ scandal that would probably ruin her mental health for good. So, yeah, I feel a little bad for Ally that James is using her, but she's using James just as hard. The problem is, she made this Nicole Kidman–Tom Cruise contract with James, and she's being her sweet, lovable, attractive self, and he's being something that you scrape off your shoe on the way home from a music festival.
Finally, even Ariana, who is usually cooler than a plastic surgeon's office full of witches' titties, loses her cool. "I don't like him doing it, and I don't like you doing it either," she shouts about James and the surely Australian drunkard. He tells her to stop yelling, but she says, "When I talk to you at a normal volume you don't listen." She's right; no one can make James listen. No one can make him stop. He just keeps on trucking, reliving the same (almost boring) script that his parents wrote for him as a baby. Yes, Ally gets up and leaves, but James is stuck, at that table, on this show, with himself.
As Ally got up and left the table, so did Tom Sandoval. He walked back to his room to put on another coat of white nail polish when he saw something blue, green, purple, and starry, like the northern lights if they came in a bag, coming out of the cracked guest-room door. He knew who was staying there. He quickly took off his shirt and pants — no undies after he's been swimming; it's an old Sandoval superstition — and worked himself up into a state. "I'm here!" he said as he walked toward the lump under the comforter. As he pulled it back, he had a bit of a shock. "Tom!"
"Duh, man. Of course," Schwartz said back to him. "Who else would have a room with a galaxy light? Who else would want a little bit of this?" Schwartz took Sandoval's member first in his hand and then in his mouth, showing him that, just like the lighting, his skills were out of this world. Sandoval leaned his head back and moaned. This was not who he expected to see in the room with the galaxy light, but this will do. This will do.