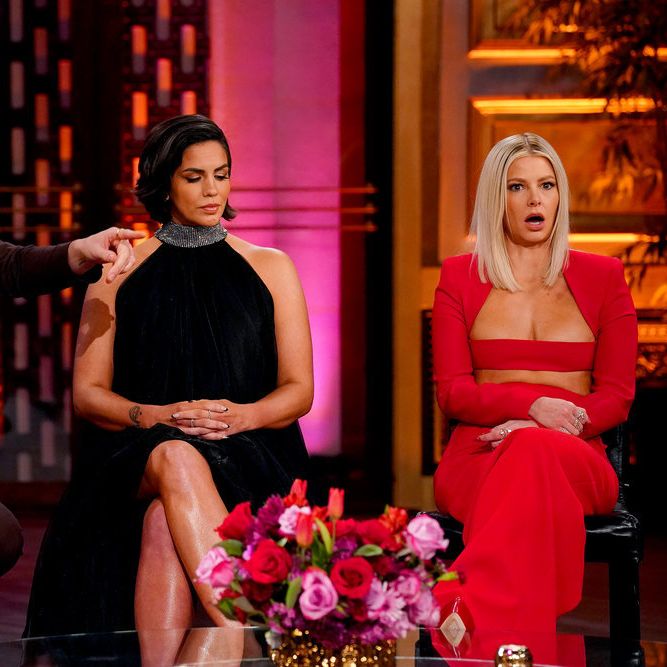 Photo: Nicole Weingart/Bravo/Nicole Weingart/Bravo
Bravo created the reality-television show reunion as we know it, and it has become indispensable to the psychology both of the stars of the various shows and their fans. For the stars, it's one last chance to leave a mark on the season, to address the things that happened on-camera that they weren't privy to during filming, and to find some sense of closure before starting another season that would typically start filming just a few weeks after it airs. For the fans, we need to see everyone held accountable for their actions, to see if watching it play back on television allowed for greater perspective and maybe changed some minds. This reunion really robbed us of all that.
A much-hyped twist at the end of the reunion was supposed to throw everything into a tizzy, and, according to one of the show's executive producers, the cast didn't know what it was and it might affect whether or not they wanted to film next season. Production was put on pause just so we could, in Bravo parlance, watch what happens. The revelation was that Raquel Leviss and Tom Sandoval's relationship started in earnest earlier than we believe, and that some of the worst rumors about it turned out to be true.
Six days after filming the reunion, Raquel re-steamed her blue dress with the keyhole she'd been wearing in all of her confessionals this season to tell us that she had been lying about the timeline at Tom's behest. The second time they slept together was during Scheana's wedding in Mexico. She does not say whether or not it happened before or after she came on to and then made out with Tom Schwartz, but either way, there are gross incest vibes all around. Also, either way, he still had to go back to his own room and get into bed with his own girlfriend, who was also Raquel's own best friend. There are not enough ews in existence.
We also find out that Raquel said she wanted to be in a throuple with Tom and Ariana since she loved them so much. Raquel has done many unwell things, but this might be the unwellest. Now, I am all for a modern arrangement, and if you wanna throuple, just have at it. (Though I would suggest a larger bed and at least two bathrooms in your house.) But it shows that Raquel maybe didn't just want Sandoval but wanted to become Ariana. Maybe after her tumultuous relationship with DJ James Kennedy, she wanted to take over this loving, supportive relationship in front of her. I don't know.
Most damagingly, we found out that, contrary to what they both said at the reunion, Raquel and Tom did sleep together the night she stayed over at his house while Ariana was out of town attending her grandmother's funeral. If you had to concoct some plot for a movie to show that two people are the worst, this is the story you would come up with, and every critic would say, "There is no way that would ever happen," but here we are.
Actually, that is not what is most damaging. What is most damaging is that Raquel makes it plain how Sandoval really had an impact on the messaging of the whole scandal. As many of us suspected, his meltdown about being unable to talk to Raquel without cameras around in the last part of the reunion was because he wanted to coach her on her messaging. "He didn't want me to disclose any of that information," she tells a producer before saying she will tell the truth. (She still couldn't come clean about Christmas in St. Louis for some reason.)
Naturally, this is a once-in-a-lifetime story (and boy, has it been a once-in-a-lifetime season of reality television), and it can't play out as a normal season would, but this is the kind of truth she should have been telling at the reunion. Now, we're going to have to watch everyone react to this revised timeline in the next season of the show, which probably won't come until at least the fall, and we will have moved on from Scandoval and will probably be concentrating on the daily outrages of another Donald Trump political campaign.
The thing about the reunion is that it keeps last season mainly in the last season. Now that won't happen because the full reunion was filmed without anyone bar Tom and Raquel knowing the full truth. It's a bit of a letdown for fans — imagine how much harder everyone would have gone at Tom and Raquel had they known the full timeline. It's all wrong; it's all busted; it's all insane. But that's why we watch, right? Just when we think the patterns and rituals of one of our docusoaps are sacrosanct, along comes a Scandoval to take a goat-cheese-ball-scented turd right on top of all of it.
Otherwise, it was pretty standard reunion fare. There are a few things I would like to point out. The first is that Tom Sandoval is even nastier than we ever thought. He's been spinning this narrative that Ariana wasn't intimate with him and that when she was, it was no good, and that is why he cheated with Raquel. When Andy Cohen asks who else other than Raquel he had sex with, the cast throws out some names, which he bats away. Then Ariana says, "I'll tell you who else he has slept with since starting to sleep with Raquel. Me." Alone, it's a devastating answer, showing the chasm of betrayal this man deserves to be buried in. Then he adds, "She kept her T-shirt on. It was really hot." Fuck all the way off. Tom wants us to think the sex was awful because she kept her T-shirt on, and that's why he had to go diddle Raquel on FaceTime behind her back? What a colossal turd.
Tom Schwartz has also been really turd-y during this whole process, but at no time was he turdier than when he questioned Ariana about what it was like to have everyone in the country having her back when Tom and Raquel were getting everyone's hate. It is such a smarmy and dumb question, and Ariana handles it perfectly, saying that without her friends and the public behind her, she didn't know if she would make it. She said she felt like she needed to be babysat every night by someone because she couldn't trust herself not to cause physical harm to herself. Shove that Schwartz right up your Sandy, why don't you?
Also very turd-y are James and Lala. Yes, I know, they can be wonderfully entertaining, but both needed to sit down and shut up if only to spare us Lisa Vanderpump's scolding nan schtick. The world had yelled enough at Tom and Raquel; we didn't need more of that. We needed to hear their answers, as shitty as those were. None of their insults landed nearly as hard as Tom self-immolating with that T-shirt comment. He really is, as Ariana says, "grody." Yes, I am here to bring back grody as the adjective of choice. It's an old Valley Girl word, and how perfect for the ladies of Valley Village to start using it all the time.
But what really aggravates me is that both James and Lala used what Tom and Raquel did to block any discussion of their bad behavior in the past. I do believe that Randall lied to Lala about whether or not he was single, but based on the clips from past seasons, it was clear that she knew she was in a shady position and didn't try to get out of it. James also doesn't want to answer for sleeping with Lala when he was with Raquel, and now they're both using this affair to try to come off as saints. What either of them did wasn't nearly as awful as what Tom and Raquel did, but this is the time to take accountability and bury the news under the shit torrent that is Scandoval.
And I'm sorry, but there is little to no distinction between Lauren calling herself Lala and Rachel calling herself Raquel. That Lala tries to make one shows that she knows deep down inside she and Raquel are the same person. They're both name-changers who wanted to use reality television to get really, really famous, and they might have fucked some shady-ass dudes to get there. No shame in that game, but at least acknowledge that is what happened.
Katie Maloney Schwartz Maloney played the whole reunion perfectly. She sat there, calm in her superiority, and only piped up when she had something withering to say. Ariana also played it perfectly, letting her vehemence wash over everyone like a cleansing fire. Andy and Lisa also had great moments, particularly when calling Raquel "diabolical" for having the conversation with Ariana about her relationship with Tom while she knew she had already been fucking the dude for months. Scheana Shay also handled it perfectly in her trailer 100 yards away from Raquel. Sorry, but I will need Scheana's trailer to be in the lobby of Caesars Palace at the next BravoCon. I am talking about a fully interactive experience brought to you by White Claw and Sun Chips. If Brock, with his adorable new haircut, is sitting there in a tiny swimsuit, I would be even happier. Brought to you by Speedo!
But it all comes back to Raquel, who sat stone-faced the entire reunion. She apologized repeatedly, said she knew what she did was wrong, and agreed with every awful thing everyone said about her except Lala, whom she hates more than having a yeast infection at the DMV while seated next to one of the Paul brothers. (What if this whole thing was just an elaborate plot to somehow take down Lala?) Just because Raquel seemed to take accountability for what it's worth, it didn't come off well. She said she and Tom didn't tell Ariana about their feelings because she wanted to see if they were going anywhere. So, they just kept fucking while trying to figure that out? Please.
But it's a totally different Raquel we see in her final confessional. She's finally crying. She's finally upset. Is that because she lost all her friends and finally knows it? Is it because she's knowingly betraying Tom, the one person in the world she had left? Is it because she finally, after all this time, knows that what she did was wrong and that she possibly ruined her life in a search for love and a low level of fame that might get her a Flat Tummy Tea sponsorship? I don't know, and I can't tell you. I've been baffled by her behavior since the season kicked off, well before the scandal broke, and I don't understand it now either. I do know that it's fitting that the whole season ends with Raquel's sobs and sniffles, as if something inside of her finally broke, as if something inside of her finally feels, as if she could stop mumbling for good, as if she could step out of Sandoval's shadow (and maybe even #Scandoval's) and free herself with something that looks like the truth.