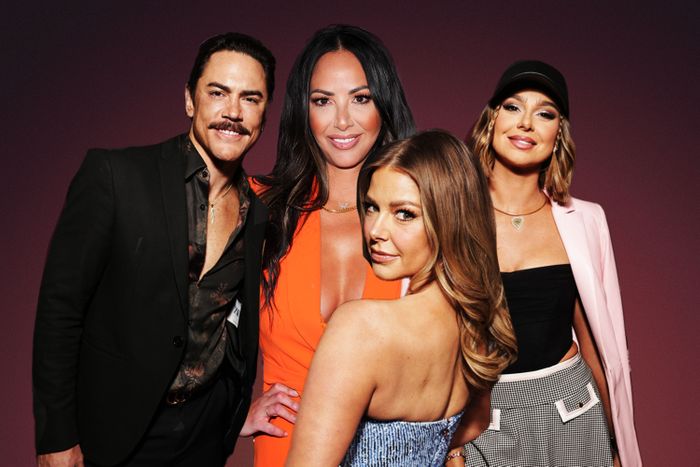 Photo-Illustration: Vulture; Photos: Bravo, Getty Images
Fans of Vanderpump Rules may be wondering how Ariana Madix missed the signs that her boyfriend, Tom Sandoval, and her best friend, Raquel Leviss, were having an affair — but what about the signs that we missed? Looking back at the series, the red flags were there all along, but Sandoval and his bros were just too good at hiding them from us.
After that absolute blockbuster of a season finale, many of us are revisiting our reactions to some of the past scandals that have played out on the show: Tom finally admitting to sleeping with "Miami Girl" forces us to reexamine a key moment in series lore and how we evaluated the cast members' responses to it back then. But the ultimate test will not be the finale, when everyone reacts to shocking revelations in real time. It's going to be the three-part reunion, when they've had time to reflect on everything and how this new story fits with the old one.
In that spirit, here are ten episodes that all of us should go back and watch in preparation for Sandoval and Raquel's imminent evisceration at the hands of their castmates. And for those who have never watched the show, these episodes serve as a good primer on just why fans care so much about these particular peccadilloes and will allow you to appreciate this most recent season for the monumental reality-TV moment it was.
Season 1, Episode 1: "Welcome to SUR": This is a good reminder that the show has essentially always been about cheating. Jesus, can't you straight people just have open relationships and save yourselves a lot of thrown tantrums and wine? The basis of this first episode is that Scheana Shay, who was previously working at Lisa Vanderpump's restaurant Villa Blanca, is joining the SUR crew as one of the SUR-vers. She was brought in because she slept with Eddie Cibrian who, at the time, was married to Real Housewife Brandi Glanville, and the pair's confrontation brought the spinoff into the main show. It sets up the season's plotline about whether Jax cheated on Stassi. (Of course he did.)
Season 2, Episode 4: "Rumors": Ariana's first appearance proves that she was a queen from day one, even though she showed up to a job interview with Lisa sporting a braid that is also somehow bangs? Brangs? I don't know. She says she thinks that everyone who works at SUR is a basket case and that Kristen, in particular, needs medication. Like Scheana and Sandoval, Ariana worked at Villa Blanca first, so she was friends with both of them. The rumors about her and Tom hooking up were there from the jump, but they both denied the accusations, though Tom eventually admitted he'd made out with her in the pool at the Golden Nugget. Yes, it was an all-time low.
Season 2, Episode 14: "I Lied": Before season ten, this was not just the best season of the series but some of the best reality television of all time. The finale is one banger after another: a sexy SUR photo shoot in a pool, Kristen denying she'd cheated on Tom with Jax — who was with her best friend, Stassi, at the time — right up until she admits it, then a brawl at Scheana's engagement party between Tom and Jax. This is especially important, because many people have been comparing the way Tom got with Ariana when he was still with Kristen to how he got together with Raquel when he was still with Ariana. A revisit shows that those are two vastly different scenarios and that Kristen did plenty to invite Tom's anger and betrayal, whereas Ariana never did. Oh, and we can't forget the greatest banger of all: Scheana's bar-top performance of her dance single "Good as Gold."
Season 3, Episode 1: "Instafight": As the next summer starts, Sandoval and Ariana are officially dating — as are Kristen and DJ James Kennedy, a Brit working at SUR who was friends with Tom before he started dating his ex. Kristen, for some reason, is still digging around in Tom's past and says she talked to a woman, known as "Miami Girl," who claims she had sex with Tom when he was on a boys' trip in Miami and dating Ariana. Scheana shows Ariana the texts, and she says she doesn't care and believes Tom. Maybe she's blinded by her brangs, which are shockingly still around. Back then, it seemed like Kristen was jealous, unhinged, and making all of this up. But now that we know Tom is a cheater of the highest order, maybe we should have believed her. For a special bonus, this is the episode with Scheana's famous "It's all happening."
Season 3, Episode 13: "Grand Opening and Closure": Kristen actually brings Miami Girl (a.k.a. Annemarie) to SUR to confront Tom and Ariana. I know, I know, I know, I know. I'm not over it either. Both Tom and Ariana leave in the middle of their shifts. At the time, everyone knew that Kristen was obsessed with breaking up Tom and Ariana. How did we know? Oh, she just flat out says it. When Tom finally confronts Annemarie, he repeatedly says they didn't have sex when she says they did. We all thought she was just a thirsty fan trying to get on the show, but in the finale, Sandoval says that Ariana "always knew the truth about that." In her interview on Watch What Happens Live With Andy Cohen, Ariana says Tom slept with her but before they were exclusive. Great way to make a random woman look like a liar in front of the whole world for no reason, Tom. James Kennedy is right — he is a worm with a mustache.
Season 5, Episode 4: "Thirsty Girls": This is the first time we meet Raquel. Here's what I said in the recap at the time: "If a pumpkin spice latte grew legs, walked itself over to a SoulCycle class, bought itself an adult coloring book and a pair of Tori Burch flats, and then showed up at bottomless brunch 15 minutes late, it wouldn't be any more basic that James's 21-year-old beauty-pageant girlfriend, whom he met at New Year's Eve at Pump." Back then, I thought she was just dumb and basic. Now I think she's dumb and diabolical. But it was always clear that all she wanted was to be on the show and would put up with a lot to stay there — like the rumors that James was cheating with GG, the new SUR hostess.
This is also the episode with James's famous read on Jax, "They need more cosmopolitans. Pumptini!" And the one where James gets fired from SUR for being a drunk. It's funny to see Katie get so mad at Scheana for just talking to new hostess Lala Kent that Scheana has to tell her they can't be friends. Now Katie and Lala are each other's only allies.
Season 6, Episode 6: "See You Next Tuesday": The main event of this episode is at the beginning, when Lala and Ariana play a recording for Brittany Cartwright, Jax's girlfriend at the time, of Jax's pillow talk with another woman after he cheated on her. (There is more than one "Rawt in hell!" from Brittany after hearing it.) But what is most striking is that Sandoval goes hard at Ariana for playing it for Brittany, even though the message was on Lala's phone. This is one of the rare times we see them really blow up but one of the many times we see Sandoval take the guy's side (in this case, Jax's) over the much more reasonable and correct side of the women harmed by cheating. Ariana's hair has never looked better (no more brangs!) and she calls Sandoval "obtuse," which is such an amazing insult.
Season 7, Episode 2: "Hope and Pride": This is the episode when Kristen brings Hope, a Mandy Moore look-alike, to the annual SUR Pride celebration so that she can tell Raquel that she hooked up with James at Coachella while Raquel was asleep in the other room. Yup, Kristen is always blowing up her ex-boyfriends' spots. Back then, we thought she was nuts, but after more seasons with Sandoval and James, it looks more like she was right about these assholes all along. "That's a horrible thing to do. I thought we were friends," Raquel says to Hope in the SUR toilet, and now here she is, three years later, doing the exact same thing to Ariana. It's hard to see Raquel (still with hair to her waist) running around the party crying, "Why do I have to deal with all this shit, James?" It's even harder to hear a brunette (!!) Lala try to get Raquel to "wake up" to James's constant infidelity by calling her dumb and embarrassing. No matter what Lala thought of James or Raquel at any time, she was never nice to the girl.
Season 7, Episode 15: "Trouble in Lala-land": This is the fight when Lala goes after Raquel and calls her a "Bambi-eyed bitch." While watching the current season, I thought so many times, This isn't the Raquel that we were introduced to all those years ago, but she actually starts to stand up for herself here — like she has all of this past season. Maybe it's not Raquel that has changed but our perception of her. However, I did write, "I will say this for Raquel: She's boring, dumb, and more monotonous than a YouTube video where screaming goats sing, 'Row, Row, Row Your Boat,' but she's usually right." Oof. Nothing like being on the wrong side of history.
Season 9, Episode 3: "Welcome to Rachella!": We've heard a ton this season about "Rachella," the event in season nine where DJ James Kennedy proposed to Raquel on the Coachella concert grounds. Here is the actual event — complete with Tom Sandoval writing a $6,500 check so that James can afford to propose to Raquel. Ulterior motives much? In this episode, Tom convinces Raquel to give a toast to the group, because she says she's afraid of public speaking. Tom's involvement was always a bit quizzical, but it just seemed like he was supporting his friend and meek girlfriend, who finally realized her dream of being full time on the show. Now it looks like this was a seed he planted long ago that has bloomed into a mess of his own creation.