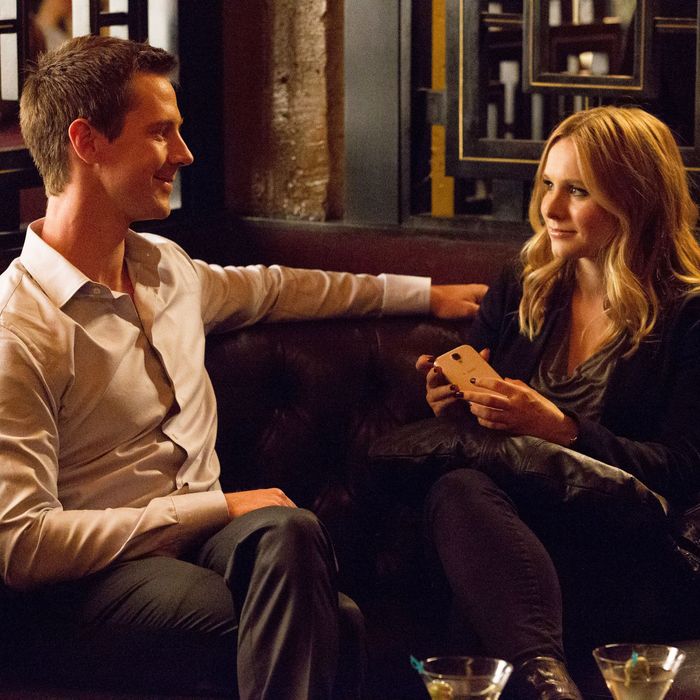 Will Logan (Jason Dohring) and Veronica (Kristen Bell) still be together?
Photo: Robert Voets/Warner Bros. Entertainment
Veronica Mars fans everywhere exploded with excitement at last week's news that Hulu had ordered a new season of the former UPN/CW mystery drama — and then, they immediately began speculating what the eight episodes will be about. First and foremost, how would they deal with the follow-up books written by Veronica Mars creator Rob Thomas?
Yes, books! After Thomas, star Kristen Bell, and most of the major cast members reunited to make a Kickstarter-funded movie in 2014, Thomas wrote two novels, The Thousand-Dollar Tan Line and Mr. Kiss and Tell. And based on Hulu's own description of the upcoming season — which will center on a crime that takes place in Neptune during spring break — it sounds quite similar to Tan Line.
While Thomas has clarified that the new season won't be an adaptation of either book — rather, it takes place five years after the events of the movie and novels — the two books provide tasty clues about what Veronica Mars might bring back. Let's dig into both novels and investigate what Marshmallows can expect when the show returns next year.
What's been revealed about the new season?
Rob Thomas will write the first episode and Kristen Bell will return to headline, but no other cast members have been announced yet. But when Hulu made its announcement last week, it also released a plot description that sounded a lot like The Thousand-Dollar Tan Line, the first Veronica Mars spinoff book co-written by Thomas and Jennifer Graham, which finds Veronica solving a crime during spring break.
On Twitter, Thomas described the season as a "hardcore So-Cal noir" that will follow "one big case." Hulu's press release about the project offers even more details: "Spring breakers are getting murdered in Neptune, thereby decimating the seaside town's lifeblood tourist industry. After Mars Investigations is hired by the parents of one of the victims to find their son's killer, Veronica is drawn into an epic eight-episode mystery that pits the enclave's wealthy elites, who would rather put an end to the month-long bacchanalia, against a working class that relies on the cash influx that comes with being the West Coast's answer to Daytona Beach."
What happens in The Thousand-Dollar Tan Line?
The book is set directly after the events of the movie, which saw Veronica returning to Neptune to help ex-boyfriend Logan Echolls after he's accused of murder. (By the movie's end, Veronica and Logan reunited romantically, she lost a job offer at a top law firm in New York, and it looked like she was ready to move back home for good.) In Tan Line, Veronica is in Neptune caring for her father Keith, who is still recovering from a bad car crash he suffered in the movie. She's in a long-distance relationship with Logan, who shipped out with the Navy on a six-month tour of duty. And she's taken the lead at Mars Investigations in her dad's absence. When a spring breaker goes missing, Veronica's very particular set of skills are called upon to investigate, but as she gets deeper in the case, she's pulled into a world of crime, money, and drugs that's darker than she'd imagined.
But again, Thomas said the new episodes will not tell the exact story of A Thousand-Dollar Tan Line.
His tweet indicates that the events of both novels will mostly be backstory for the new season. (In case you're wondering: Pony is the puppy that Veronica and Logan get in Mr. Kiss and Tell. Also, former Army general Marcia Langdon runs for sheriff against Dan Lamb and wins.) Still, it's interesting that Hulu's press release describes a story that's so similar to Thousand-Dollar Tan Line. Will Veronica ruminate on how this new case bears a remarkable resemblance to the one she investigated five years earlier? Could some of the same players be involved?
Which longtime characters might return?
On Twitter, Rob Thomas has already announced that a handful of cast members will return alongside Kristen Bell, including Jason Dohring, Francis Capra, Percy Daggs III, and David Starzyk — with a promise that more casting news is "on the way." Given that, plus the plots of the movie and the two books, here are the most likely returning characters and how they'd fit into Veronica Mars now.
Logan Echolls (confirmed to return): Veronica's past and current boyfriend, played by Jason Dohring. He's a Navy pilot who's mostly absent from first book, except for the occasional Skype session. They get a puppy named Pony in the second book before he's called away for another tour.
Wallace Fennel (confirmed to return): Veronica's best friend, played by Percy Daggs III. He's a teacher at Neptune High and still does occasional investigating favors for her, like posing as a drunk college kid to get into a party.
Weevil (confirmed to return): One-time gang leader turned Veronica's friend, played by Francis Capra. He and Veronica left things on bad terms at the end of Mr. Kiss and Tell, when he dropped a lawsuit against Sheriff Lamb that Keith had championed.
Richard Casablancas (confirmed to return): The father of Veronica's classmates Dick and Cassidy, played by David Starzyk. In the original series, Veronica discovers he ran a multi-million-dollar scheme and he was sentenced to prison for a year.
Cindy "Mac" Mackenzie: Veronica's friend and computer whiz. In the first book, she takes a tech job at Mars Investigations and continues to be V's right-hand woman.
Keith Mars: Veronica's dad. In the first book, he's recovering from a car crash. In the second, he helps old friend Marcia Langdon take down Dan Lamb.
Dick Casablancas: Logan's best friend and (sort of) charming dirtbag who lives up to his first name. He makes a cameo at a party in the first book, but is only referenced in the second.
Leo D'Amato: Veronica's former boyfriend. He appears in the movie and Mr. Kiss and Tell as a detective in the San Diego Police Department.
Vinnie Van Lowe: The slimy rival investigator that everyone loves to hate. He appeared in the movie, but neither of the books.
Cliff McCormack: The wise-cracking lawyer that both Veronica and her dad rely upon throughout the series, movie, and books.
Lianne Mars: Veronica's mom, a former alcoholic. She didn't appear in the movie, though she was on the show and recurs through the books when she returns to her daughter's life with a new husband and son in tow.
The books also introduce a number of new characters, who could potentially appear in the fourth season. They include: Marcia Langdon, the new police chief since Neptune has incorporated; Tanner Scott, Liane's husband; and Hunter Scott, Veronica's half-brother.
Where's the LoVe?
All right, let's get to the important stuff: What is the state of Veronica and Logan's — a.k.a. LoVe's — relationship? In Mr. Kiss and Tell, there was a lot of cute LoVe-y dovey stuff, including Veronica and Logan living together and getting that aforementioned puppy. But then Logan was shipped out with the Navy again and Veronica's case brought her back into frequent and flirtatious contact with Leo. Still, the second book ended with Veronica video-chatting with Logan and declaring, "I'm here."
Since Thomas revealed that the new episodes begin five years after the movie, it's anybody's guess as to how their relationship has developed during that time. Has the distance worn the couple down? Was Veronica tempted by the very handsome, very present Leo? Or maybe Veronica and Logan got hitched and had a baby?  It's hard to imagine Jason Dohring won't reprise his role for the new season, but if he doesn't, perhaps Logan will be stuck on another tour of duty.
Whatever happened between them since Veronica Mars last hit the airwaves, it's safe to say it will be another dramatic chapter in the show's long-burning romance. In the words of Logan himself: "You and me. Spanning years and continents. Lives ruined and blood shed. Epic."