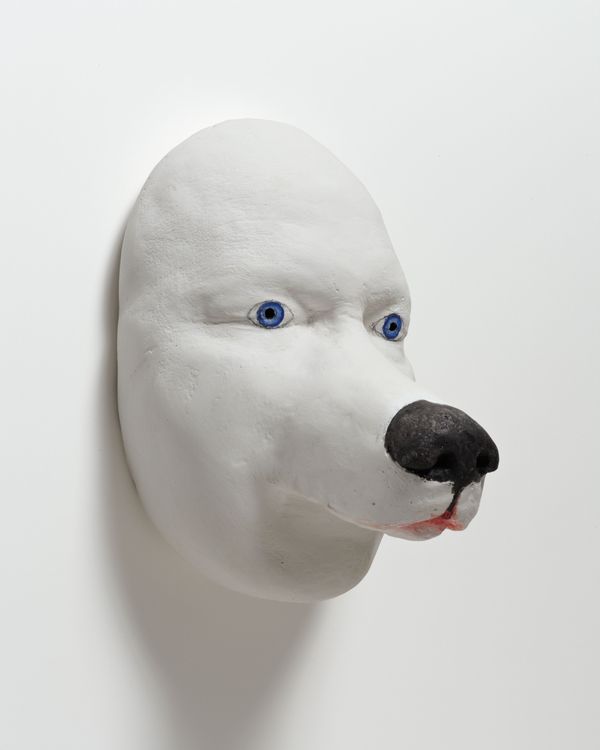 Death Mask
, 2008.
Photo: © Robert Gober, Courtesy Matthew Marks Gallery
Each week, we're gathering the art world's latest and best virtual museum and gallery offerings. Here, how to look at art from the safety of home.
1. Matthew Marks Gallery finally gives the online exhibition thing a go with "Robert Gober: Sculpture, Photographs, and Works on Paper 1976–2019." Gober is known for imbuing commonplace objects (a sack of cat litter, a hairy hunk of cheese, an industrial sink drain) with meaning — a conceptual framework that might shed new light on the stale immediate surroundings of your apartment in lockdown. The silk-screen wallpaper Hanging Man, Sleeping Man, 1989 probably won't inspire you to redecorate though.
2. Fridman Gallery has launched "SO​⅃​OS", a live performance series every Thursday. The artist will be the only person in the gallery, and the performances will be livestreamed and archived. Check out last week's performance by Daniel Neumann. Soundcheck was a kaleidoscope of colors and video overlays and text and ambient sounds.
3. Curated by American painter Chris Martin for Timothy Taylor Gallery, "Painting the Essential: New York, 1980–Present" anthologizes a group of Lower Manhattan and Brooklyn artists from that era.
4. This is the last week of the "Vice" portion of Christie's "Vice and Virtue" — a two-part, thematic online auction that features post-war and contemporary art. "Vice" is made up of selected works that encapsulate a sense of earthly escape. The following auction, "Virtue," will present works that encapsulate a sense of hope. Throughout, see the works of Andy Warhol, Barbara Kruger, Roy Lichtenstein, Keith Haring, George Condo, and many, many, many others. As a bonus, a subcategory auction of photographer Mark Seliger's work will be made available on May 28 to benefit COVID-19-related charities.
5. The International Print Center New York's current exhibition, "(Re)Print: Five Projects," examines where artists find inspiration. The exhibition pairs source material with completed works from artists Mark Bradford, Cecily Brown, Glenn Brown, Enrique Chagoya, and Lynette Yiadom-Boakye. The result is a deeper understanding of the artistic process, the culling of inputs through to the generation of outputs. See Cecily Brown's series of etchings: Rose Tavern, The Arrest, and Chairing the Member (2004), coupled with Brown's source material, three works from William Hogarth.
6. In addition to the The Frick Collection's extended reality virtual tour, the museum now encourages you to get through this lockdown with a classy drinks date. Every Friday, "Cocktails With a Curator" couples a cocktail (or mocktail) recipe with a complementary bio of an objet d'art — each choice has some relationship to the COVID-19 crisis. "Travels With a Curator," every Wednesday, explores the reach of The Frick Collection's connection with destinations around the globe. Their new "Frick Five" series puts curators in conversation with colleagues from other institutions to discuss five art world questions. Their inaugural post, chief curator Xavier F. Salomon asks Nathaniel Silver, chief curator at the Isabella Stewart Gardner Museum, Boston, what work of art changed his life.
7. The Lower Manhattan Cultural Council's "New York We Love You Benefit Auction 2020" supports the work and livelihoods of working artists. See Yoko Ono prints, a New Yorker illustrator Liana Finck cartoon, a Firelei Báez acrylic and oil work on paper, and more.
8. SculptureCenter has an extensive archive of past exhibitions, all well documented with photos and biographical essays. Also, step into this virtual library of archived essays, downloadable PDF publications, videos, and artworks in their "materials" tab. See "Reaching the Sky for Rain" from the fall of 2019 — a group exhibition of artists who disregard how art industry sanctioned identities are mined for cosmopolitanism. Preach.
9. Time to get on your Citi Bike and go for a field trip to Bushwick, where The Chimney has installed a commissioned work by Andrew Erdos for his exhibition "NOT FOR THE PEAK, BUT FOR THE MOUNTAIN." The gallery itself is a trip — it's a small freestanding brick garage in a parking lot on Morgan Ave. At the gallery's center, viewable by appointment or here, is Erdos's 12-foot tall and 12-foot wide glass mountain sculpture. It's made from hundreds of layers of molten glass poured and hardened. It's much more elaborate than that volcano you made for the fifth-grade science fair.