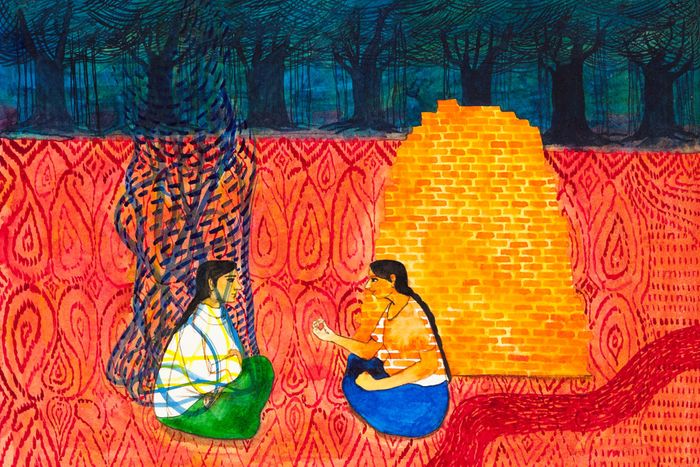 Karishma D'Souza,
Clarity Conversations,
 2018.
Photo: Courtesy of the artist and Xippas. Photo: Fréderic Lanternier.
Each week, we're gathering the art world's latest and best virtual museum and gallery offerings. Here, how to look at art from the safety of home.
1. Join a livestream of Theaster Gates's Do you hear me calling? Mama Mamama or What Is Black Power? — a video that weaves gospel music, historic speeches from Black leaders, and clips from Johnson Publishing's archive of Black American women from the '50s, '60s, and '70s. The livestream is a part of the Whitney Museum's "Whitney Screens" program; tune in at 7 p.m. on July 10 and the video will remain viewable the following two days.
2. Sean Kelly Gallery wants to give you some advice about how to Collect Wisely. In other words, not be one of those money-grubbing, social-climbing, trendy-taste art flippers!
3. At the Morgan Library & Museum, check out its online exhibition The Drawings of Al Taylor — the first museum retrospective of the artists' drawings in the United States. Taylor brought his artistic vision, sharpened by his early career as a painter, into his drawing and sculpting practices. Taylor's work is driven by wit and often couples unexpected objects and unprecedented situations. See Untitled (100% Hawaiian), a gouache and graphite still life of aluminum cans strung up with wire.
4. The Met has expanded its online art multiverse to include three simple questions on its "Art at Home" landing page. Choose between "I want to explore," "I want to learn," and "I want to feel inspired." No matter what you choose, you'll end up with online exhibitions, virtual museum walk-throughs, guided tours, and publications. Check out this page of free art books — including the book accompaniment of Kerry James Marshall's 2016 show at Met Breuer, Kerry James Marshall: Mastry, in which artists and thought leaders consider creativity, labor, and social justice in Marshall's work.
5. 81 Leonard Gallery's summer show, Garden Party, is online until July 16. See the whimsical flower arrangements that Méïr Srebriansky originally began making for his wife out of mixed resin poured on plastic sheets. It's all absolutely joyous.
6. From this year's Paris Gallery Weekend, check out Xippas and its current online exhibition of Karishma D'Souza's memories transformed into signs and symbols in her surreal and vibrant paintings. See Clarity Conversations, 2018, a watercolor work on paper that shows two women sitting outside by a small structure on a red patterned ground.
7. At Andrew Edlin Gallery, catch the last few days of Karla Knight: Notes from the Lightship, new works by Knight, up until July 11. See the hieroglyphic designs that Knight drafts precisely in oil, flashe, colored pencil, and graphite onto ledger paper and mounted on linen. Double Space (OUM-21), 2019, has a scroll-like appearance, half-recognizable symbology laid out in color chambers and black and white margins tricks the brain to create stories out of this nonlanguage.
8. If you have a car, drive north from the city past Hudson to visit the recently reopened Art Omi, a 120-acre sculpture park in Ghent — to be sure, parking is limited, masks are required, and social distancing is enforced. See Bianca Beck's Untitled, 2020 — a gigantic headless body-form, gesturing in a free, uninhibited stretch — a very fitting position to enjoy New York's easing quarantine restrictions with. The surface of the fiberglass and steel structure has on it painted abstractions of veins and organs in Day-Glo pigments in muscular patterns.
9. Company's Still American shows Jeanette Mundt's interest in reframing classical art-historical modes and setting them on fire. There's a virtual-reality walk-through; look for Climbing, 2019, an oil painting of seemingly the same model in two different positions at once. Her position flips, set against a red and yellow hodgepodge of abstracted wall textures.