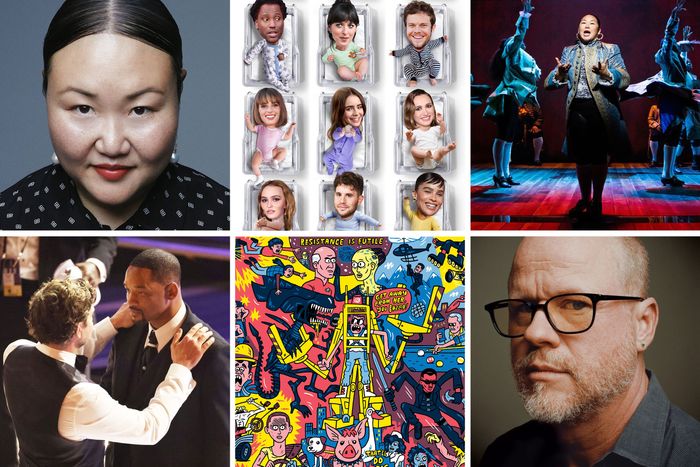 Top: Hanya Yanagihara; a nepo-babies nursery; Sara Porkalob,
1776
revolutionary. Bottom: You know this one; the greatest sequels ever; Joss Whedon.
Photo: Clockwise from left: Amanda Demme, Joe Darrow for New York Magazine, Evan Zimmerman for Murphy Made, Ryan Pfluger, Greg Kletsel, Myung Chun/Los Angeles Times via Getty Images
Vulture's most-read story of the year, Lila Shapiro's incredible profile of a Joss Whedon still trying to process his fall from success and adoration, was published just a couple of weeks into 2022. Our second- and third-most-read stories, both by Nate Jones as part of a larger survey of the nepo-baby landscape, came out with two weeks remaining in 2022.
Between those remarkable bookends, we published an array of incredible work: more than 7,000 stories alongside our three podcasts, six newsletters, a limited-run video series, and Vulture Festival. Below, you'll find our 20 most-read stories from the year based on total engaged minutes. What you won't see on the list is our groundbreaking interview with Jeremy Strong's pinkie ring, but only because the bauble's publicist did a crackerjack job of burying the piece.