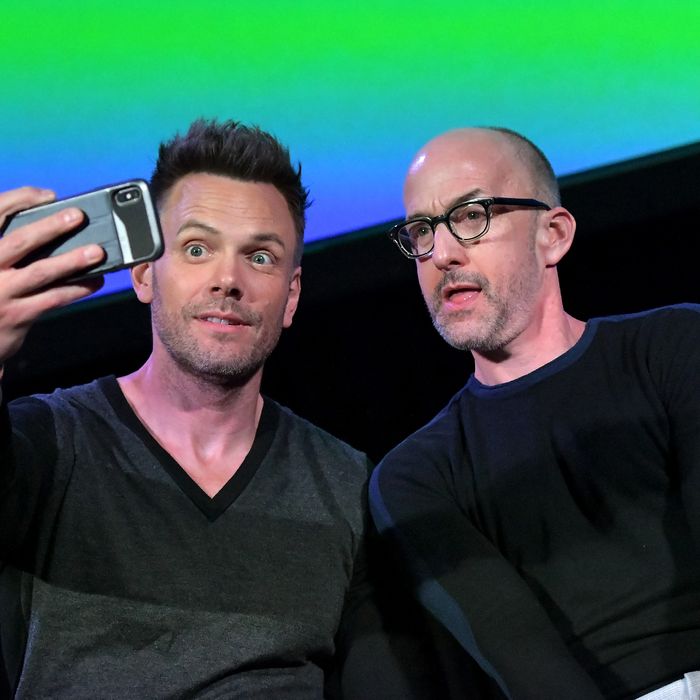 The
Community
community was reunited.
Photo: Charley Gallay/Getty Images for New York Magazine
For the third year in a row, Vulture set up shop at the Hollywood Roosevelt Hotel in Los Angeles (with a cameo by NeueHouse New York) to bring you the greatest in live pop-culture programming. Now that it's come to a close, we're rounded up the best moments of the weekend.
Saturday
➽ The event began in New York City with Laura Dern receiving her first advanced degree. Vulture's Alex Jung led the actress in a conversation about her dynamic career — from her beginnings with David Lynch to becoming Renata Klein on Big Little Lies (even though she revealed she identifies as a Jane) — before presenting her with the inaugural Vulture Honorary Degree. Since Dern was plucked out of college by Lynch to make Blue Velvet and did not complete her studies, her certificate for Master of Culture is her first higher education diploma. Congratulations on the Dernaissance, Dr. Dern!
➽ Tony Hale joined Toy Story 4 animator Claudio De Oliveira to talk about the technical and performance processes of bringing the lovable trash toy, Forky, to life. Oliveira provided behind the scenes footage of Hale perfecting the voice of Forky in Pixar's recording studio and also gave the audience a sneak peek at the upcoming Disney+ show Forky Asks a Question, but Hale added some texture to the proceedings by offering a lovely bit of career advice for those with Hollywood aspirations.
Hale also stopped by the Vulture Lounge to "play" ping-pong.
➽ Chidi and Eleanor are great, but the one true Good Place couple is forever Janet (Carden) and Jason (Jacinto). Their two real-life counterparts attended Vulture Festival this morning with moderator Marc Evan Jackson to talk about their fictional human-synthetic being relationship, and fortunately, a fan showed up to greet them by paying proper respect to NFL quarterback Blake Bortles.
➽ And if you want a big side of feelings with your Good Place meal, listen to Carden and Jacinto talk about their favorite episodes of the show in extremely broad, non-spoilery terms.
➽ Orange Is the New Black's Dascha Polanco, This Is Us star Susan Kelechi Watson, and The Flash's Candice Patton sat down with moderator Cameron Esposito to talk about the importance of mentorship programs in the entertainment industry and what positive change really looks like in Hollywood. Watson shared her experience with This Is Us creator Dan Fogelman as an example of how to lead by getting out of the way.
➽ Superstore's Ben Feldman postulated that if the show was a Democratic presidential candidate it might be Elizabeth Warren, to which America Ferrera replied, "I could argue that. I won't. But I could argue that." And then Ferrera and Feldman actually did argue during a round of deeply researched trivia concerning real American big-lots stores. The two Superstore stars were teammates, but that could not quell Ferrara's big competitive energy.
➽ Chef David Chang explained why In-N-Out french fries suck, and shared his favorite Domino's order with New York art critic Jerry Saltz: the surprising yet extremely delicious combination of bacon, onion, and Alfredo sauce on thin crust.
➽ Bachelor Nation took over the Festival for an evening of trivia, and Eric Bigger made himself comfortable in the photo studio by peeling off his shirt. What a generous festival guest!
➽ Naturally, PEN15's Maya Erskine and Anna Konkle dished about awkward moments from their teen years during the panel, which tumbled deep down the rabbit hole into tales of first kisses.
➽ The festival closed its first night in maximum Vulture fashion with Hunter Harris hosting a Star Is Born singalong poolside at the Roosevelt Hotel. Everyone dove into the deep end together, far from the shallows now.
Script aides were provided to help everyone get properly born during scene 98.
Day Two
➽ Oh hey there, Upper East Siders. Gossip Girl writer and executive producer Joshua Safran joined Hunter Harris for a wide-ranging conversation about standout moments from the original run of The Greatest Show of Our Time, and to give the audience a light sketch of what the forthcoming "update" will entail. Safran promised a more diverse cast than the lily white lineup we knew and loved back in the 2000s, and said fans can look forward to walking the hallowed halls of the Constance Billard school once again. Looks like we can and we will go home again.
➽ The cast of One Day at a Time assembled for a dinner-style conversation to celebrate their show's new lease on life and let the people know when they'll be back for next season. Good news! New episodes of One Day will start airing in March of next year. You may now celebrate accordingly.
➽ I Think You Should Leave is one of TV's most surprising hits of the year, and co-creators Tim Robinson and Zach Kanin joined us with Akiva Schaffer, who directed the show's breakout sketch, "Focus Group". And who came out as an unannounced guest? Naturally, the sketch's biggest star, actor Ruben Rabasa. He even brought a tiny steering wheel.
➽ A double deck bus full of brave souls committed to a ride around Hollywood at 4 p.m. on a Sunday afternoon to hear hosts Adam Pally and Casey Wilson give an "insiders" tour of America's entertainment capital. (Basically, a recap of Wilson's tumultuous dating history in Los Angeles.) The temporary tour guides even brought along some friends, with Jessy Hodges joining on the bus, Abby Elliott hopping on along the route, and Wilson's dad Paul even getting on board at the Hollywood Forever Cemetery.
Vulture's new official tour guides are getting rave reviews.
➽ We learned something important from Elisabeth Moss during her Anatomy of a Performance event this weekend, where she discussed her turn in this year's Her Smell with runny mascara researcher Rachel Handler.) No, she doesn't know if there will be a Mad Men movie, though she would do it. And obviously she can't tell you much about the next season of Handmaid's Tale. The news you can use is that Moss loves rom-coms and absolutely loves Hallmark movies. She even downloaded the network's app because, "I needed a way to access all my Christmas movies because I love Hallmark Christmas movies and I watch as many of them as possible." What's more, she would definitely be in a Hallmark Christmas movie, and so the network "definitely" needs to write her one. Her words, not ours.
➽ Vulture welcomed some top-tier catering talent, though perhaps not the kind you expected: Jesse David Fox spoke with the cast and creators of Party Down, including Adam Scott, Lizzy Caplan, Megan Mullally, Jane Lynch, Martin Starr, Ryan Hansen, Ken Marino, Jon Enbom, Dan Etheridge, and Rob Thomas. (The actual caterers working at Vulture festival were wonderful and talented, too.) The subject of more Party Down was broached, and while Etheridge said a movie wasn't going to happen, he did say that "in the next year or two we'll explore some ways to bring the gang back together." Also, a special guest came by to surprise the audience:
➽ One of the Festival's most anticipated events was the Community reunion featuring Joel McHale, Alison Brie, Gillian Jacobs, Danny Pudi, Jim Rash, Yvette Nicole Brown, Ken Jeong, Chris McKenna, and Dan Harmon. The cast revisited some of the show's greatest hits ("Remedial Chaos Theory", anyone?) and Jacobs even re-enacted one. For those who could not be in attendance, may we present Britta's pizza dance:
Oh, and the cast said they'd return for a Community movie if Harmon writes one — and if they can get $1 million to pay Donald Glover to do it. Let's celebrate with a rap from Jim Rash!