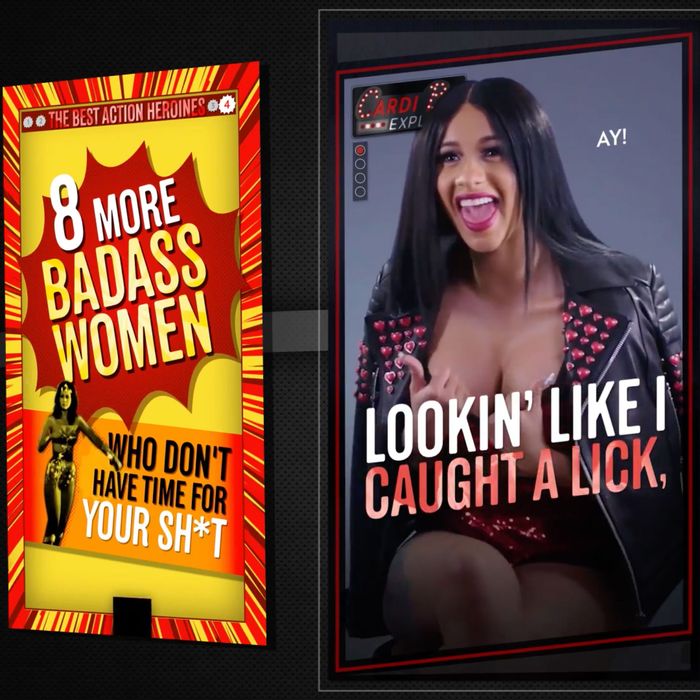 How Vulture looks on Snapchat, Thanos's favorite publishing platform.
Photo: Vulture
It's been a little more than two years since Vulture made the leap from being a website to being a website with a Snapchat Discover bureau. Over that time, the amount of entertainment in the world has increased four-thousandfold (conservative estimate), and we've done our best to ensure our Snap coverage keeps up. That initially meant switching from a weekly edition to a tri-weekly one, but even that wasn't enough. So, starting today, our Snapchat Discover Story will realize its full potential: We've gone daily.[An unconventional sort of "daily": Monday through Thursday, and then Saturday.]
What that means is even more of what Vulture does best, packaged neatly for a Snappy audience. Just as Vulture has gone deep into Game of Thrones theories, enjoyed every dizzying episode of Riverdale, and were terrified, yet thrilled, by the deluge of high-end horror, so has our Discover Channel.
We've complemented that adapted on-site coverage with Snapchat exclusives such as longer interviews with artists like Juice WRLD, news about whatever exciting (or mortifying) (probably mortifying) thing YouTubers are doing, superhero movie joke rankings, and polls such as "Who will defeat Thanos in Endgame?" (Congrats and nice work, Goose the cat).
If you aren't already subscribed, you can do so by swiping up at the end of our editions or checking out our profile page on Snapchat, where you can also view all of our past editions.
And listen, if you're not on Snapchat and have vowed never to be, that works, too. We want Vulture to be where you already are, not make you go where you aren't. Maybe we can interest you in a newsletter? No pressure!