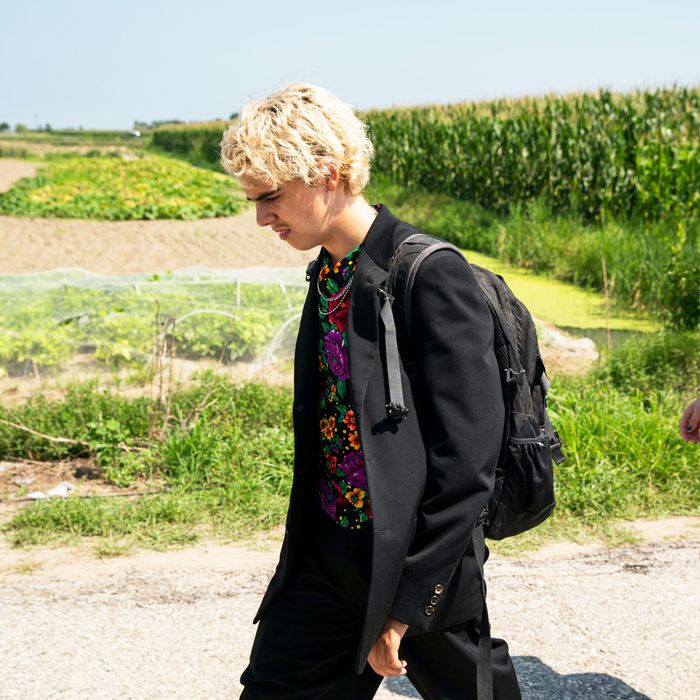 Jack Dylan Grazer and Francesca Scorsese in
We Are Who We Are
.
Photo: Yannis Drakoulidis/HBO
It is impossible to watch We Are Who We Are, the new HBO series from filmmaker Luca Guadagnino, without being reminded from time to time of Guadagnino's film Call Me by Your Name. Like that movie, We Are Who We Are is a coming-of-age story set in Italy. Like Call Me by Your Name, the cable drama focuses on characters exploring their sexual identities. While We Are Who We Are does not contain any scenes that center on peaches, it does include a moment in which two women thrust their hands into a freshly baked apple pie. Armie Hammer does not dance to a Psychedelic Furs song in this series, but Caitlin (Jordan Kristine Seamón), one of the show's teen protagonists, does sway sensually to a cover of Laura Branigan's "Self-Control."
Despite these common denominators, We Are Who We Are establishes itself as a different animal, in large part because of its medium. Guadagnino, who created, co-wrote, and directed the series, has eight episodes across which he can drape his narrative, and he embraces the notion of taking his time. We Are Who We Are, debuting Monday night, is a series that you want to keep watching not out of curiosity to find out what happens next, but because of the environment in which it unfolds. Guadagnino places his camera in the spaces shared by Army brats living on a military base in Chioggia, Italy, and just lets these kids be. Watching it is akin to being a fly on the wall in a hyperspecific setting, assuming you are a fly who happens to be a gifted cinematographer.
We Are Who We Are is gorgeously photographed and obsessive in its attention to detail. Guadagnino is drawn to the messes people make and don't bother to clean up, both literally and emotionally. In the fourth episode, which focuses on a celebration that stretches from day to deep into the night, Guadagnino pauses on empty beer bottles, remnants of cooked spaghetti, and PlayStation controllers tossed aside and still faintly aglow to capture the mood of a party that's gone on a little too long. The relationships, particularly between parents and children, ebb and flow in a similar fashion; at times they are vital, but they can quickly turn into something fatiguing.
The series opens as Fraser (Jack Dylan Grazer of It and Shazam!), and his two mothers, Sarah (Chloë Sevigny) and Maggie (Alice Braga), arrive in Italy, where Sarah is set to serve as the new commander on the aforementioned Army base. Fraser is immediately agitated because a piece of his luggage is missing, but it becomes clear pretty quickly that intensity is his default setting. With his bleached-blond mop of curls and baggy leopard-print pants, Fraser would stand out in a crowd no matter what. But Grazer infuses the boy with a constant itchiness that makes it impossible to take your eyes off of him.
His relationship with Sarah, his birth mother, is dysfunctional and fraught; at times he has an infantile desire to seek comfort from her, and at others, his resentment borders on violent. Sarah may be a military leader, but as a mom she is needy and extremely permissive. When Fraser has a meltdown over a meal he made that didn't turn out well, Sarah calmly and without hesitation pours him a glass of wine.
One wouldn't expect a woman whose workday is peppered with formalities and protocol to be so liberal in her parenting, and that's part of the point. In every piece of character study in We Are Who We Are, there are elements of surprise, contradiction, and a refusal to come to strict conclusions. Is Fraser gay, straight, bi? In the first four episodes provided to critics, it's not clear, in part because it isn't necessarily clear to Fraser yet.
The show hints that Caitlin, Fraser's next-door neighbor with whom he forges a friendship, may be trans but, again, leaves that up to interpretation. Just when you think you are starting to have a sense of who she is, she and her father (Kid Cudi), more of a classic military man, privately celebrate the arrival of a pair of matching MAGA caps. (The series takes place as the 2016 presidential election is unfolding, though, at least in the episodes I saw, it is not an overtly political series.) Like Fraser's relationship with Sarah, what first seems like a laudable bond between parent and child starts to show tinges of something poisonous.
The tension between freedom and restrictiveness seeps into just about every frame of We Are Who We Are, as the teens in Fraser and Caitlin's social circle roam the base while soldiers in the background engage in military drills. It also informs Guadagnino's aesthetic. For all his specificity as a filmmaker, there are times when he can luxuriate in a moment a bit too excessively. In the beginning of episode four, a paintball game devolves into a paint-and-water-splattering fight that unfolds in slow motion for close to two and a half minutes. Some viewers might get impatient with that meandering, leisurely approach, while other may find themselves swept up in the moment, transported by the series' sense of place and mood.
When Fraser sees Caitlin for the first time, he spies on her in class as she's reciting a poem by Walt Whitman, then snaps a photo of her on his phone, a moment that aptly summarizes what We Are Who We Are is. It's not a traditional television show. It's poetry. It's a photograph of a moment in time. Every episode is an invitation to just sit within those verses and pictures and appreciate them, without judgment.