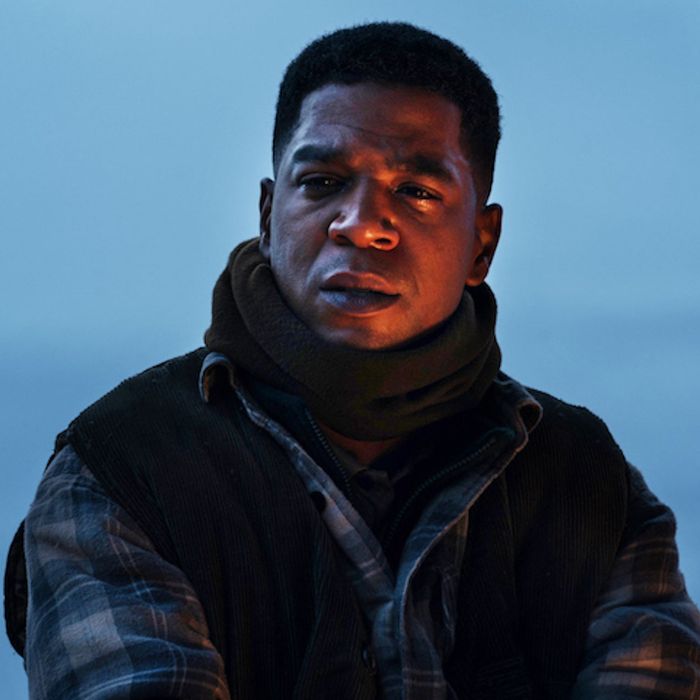 Let's start at the end. We knew the 2016 election was playing out in the background. We've seen MAGA hats and Trump rallies, even snippets of the debates throughout the past few episodes. But I never really expected the show to drop us into postelection coverage as it does in the final moments of this episode. I'm still shaken from needing to relive that night — and from hearing the then-already empty promises of unity and of a newfound "presidential" demeanor in the president-elect. Hearing pundits try to make sense of that election through the credits left me gutted once again — and even more terrified about the coming one, in turn. Which is to say: Excuse me if I want to get that out of the way (I'm sure we'll deal with the fallout from it, and the call Sarah gets, in next week's episode). Let's focus instead on how this show had me grinning from ear to ear right up until the CBS news footage of that fateful night slapped me in the face and stopped me in my tracks, not unlike the way it did the characters onscreen.
But back to grinning. And, of course, there's no other place to start than that delirious musical interlude featuring Dev Hynes's "Time Will Tell." Yes, the very song we got to hear snippets of last week when Fraser was praising the "musical genius" (and also the talent behind the twinkling dreamy beats you hear throughout We Are Who We Are's score). Seeing Fraser and Caitlin, dressed in matching all-white outfits (turtlenecks no less!), ace a dance routine to Hynes's song while re-creating his music video was sublime. Did it come out of nowhere and look like an early '90s fever dream of a sequence, replete with a white piano and military background players unaware of the A-plus choreography being trotted out by the lip-syncing teens? Sure. But it captured the ebullient spirit Fraser and Caitlin each bring out in the other and the slice of a world they've created within and around themselves. That it punctuated an episode that keeps them apart for much of the action only made it all the more special. We deserve to have it released as a full-on music video.
The reason the close-knit teens can't hang out outside of school is, of course, that Caitlin has been grounded by her father, who's now intent on keeping her far away from the influence of both Fraser and Sarah. It's why he picks her up at school and takes her on a hunting trip, leaving Fraser alone to be bored by himself. That is until his is-it-or-is-it-not flirtation with Jonathan (via book recs and flustered giggly interactions) turns into a not dissimilar bonding excursion of their own.
Just last week, I was talking at length about how carefully We Are Who We Are keys into the messiness of our own identities. And here we get Caitlin distilling that very message. When her father berates her for her continued attachment to Fraser — "How can a fashion victim from New York understand you?" he asks her — she responds with a line that may well serve as the show's thesis in a nutshell: "He only seems like that. He's not actually that. Or, he's not only that."
Her various corrections go from her being needlessly defensive to realizing she need not correct Richard at all. He's not wrong, after all. But she objects to reducing Fraser to being just one thing. Her time spent with Fraser (and Sarah, to an extent) have helped her understand the way we all, as Whitman writes, contain multitudes. She's as much standing up for Fraser as she is for herself.
Which brings me to the other moment that made me grin from ear to ear (no, not that karaoke moment, though that ranks high as well): Caitlin may spend most of the episode with her dad, both trying to rekindle their effortless chemistry, but it's Caitlin's encounter with Sarah in the food court that felt most heartwarming. If We Are Who We Are is about finding strength in being yourself and finding others who'll see you as you want to be seen, then seeing the young teenager hear a question like "When you say soldier, does he know you mean male soldier?," addressed to her with openhearted earnestness, felt like a truly poignant moment for her and the series alike.
Who knows what the future has in store for Caitlin (or should we, like Fraser, begin calling them Harper from now on, do we think?), but you can tell that, despite the fear of being seen fraternizing with Sarah, being so understood by an empathetic adult who has their mental health as their top priority was very touching. It captured everything I love about this wayward poetic gem of a show: We Are Who We Are does so much with small gestures and so values the way intimate moments are all about what's left unsaid that now I'm getting misty-eyed knowing we don't have too much time left with these characters. So, on to next week!
This Is What It Is
• "Who's G.I. Jane?" is the kind of line that made me feel oh so old, even as it reminded me that, thankfully, there are teens like Fraser who freely refer to pivotal Demi Moore star vehicles in their everyday speech. (Yes, I know he's a fictional character; let me have this.)
• Tom Mercier singing "I Want It That Way" will live rent free in my head for decades to come.
• Speaking of Mercier: Jonathan and Fraser are truly assembling the most eclectic book swap I've ever seen. The Nazi book from last week was off-kilter enough, but Howard Sounes's 27: A History of the 27 Club Through the Lives of Brian Jones, Jimi Hendrix, Janis Joplin, Jim Morrison, Kurt Cobain, and Amy Winehouse ("There is still time to be a rock star," Fraser writes on the front cover as a dedication) is truly next level.
• Who knew peeing (last week with Caitlin, this time with Jonathan) could be such a pivotal bonding activity?
• How mesmerized were you by the close-up shots of Alice Braga and Chloë Sevigny? Amazing how getting actors to speak to the camera can truly accentuate the impact of an exchange.
• Okay, I promised I wouldn't come back to the 2016 election footage, but I do think we need to pause and point out the subtle jab at the MAGA crowd the show inserted. With an old Karl Lagerfeld interview no less: "The minute you think that the past was better," we see the designer saying in a YouTube clip Fraser is watching in bed, "your present is secondhand, and you yourself become vintage — it's okay for clothes, not that great for people." Hearing that before seeing the images of people gleefully embracing the president's Make America Great Again mantra at Trump Tower on Election Night almost speaks for itself, no?
• And before I go: a big shout-out to We Are Who We Are Outfits on Instagram, doing the great work of tracking down all the great pieces you and I have been craving from the show, which now also includes the (apparently very rare!) Bernhard Willhelm spring/summer '03 floral military vest we see Fraser sporting again in this episode.