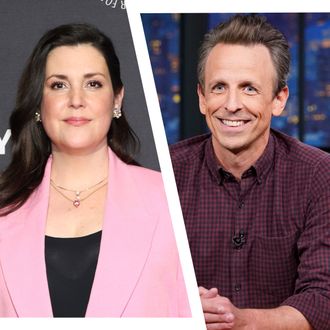 Melanie Lynskey and Seth Meyers.
Photo-Illustration: Vulture. Photos: Getty Images; NBC
As members of the Writers Guild of America are preparing to strike beginning on May 2, many TV makers are advocating for writers' demands. Melanie Lynskey, Daniel Kwan, and the creators of Yellowjackets are among the many industry professionals who advocated for a strike to expand the WGA's negotiating power in an environment where writers say streaming has sharply reduced their pay. "I stand with the WGA members voting to strike!" Lynskey tweeted. "There is no industry without writers. They deserve to be able to make a living!" Even Seth Meyers, whose show, Late Night With Seth Meyers, is — given the quick pace of late-night TV production — one of the first shows to go down in the event of a strike, showed support for a then-potential strike. "I'm incredibly grateful that there are negotiators for both sides sitting and talking," Meyers said in his "Corrections" segment on April 24. "I'm incredibly hopeful that they can come to an agreement. I also feel very strongly that what the writers are asking for is not unreasonable. As a proud member of the guild, I'm very grateful that there is an organization that looks out for the best interests of writers."
At the Met Gala Monday evening, Quinta Brunson, creator and star of Abbott Elementary, expressed her support for her fellow writers. "I'm a member of WGA and support WGA, and them getting — we, us — getting what we need," she said on the red carpet.
New industry standards have left writers underpaid and overworked, the guild says. The WGA asked members to vote between April 11 and 17 (after talks with the studios stalled following two weeks at the bargaining table), saying the union's corporate counterpart has "shown no sign that they intend to address the problems our members are determined to fix in this negotiation."
Ted Lasso and A Black Lady Sketch Show writer Ashley Nicole Black tweeted that the guild is "simply asking for a living wage, and the ability of the middle class writer to make a living and career. Meanwhile the studios are making huge profits, and CEOs making mega bonuses. They're just refusing to share the wealth that workers are generating."
Below are the actors, writers, and showrunners tweeting their support for the WGA strike authorization.
Seth Meyers (Late Night with Seth Meyers)
Jimmy Fallon (The Tonight Show Starring Jimmy Fallon)
Amanda Seyfried (The Dropout)
Melanie Lynskey (Yellowjackets, The Last of Us)
Ashley Lyle (Creator, Yellowjackets)
Daniel Kwan (Director and Writer, Everything Everywhere All at Once)
Boots Riley (Writer and Director, Sorry to Bother You, I'm a Virgo)
Kay Cannon (Writer, Blockers, Pitch Perfect)
Alanna Bennett (Writer, Roswell, New Mexico)
Ashley Nicole Black (Ted Lasso, A Black Lady Sketch Show)
Quinta Brunson (Creator/Star, Abbott Elementary)
Brittani Nichols (Writer, Abbott Elementary)
Justin Halpern (Showrunner, Harley Quinn; EP, Abbott Elementary)
Brian Tyree Henry (Actor, Atlanta)
Adele Lim (Writer, Crazy Rich Asians)
Rachel Shukert (Showrunner, The Baby-Sitters Club)
Michael Mohan (Writer, Everything Sucks!)
Adam Conover (Creator, The G Word)
Bradley Whitford (Actor, The Handmaid's Tale)
Christina Strain (Writer, Shadow and Bone)
Charles Ray Hamilton (Writer, Queen Sugar)
Kyra Jones (Writer, Queens)
Kirk J. Rudell (Writer, Voice of the Game, American Dad!)
Alex Blagg (Writer, Fairfax, Trinkets)
Javier Grillo-Marxuach (Writer, From, Cowboy Bebop)
Morgan Evans (Writer, Teen Titans Go!)
Kelly Lynne D'Angelo (Writer, Miracle Workers)
Tim Barnes (Creator, Maurice on Mars)
Noah Garfinkel (Single Parents, New Girl)
This is a developing story.