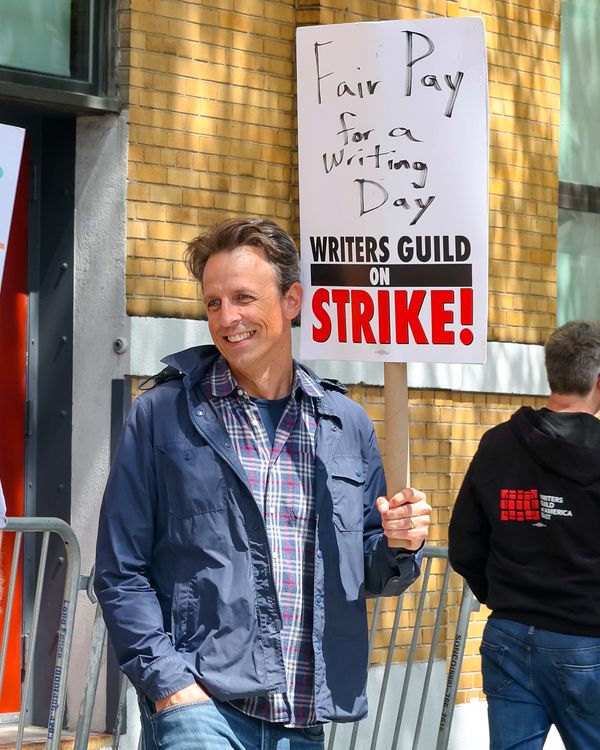 Photo: Jose Perez/Bauer-Griffin/GC Images
It's been over a week now of pickets, tweets, treats, feats, shutdowns, and solidarity. Much remains the same, but things are definitely heating up. As we work to catch you up on everything that is happening on the picket lines (and on Twitter), you can also check out our thorough accounting of celebrities showing solidarity and shows that have been delayed or shut down.
The Twitter Thread Everyone's Reading
The Writers Guild of America's ask that studios be required to staff rooms of a certain size might seem odd, but this thread from Justified writer-producer Ingrid Escajeda makes it clear why this is such an important issue for everyone in the guild:
The Shows That Got Shut Down
Stranger Things (Netflix)
The Hedge Knight (HBO)
Severance (Apple TV+)
Sinking Spring (Apple TV+)
Daredevil (Netflix)
Who Brought Food?
A nice lady named Alex! Also, APA, Verve, WME, and the Democratic Socialists, of course. And a Teamster brought cash, which can be converted into food, so it counts as feeding.
Spotted: Celebs, Bands, More Dogs
The Strike Main-Character Award (Good)
Joe Biden does the bare minimum. Everyone is politely golf-clapping.
The Strike Main-Character Award (Bad)
Disney (and Warner Bros., but Disney got the brunt of this on Twitter) sent a letter to showrunners letting them know that "your personal services agreement with [the] Studio requires that you perform your showrunner and/or producing duties even if the WGA attempts to fine you for performing such services during the strike." It's a demand that actually goes against WGA's guidelines for members and has not gone over well with, um, anyone.
The DGA Has Entered the Chat
The Directors Guild of America has an announcement to make — in full 4K HD, of course. Its bargaining process will begin on Wednesday, May 10, and it released this very fancy video letting its members (and the studios) know that this isn't about to be a rush job.
Today We Learned
About one of the sneakier union-busting tactics out there: neutral gates.
Signs People Liked
"I enjoy 'Witty Sign TK' as a former late-night writer and as a joke writer." —Matt Whitaker, screenwriter and Writers Guild member since 2016
"'My neck, my back, we want a fair contract' from [last] Tuesday was insanely good." —Jay Jurden, comedian and Writers Guild member since 2021
Do you have a story tip or interesting bit of writers-strike updates to share? Drop us a line at tips@vulture.com.