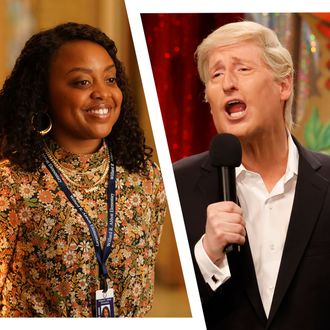 Abbott Elementary
and
SNL.
Photo-Illustration: Vulture. Photos: ABC; NBC
Revisit our previous coverage of the WGA's strike against the AMPTP as it hits 101 days.
In the past few years, we've had a lot of bad things happen — not sure if you've noticed. But one thing that has remained consistent is a steady stream of TV shows providing solace. Well, guess what? That might be gone soon too. The Writers Guild of America announced that it had not come to an agreement with the Alliance of Motion Picture and Television Producers on a new contract on May 1 to provide tenable working conditions for its members. On May 2, the WGA called for a general strike that includes TV and film writers across the United States. It is the first WGA strike since 2007, when it lasted 100 days. On July 14, SAG-AFTRA also went on strike, marking the first time since 1960 that both actors and writers were on strike at the same time. The actors' strike has also delayed a number of projects. But while we can look back to that strike for some indication of what this one could look like, the times they are a-changin', and things are a little different these days. We thought it would be helpful to run down all the changes you might see in various forms of TV broadcasting because you may need to change your habits from a binge model to a slow drip.
Late-Night Shows
Late night will be the first genre to go bye-bye. Because these shows are written on an extremely tight schedule in order to stay topical, they can't have any episodes banked for future use. That means no more Jimmy Fallon guffawing, no more Jimmy Kimmel pranks, no more erudite Stephen Colbert, and no more Saturday Night Live. Other shows that have shut production down include The Daily Show, Last Week Tonight with John Oliver, Real Time with Bill Maher, Late Night with Seth Meyers, and NBC's Tonight. If you're craving late-night and aren't in the mood to watch reruns, maybe go over to the British model and check out interviews with Graham Norton or game playing — like the kind on Taskmaster — because the strike is based in the U.S. (To be fair, Gutfeld! will still be airing on Fox News … Deadline reports that the show's team is non-union.)
Linear TV
Network TV is the next to go. Per Deadline, NBC's Night Court and Starz's The Venery of Samantha Bird and Power Book III: Raising Kanan have currently closed their writers' rooms. Production on season four of CBS's Evil wrapped early following an incident where picketing writers disrupted filming at Brooklyn Stages on Friday, though the show is insisting that the decision came as a result of a cast member taking a leave of absence due to a personal family matter. Cable television is also being affected as Disney Channel's Bunk'd has had production shut down on season seven due to the writers' strike. Starz's P-Valley is also delaying production, as of May 10. Freeform's While You Were Breeding has also shut down their post-production due to the writers' strike.
Most major-network TV shows (Abbott Elementary, the Chicago procedurals, Ghost, etc.) have already wrapped for the summer. However, if the strike extends as long as the 2007–8 run did, that would eat into the prep time for those shows before they return in the fall. The strike also affects pilot season, meaning we're probably not getting that many new shows in the fall. The previous writers' strike portended an increased focus on reality TV, so maybe now we'll get a version of The Apprentice with Elon Musk at the helm and he won't have time to spend ruining Twitter. (Most animated shows are also not included in the WGA.)
Daytime Soaps
Soap operas have an arsenal of episodes at their disposal. Many, if not most, are filmed months in advance, leaving the genre with an enviable stockpile before it runs out of new episodes. Days of Our Lives has content going into the fall, while General Hospital has about a month left of prerecorded melodrama. The Young and the Restless will likely be the first to pause, with less than a month of episodes remaining. Writers and producers who aren't in the WGA can still make the soaps based on plot sketches. During the previous strike, soaps mostly stayed on owing to a combination of prerecorded episodes and the efforts of writers in the guild's "financial core" — a government designation allowing writers to resign from the union to work while receiving contractual benefits. It wasn't good vibes all around, though. The WGA called out writers who had intentionally left the guild, sought fi-core status, and kept working despite the stoppage after the strike ended. TL;DR: Soap-opera fans need not despair.
Streamers
Well, this is the big question mark. Netflix's Emily in Paris has reportedly delayed production by two months due to the effects of the writers' strike. Per Deadline, Hacks will stop production on its third season for the duration of the strike. Stranger Things creators, the Duffer Brothers, announced that they would postpone production on the final season due to the strike. "While we're excited to start production with our amazing cast and crew, it is not possible during this strike. We hope a fair deal is reached soon so we can all get back to work," they wrote on Twitter Saturday afternoon. Writers' rooms for Unstable, Big Mouth, Cobra Kai, and Yellowjackets have closed. The Community movie for Peacock is reported to have been delayed. Given that there are no scripts yet, the second season of The Last of Us season two is reportedly also on hold. Streamers such as HBO Max, Amazon Prime, Hulu, and Netflix tend to bank a lot more shows than network TV does, so it would take longer for them to feel the real effects. If there is a strike, "we have a large base of upcoming shows and films from around the world," Netflix CEO Ted Sarandos said at an earnings call in April, according to The Hollywood Reporter. "We could probably serve our members better than most."
So while it's certainly not ideal for them, the streamers may have the ability to weather the storm for a while. Still, they'll probably need to be a bit more judicious about the pace at which they put out new content because that backlog will eventually run dry. Will Netflix even start putting its big shows out on a weekly basis to make its projects last longer? Shrug. Who knows? It might just instead pivot to mainly promoting international shows, which American audiences have shown an appetite for given the overwhelming success of Squid Game. Streamers have already changed how we watch TV, so how they approach a strike will be a taste of just how much they rely on American staff writers.
Reality TV
When you don't have writers, one thing you can depend on is reality. Reality TV prospered during the 2007–08 WGA strike, and now network schedules are relying on them. Big Brother is premiering on CBS on August 2, for example, rather than the customary late June or early July, likely because that means the run of the season will extend into the fall TV schedule and be a ratings boost for a network without new episodes of its popular scripted shows. CBS also pushed back the premiere date for the upcoming Superfan from June 9 to August 9 and will air The Challenge: USA season-two premiere the day after.
This post has been updated.
More on the 2023 writers' strike
See All