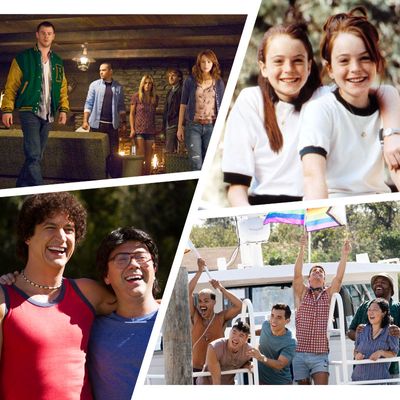 Photo-Illustration: Vulture; Photos by Fox Searchlight, Netflix, Lionsgate and Buena Vista Pictures
Into every vacation a little rain must fall, but what the heck are you going to do when you'd rather be out surfing, tubing, or terrorizing people with water balloons? Stream something on the internet, of course. Here are 27 great movies and TV shows to keep you occupied while you wait for the sun to come. (It will come out tomorrow. Just ask Annie.)
For Family Vacations
Bad weather on a trip with kids is a dual-pronged problem. Not only do you have to deal with children bouncing off the walls while they're stuck indoors, you also need to find something suitable for all ages. Your best bet is a marathon of Adventure Time. The animated Technicolor fantasy is silly enough that even the littlest kids will be engaged, but the mythology of the postapocalyptic Land of Ooo is engaging for grown-ups who don't mind a fart joke or two. For those with older kids, try The Legend of Korra, a surprisingly astute and political story about a superpowered girl trying to navigate a steampunk world and the raging hormones of adolescence. The same writers also created The Dragon Prince, which offers a wonderfully immersive fantasy world with a staggeringly inclusive (animated) cast.
Adventure Time is streaming on Hulu and HBO Max.
The Legend of Korra is streaming on Netflix and Paramount+.
The Dragon Prince is streaming on Netflix.
For Party Houses
The keg is tapped, the rosé is flowing, but you can't lie by the pool during a thunderstorm. Since you can't have a rager, you might as well watch some on TV and play along. Superbad is not only hilarious, it will take you back to those heady days before you could legally buy booze, where mistakes have little consequence and Emma Stone didn't quite yet have an Oscar. If there's a little bit too much testosterone, give Booksmart a whirl and fall in love with two girls trying to break all the rules on graduation night. These are two movies where the party goes shockingly right, but what about when the party goes horribly wrong? That can be fun too. Just check out The Afterparty, where a dozen high-school alums have a reunion shindig that goes off the rails when their pop-star host (Dave Franco) turns up dead. With an amazing cast (Ilana Glazer, Tiffany Haddish, Ike Barinholtz), each character gets their own episode told in their own genre. Any good party has something for anyone.
Superbad is available to rent on Amazon and iTunes.
Booksmart is streaming on Hulu.
The Afterparty is streaming on Apple TV+
For Lake Houses
There is nothing like the scenic beauty of a New England lake, surrounded by trees and family members to bring out your deeper emotions. The 1981 drama On Golden Pond won three Oscars for its depiction of an elderly couple, played by Henry Fonda and Katharine Hepburn, who babysit their daughter's new stepson. It's sweet, picturesque, and more than a little bit sad. For something to lighten the mood, What About Bob? is one of Bill Murray's funniest roles ever, in which he travels up to New Hampshire to terrorize his therapist during a family vacation.
On Golden Pond is streaming on YouTube and Freevee.
What About Bob? is available to rent on Amazon and iTunes.
For Beach Houses
You'll never replace the roar of the waves and the glare of the sun with something on a screen, but nothing comes as close as The Talented Mr. Ripley. The 1999 thriller has beautiful settings, beautiful people, and enough swanning around Europe on gorgeous boats for a million Peroni commercials. If you need your housemates to think you're arty, opt for Purple Noon (or Plein Soleil if you're nasty), the 1960 French film based on the same Patricia Highsmith novel. In either case, don't let the murder and identity theft get you down. If you're staying in a basic beach rental, you'll surely find a poster for The Endless Summer somewhere in the house, so you might as well watch the seminal 1966 surf movie, where filmmaker Bruce Brown follows two young surfers around the world as they chase huge waves and good vibes.
The Talented Mr. Ripley is streaming on Peacock.
Purple Noon is available to rent on Amazon and iTunes.
The Endless Summer is streaming on Tubi.
For Fire Island Shares
Of course you're going to watch Fire Island, the queer take on Pride and Prejudice that is not only set in the Pines but was also filmed there. You and your friends will be "Yaaaaaasssss queen"–ing every reference about the underwear party and the prices at the Pantry. If that's not enough romance for you and your sharemates, give Heartstopper a try. It's about two teens in a British school coming out and falling in love. It's everything every gay boy wishes their high-school experience could have been like. It's a quick, delightful binge and the shot of romance you'll need after being rejected over Planter's Punch at tea.
Fire Island is streaming on Hulu.
Heartstopper is streaming on Netflix.
For Montauk Hideaways
If it's nasty outside but you still want to explore the perspectives of the wealthy who come to Montauk in the summer and the townies struggling to hold onto the authenticity of their home, there's no better way than Showtime's The Affair. The Montauk-set drama follows a man and a woman who step out on their marriages and all of the political and socioeconomic implications that entails — plus, the dreariness of the tone will match the weather. If you'd rather just see how the other half lives, all of ABC's sudsy Revenge is available — though it's probably best to skip out after the amazing first season. If you want your soaps with a dash more reality, try Bravo's excellent Summer House, about a group of overly dramatic New Yorkers and their drama-filled summers in a Montauk share house. Things really pick up around season three, so feel free to jump in the middle, because as protagonist Kyle Cooke says, "Summer should be fun!"
The Affair is streaming on Showtime and Peacock.
Revenge is streaming on Hulu.
Summer House is streaming on Peacock.
For Summer Camp
Do they let kids bring cell phones to camp these days? If you can sneak something into your bunk late at night, the original Friday the 13th will surely give you terrors until your parents pick you up. For something a bit more whimsical, both versions of The Parent Trap have the right blend of high jinks and camp life. If you want to impress all of your friends with how hip and indie you are, Wes Anderson's twee take on the camp movie, Moonrise Kingdom, will do just the trick.
Friday the 13th (1980) is streaming on Paramount+ and Pluto TV.
The Parent Trap (1961) is streaming on Disney+.
The Parent Trap (1998) is streaming on Disney+.
Moonrise Kingdom is streaming on HBO Max.
For a Stoner Weekend
A rainy day stuck in the house would improve with edibles, which means you'll need some entertainment and light chuckles to go along with it. Wet Hot American Summer: First Day of Camp is the perfect solution with its silly take on camp classics. This Netflix prequel series to the 2001 movie is a perfect catalyst for all those giggles — and same goes for the follow-up, Wet Hot American Summer: 10 Years Later. If that won't do it for you, Sausage Party is the animated answer to Seth Rogen's other stoner movies, and this one will also give you a serious case of the munchies. But be warned: With all that talking food, it might scare you away from scarfing down hot dogs. If you want to see people actually doing a shit ton of drugs, then High Maintenance is perfect. It follows the journey of Brooklyn's hardest-working weed salesman and his quirky clients. As humane as it is hilarious, it's the perfect thing for when the indica has you glued to the couch.
Wet Hot American Summer: First Day of Camp is streaming on Netflix.
Sausage Party is streaming on available on Netflix.
High Maintenance is streaming on HBO Max.
For No Vacation (a.k.a. "I Have a Summer Job")
Not all of us get to go somewhere fun. Remember when you were stuck at home every summer, working crappy jobs and trying to save up money? That's the basic premise of Red Oaks, a series about a college kid working at a preppy country club in the '80s. It both parodies and lovingly embraces a genre that includes movies like Caddyshack, Porky's, and One Crazy Summer. Class Action Park is an insane documentary in the same vein, about a real New Jersey theme park where people were always getting hurt on the rides and the teens working there had full reign. Oh, and let's not forget the mother of all summer-job movies, Don't Tell Mom the Babysitter's Dead. You should get right on top of that, Rose.
Red Oaks is streaming on Amazon.
Class Action Park is streaming on HBO Max.
Don't Tell Mom the Babysitter's Dead is available to rent on Amazon and iTunes.
For a Cabin in the Woods
The Cabin in the Woods. Duh!