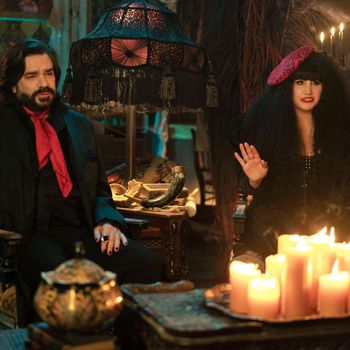 Seasons two and three of What We Do in the Shadows smuggled a good amount of character development into its blood-drunk tales of vampire debauchery. Every one of them grew in some way: Nandor learned not to take people (familiars, specifically) for granted, and Laszlo to tolerate, and even appreciate, humans. Colin made a friend for the first time in his long, boring life. And Nadja … well, Nadja didn't learn a goddamned thing. But she has blossomed into a successful businesswoman and an influential player in vampire politics.
But it's Guillermo who underwent the most dramatic transformation, from servile familiar to self-assured bodyguard. Discovering his latent power as a vampire hunter changed everything for this once-downtrodden character — until the season-four premiere, when he accepted a demotion rather than let nü-Colin starve to death. (That was his excuse, anyway.) This week, a hint of the old-new Guillermo bubbled to the surface, and not a moment too soon; I was starting to get disillusioned with the way the show was regressing and abandoning all the character development of previous seasons. But it took Nandor literally trying to kill Guillermo to get there.
The vampires' callousness is even more exaggerated this week than in "The Grand Opening," showing them manipulating, mistreating, and neglecting others just because they feel like it. (To be clear, this is just an observation, not a complaint: They are murderous bloodsuckers from beyond the grave, and sometimes the show reminds us of that fact.) The vampire fight club, where they pit familiars against one another before ripping their heads off for fun, has shades both of dog fighting (the prize is a bag of Kibbles 'N Bits) and Bumfights, an especially callous series of videos from the early '00s that should be returning any day now with the way things are going in this country. But I digress.
This isn't the first time Nandor and Guillermo have come to blows. And with the cold shoulder Nandor has been giving his familiar in recent weeks — and the orc comments and the whole "fight to death for my amusement" thing — perhaps Nandor needed to be put in his place a little bit. There's a lot of talk about Nandor as a warrior and not a lot of action, so it's a treat to see Kayvan Novak pick up a broadsword — not to mention Harvey Guillén, who hasn't done this much fight choreography since the season-two finale.
While the guys are busy punching out whatever unspoken tensions are prompting Nandor to ignore his vampire wife and Guillermo to ghost his human lover, Nadja's busy doing girlboss shit — again, the exploitative kind, because undead monsters — at the night market. Like the actor who plays her, Nadja has roots in the land where the Mediterranean meets the Middle East, home to cultures that traditionally value the ability to, as Nadja puts it, "fuck the other guy before he fucks you" while out shopping. She brags that "my ya-ya once traded just a little bit of her thigh meat for a whole bag of onions, so yeah, I think I know what I'm doing."
Given her success in both politics and business, it shouldn't come as a surprise that Nadja excels at haggling, trading some tchotchke she found in Nandor's room (it's not the djinn's lamp; I went back and checked) for Swedish meatballs at the Valkyrie Ikea. She trades that to some imps for a T-shirt that reads "If you can read this, the bitch fell off!," which she then trades to the proprietor of a store that looks a lot like some stores I've been to in New Orleans that also sell small skulls and squeaky bones.
She does all this to crush the wraiths' attempt to form a union at Nadja's, which pains me personally as a proud card-carrying member of the Writers Guild of America East. But also — once more for the people in the back — she's a foul, inhuman beast who has killed thousands, if not millions, of people over the centuries. And in the end, she folds immediately and gives the wraiths more than they were asking for once they escalate their tactics by reducing their spokes-wraith to a stain on the club's checkered floor. Let that be a lesson to you, dear readers: There's power in numbers.
A lot is going on in "The Night Market," so much so that we're just getting around to the market itself. This week's episode is especially heavy on prosthetic makeup and little rubbery magic guys, like the shoeshine imp and Laszlo's trash-talking, poo-gobbling fairy friends. (I bet those four had some wild nights back in the Belle Epoque.) The market itself struck me as a combination of a number of movies I've seen featuring fantastical cities — part Harry Potter, part the streets of Mars from Total Recall. But my favorite part of the whole thing was probably the subway car that they take to get to their destination, guarded by a subway performer too stinky for weak human constitutions. He's like a bridge troll: "Answer me these riddles three / Why does it smell of farts, poop, and pee?"
On that note, the humor in this week's episode is thankfully lighter on dick and poop jokes than last week's. But it's also light on quotable, laugh-out-loud lines, concentrating more on narrative. (When you spend a bunch of money building a big, elaborate set, you want to make the most of it, right?) That being said, it did give me something I've been missing over the past couple weeks, which is a meaty running bit where Laszlo disabuses nü-Colin of any childish beliefs in fairy tales. Which is not to say that fairies aren't real, of course — they're just not like in the stories. They do exist, and so do witches, who, in a callback to last season, Laszlo tells nü-Colin will "fight to get your semen, and not in a fun way." But Pinocchio simply suffers from a medical condition and "was never a puppet," as far as Laszlo knows.
This subplot obviously takes some liberties with the folklore: Rumpelstiltskin was never called "Rumpled Dick Skin," although there are phallic implications to the character's original German name. But the general idea of fairy tales being mythologized versions of real-life atrocities (read up on werewolves if you're interested in this) does track with academic studies of folklore, as does the better-known idea that the original Grimms' Fairy Tales were way darker than their sanitized Disney counterparts. That's the type of substance I look for from this show: The goofy shit is fun, but there are a lot of shows that can craft a good dick joke. A dick joke specifically designed to appeal to people who've read The Bloody Chamber? Now that's the good stuff.
Craven Mirth
• I want to see the blood sprinklers, goddamn it! Stop referencing them and spray the crowd with throat juice already!!
• You can tell that Nadja and The Guide have been spending a lot of time together, because their styles have started to rub off on each other. Last week, The Guide was ready for prom in a puffy '80s party dress and jacket. This week, Nadja's a regular Betsey Johnson in crimped hair, corsets, and leopard print. I expect to see them both in gigantic shoulder pads next week.
• I also loved Nadja's half-frame glasses, which she doesn't need to see but do have little rubies hanging from them to remind anyone who wants to fuck with her of the blood of her enemies that drips from her fangs.
• "We've got a regular Darth Maul Jr. over here. I call him Darth Small."
• I initially thought that "Water Lily of the Nile" was just a Lotus Eaters type of thing. But as it turns out, blue water lilies can get you high when they're steeped in wine, and they may actually have been widely used as a narcotic in ancient Egypt.
• As I mentioned, this week's episode was more about mythology and characters than writing or performance. But Matt Berry's pronunciation of "wheat plains" when he reads little Colin In Cold Blood as a bedtime story was predictably thrilling.
• In case you were wondering, yes, MillerCoors is paying for those High Life and Coors Light bottles scattered around Nadja's set.
• Two of the child actors who play nü-Colin's body on the show have Instagram accounts, both of which have some very cute selfies of the kids, Liam McKenna and Violet Tinnirello (who is also on Sesame Street), posing with their adult co-stars.