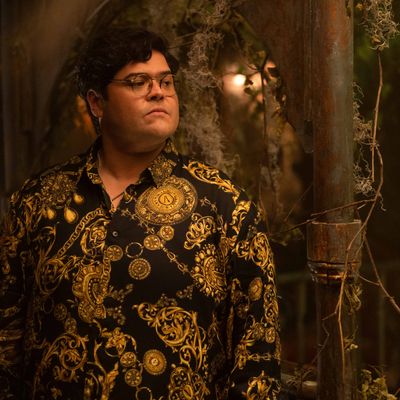 In this recapper's humble opinion, the best episodes of What We Do in the Shadows are the ones that bring the whole gang together — not much of a surprise, given how much of the show's success rides on the cast's comedic chemistry. So "Pine Barrens," an episode that divides the characters into three separate story lines (two of them overlap, but still) really has no business being as delightful as it is. This week's episode, which explores the nuances of one underdeveloped dynamic on the show and adds humanizing layers to a couple of the newer ones, is about as heartwarming as What We Do in the Shadows gets. (Insert Nadja making a barf gesture here.)
Laszlo has proven himself to be a real guy's guy — and a steadfast one at that — over the past four seasons: He's protected the vampires' next-door neighbor Sean from certain drainage more than once, and his loyalty to his season-three BFF Colin Robinson remains the primary motivator behind his (admittedly neglectful) parental duties toward Baby Colin. (He has his iPad, it's fine.) Nandor, on the other hand, mostly leans on Guillermo for companionship and emotional support, and it never seems to occur to him that other people (vampires, whatever) might have needs too. Nandor and Laszlo have never been especially close at any point in the series — which tracks, because as Nadja explains this week, things have been weird between them for the past 80 years or so.
We don't find out exactly what happened in the early '40s to make things so chilly. (The Anglo-Soviet invasion of Iran in August 1941? Laszlo making fun of Nandor's zoot suit?) But as the two finally have it out during a boys' weekend at Sean's family's cabin, the grudges that are hurting them the most turn out to be more recent. While Laszlo is a know-it-all snob (and is quite proud of it), I dare say that the other accusations that fly around the room like so many antique bullets are projections. Nandor, who's been ignoring his wife since he brought her back from the dead, accuses Laszlo of ignoring him: "You take and you take and you take!" he yells, which is ironic coming from the most selfish of this overall quite self-centered crew.
That being said, I do have compassion for Nandor, who has a hard time saying what he means and asking for what he wants. (They didn't have therapy in his day, so there's only so much you can ask of a 759-year-old warlord, you know?) And when they bury the hatchet while out in the woods looking for Baby Colin — who reacted differently than the old Colin, who would have feasted on the hostility in the room instead of running away from it — Nandor turns out to be (relatively) more communicative about what he's feeling. Laszlo, like the 300-year-old upper-class Brit he is, is very uncomfortable with the entire idea of emotions. So being more vulnerable than Laszlo is a low bar, but still, Nandor cleared it. Good job, Nandor.
Meanwhile, there's no real tension back at the mansion — at least, not between its residents. Nadja, as it turns out, is a good roommate, living by the Roommate Code of minding your own business until you're needed to help out with the bills and/or maintain an elaborate lie. The juxtaposition of Nadja and Guillermo both cheerfully including each other on the list of housemates who would be away for the weekend gave me a good chuckle, as did Nadja's nasal impression of Laszlo while the Guide and Marwa wave their hands over the mansion's old-fashioned tube TV in the background.
Speaking of, it was nice of Nadja to include Marwa — who Nadja says "looks just like a girl from my village … she's just wearing much less pigskin" — in her girls' night. Just last week I was noting that Marwa's life at the mansion is very isolated. And hanging out with the ladies and watching Mamma Mia! while drinking blood out of plastic Starbucks cups probably made her nostalgic for her many, many sister-wives back in Al Qolnidar. It was nice of Nadja to play along with Guillermo's farcical attempt to pass her off as his "girlfriend" as well. She even got along with his family, a bunch of stinky humans! She's been in a benevolent mood these past few episodes, perhaps because her dream of embezzling from a nightclub she owns that also has her name and face on it is finally coming true. She even shows a bit of empathy this week, saying that she would have killed Guillermo's relatives, but watching your entire family die in front of you is a "not great" experience.
In terms of emotional turning points, Guillermo might have had the biggest breakthrough in "Pine Barrens." He, too, has been on a personal journey since the grand opening of Nadja's nightclub earlier in the season. But it's mostly been a sartorial one. (Consider his Versace shirt, which he is proud to say is real, thanks.) In terms of being honest with himself and others, he's regressed since last season, if anything: His family still thinks that he works at either Panera Bread or the Staten Island Railroad — a go-to lie, as we learned this week — and that he's straight and in a relationship with Nadja.  Guillermo has been showing signs of missing his family and wanting to be closer to them in recent episodes, but his inability to be honest about either the mundane or the supernatural aspects of his personality has woven a web of lies thicker than the cobwebs that adorn every corner of the mansion.
You cannot fool your abuela, however, and Guillermo's grandma knows something is up as soon as Nadja sits down to pretend to eat dinner in the mansion's "eco-friendly" dining room. The De La Cruz family legacy of vampire hunting hasn't been a relevant plot point on the show in a while, and "Pine Barrens" adds to the lore by revealing that a vampire hunter will feel a burning sensation followed by uncontrollable aggression when they're in the presence of los muertos vivientes. Why this has never happened to Guillermo in the decade he's spent living amongst the dead remains unexplained at this point, but surely it'll come up.
Guillermo has officially come out to his family, and I'm proud of him for standing in his truth. I'm also proud of his family for being so warm and accepting, and proud of Nadja for not erasing that part of their memories of the evening, even if she doesn't get what the big deal is. Everyone did their best this week, including Sean, who checked in with Baby Colin to make sure the little guy wasn't a budding serial killer (yet) during one of his more lucid moments at the cabin. Even the effects department and stunt coordinators were on their A-game, as "Pine Barrens" rocketed towards two surprisingly action-packed finales with some great flying and creature effects. The vampires believe that they made up the Jersey Devil to explain all the bodies scattered around rural New Jersey, but clearly some other entity made that myth up to keep vampires off of the creature's long, red, Bon Jovi-loving tail. Sinister doings, indeed…
Craven Mirth
• Laszlo dismisses it as just another woodland, but everyone else seems to agree that the Pine Barrens are spookier than your normal passel of scrub. There's a whole Wikipedia page dedicated to the specters and abominable beasts who live there, like the headless ghost of the dread pirate Captain Kidd, the Black Dog, the Golden-Haired Girl, and two friendly apparitions: the Black Doctor (the ghost of an African American physician who helps stranded travelers) and the White Stag (what it sounds like, also good luck).
• The Jersey Devil's low-hanging testicles didn't appear in any of the other descriptions I read of the beast, but as the official State of New Jersey website notes, "The reason that there are so many versions of what he looks like may be because people are so scared by his ugliness when they see him that they run quickly to escape and don't get a really good look at his features." Fair enough!
• Laszlo's magic flute calls all the way back to season one, when he charmed the raccoons of Staten Island before dumping a bunch of their corpses on a city councilwoman's front porch in a very catlike attempt to win her favor.
• Nadja's literal blood bath doesn't call back to anything from the show, but it is a little nod to Elisabeth Bathory, who Nadja probably thinks was a total #Girlboss. Yas, queen! Torture those servant girls! Cut off their hands and let them die of exposure!!
• Siri probably does seem like a magic trick to the vampires, who thought the "mailer-daemon" on an email server as an actual demon in season two.
• This should hopefully go without saying (it does in the episode — it's an entirely visual gag), but Sean's gun safety is atrocious and it's a miracle he didn't blow his face off during the trip.
• Matt Berry reclaims his seat on the line-reading throne this week, with a feast of savory syllables and voluptuous vowels rolling around in the actor's mouth. "It's always SAD when a Polish fellow gets cataractssssss" was a highlight, as was his stretched out "fluid-lyyyyyyyy." But I'm going to have to give the prize to Laszlo's lusty mutter of "Fantastic" when Sean explains that the Jersey Devil has a big, swinging set of balls on him.
• I really thought Baby Colin was about to play some Springsteen on his iPad, but "Livin' on a Prayer" is the objectively funnier choice.
• I can't stand papasan chairs. It's so hard to get out of them without tumbling face first.
• "I mean, who isn't gay?" "A lot of people." "Oh, okay! Woo-hoo! I'll get the trumpets out, sorry!"