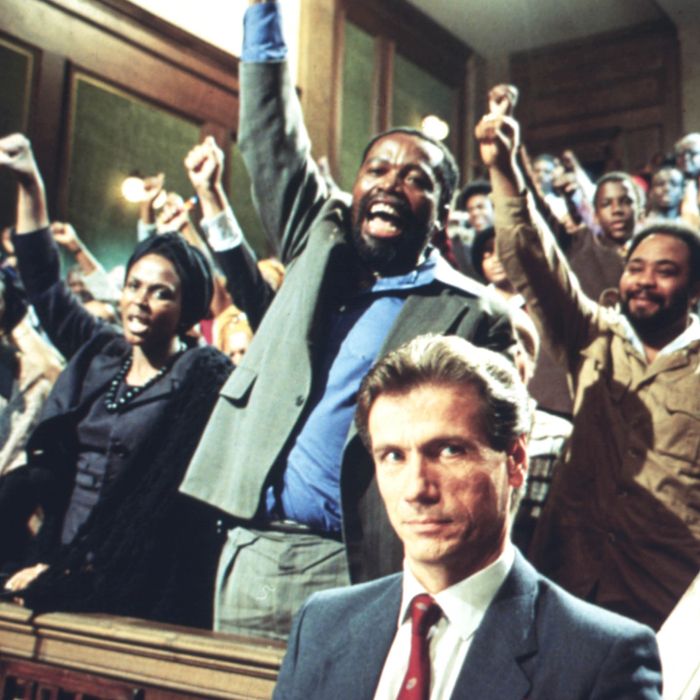 A Dry White Season
is evidence of what the industry missed out on because it wasn't ready for her fiercely decolonized perspective.
Photo: Moviestore/Shutterstock
Euzhan Palcy's career has been a litany of firsts. A pioneering filmmaker from Martinique, she was the first from the island to receive widespread international attention. Her 1983 feature debut Sugar Cane Alley — a period coming-of-age story, adapted from a Joseph Zobel novel, that she made when she was just 25 — resulted in her becoming the first Black director to win the Silver Lion at the Venice Film Festival, and the first to win a César, France's equivalent to the Academy Awards. With her second feature, the 1989 apartheid saga A Dry White Season, Palcy became the first Black woman to direct a feature at a major Hollywood studio. The film, while not a financial hit, was a critical one that would net Marlon Brando an Oscar nomination. Brando, who was lured out of retirement for the supporting role, had never been directed by a woman before — another first for Palcy.
But the trouble with marking history by way of milestones like this is that we rarely pay as much attention to what happens next — as though once a door's been open, change is guaranteed to be lasting and widespread. To look over the selective, sporadic arc of Palcy's filmography is to understand what happens when an uncompromising artist is made to contend with the myopia of an industry that wanted access to her talent while remaining uninterested in investing in the stories she wanted to tell. Palcy found herself inundated with outside scripts while being unable to get another of her own films off the ground. "They kept saying to me — to my face, but very nicely, not to insult me — that 'black is not bankable,'" she told the L.A. Times on the 30th anniversary of A Dry White Season. "I decided, OK, I cannot accept to direct the movies that Hollywood will ask me to direct. I kept struggling and pushing my own projects because I knew that they were good."
After turning down, as she told Quartz, "hundreds of screenplays," Palcy eventually decided to leave Hollywood. She headed back to France, where she still lives, to make Siméon, a film that's part joyous Zouk musical, part magical realist ghost story, and part exploration of Black diasporic experiences under the legacy of French colonialism. Everything Palcy that has directed since has been for television, something that's become a familiar story for so many women filmmakers, especially women of color. There was a 1998 drama about civil rights activist Ruby Bridges for ABC, and a documentary about poet and politician Aimé Césaire for French TV. Of her three theatrical works, the two that take place in the West Indies are exasperatingly, if maybe predictably, difficult to see outside of repertory screenings and out-of-print DVDs right now.
But A Dry White Season was given the Criterion treatment in 2018, and it's a fascinating example of how a director can subvert every expectation of the Hollywood structure they're working within. The film, based on a novel by André Brink, considers apartheid from the perspective of a white character — a South African school teacher named Ben Du Toit, played by Donald Sutherland, who begins investigating the disappearance of his Black gardener after an incident with the police. But Ben isn't a savior, just a normal man who is almost reluctantly awakened to the realities of the systems he's taken for granted and enjoyed the privileges of, his naïveté giving way to rage and horror. It is an inexorable transformation that ends not in his effecting change but gradually losing everything, including familial relationships. The film is remarkable in its refusal to soften these consequences. Ben's journey is right and just, the inevitable consequence of a moral person's eyes being opened, and it destroys his life.
A Dry White Season stands alone, but it also stands as evidence of what Hollywood missed out on because it wasn't ready for Euzhan Palcy's fiercely decolonized perspective. The industry's been slow to change, but it has been changing, and Palcy has been recognized as a trailblazer by members of the new guard of Black women filmmakers like Ava DuVernay. Or like Dee Rees, who in a Q&A in Brooklyn I moderated in 2017, spoke rapturously about how she used to watch Sugar Cane Alley on VHS when she was a child, and how it made her want to become a director before she ever understood what it was that a director did. When she was taking some questions from the audience afterward, a woman raised her hand in the front row. It was Euzhan Palcy, who'd come in from Paris to introduce a screening of Siméon, and who'd stopped by, unannounced, to see a filmmaker who had no idea Palcy was right there, watching, when she'd cited her as an influence.