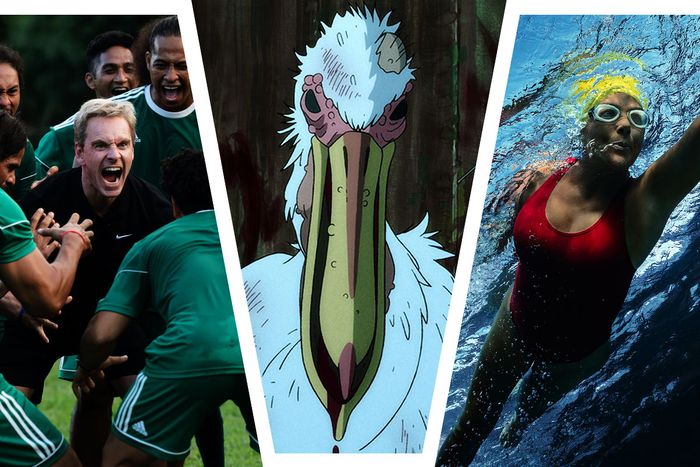 Photo-Illustration: Vulture. Photos: Courtesy of TIFF
This year's Toronto International Film Festival starts with a bang: Hayao Miyazaki's latest and last film, his first in ten years, promising a "semi-autobiographical fantasy about life, death, and creation." From there, the 2023 TIFF lineup is a mix of awards hopefuls (Netflix's Annette Bening biopic, Nyad), culturally relevant dramas (Craig Gillespie's Dumb Money, Taika Waititi's Next Goal Wins), and buzzy debuts (one from Bong Joon-ho's protégé Jason Yu, another from Cord Jefferson) — all coming on the heels of a noisy Telluride and Venice, during which much-anticipated movies like Saltburn, Poor Things, and Maestro premiered without the usual parade of movies stars. (The Hollywood strikes are very much ongoing.) It's time to say good-bye to the summer's blockbusters and let that faint nip in the air take hold. Here's what Vulture's staff is looking forward to seeing in Toronto and beyond this fall:
1.

New Miyazaki
The Boy and the Heron
It is the year of our Lord 2023, and we are lucky enough to be getting a new Hayao Miyazaki movie, thanks to the animation master's inability to stay retired. The Boy and the Heron is a fantasy film with autobiographical elements that's set during World War II, where a 12-year-old boy named Mahito has been evacuated to the countryside with his father and his new stepmother. Living in a new place and still grieving the death of his mother, Mahito follows a mysterious heron to a magical kingdom. Few artists depict childhood as frankly as Miyazaki or mix fantasy and emotional realism with as much virtuosity, but what's most intriguing about The Boy and the Heron is the aura of mystery it has retained. In a real flex of a move, the film was released in Japan in July without trailers or advance stills.
2.

The debut of Bong Joon-ho's protégé
Sleep
Sleep, the directorial debut of Bong Joon-ho protégé Jason Yu, is as much a black comedy as it is a horror film. Jung Yu-mi and Parasite actor Lee Sun-kyun play Soo-jin and Hyun-su, a couple whose blissful married life, which includes a pregnancy and a fluffy dog, is disrupted when Lee's character starts displaying symptoms of a sleep disorder. It's not just that he's sleepwalking and sleep-eating. He also displays some more threatening nighttime behavior that would have most people running for the hills — but not Soo-jin, who's stubbornly, and, one might say, maniacally determined to keep her young family together through any hardship. The result is an unpredictable, wildly entertaining movie that gets more intense as it goes along.
3.

A GameStop short-squeeze movie (already)
Dumb Money
How did they make a movie about the GameStop short squeeze already? I regret to inform you that the squeeze actually happened over two and a half years ago — in other words, less time than the gap between the resignation of Richard Nixon and the release of the film All the President's Men. Nevertheless, you have to admire the speed with which I, Tonya's Craig Gillespie was able to bring this reverse–Big Short to the screen. It helped, of course, that this story was Hollywood-ready from the get-go, pitting underdog redditors (played here by Paul Dano, Pete Davidson, and more) against asshole hedge-fund guys (Seth Rogen and Nick Offerman). If you want a nuanced look at the complexities of "meme populism," go read a blog post; this seems more like a quintessentially American fable of sticking it to the man while getting rich at the same time.
4.

An A24 musical
Dicks: The Musical
A24 has made films out of unproduced plays, viral Twitter threads, and Ari Aster's therapy sessions. Now, the company has made a movie out of a 2014 UCB show! Previously known as Fucking Identical Twins, Dicks is indeed a bona fide musical about two adult businessmen who realize they were separated at birth and decide to pull a Parent Trap to reunite their divorced parents (Nathan Lane and Megan Mullally). Borat's Larry Charles is behind the camera of this "proudly queer as fuck" film, and the cast includes another Megan (Thee Stallion) as well. It also features what might be the screen credit of the year: "Bowen Yang as God (narrator)." Dicks: The Musical is playing in TIFF's Midnight Madness section, as if you couldn't guess.
5.

Cord Jefferson's first film
American Fiction
Journalist turned television writer Cord Jefferson's directorial debut has everything going for it. It's based on acclaimed source material — Percival Everett's wry 2001 novel Erasure, about the publishing industry and what gets deemed racially authentic. The cast is impeccable, with Jeffrey Wright playing Thelonious "Monk" Ellison, a literature professor who, frustrated from having his own work rejected because it's deemed inadequately Black, churns out a novel full of clichés about urban poverty under a pseudonym and, naturally, finds himself with a hit on his hands. Jefferson's small-screen track record, which includes stints writing on Watchmen and Station Eleven, has long made him one to watch, and the list of supporting actors — which includes Issa Rae and Sterling K. Brown — is another sign that this comedy is a potential fall breakout. —AW
6.

Annette Bening in a sports biopic
Nyad
Is this finally Annette Bening's year? That'll be the lens through which many viewers take in this sports biopic, which Bening stans hope will earn her her first Oscar nom since 2010's The Kids Are Alright, and maybe even (dare to dream) her first win. The role here seems plum for recognition: Diane Nyad, the long-distance swimmer who, at the age of 64, swam from Cuba to Key West. That extreme feat of physical endurance is undoubtedly what attracted Free Solo directors Elizabeth Chai Vasarhelyi and Jimmy Chin, making their fiction debut. The pedigree is there, now we just need to see about the quality. Either way, at least the fans know they won't be the only ones holding their breath.
7.

Taika Waititi's soccer comedy
Next Goal Wins
Taika Waititi's soccer comedy bears the dubious distinction of being the final Hollywood film shot before the pandemic to hit theaters. It wrapped in early 2020, so long ago that Waititi had time to write and direct an entire Thor movie in the gap between production and release. (Matters were complicated by the presence of Armie Hammer, who was replaced by Will Arnett in reshoots.) It's the true story — first told in a 2014 documentary of the same name — of the American Samoa national football team's attempt to qualify for the World Cup, despite the fact that they once lost a match 31-0. While Waititi's particular brand of whimsy has worn out its welcome among certain segments of Film Twitter, the fact that this is basically Ted Lasso meets Cool Runnings should make it the betting favorite for TIFF's Audience Award, which Jojo Rabbit won back in 2019.
8.

A Paul Giamatti–Alexander Payne reunion
The Holdovers
Paul Giamatti and Alexander Payne may well be cinematic soulmates: a master of exasperation meets an expert in small-scale humiliations. (Though, as Downsizing proved, "small-scale" probably shouldn't be taken literally.) The duo reunites for the first time since Sideways in this comedy about a boarding-school instructor forced to babysit a troublesome charge over winter break. The film takes place in the early '70s, and Payne seems to have taken inspiration from the period aesthetic, as well as the shaggy humanism of directors like Hal Ashby.
9.

Colman Domingo in a leading role
Rustin
After building a résumé as one of the finest character actors working today, Colman Domingo gets a big awards-y biopic to sink his teeth, and voice, into. He plays Bayard Rustin, the openly gay civil-rights leader who organized the 1963 March on Washington, in a film directed by Ma Rainey's George C. Wolfe and produced by the Obamas' Netflix shingle. Whether the movie will get into the real Rustin's complicated politics — he criticized the Black Power movement, and at times aligned with neoconservatives — is unknown. What is known is that Domingo will receive a Tribute Award at the festival, traditionally a sign of a significant Oscar campaign to come. (Last year's honorees included Brendan Fraser and Michelle Yeoh.)
10.

A Julia Garner–Kitty Green reunion
The Royal Hotel
The last film directed by documentarian turned scripted filmmaker Kitty Green was 2019's unforgettable The Assistant, still the best work to grapple with the ideas of the Me Too movement. So, obviously, Green's newest work is a hot ticket — a thriller starring Julia Garner and Jessica Henwick as a pair of American backpackers who take jobs at a bar in a remote Australian mining town after they run out of money. This turns out to be a bad idea, given that the environment is one of constant sexual menace. Green's already demonstrated her skill when it comes to depicting what it's like to be a woman in a world full of unpredictable men who hold the power. The Royal Hotel promises to explore more of that thematic territory within a pulpier context.
11.

Carrie Coon, Natasha Lyonne, and Elizabeth Olsen in one Azazel Jacobs movie
His Three Daughters
Azazel Jacobs is a perpetually underappreciated filmmaker who has made sumptuous suburban midlife romances (The Lovers), sensitive portraits of teenage outcasts (Terri), and comedies about arrested development (Momma's Man). For his latest trick, he's assembled a superb trio of actors for a film about the anguish and absurdity of death. Carrie Coon, Natasha Lyonne, and Elizabeth Olsen play siblings who've drifted apart, emotionally and geographically, but who've gathered on the Lower East Side, where they grew up, to say good-bye to their father, who's entered hospice care. There's a pleasantly play-like quality to this premise, which keeps its characters in the same space even when they're driving each other off the wall and showcases some incredible performances.
12.

A Nicolas Cage movie co-produced by Ari Aster
Dream Scenario
Kristoffer Borgli's black comedy Sick of Myself was one of the summer's most enjoyable surprises — a film about an Oslo woman who deliberately takes a drug with disfiguring side effects entirely for the attention it brings her. For his follow-up, Borgli's making his English language debut with a film centered on another character longing for notoriety, albeit in a reality that's more off-kilter. Nicolas Cage plays a professor who suddenly finds himself getting all the renown he's ever wanted when he begins inexplicably turning up in other people's dreams, first as a harmless observer and then as a more alarming presence. Ari Aster, fresh off his own darkly comedic nightmare of a movie with Beau Is Afraid, is the film's co-producer, which is an endorsement in itself. —AW