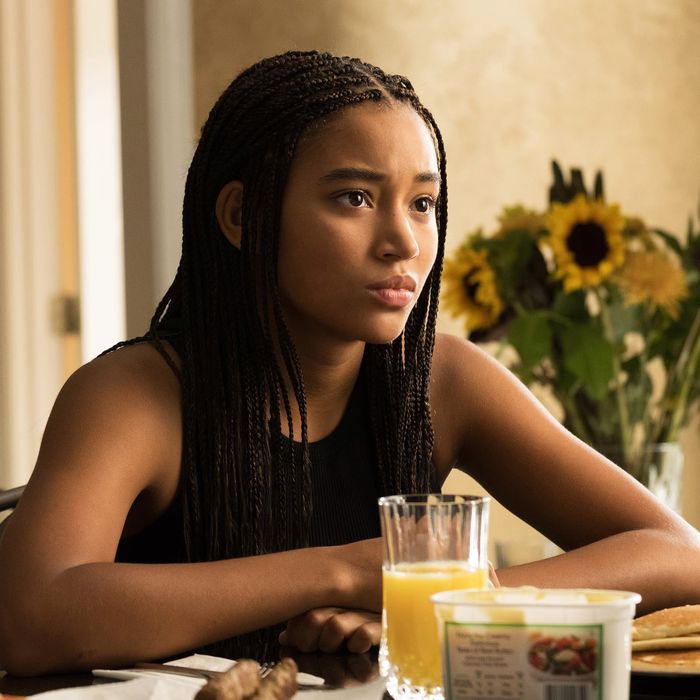 Amandla Stenberg in
The Hate U Give
.
Photo: Twentieth Century Fox
This Month's Highlight
The Hate U Give
Again, there are so many movies that have tackled the territory that The Hate U Give deals with — "same story, another name," says Issa Rae's activist lawyer during the memorial service for Khalil. There will likely be many more, but the how of Tillman, Mabry, and Wells's telling distinguishes their story. The Hate U Give should be an epic, and it is: Yes, it's a teen melodrama, but it's also an elegantly constructed piece of world-building, a love story, a family history, a sociological spiderweb of cause and effect of the hate referenced in the Tupac-coined titled. If this is what the next wave of YA adaptation will feel like, we are in a good place. — Emily Yoshida
Full List of What's Leaving HBO and HBO Max — September 2020
Noteworthy selections in bold.
September 7
A Star is Born, 2018 (HBO)
The Hate U Give, 2018
September 8
The Oslo Diaries, 2018 (HBO)
September 28
24/7 College Football, 2019 (HBO)
September 30
Alita: Battle Angel, 2019 (HBO)
Anna, 2019 (HBO)
Apocalypse Now, 1979 (HBO)
Armageddon, 1998 (HBO)
Blade, 1998
Blazing Saddles, 1974
Bohemian Rhapsody, 2018 (HBO)
The Departed, 2006
The Exorcist, 1973
Free Willy, 1993
Grease, 1978
Gremlins, 1984
Interview with the Vampire, 1994
Journey to the Center of the Earth, 2008
Madagascar, 2005 (HBO)
Mad Max 2: The Road Warrior, 1983
Mrs. Doubtfire, 1993 (HBO)
The Postman Always Rings Twice, 1981
Saving Private Ryan, 1998
Shaft, 2019 (HBO)
Space Jam, 1996
Superman Returns, 2006
Troy, 2004
War of the Worlds, 2005 (HBO)
Wedding Crashers, 2005
The Wedding Singer, 1998
The Wild Bunch, 1969
For more coverage of the best movies and TV shows available on Netflix, HBO, Amazon Prime, Hulu, and Showtime check out Vulture's What to Stream Now hub, which is updated throughout the month.