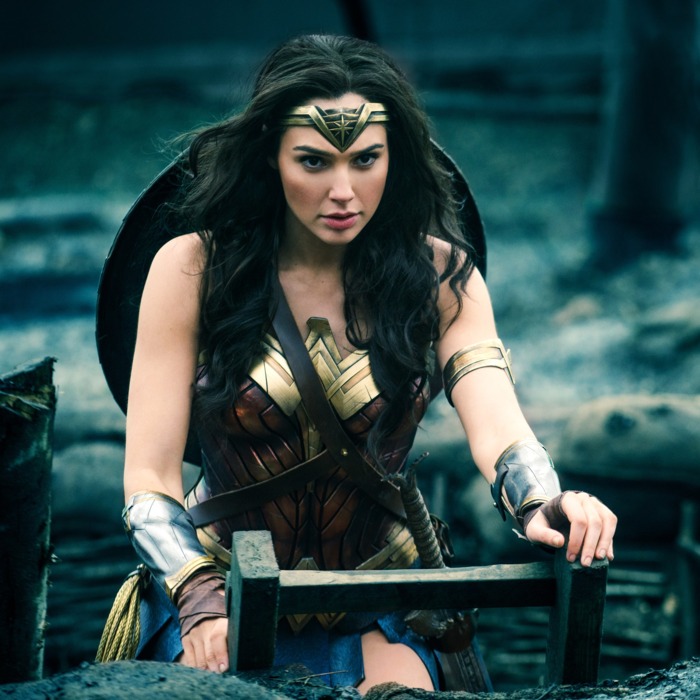 Gal Gadot in
Wonder Woman
.
Photo: Warner Bros. / DC Entertainment
This Month's Highlights
Wonder Woman
How many times have you watched this movie since it came out? Possibly not enough! There's a lot we could say about this always-enjoyable D.C. superhero flick: Gal Gadot's strong lead performance, Robin Wright's steely-as-ever turn as one of the great movie aunties, Chris Pine's all-in enthusiasm in the damsel-in-distress role. Those are all great, yes, but more than anything, we'll recommend the very cute Gadot-Pine boat scene above. Apologies to The Finest Hours, but this is the "Chris Pine on a Boat" drama we really want. Leaving April 27.
Phantom Thread
This absurdly good P.T. Anderson movie about an obsessive clothing designer is, theoretically, Daniel Day-Lewis's last movie ever. That's a shame, because after watching it, you'll want an entire franchise based on the life and times of Reynolds Woodcock. Remember when Day-Lewis asks Vicky Krieps, "Are you a special agent sent here to ruin my evening, and possibly my entire life?" Just imagine how much more withering their dinner conversations would have become later in life! Leaving April 30.
Full List of What's Leaving HBO — April 2019
Noteworthy selections in bold.
Leaving April 24
Man on Fire, 2004
Leaving April 27
Wonder Woman, 2017
Leaving April 30
American Loser, 2011
Analyze That, 2002
Analyze This, 1999
Anchorman: The Legend of Ron Burgundy (Extended Version), 2004
Cheaper by the Dozen, 2003
Cop Car, 2015
Dances With Wolves (Extended Version), 1990
Diary of a Wimpy Kid: The Long Haul, 2017
Edge of Darkness, 2010
Father Figures, 2017
First Daughter, 2004
Four Christmases, 2008
The Greatest Showman (Sing-Along Version), 2017
House of the Dead 2, 2006
Invictus, 2009
The Lost Boys, 1987
Lowriders, 2017
The Midnight Meat Train (Unrated Version), 2008
The Mummy, 2017
The Nutty Professor, 1996
Nutty Professor II: The Klumps, 2000
Once Upon a Time in Mexico, 2003
Phantom Thread, 2017
Pitch Perfect 3, 2017
Romeo Must Die, 2000
The Thin Red Line, 1998
The Truth About Charlie, 2002
U.S. Marshals, 1998
For more coverage of the best movies and TV shows available on Netflix, HBO, Amazon Prime, Hulu, and Showtime check out Vulture's What to Stream Now hub, which is updated throughout the month.