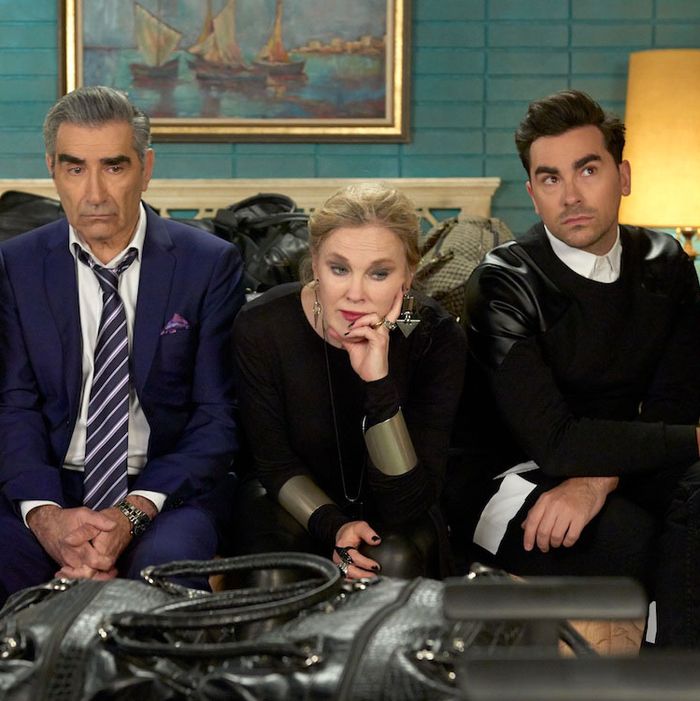 Schitt's Creek.
Photo: CBC
This Month's Highlight
Schitt's Creek, seasons 1-6
Well, you've got about a week to binge-watch Schitt's Creek again, but the beloved comedy won't be gone from the streaming world for long. Netflix already lost Glee to Hulu and Disney+, and now, Schitt's Creek will head to Hulu as well. So if you don't have that streamer, you've got three options: Get a Hulu subscription, rewatch on Netflix, or just buy the series on physical media.
Full List of What's Leaving Netflix — October 2022
Noteworthy selections in bold.
Leaving October 2
Schitt's Creek, seasons 1-6
Leaving October 7
Sofia the First, seasons 1-4
Leaving October 8
After
Leaving October 13
Apocalypse Now Redux
Everything Must Go
Little Italy
Scary Movie 4
The Girl Next Door
Leaving October 14
Bleach the Movie: Fade to Black
Bleach the Movie: Hell Verse
Leaving October 15
Sinister 2
Leaving October 21
Yes, God, Yes
Leaving October 22
Hemlock Grove, seasons 1-3
Leaving October 26
Begin Again
Leaving October 27
Metallica Through the Never
Leaving October 31
8 Mile
Bridget Jones's Diary
Ferris Bueller's Day Off
Footloose
Friday
Friday After Next
Johnny Mnemonic
Leah Remini: Scientology and the Aftermath, seasons 1-3
Lemony Snicket's A Series of Unfortunate Events
Miss Congeniality
Miss Congeniality 2: Armed and Fabulous
Monster-in-Law
Naruto, seasons 1-9
The Notebook
Rock of Ages
For more coverage of the best movies and TV shows available on Netflix, HBO, Amazon Prime, Hulu, HBO Max, Peacock, Disney+, and Showtime, check out Vulture's What to Stream Now hub, which is updated throughout the month.