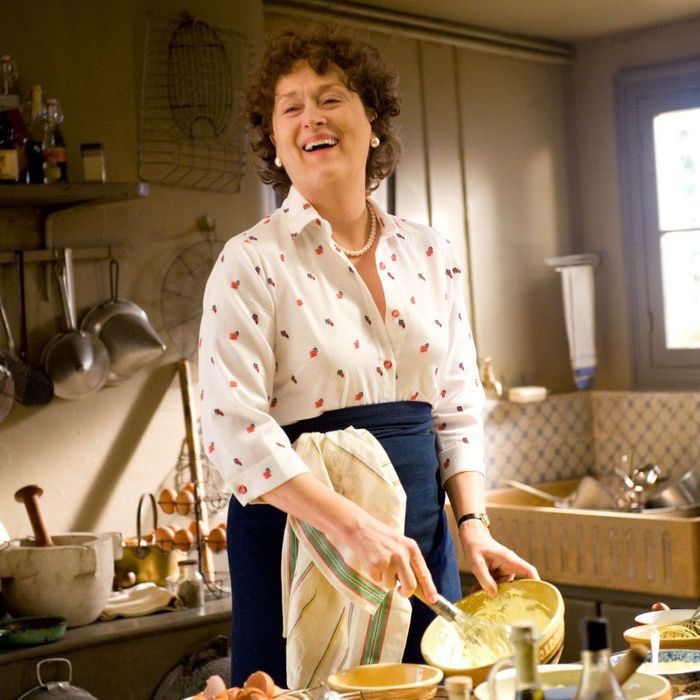 Julie & Julia
.
Photo: Sony Pictures Releasing
This Month's Highlight
Julie & Julia
If any movie could be described as "chicken soup for the soul," Julie & Julia would truly be in the running. Layering the true stories of Julia Child (Meryl Streep) between the true stories of blogger Julie Powell (Amy Adams) who challenged herself to cook all 524 of Child's recipes, this 2009 film radiates the comfort of your favorite home cooked meal. Directed by Nora Ephron and starring heavy hitting actors like Streep, Adams, Stanley Tucci, Jane Lynch, and Chris Messina, Julie & Julia is good, light fun.
Full List of What's Leaving Netflix — May 2021
Noteworthy selections in bold.
Leaving May 1
Hoarders: Season 10
Leaving May 3
War Horse
Leaving May 5
Hangman
Leaving May 6
City of God: 10 Years Later
Lockout
Leaving May 7
The Chosen Ones
House at the End of the Street
Leaving May 10
Quartet
Leaving May 14
Sherlock: Series 1-4
Leaving May 18
Trumbo
Leaving May 29
American Crime: Seasons 1-3
My Week with Marilyn
The One I Love
Leaving May 31
50 First Dates
Act of Valor
All Dogs Go to Heaven
The Blair Witch Project
Brokeback Mountain
The Boy
Deliver Us from Eva
The Help
I Now Pronounce You Chuck and Larry
Julie & Julia
Marauders
Milk
Miracle
National Lampoon's Christmas Vacation
Prosecuting Evil: The Extraordinary World of Ben Ferencz
The Pursuit of Happyness
The Scorpion King 2: Rise of a Warrior
The Scorpion King 3: Battle for Redemption
Soul Surfer
Striptease
Waiting…
For more coverage of the best movies and TV shows available on Netflix, HBO, Amazon Prime, Hulu, HBO Max, Peacock, Disney+, and Showtime check out Vulture's What to Stream Now hub, which is updated throughout the month.