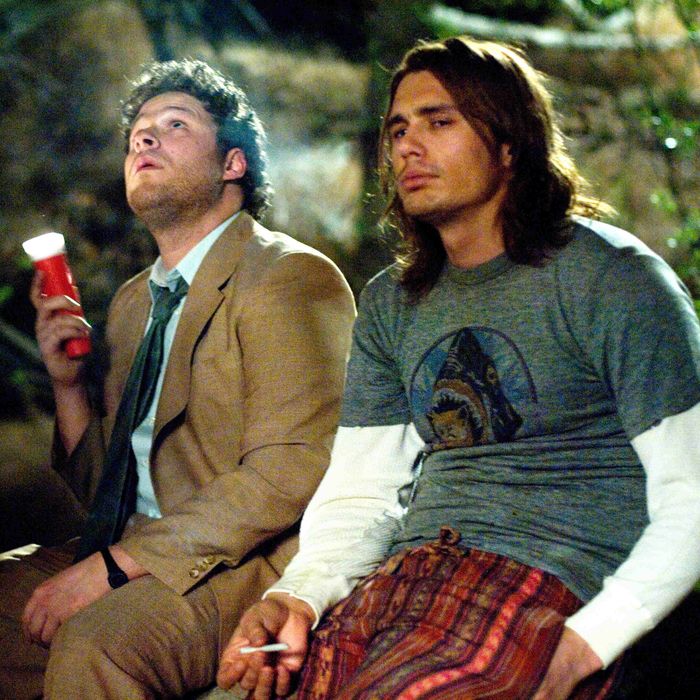 Seth Rogen and James Franco in
Pineapple Express
.
Photo: Sony Pictures Releasing
This Month's Highlights
Pineapple Express
Light up your television sets, folks: A key entry in the stoner canon, Pineapple Express is making its way off Netflix. For the uninitiated, the 2008 buddy comedy stars Seth Rogen as the blissfully aloof Dale Denton and James Franco as his spaced-out drug dealer Saul who are on the run after Denton accidentally witnesses a murder. It's fun enough, it's hilarious enough, and it's dumb enough, which altogether is a potent mix that'll make watching Pineapple Express feel like a contact high.
Full List of What's Leaving Netflix — February 2021
Noteworthy selections in bold.
Leaving February 4
Erased
Leaving February 5
Lila & Eve
Woody Woodpecker
Leaving January 4
Mara
Leaving February 10
The Monster
Leaving January 7
The Tudors: Seasons 1-4
Leaving January 8
Mary Poppins Returns
Leaving January 14
Haven: Seasons 1-5
The Master
Leaving January 15
A Serious Man
Dallas Buyers Club
Waco: Limited Series
Leaving January 16
Friday Night Tykes: Seasons 1-4
Leaving January 20
Fireplace 4K: Classic Crackling Fireplace from Fireplace for Your Home
Fireplace 4K: Crackling Birchwood from Fireplace for Your Home
Fireplace for Your Home: Season
Leaving January 24
When Calls the Heart: Seasons 1-5
Leaving January 26
We Are Your Friends
Leaving January 29
Swiss Army Man
Leaving January 30
The Hundred-Foot Journey
Leaving January 31
A Thin Line Between Love & Hate
Braxton Family Values: Seasons 1-2
Death at a Funeral
Employee of the Month
For Colored Girls
Malicious
Mr. Deeds
Pineapple Express
For more coverage of the best movies and TV shows available on Netflix, HBO, Amazon Prime, Hulu, HBO Max, Peacock, Disney+, and Showtime check out Vulture's What to Stream Now hub, which is updated throughout the month.