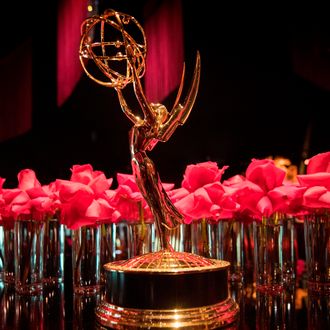 Photo: MARK RALSTON/AFP via Getty Images
Update, August 10, 9 a.m.: The 2023 Emmy Awards? More like the early 2024 Emmy Awards. Fox and the Television Academy announced via press release that the 75th Emmy Awards will now air January 15, 2024. Incidentally, January 15 is also Martin Luther King Jr. Day. Will this be enough postponement to ensure the participation of actors and writers? Unclear! The WGA met with the AMPTP August 4 to discuss resuming talks, but it ended with nothing particularly settled. The Primetime Emmy Awards will be preceded by the Creative Arts Emmy Awards on January 6 and 7, with an edited-down broadcast January 13 on FXX.
Original story follows.
Well, we can't say we didn't see this coming, but here it is: The 2023 Emmy Awards are officially being pushed back. Per Variety, vendors for the ceremony have been informed that the telecast will not be airing on September 18 as originally scheduled. This delay isn't too surprising, given that SAG-AFTRA and the WGA are both currently still on strike. Ariana DeBose may have handled this year's writer-less Tony Awards by performing a wordless dance of solidarity, but there's only so much an awards show can do without both writers and actors. This will be the first year that the Emmys have been postponed since the 9/11 terrorist attacks and subsequent military action in Afghanistan in 2001.
No new date for the 75th Primetime Emmys has been announced yet. According to Variety, however, the TV Academy wants to push the Emmys to November, while Fox wants to wait a little longer until January 2024 (which would be in the middle of film awards season). While striking nominees will not be able to campaign for their projects, the final round of voting will still continue as planned. Ballots are due on August 28. "Like the rest of the industry, we hope there will be an equitable and timely resolution for all parties in the current guild negotiations," the TV Academy said in a statement issued last week. "We continue to monitor the situation closely with our partners at Fox and will advise if and when there is an update available."