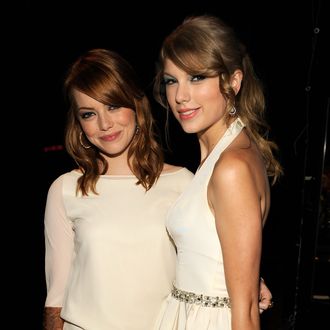 Hop in, we're going back to 2010.
Photo: WireImage
From daydreaming about disrupting a wedding to accusing someone of stealing your boyfriend, Speak Now (Taylor's Version) is all about intense emotions felt during the early years of adulthood that most people with their frontal lobe fully developed can cringe at nostalgically. Dare I say, it's fun to lean into those big feelings when you finally know "so much better" than you did in 2010. It's very teenagerlike to see one of your closest friends in a seemingly mature and perfect-looking relationship and wish you were as wise as them (even if they're just a year or two older than you). Now 13 years older, Taylor Swift comes with the new vault track "When Emma Falls in Love," perfect for proms and weddings. But who is Emma? There's been plenty of famous Emmas that could've been Swift's muse. Jane Austen's Emma, Emma Geller-Green, and Emma Pillsbury could've very well been inspirations for the track; remember, this is the 2010s. Hell, Emma is even a nickname for Emily or Emilia, basically any name that begins with "Em."
But one Emma stands out above them all: Emma Stone. Let's transport back in time to 13 years ago when Gleeks roamed free, the double-rainbow song was being remixed, and Swift was meeting her lifelong friend.
Why Emma Stone may be Swift's muse
The two first became friends during the 2008 Young Hollywood Awards and connected through email (oh, the 2000s!). Stone told MTV she wrote to Swift that she was a big fan of her music, and a friendship bloomed. They've remained friends throughout the years, being spotted at premieres, concerts, and Fourth of July parties together. However, being besties isn't the only reason Stone could be the song's subject. Lyrics like "When Emma falls in love, she calls up her mom, jokes about the ways that this one could go wrong" allude to Stone's close relationship with her mother, who is also one of her dates to awards shows. "'Cause Little Miss Sunshine always thinks it's gonna rain" also references Stone's Easy A, which featured a scene where Stone's character Olive sings "Pocketful of Sunshine"; Swift even attended the premiere in 2010 and probably saw an early preview of the movie — I mean, Stone got a sneak peek of Speak Now and possibly returned the favor. The outro to the song sings, "Sometimes I wish I was her," mirroring a 2011 Napster interview — babes, I told you we're going back in time — where Swift says she'd want to trade places with Stone for a day.
Less than 24 hours after the album release, Swift leaves no room for guessing and seemingly confirms the track is about Stone. "I wrote this about one of my best friends," she said during the Kansas City concert on July 7 before diving into a piano version of "When Emma Falls in Love."
So who does Emma have the hots for?
While many fans think this song is about Stone's well-known relationship with Andrew Garfield, the Spider-Man couple didn't start dating until late 2011, well after Speak Now would've been written. The best possible pairing is her relationship with Kieran Culkin. Stone and Culkin reportedly began dating while filming the indie comedy Paper Man, which was released in 2009, a.k.a. a year or so after Swift and Stone's friendship began. The pair were first photographed together at The Starry Messenger cast party at Montenapo restaurant, and the caption described Culkin as Stone's boyfriend. Swift finished writing the record on June 16, 2010, according to the Lover journals, and the couple reportedly broke up sometime in 2011. So, after the release of the album and when Emma was still in love.