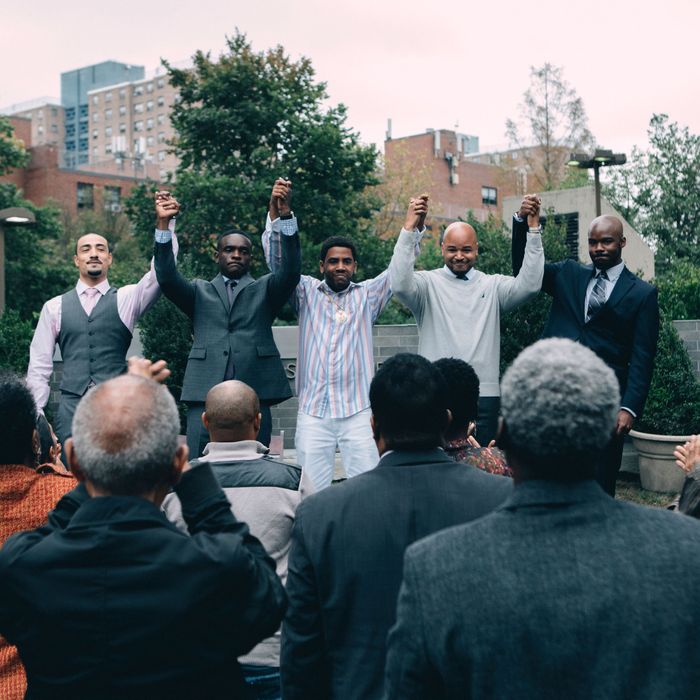 Photo: Atsushi Nishijima/Netflix
This story has been updated to reflect new developments since the show's release.
When They See Us is, in many ways, brutal viewing. Writer-director Ava DuVernay's sweeping, four-episode depiction of what led to the wrongful 1990 conviction (and eventual exoneration in 2002) of a handful of teenage boys from Harlem — Korey Wise, Kevin Richardson, Antron McCray, Yusef Salaam, and Raymond Santana — in the violent rape and assault of 28-year-old New York banker Trisha Meili on April 19, 1989 never flinches from its truth. The assault on Meili is, at a late point in the series, graphically reenacted, and it is made clear that she was victimized in an unthinkable way. But DuVernay is just as emphatic in affirming that NYPD detectives and New York County District Attorney's Office prosecutors framed these boys and traumatized them into false confessions, triggering prison time of varying lengths and cruelty for each of them, embedding them in our collective psyche as the Central Park Five.
The series dares you not to pause and reflect on what you thought you knew — and what real-life antagonists like Donald Trump were sure they had pegged — about this case, black and minority youths, criminal justice, and American dreams. It also inevitably generates an interest in what has become of this saga's most influential players, including not only the five unjustly incarcerated adolescents — who were also awarded a collective $41 million settlement by a federal judge in 2014 — but the handful of cops and attorneys who bent the law to their want, as well as Meili and her eventually confessed assailant, Matias Reyes. To that end, and if only to promote awareness for the five's continued activism and allow audiences to judge for themselves how innocence and guilt get rendered and rectified, here is an update on 11 people presented as crucial in DuVernay's view.
The Victim
Trisha Meili (Played by Alexandra Templer)
Remarkably, Meili managed to hold on to her anonymity for 14 years following Reyes's assault. Only in 2003, upon the release of her memoir, I Am the Central Park Jogger, did her name and face become synonymous to millions of Americans. She bears physical and cognitive scars from the ordeal, and still recalls nothing of the attack itself, or even the few hours leading up to it. Most miraculously, Meili resumed running within months of starting physical therapy, and eventually began running competitively. In the late-1990s, she transitioned from her banking career to work as a motivational speaker addressing sexual-assault and brain-injury survivors. However, she has expressed misgivings about the Five's 2014 settlement, telling ABC News this year that she doubts Reyes acted alone and there is still more information about the crime that hasn't come to light.
The Accusers
Manhattan District Attorney Sex Crimes Chief Linda Fairstein (Played by Felicity Huffman)
A lot can change over the course of seven years. Since Ken and Sarah Burns's 2012 Central Park Five documentary was released, activists, particularly black activists, have increasingly called for social change on Twitter, Instagram, and Facebook. And coinciding with the release of When They See Us, they led the charge for a boycott of Fairstein's popular series of Alex Cooper crime novels (and more recent young-adult Devlin Quick mysteries), which she began publishing six years after the Five were convicted (she was with the DA's office until 2002). That, in turn, led to a vigorously supported Change.org petition to outright remove her books from shelves. Earlier this week, her critics cheered at the realization that Fairstein had deleted her social-media feeds, which had up until then been happily promoting her 2019 title, Blood Oath. And just today, the AP has reported that she was dropped by her publisher as the fallout continues. In an interview with The Daily Beast, Fairstein blamed public harassment for removing her Twitter and Facebook accounts, and lashed out at DuVernay for — in her view — distorting her words and actions to fit a biased narrative. Fairstein also disputes DuVernay's claims that she tried to get the former prosecutor's participation in the series but wouldn't capitulate to Fairstein's controlling demands. Even post-exoneration, Fairstein has long maintained that, even if some details were inexact and DNA testing was far from definitive at that time, her basic theory that the Five were involved in Meili's assault was correct. Neither Fairstein nor media reps from her publisher responded to requests for an interview.
Manhattan Assistant District Attorney Elizabeth Lederer (Played by Vera Farmiga)
Reached for comment, Ms. Lederer replied that due to her continuing employment with the New York County DA's office, she is unable to accommodate any media requests. In the years subsequent to acquiring initially successful convictions in the Central Park Five trials, Lederer has prosecuted cases pertaining to organized crime and served as senior counsel in the DA office's forensic and cold-case unit. She is also a lecturer at Columbia Law School, and after Central Park Five, calls erupted on social media for her to be fired. Ken Burns himself rejected the campaign as "simple retribution," although mention of her involvement in the CP5 convictions was consequently removed from her Columbia profile page. This is Lederer's 40th year working for the DA. Update: Lederer has resigned from her teaching position at Columbia Law School amid furor over her role in the Central Park Five case.
NYPD Detective Michael Sheehan (Played by William Sadler)
There's a scene late in When They See Us that shows Detective Sheehan washing down his lunch with a pint of beer at a New York pub, reiterating to investigators that he stands by his and his colleagues' conduct and conclusions. That's fairly faithful to the real-life NYPD vet, who told New York Magazine in 2002 over a burger and a pint, "All this stuff about coercion really pisses me off. Do you honestly think that we — detectives with more than 20 years in, family men with pensions — would risk all of that so we could put words in the mouth of a 15-year-old kid? Absolutely not." Sheehan left the force three years after the Five's convictions in 1993, becoming a ubiquitous crime correspondent for Fox 5 News in New York over the next 16 years. At least until he was arrested in 2009 on charges of reckless endangerment and operating a vehicle while intoxicated after crashing his car into a mounted police horse. (Can't make this stuff up.) Fox 5 promptly let him go less than a month later. In the fall of 2016, he was the victim of a home robbery at his Manhattan apartment. According to his LinkedIn profile, he spent the following years working for various local news outlets, serving as a SAG-AFTRA board member and providing consultation and security as part of a personal side hustle. He passed away June 7, 2019, at the age of 71.
Manhattan District Attorney Robert Morgenthau (Played by Len Cariou)
The longest-serving Manhattan DA in history (he retired in 2009) is still speaking with media and going about his daily business at nearly 100 years old. He has even continued contributing op-eds to papers like the Daily News, speaking out against the Trump administration and ICE's immigration policies and courtroom tactics. (An irony that is surely hard to process for the Five.) And since exiting the DA's domain, he has served as counsel of the law firm Wachtell, Lipton, Rosen & Katz and board-chaired for the Museum of Jewish Heritage and Police Athletic League. He even owns Hudson Valley agricultural landmark Fishkill Farms, where he lives some of the time with his wife, famed journalist Lucinda Franks. Morgenthau, who fully supported the Five's exoneration upon Reyes's confession and admission of damning DNA evidence, still looks back at helping overturn their convictions as a highlight of his career.
The Wrongly Convicted
Korey Wise (Played by Jharrel Jerome)
The series' final update brings us up to speed on Korey Wise, who we learn still lives in NYC, and funded the Korey Wise Innocence Project at Colorado Law School, which offers free legal counsel to those wrongfully convicted. (It was originally founded in 2001 as the Colorado Innocence Project, but re-named in Wise's honor in 2015 as a show of gratitude to his financial contribution.) Only a year prior to his and the other four exonerees' $41 million settlement, Wise was living off of disability checks and federal Supplemental Security Income. Yet, as Jharrel Jerome, who plays Wise from start to finish in When They See Us, told us in a recent interview, spending time with Wise is "always light, always love." This, despite the added fact that what we saw onscreen only representing a percentage of what the real man suffered through behind bars. Of When They See Us, he has described feeling conflicted, telling the New York Times, "I'm enjoying it; at the same time, it hurts."
Raymond Santana (Played by Marquis Rodriguez and Freddy Miyares)
When They See Us concludes Santana's story with an update that he's the father of a teenage girl, living in Georgia (he had still resided in his childhood apartment in Harlem up until at least 2014), and running a clothing company called Park Madison NYC that — among other items — sells shirts featuring Santana's original 1989 mugshot. (Santana's total of 11 years served spanned both his conviction in the Meili case and a separate drug charge pertaining to crack possession in 1999.) Santana has been far more vocal than McCray over the years, whether offering testimony for the Innocence Project or appearing on CNN in 2018 alongside Salaam to condemn President Trump. Just this week, Santana spoke with TMZ regarding Fairstein, saying, "When you do dirt, you can't run." It was his way of ostensibly throwing his support behind the aforementioned viewer-generated rallying cries for retailers and consumers to boycott Fairstein's books, particularly in light of her doubling down on the veracity of her initial narrative about the Five.
Yusef Salaam (Played by Ethan Herisse and Chris Chalk)
Per the film's closing summary, Salaam lives in Georgia with his wife and 10 children, and is an author, public speaker, and advocate for criminal-justice reform. Specifically, Salaam's website advertises that his namesake company, Yusef Speaks, can "bring new life and connections to your next event" via Salaam's track record as a "transformational speaker, thought leader, trainer, author, and coach." (He honed his technique under the tutelage of famed motivational speaker Les Brown.) Salaam is very active on social media and, like Santana, aggressively encouraging people to boycott Fairstein and making his feels about President Trump very plain, both by way of branded merchandise and regular published reflections on how the real-estate magnate-turned-Commander-in-Chief worsened his and the other boys' fates.
Antron McCray (Played by Caleel Harris and Jovan Adepo)
The closing credits note that McCray now resides in Atlanta with his wife and six children. They also observe that he was the first of the Five to leave New York after being freed from prison. In general, McCray sought to remove himself from the public eye, changing his name upon arriving in Georgia while working as a forklift operator and refusing to be interviewed on camera for Central Park Five. He has since emerged for public and media appearances related to both Central Park Five and When They See Us, in addition to his reveal in When They See Us's closing moments. But he has not held back his raw emotion, commenting at a recent Town & Country panel that he battles unresolved anger, and, "The people that put us away … I just hate them. I wish death upon them. I wish pain. And I'm sorry for saying that, but that's how I feel."
Kevin Richardson (Played by Asante Blackk and Justin Cunningham)
As we know after When They See Us, Richardson — the youngest of the exonerees — lives in New Jersey with his wife and two daughters and received an honorary high-school diploma in 2017. At the same Town & Country panel at which McCray vented his anger, Richardson related, describing their emotions as akin to "if you had a bottle of soda that you kept for 30 years [and] just started to shake it and let it out." Richardson, as depicted in When They See Us, found work in environmental services at homes for the elderly. Despite admitted struggles with PTSD, he continues to speak out about his and the other four's ordeal because, as he told the New York Times, "We don't want to see another Emmett Till."
The Real Assailant
Matias Reyes (Played by Reece Noi)
Just last year, an interview with Reyes at Auburn Hills prison from 2002 was released publicly. In it, Meili's thoroughly convicted attacker — he still insists he acted alone — told an investigator from the DOC Inspector General's office that when he first encountered Wise, he "wanted so bad to approach him and to speak to him and to tell him that it was me that did the crime he's in jail for, that if he could forgive me," and ultimately confessed because "it was the right thing to do." Reyes is currently housed in the Shawangunk Correctional Facility in Wallkill, NY, carrying out a life sentence on convictions of second-degree murder, two counts of first-degree rape, and one count of first-degree robbery. He is eligible for parole in December 2022.