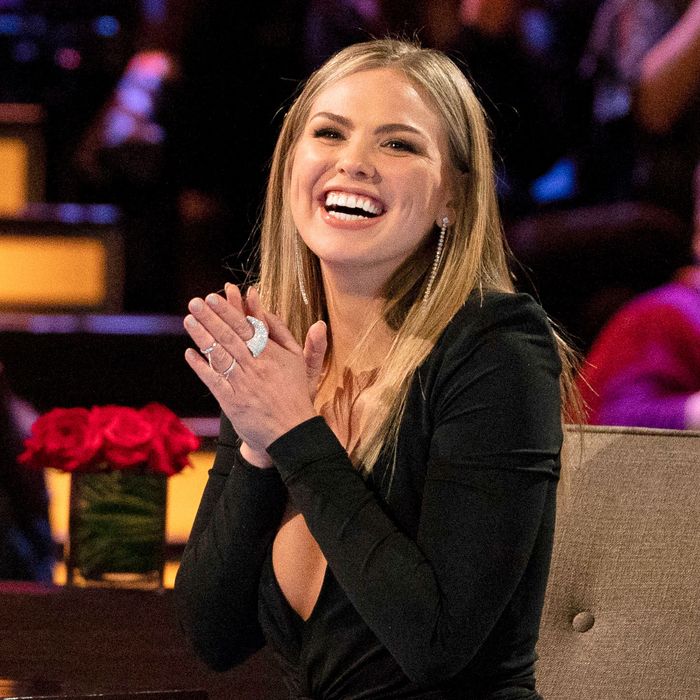 Photo: Eric McCandless/ABC via Getty Images
With Colton Underwood's journey to find a non-fiancée complete, we can finally usher in our newest era of The Bachelorette — and you better learn how to make a good toast, y'all! Hannah Brown, who recently experienced Bachelor heartbreak when sent home by Underwood in the seventh week of his fence-friendly season, was officially confirmed this evening as the franchise's 15th lead. Brown — a self-proclaimed "hot mess" of a southern broad who reigned as 2018's Miss Alabama USA — beat out a small pool of front-runners for the gig from Underwood's season, which included Hannah Godwin, Caelynn Miller-Keyes, and Tayshia Adams.
While some people might be surprised by Brown's Bachelorette ascension given that she finished in a comparatively low spot on The Bachelor, ardent viewers would know that her "Women Tell All" appearance doubled as an audition for the role — an audition she passed with her signature mix of self-depreciation, grace, warmth, and style. (She also didn't engage in any petty drama, which is always a smart move. Ahem.)
"I thought my life was going to be this certain way. I grew up in Alabama. I was gonna marry the guy who I dated for so long right out of college, start spitting out babies," she told Chris Harrison during their one-on-one chat last week. "Ultimately, I just thought that was gonna be okay for me. But it is not okay for me. I want so much more, and I deserve so much more. This experience and the relationship that I have with Colton just allowed me to see myself in a different way, and be vulnerable with who I am and who I want to be and what type of love I want to have and receive."
While competing on The Bachelor, Brown initially received a bit of an unbalanced edit, which came thanks to a vague pageant feud with fellow contestant Miller-Keyes. However, when the women resolved their differences and agreed to support each other throughout their time on the show, the delightful "Hannah Beast" soon emerged and showed her true, wacky colors — becoming a clear favorite among the season's women in the process. "The desire of my heart is to be loved so fiercely by somebody," she concluded in her limo after getting eliminated by Underwood. "I will not allow myself to not feel chosen every single day."
Congrats to Brown, and as always, roll tide!