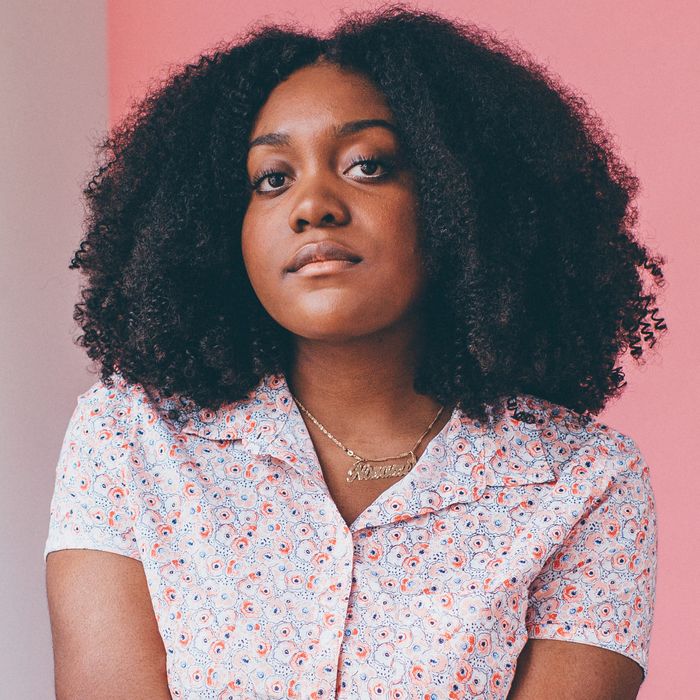 Photo: Courtesy of NONAME
"I know everyone thinks it's, like, poetry. But I thought I was rapping my ass off."
I'm sitting across the table from 25-year-old rapper Noname at an Original Pancake House in the Kenwood neighborhood of her hometown of Chicago, and after half an hour of pleasant, shy conversation with a very polite woman who still seems uncomfortable with the idea of giving an interview, she finally lets one fly — a self-assured boast followed by a half-embarrassed giggle. Over coffee and omelettes, we'd been discussing Bob's Burgers, Rick and Morty, and whether cartoons are getting smarter or we're just regressing, but as talk turned to her first mixtape, July's Telefone, her nervousness disappeared.
"I always had an idea about how I wanted the music to sound," says the poet turned rapper, of the ten-track project, "but I was never able to get that, so I just waited." She planned the project for three years before recording it this June, in Los Angeles. The result is one of 2016's strongest releases and the best kind of debut, one on which an artist clearly doesn't care what she or he is supposed to be doing — they're just doing. Telefone's breezy, optimistic-sounding beats belie the dark themes in its lyrics, stories of life and love and friendship and death, told by someone stuck straddling the utopia of carefree blackness and the reality of hardship, pain, and having to stay strong for those around her. "The sunniness of the production was because [it was recorded in] L.A.," says Noname. "But the content — I'm Chicago."
For a rapper, it's a good time to be from Chicago. Hip-hop's biggest breakout star this year has been Chicagoan Chance the Rapper, whom Noname's known since they were teens and on whose last two solo projects — 2013's Acid Rap and this year's Coloring Book — she's appeared. Chance's success has opened the doors for other Chicago rappers, but when a city gets hot — like Atlanta, New Orleans, St. Louis, Philadelphia, Houston, and even Chicago a decade ago­ — a young artist might be tempted to get famous first and sort out the rest later.
"Everyone wanted me to put out a project after the Chance features," she says. "Here's the platform, so now drop your project so you can blow up." Most rappers would relish the opportunity to capitalize on having one of pop culture's most Teflon stars at their disposal, musically and promotionally — any Noname song featuring Chance would be heard by the growing army of Chance stans. Instead, she made an album without Chance, and even without Mick Jenkins, another big young Chicago rapper of the moment she's known for years.
"With the features I chose to get on [Telefone], they are very much my friends or just people who aren't crazy famous but are talented and match the sound of the tape. I wasn't like, let me just go ahead and throw all of my famous-ass rapper friends on my tape — because I really wanted to prove to myself that people do like Noname."
***
Noname was born Fatimah Warner in 1991 and grew up on Chicago's South Side. She lived in her grandparent's home on 82nd Street and Jefferey in Avalon Park, and, when she was 13, moved to her mother's house in the Bronzeville neighborhood. She attended De La Salle Institute in Bridgeport. "It's actually damn near across the street from U.S. Cellular where Chance's [Magnificent Coloring Day festival] was yesterday," Noname says. "That's crazy."

As a student, she became active at Young Chicago Authors (YCA), an open-mic night, and YOUmedia, an arts program at Chicago's Harold Washington Library designed to keep teens safe and occupied after school, with access to performance space and digital-media tools. Between these two programs, Noname met and honed her skills alongside such Chicago performers as Chance, Saba, Malcolm London, Mick Jenkins, Vic Mensa, and Donnie Trumpet.

"Throughout my junior and senior years of high school, I was very stagnant and hated my life and school, and I didn't really have an outlet," Noname says. "I found out about YOUmedia randomly. I was obsessively watching Def Poetry Jam on YouTube and was like, this shit is amazing, and I wanted to find a space where I could do that. And YOUmedia was that space."
She loved poetry, which evolved into a love for rapping. "I was not thinking about rapping at all, and then I just got really inspired by everyone who was around me. We would freestyle, we would cipher after every open mic. So it didn't matter if you did poetry or if you were a dancer, you were going to hop in the cipher. Plus, I was smoking a shit ton of weed, so it was hella fun to do that shit."
If Noname and her fellow up-and-coming Chicagoan rappers seem like a tight-knit group, that's because they are. "If you were talented and other people thought you were dope and you had something really interesting to say, then you became friends," she says. "It was always very collaborative, that's why we're all over each other's projects. We haven't grown out of this community mentality."
Noname also hasn't grown out of dense wordplay, which is why some consider her more of a poet than a rapper. "I feel like when they call it poetry they remove me from the conversation of hip-hop," she says. "And then they remove poetic rap from the conversation of hip-hop. Lil Uzi can be a rapper but I can't? That's petty to me. There's people who have broke the mold of what rap can be, sonically. Like Future, that whole wave of stretching what rap looks like sonically — they do it and still get to be rappers. So why can't I just put more words into a smaller amount of time and still be a rapper?" She giggles again. "I think all that shit's dope, and it's all rap."
We leave the Pancake House and outside, Chicago is being a caricature of itself, windy and autumn on one side of the street, humid and spring on the other. Like she says on her song "Sunny Duet" ("Cigarettes over blunts now"), Noname has given up weed for Marlboro 27s. We bounce around Kenwood Park a few blocks away, looking for a spot that has some shade but isn't too cold, and has seats but isn't next to a trash can. On the walk, I tell her about my weekend of Chicago music, seeing the city's own Jamila Woods and Joey Purp perform in Wicker Park on Friday, followed by Chance's daylong festival at U.S. Cellular, featuring the likes of Lil Wayne, 2 Chainz, Tyler, The Creator, Alicia Keys, Lil Uzi Vert, and, in a pandemonium-filled surprise appearance, Kanye West.
During Chance's set, as he introduced his song "Drown," he said, "This is for my girl Noname," and proceeded to do her entire verse. "You know what's crazy," she tells me in between drags, looking slightly embarrassed. "I did not see that — I left." She had to leave halfway through Chance's set to take her little sister home. "I saw a video of it the next day, and I was like, 'Oh shit, he really did it, the whole verse.' And it sounded good, too. Goddamn, he sounded like me. Sounded kind of crazy. That was really dope."
Walking with her back to her mother's house, she asks about the Brooklyn venue, Williamsburg's Baby's All Right, where she'll perform her first New York headlining show two weeks later. She mentions a release party she had for Telefone in Chicago, and how pleased she was with the turnout, but she modestly qualifies that by noting that the event was free. "People love free," she says. "And they got two free-drink tickets, and we had cupcakes."
Mostly, she wants to know whether she's good or not, and if people actually like her art or just like her for who she knows, or where she's from. She can't handle false adoration and would rather be a true nothing than a fake something. If people on the internet are going to praise her work, she needs to know it's praiseworthy.
"For the longest [time], it seemed like people liked anything that Chance co-signed. I didn't want to put out something just because. But once I got the music, I was like, Yeah, let's put it out. This feels like a cohesive thought. It felt honest and it felt good."
***
On October 12, I walk into Baby's All Right for Noname's show. I'm on time, which is clearly too late, because I have to do some serious maneuvering just to squeeze into the overflowing room's back row. There's free beer, but that's the furthest thing on the crowd's mind as they hang on every word, singing and rapping along with every song from Telefone.
The last song she performs is the tape's best, "Yesterday," written about the death of her grandmother. It's a rap song, but it hits you like a hymn, especially with scenes from The Preacher's Wife and Sister Act being projected behind her band. It feels like the part of a black funeral where someone reminds the grief-stricken room that this is not a sad day, but a celebration of life, a homegoing. Nobody can stand still, not the two women rows ahead of me proudly rapping each word, nor my row of jaded internet people, nor J. Cole, who has suddenly materialized in the DJ booth to watch the end of Noname's set.
She has everyone in the room, a rare feat in cool-ass New York. When it's time for the lyric "fuck they clubs," the room screams "fuck they clubs" with middle fingers up. And as the song comes to an end, and the room sings the final hook, she asks us to sing it again. So we do.
Noname: One more time, just for me
Crowd: When the sun is going down
Noname: Y'all so fucking pretty
Crowd: When the dark is out to stay
Noname: Y'all sound so fucking beautiful
Crowd: I picture your smile
Noname: You're so interracial
Crowd: Like it was yesterday
And then, there it was, one more giggle. She's living her life, privately and publicly, against conventions, always with painstaking honesty. And she's thriving, not by following the rules or breaking them, but by ignoring them altogether and just being Noname.