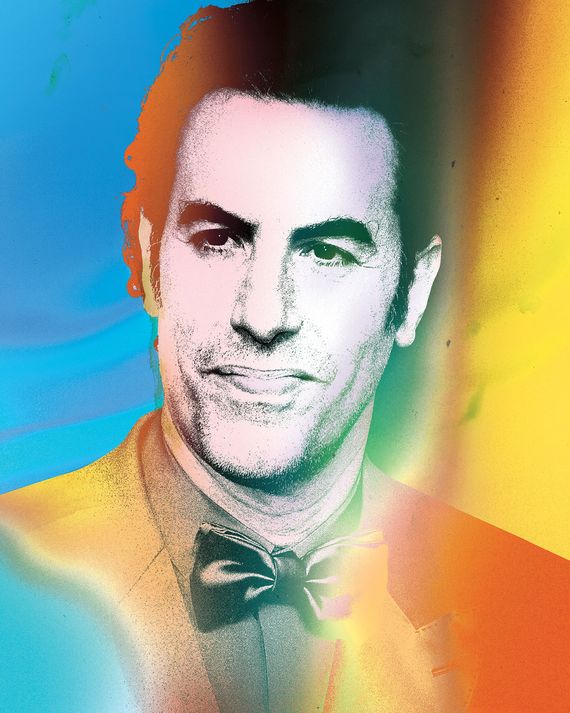 Booyakasha.
Illustration: Bráulio Amado
A Cambridge scholar and a bumbling oaf. A satirist and a slapstick-ist. Cutting-edge and overplayed. More complex than his watercooler-ready catchphrases and prank-adjacent comedy lets on, Baron Cohen persists as a singular force in an era when comedic movie stars aren't exactly a thing. This week, the British comedian is back with Borat: Subsequent Moviefilm, the follow-up to his Oscar-nominated 2006 hit. In the 14 years that passed us by — during which Baron Cohen launched several TV series, worked with directors like Martin Scorsese and Aaron Sorkin, and starred in a Les Mis adaptation — Baron Cohen has managed to weave a truly unusual patchwork of a career in Hollywood. Here we pull off the layers of wigs, fake mustaches, strap-ons, and merkins to provide a primer on the aughties auteur, before and after Borat.
Sacha Baby Cohen
Sacha Baron Cohen was born in Hammersmith, London, and grew up both posh and socialist. His father, Gerald Baron Cohen (his grandfather added "Baron" to the surname; they're not actually Barons), was in the menswear business, and sent Sacha to the Haberdashers' Aske's Boys' School, which is very much one of those "Old Boy" independent Oxbridge feeder schools that has been around for hundreds of years. But he was also very active in Habonim Dror, a Zionist socialist/labour youth movement that counts Seth Rogen, Mike Leigh, and Sarah from The Vow amongst its alumni.
From Cambridge to Clown School
➽ SBC went to Cambridge, where he wrote his thesis on the role of Jews in the American Civil Rights movement. You can say he's been prepping for his role as Abbie Hoffman in 2020's The Trial of the Chicago 7 for decades.
➽ At Cambridge, he also joined the Footlights Dramatic Club, which is to the British comedy scene what the Harvard Lampoon is to the American one: It's where everyone from Monty Python to Fry and Laurie got their start. Here's a pic of Cambridge-era Baron Cohen to get the general idea.
➽ After Cambridge, he went to Paris for prestigious French clown schooling at the École Philippe Gaulier. As you do.
His Big Break
In 1998, after a few years of filming commercials and making small TV appearances on British comedy shows, Baron Cohen debuted his Ali G character on The 11 O'Clock Show. Speaking of …
Much like how the Father, Son, and Holy Ghost form the Holy Trinity, Ali G, Borat, and Bruno form Sacha Baron Cohen. They are him, and they are of him. They represent Baron Cohen's three approaches to the same comedic and philosophical M.O., which is to point out hypocrisy and ignorance both in seats of power and among the wider populous, turn a camera on it, and make it funny. It's like Hannah Arendt's Banality of Evil, with more jokes about hairy balls. All three characters had segments on Channel 4's Da Ali G Show, which became a critical crossover hit in the States on HBO.
Ali G
So who was Ali G? A white middle-class boy mangling London Black vernacular but nailing a frankly Depop-worthy Y2K rapper aesthetic. In 2002, Baron Cohen gave the character a showcase in the movie Ali G Indahouse.
Borat
Like a mystical force of ancient chaos, Borat has existed for many years under many names. The proto-Borat was a "Moldovian" character Baron Cohen performed on the show F2F in 1996 named Alexi Krickler. When Baron Cohen began his "Bruno" TV shorts on Paramount Comedy 1 in 1998, Krickler had developed into an "Albanian" character named Kristo Shqiptari. When Baron Cohen premiered Da Ali G Show in 2000, Borat as we know him today was born and had been through a number of Eastern European identities.
Fast-forward to filming the first Borat movie, which got Baron Cohen on an FBI watchlist. As he told NPR, "There was a time, you know, I got so used to the police turning up. You know, with Borat, I think they came about 45 times. Sometimes it was the police, then the FBI were following us for a while. They had so many complaints that there was a Middle Eastern man … driving through America in an ice-cream van, that the FBI assigned a team to us. And so we had the FBI and then we had the Secret Service. But there were so many of these instances, and with Bruno as well, that for a while it would take about six months afterward for me not to totally freak out whenever I saw a policeman."
What language does Borat speak? The character's "Kazakh" language is a combination of Hebrew and Polish.
Bruno
If Baron Cohen uses Ali G to satirize the media and politicians and Borat to satirize xenophobia and anti-Semitism (and the media and politicians), Austrian fashion journalist Bruno Gehard is used 10 percent of the time to call out homophobic attitudes and 90 percent of the time to poke and prod at prudishness via comedic nudity.
Isla Fisher
The two met in 2002, which would explain absolute serves like this. They got married in 2010 after she converted to Judaism. What do they have in common? They both went to clown school. Fisher says she literally never uses her clowning skills. Baron Cohen says he owes his whole career to them.
His Love of Musicals
Baron Cohen says, "Musicals are my embarrassing passion; they bring me joy." He writes songs and everything. Some of his most prominent film roles outside of his own projects have been as Pirelli in Tim Burton's Sweeney Todd, and Thenardier in Tom Hooper's Les Mis. 
Did we mention he plays the cello?
Public Figures He's Fucked With
Sarah Palin
Rudy Giuliani
Rep. Joe Walsh
Mel Gibson
Eminem
Pamela Anderson
Agatha Ruiz de la Prada
The NYPD
Ryan Seacrest
Dick Cheney
David and Victoria Bex
Newt Gingrich
Rudy Giuliani
Public Figures Who Fux With Him
➽ The Queen Mother: "In fact, she was a fan who apparently did a good impression," said Channel 4's Andrew Newman.
➽ Madonna: Madonna watched the Ali G Christmas special and "thought he was brilliant — the Peter Sellers of our generation," according to what her manager told BBC News in 2000. On the basis of that, she cast him in her "Music" music video.
Borat's Connection to Joker
Todd Phillips was originally attached to Borat, and was working on it until he quit in 2005 over "creative differences." After shooting the scene where Borat mangles the "Star-Spangled Banner" at a rodeo in Virginia, Phillips and crew reportedly received actual death threats. A little over ten years later, Phillips started pitching his idea for Joker.
SBC's Supporting Roles and Cameos
Once Baron Cohen established himself in Hollywood through Da Ali G Show, and especially after Borat, he was cast as scene-stealer after scene-stealer in …
➽ Talladega Nights, as a French Formula 1 racer
➽ Madagascar, as the most famous lemur since Zoboomafoo, King Julian
➽ Hugo, as a Peter Sellers–inspired train station inspector
➽ Anchorman 2, as a BBC reporter
Late-Stage Sacha Baron Cohen
So much of what made Baron Cohen a success in the aughts had become less popular in comedy in the following years: prank-based comedy, intentionally un-PC humor, and catchphrases (analogue memes). The scripted The Dictator and Grimsby were not the sensations that his improvised Borat and Bruno were. More recently, he's gone back to television, with Who Is America and a dramatic leading turn in historical espionage miniseries The Spy.
Catchphrases
Not since Mike Meyers and Jim Carrey's '90s heyday has someone been so prolific at slingin' catchphrases. Honestly, these hold up:
➽ Booyakasha
➽ Respek
➽ Vassap??
➽ Jagshemash
➽ Very nice!
➽ Wawaweewa!
➽ Chenquieh
➽ My wiiiiiiiiiiiiiiiiiife
After All These Years, Is He Still Punching Down in His Comedy?
Yes. He's 6'3".