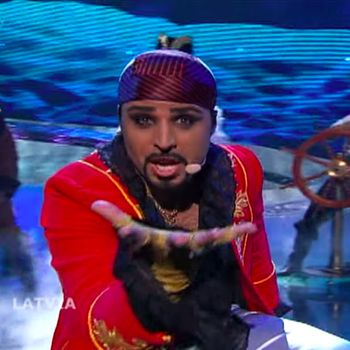 How does a new fan of the European song contest choose a country to support? Don't. Just go with Latvia.
Photo: YouTube
Being an American Eurovision fan is a lot like being a World Cup enthusiast; you can pick a favorite competitor without geography or history influencing whose flag you wave, you just have to be ready to tune in at odd hours of the day. Both contests promote tribalism, but the former's brand of loyalty is the kind only a talent show fueled by centuries-old grudges can produce. So how does a newcomer to the event choose a country to support? It's almost too easy to root for Sweden, a country that puts the full force of its pop machine into artists like the possibly lab-grown heartthrob Måns Zelmerlöw; or for an underdog like Serbia, which almost never submits an English-language song — a surefire way to remain a principled loser in a contest that reflects pop music's single language dominance. Real fans know there's one small country that has fully embraced the spirit of modern Eurovision, where ideas like "quality" or "taste" simply do not apply. They know that no nation has embraced the absurdity, stylistic inconsistency, and terrible artistic choices that have come to define the European song contest like Latvia.
In its 20 years of competition, Latvia has only won Eurovision once, when Marie N sang "I Wanna" in 2002, performing a disco act that was last fresh in 1980. But virtually every entry since then has been a different flavor of perfection. An example: Pirates of the Sea. Someone in an Arctic Circle–adjacent country said, "Find me a Latvian man who can wear eyeliner like 2003 Johnny Depp, and get some cannons while you're at it."
With a "hi, hi, ho" and a "hi, hi, hey"

We're bound to be close to the sea

Our captain will stand on the bridge and sing

"Pirates are all we can be"
We deserve an equitable world and occasional pirate cosplay.
Pirates of the Sea didn't win, but they did get covered by the pirate metal band Alestorm, and for a brief moment, all of Eurovision fandom were "Wolves of the Sea." In 2010, singer Aisha delivered "What For?" one of the most poorly translated musical numbers of all time. It was memorable enough for Anthony Lane to use the lyric "Only Mr. God Knows Why" as the title of his New Yorker article on Eurovision. Enjoy another lyric excerpt:
What for do people live until they die?

What for are we living?

What for are we crying?

What for are we dying?

Only Mr. God knows why

What for are we living?

What for are we dreaming?

What for are we loosing?

Only Mr. God knows why
But wait, what if I'm interested in inspirational rap-rock featuring the "first stage dive in Eurovision history"? Of course, that was Latvia in 2013 ("Here We Go," by PeR). Okay, but what about questionably dreadlocked individuals who sing about baking? Latvia 2014 ("Cake to Bake" by Aarzemnieki). Triana Park was either a group of candy ravers who emerged from a bomb shelter in 2017 (with "Line"), or definitive proof that former Soviet bloc countries are still 30 years behind the times. I don't know and I don't really care why the 2020 Eurovision representative from Latvia was a woman with a voice like Jessie J and dance moves like a white woman attempting dubstep, but that's the best way to describe Samanta Tina and her song "Still Breathing." No genre is safe, and that's why I have a Google alert set for "Supernova," the national competition that decides Latvia's Eurovision selection.
Supernova, like other national contests, is broadcast from a black box that makes everyone look like they're singing and dancing in front of a panel of executioners. Many aspiring Eurovision performers — like Edgars Kreilis, one of the artists I'm watching out for in future Eurovision contests — come up through these versions of The X Factor, which explains why everything is so amateurish at the early stages of competition (and why everyone looks so scared). Netflix's Eurovision Song Contest: The Story of Fire Saga nailed the awkward glow-up process of transitioning from a tiny stage in your home country to performing in front of an audience of nearly 200 million people worldwide.
Now, there have been a few objectively fantastic acts from Latvia. "Heartbeat" by Justs could be in an Audi commercial, and "Love Injected," written and performed by Aminata Savadogo, belongs in a sexy Netflix mystery series. Since representing Latvia in 2015, Savadogo has become a Eurovision ringer as not only a singer, but a songwriter and producer too. She has credits on two of the last five Eurovision songs for Latvia: Justs's "Heartbeat," for the 2016 competition, and Samanta Tina's "Still Breathing," which would have been performed at the 2020 Eurovision competition. (Savadogo also wrote "I'm Like a Wolf," the second-place song in Lithuania's Eurovision 2017 contest.) Make her the new Dr. Luke so we can finally be rid of him!
Tina will compete in the postponed 2021 Eurovision contest in Rotterdam with a new song (as the rules mandate), meaning Latvia might have finally realized its formula for success. But don't worry, should the country abandon its whimsy, fans needn't look far for a new unlikely victor worth rooting for: Lithuania is sending The Roop, its 2020 contestant, back to Rotterdam in 2021 as well, and we can only hope singer Vaidotas Valiukevičius is preparing his dance moves now.
Listen, the 2022 World Cup is going to be a disaster, so we're going to need guys like Meandi more than ever.