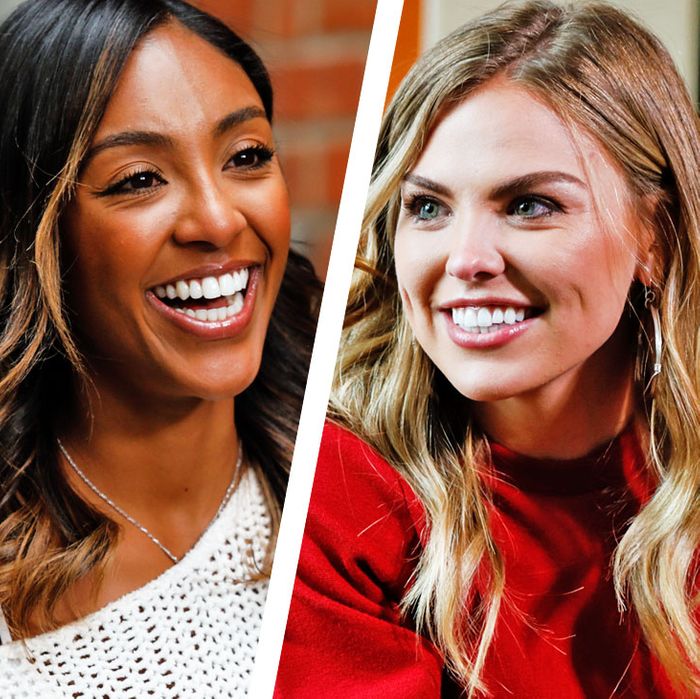 From left, Hannah G., Tayshia, and Hannah B.
Photo: Vulture and ABC
As Colton Underwood's confusing Bachelor journey to find a fiancée, girlfriend, or maybe even just a friend concludes, we can finally begin channeling our energy into something way more important: Which of his heartbroken contestants will become the next Bachelorette?
Per tradition, the lucky lady will be unveiled at the conclusion of The Bachelor's live finale, after producers have presumably made one of those yarned-out corkboards with all the pros and cons each potential lead can bring to the franchise. Weighing their After the Final Rose performances (if applicable), general likability among fans, and Bachelor edits throughout the season, Vulture has come to the conclusion that five women are in serious contention for the gig. Ranked by likelihood, here's who they are, and why.
Hannah B.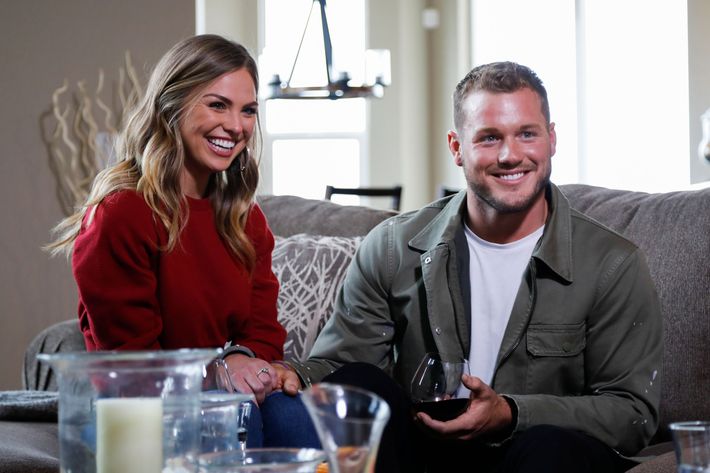 Why it could be Hannah B.: The Women Tell All special — a.k.a. the true audition of Bachelorette worthiness — was the Hannah B. Show. During her one-on-one chat with Chris Harrison, she exuded warmth, maturity, and a healthy dose of self-deprecation, which resulted in the biggest audience and contestant support by a long shot. "I thought my life was going to be this certain way. I grew up in Alabama. I was gonna marry the guy who I dated for so long right out of college, start spitting out babies," she told Harrison. "Ultimately, I just thought that was gonna be okay for me. But it is not okay for me. I want so much more, and I deserve so much more. This experience and the relationship that I have with Colton just allowed me to see myself in a different way; and be vulnerable with who I am and who I want to be and what type of love I want to have and receive." This ethos was previously seen in her limo confessional when eliminated by Underwood — after he introduced her to his family — which also got an overwhelming amount praise on social media: "The desire of my heart is to be loved so fiercely by somebody. I will not allow myself to not feel chosen every single day."
Why it might not be Hannah B.: Although Hannah and Caelynn's so-called pageant feud got squashed in a surprisingly diplomatic way, the editing of the first few episodes wasn't kind to her: "Hannah Beast" wasn't a cute thing to celebrate yet, but rather an unhinged, scattered personality who was bitching to other contestants, and even Underwood, about the duo's pageant past. (Also, that toast? Yikes.) Once she made up with Caelynn, though, Hannah got a terrific edit, which really shined with how much the other women liked her. Just imagine what fun she, Demi, and Hannah G. could get into when whipping some Bachelorette gents into shape.
Hannah G.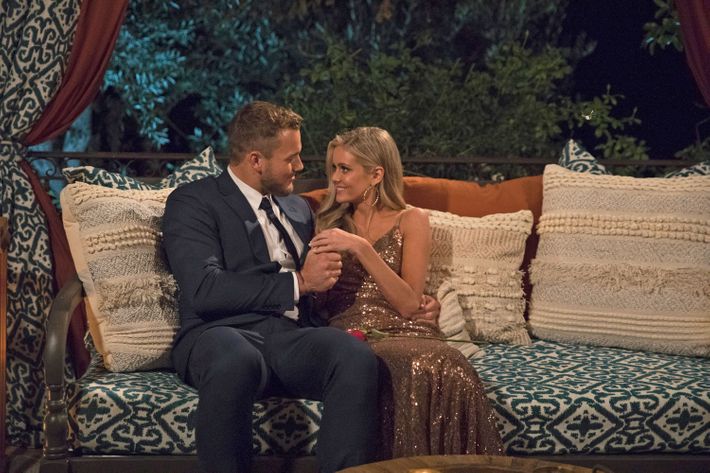 Why it could be Hannah G.: Well, as the memes can tell you, our first-impression rose-receiver is still waiting in Portugal for a date with Underwood that's never going to happen. Not only that, but in the newest teaser for Monday's finale, she admitted it's time for her "to go all in" and tell Underwood how much she loves him, blissfully unaware he seemingly quit the show. Brutal heartbreak is a fundamental tenet of ascending to lead status, as trite as it sounds. Also, she's quite lovely, isn't she?
Why it might not be Hannah G.: Dare we say … nothing at all? Hannah G. has consciously avoided every sliver of drama that's popped up with her fellow contestants throughout the entire season, although some may argue fading too far in the background will make her forgettable. (But at 750,000 Instagram followers, she's the most-followed of this season's contestants, so that's not an issue.) The only other thing of note is Hannah, at 23, would be the youngest lead in the franchise's history. Following the spectacular disaster of Underwood and Cassie's juvenile breakup, the show might want to return to its older roots.
Tayshia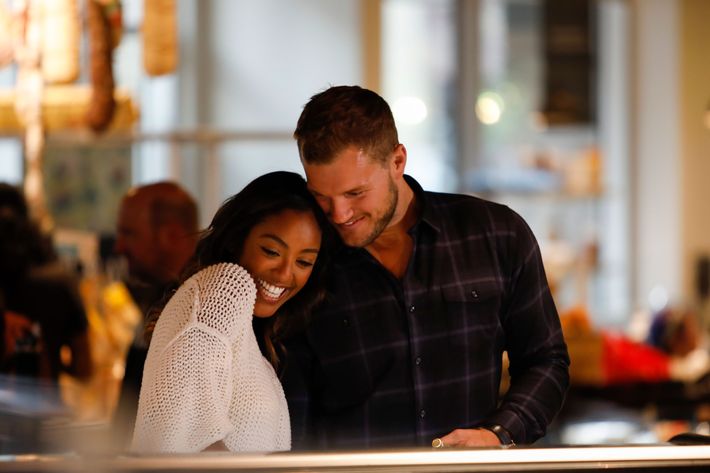 Why it could be Tayshia: She and Underwood shared a natural, warm chemistry throughout their time on The Bachelor, a spark built on trust that encouraged them to test the limits of facing their fears together. (Kudos for going through with the skydiving, you two!) She also has the unprecedented distinction, alongside Hannah G., of probably getting dumped by Underwood in next week's episode when he chooses to break the rules and pursue Cassie. It's up to you who had it worst: Tayshia, who got to enjoy a sexless fantasy-suite date with Underwood, or Hannah G., who got to experience nothing at all? Either way, it sucks.
Why it might not be Tayshia: Tabloid drama. Tayshia ex-boyfriend is claiming they exclusively dated for more than a year — and discussed marriage — until she dumped him the day before filming for The Bachelor began. As soon as "wrong reasons" talk begins to plague a contestant, it's tough to recover. (It doesn't help she hasn't commented on any of her ex's claims.) Tayshia was also a vocal detractor of multiple women on the show, asserting to Underwood, among other things, that she had to be a "tattletale" about Cassie and Caelynn because of their supposed immaturity. She also, perhaps most tellingly, criticized the youthfulness of other women on the show, stating they couldn't possibly be ready for marriage at their age. Who is she, a divorcée at 28, to judge?
Caelynn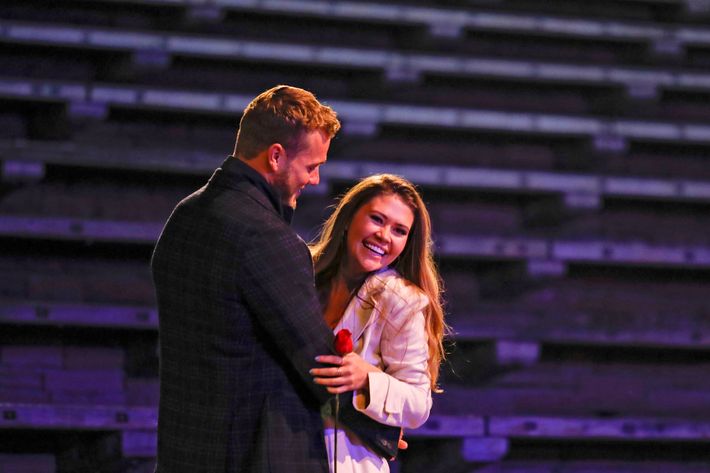 Why it could be Caelynn: A top-four placement, made extra agonizing when you factor in how Caelynn was immediately dumped after she brought Underwood home to meet her family. She was also the recipient of one of the most unprecedented and respectful moves in Bachelor history, which was when the show's producers gave her space to her talk, uninterrupted, for nearly five minutes during a date with Underwood about her sexual assault. Caelynn's braveness in sharing such a traumatic story on a national platform should be applauded, and it rightfully was.
Why it might not be Caelynn: Continued assertions from multiple Bachelor contestants that she and her pal, Cassie, publicly discussed their aspirations to become the Bachelorette — and only wanting social media fame and exposure in the process. (Meme alert.) Caelynn's attempt at Women Tell All damage control backfired when the majority of the contestants and audience sided with Katie, the woman who overheard the alleged conversation, after this memorable slam against her: "I hate this actually. It makes me feel so mad I'm shaking. Because that's the manipulation Hannah B. warned Colton about." Additionally, Caelynn's Bachelor edit went into a free fall after her sexual-assault story. She repeatedly referred to other women as "bitches," "asses," and "liars" in her confessional interviews, seemingly confirming stories in her pageant community that she's manipulative and crass behind closed doors.
Demi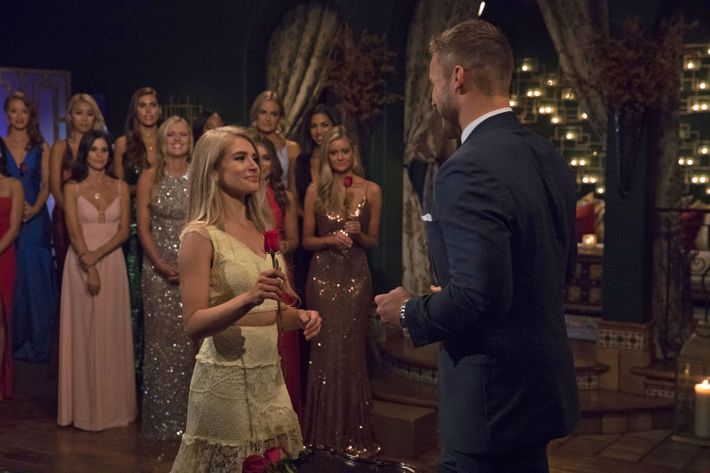 Why it could be Demi: As the resident villain who was more delightful than evil at the end of the day, Demi played the Bachelor game better than anyone else this season, getting her haters eliminated left and right as she giggled and guzzled her pinot grigio. In a poignant turn, she was vulnerable when discussing her unusual family situation with Underwood, as her mother had been serving a long federal prison sentence before her release during the show's filming. Of all the women, Demi is the most confident and unabashedly herself, and you just know her Bachelorette season would have the most entertainment value.
Why it might not be Demi: Villainy is a double-edged sword — a sword that, on both sides, lands on Bachelor in Paradise and not The Bachelorette. Long may her confetti cake reign!