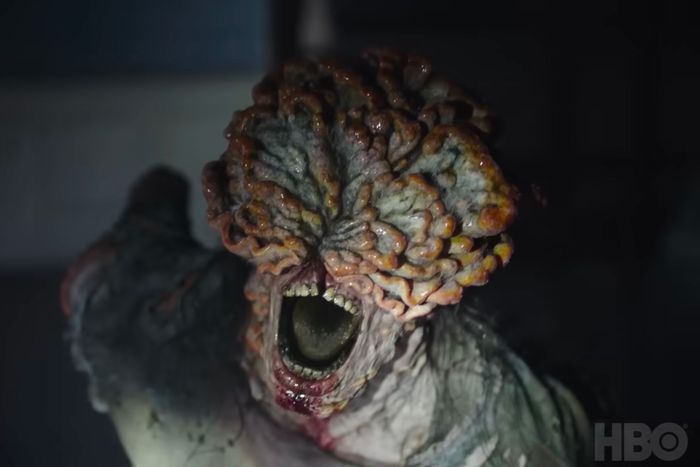 Watching HBO's big Sunday-night video-game adaptation, The Last of Us, makes me feel a lot of things: sadness (most of the time); anxiety about evading capture (even more of the time); bafflement at some creative decisions (please stop tweeting at me, but I'm right); a strong desire to visit the province of Alberta, where it was filmed (beautiful vistas! definitely not Boston!); and, most of all, hunger. Don't you have a mushroom craving? Haven't you started considering which wines might pair best with Cordyceps growths? Aren't you pondering where it's possible to cultivate arborio-rice paddies in a military-state America in order to indulge in some postapocalyptic risotto?
Doesn't this make you hungry?
Aren't you imagining ways you could use a Clicker's head in a Sunday-night one-pot NYT cooking recipe?
Chris Crowley, my colleague at Grub Street, pointed out that this resembles chicken of the woods fungus, which makes for a great meat substitute. Forage for some root vegetables and raid the dead gays' wine cellar, and you've got a good stew going.
Did you know that a relative of Cordeyceps, the Ophiocordyceps sinensis fungus, infects the larvae of ghost moths in Tibet, and the result is harvested and used in traditional medicines, especially as powders, tinctures, and teas? Nobody in this future is considering the culinary possibilities! Probably because they are too busy engaged in existential and moral quandaries, but still.
If this doesn't make you long for a Shake Shack shroom burger, we are simply not built the same way. How are people obtaining salt after the end of the world? I need a lot of it.
[Slapping the side of this guy before I die of infection.] Man, think of how good this would taste on a grill. I am not a cannibal. I am just asking questions.