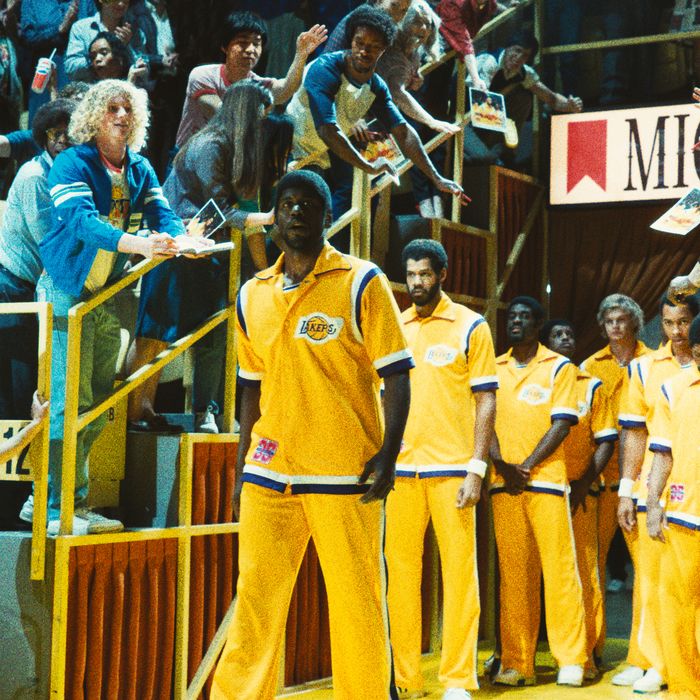 Between Succession, The Righteous Gemstones, and now Winning Time: The Rise of the Lakers Dynasty, HBO has turned Sunday nights into the place to go for the hyper-specific theme of flawed, greedy, often absent fathers and the legacy they're looking to bequeath to the fucked-up children who resent them. The difference is how much each of the dads really cares about keeping their business in the family: Logan Roy dangled his children's future like an unreachable carrot at the end of a stick (and he'd hit them with the stick, anyway), and Eli Gemstone takes it as a leap of faith that his three dysfunctional kids will be able to find their footing and lead the ministry together. But the Jerry Buss of Winning Time has an honest-to-goodness competent daughter in Jeanie Buss, which significantly — if not entirely — changes the equation.
The first episode of this new season is about fatherhood. And in the show's typical fashion, the theme is all but written in skywriting over the Forum. All three of the main characters on the show— Jerry, Magic, and Kareem — are each facing some parenting challenges off the court that are borne out of their natural single-mindedness to win in the arena. For all his talk about turning the Lakers into a family business, Jerry's track record as a father has been spotty, to say the least, especially since taking over the team, which has consumed his time and supercharged the womanizing that wrecked his marriage. Meanwhile, Magic's own lustiness has led to an unplanned pregnancy in the offseason and a difficult choice about whether he wants to take responsibility for the child or pay off its mother. As for Kareem, he laments that his three older children only know him "as number 33," but a new baby with Cheryl Pistono, Amir, gives him an opportunity to turn things around.
For all three men, this is the raging hangover that chases the champagne high of the Lakers winning the championship in Magic's rookie season. As Pat Riley warns a freshly moussed Paul Westhead by the poolside, other teams are spending this time obsessing over ways to break down the champs. And that seems to be true of fate, too. Jerry and Magic especially have turned cocky and hubristic in the wake of their success, not realizing that they're as vulnerable to mistakes as they've ever been. When faced with the consequences of their behavior, they are both conscious about doing the right thing, but they haven't exactly established a lot of credibility with those closest to them. Will Jerry moving his adult kids under one roof paper cover the fact that he doesn't know them very well? And can Magic really win back Cookie when the evidence of his serial infidelity has never been more glaringly obvious?
Winning Time ultimately loves these guys, so it's optimistic about their capacity to change — or at least their underlying good intentions. It's more generous (and fun) for the show to think about Jerry Buss as the lovable rogue who made basketball sexy than a skirt-chasing degenerate who consistently put his own desires above everyone else's. But "One Ring Don't Make a Dynasty" does well to present his uglier side, even at a moment when he's trying to do better. With the Lakers having won a championship in his first year as owner, converting a listless franchise into the hottest show in town, Jerry's gamble has paid off, and he's starting to think about the long-term future of the team. One of his big ideas is to bring three of his adult children — Jeanie, Johnny, and Jim — under the same roof so he can spend more time with them as both a father and a mentor. His other big idea is to appeal to their individual passions by giving them new side hustles: Jeanie as the operator of a World Team Tennis franchise, Johnny as the owner of an indoor soccer team, and Jim as an acquirer of thoroughbreds and jockeys.
That last piece of generosity, like the rich father trying to buy his children's love, is coupled with the radical strategy to give core players like Michael Cooper and Norm Nixon massive contracts to secure their services before new free agent rules kick in the following year. It seems like an insane strategy, but Jerry is expressing confidence in the NBA as a growing enterprise and wants to get out ahead of the market. These purchases for his kids solve a financial problem by opening up the new lines of credit he needs to pay for the contracts. Of course, Jeanie has the insight to see her dad's logic: "Debt is good," she says. "Credit is the new cash. And growth will be the only way to stay alive." But when the family is back home playing Monopoly, Jerry rips his boys for not being cutthroat enough. Even on game night, he can't help but put business before family.
That's what Magic tries to do, too, when his lawyer (and, er, lover) and his manager steer him toward a settlement agreement with Melissa Mitchell over a pregnancy she intends to take to term. The deal is simple enough in that Magic will offer money for silence. "For you, it will be like the child never existed," he's told. But Magic has trouble living with such a cold arrangement, and his agonies worsen when he tears the cartridge in his left knee — an injury that keeps him off the floor for so long that he heads back to Lansing to recuperate. His parents push him to man up and take responsibility for his child-to-be, and his on-again/off-again flame Cookie does likewise, however reluctant she is to keep giving him second chances.
The episode does a fine job connecting Magic's playing style with his off-the-court behavior in that he seems to long for a frictionless experience of fast breaks and fast women without being anchored by the two partners that slow him down, Kareem and Cookie. But it's a mark of his immaturity that he cannot set aside his wanderlust so easily. That's the value of having a leader like Kareem around, as imperfect as the big man can be in his own right. With the two battling over control of the team, Kareem uses the birth of his fourth child, Amir, to counsel Magic and perhaps set their own relationship straight: "You ever see a child come into the world? None of the things I've mastered in my life could help in any way. All of it was worthless in that moment. Because that moment didn't require a great man to step in. It required me to be a partner."
And so, the rocky partnership between Kareem and Magic continues, as does Magic's relationship with Cookie and his own new child. But chemistry for the 1981-82 Los Angeles Lakers will prove to be more mysterious and volatile than patching up their personal problems.
Alley Oops
• Thrilling flashback sequence to Game One of the 1984 NBA Finals against the Celtics. You'll notice, of course, that Pat Riley is running the team with a vigor he's yet to express as an assistant coach and that the Celtics fans create a hostile environment for opposing teams like no other. But the sequence seems to be there partly as an assurance to viewers that the Lakers will one day win again because the road to a second title gets a bit serpentine.
• Yes, it's a bit obvious to queue up Olivia Newton-John's "Magic" to reveal Magic Johnson's exploits in the summer of 1980, but the timing is just irresistible to pass up. "Magic" was a hit off the soundtrack to Newton-John's notorious (and guiltily enjoyable) stinker Xanadu, released in May 1980. It hits this time person in perfect stride.
• A real clunker in the dialogue over Jerry's meeting with "the cable television boys in Connecticut," i.e., ESPN. "It's a racket," says one of the front office guys. "What kind of morons want to pay for television?" Shades of Billy Zane in Titanic saying Picasso will never amount to anything.
• Red Auerbach's draft trade for Kevin McHale and Robert Parish, two of the cornerstones of the Celtics' '80s dynasty, was indeed a swindle of historic proportions. Auerbach traded the number one and number 13 picks in the draft to the Golden State Warriors for 26-year-old center Parish and the #3 pick, who turned out to be McHale. Meanwhile, the Warriors picked Joe Barry Carroll and Rickey Brown. Wait, who? Exactly.
Cookie sitting on 8-track tapes of The Moody Blues, The Four Tops, and Loggins and Messina. She's already settled down.
• The poem Paul Westhead is quoting to his players on ring day is "Invictus" by William Ernest Henley. Great poem, but Magic seems unswayed.
• Westhead using Magic's injury to take control of the team certainly seems like a disastrous idea, though there's a kernel of forward-thinking window to "The System." The idea of a young, fast team outrunning opponents and getting up shots before the defense gets set would be a staple of offenses later mastered by coaches like Mike D'Antoni. But obviously, Magic and Kareem work at different speeds.