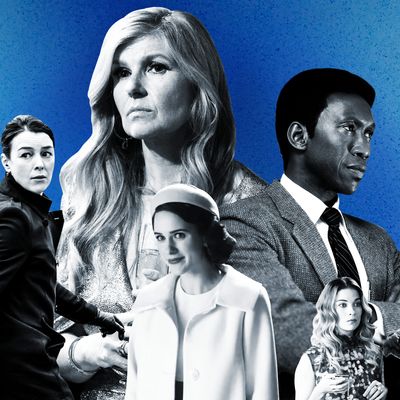 Photo: Maya Robinson/Vulture
Fans of Dirty John: Does November 25 feel unbearably far away? Ease your anticipation pains at Vulture Festival Los Angeles, where Connie Britton and Eric Bana will be talking about the show on Saturday, November 17. Tickets are available at vulturefestival.com.
Peak TV means never having to say you're sorry for your binge-watching preferences, and a winter 2019 slate packed with new and returning shows will make it all the easier to eschew the outdoors and holiday "commitments" in favor of some quality time in front of a screen. (One screen at a time, please!) Whether you're in the mood for a macabre drama or deliciously silly comedy, know that the next four months have your back. Browse below for Vulture's highlights and favorites, as well as the entire winter lineup with premiere dates included.
My Brilliant Friend (November 18, HBO)
Adapting the first of Elena Ferrante's four Neapolitan Novels, this ain't a frothy Italian romp à la Young Pope by any means. My Brilliant Friend follows the lives of Elena and Lila, girls from the wrong side of 1950s Naples, whose paths weave in and out as they try to navigate the early part of their lives. Decades later, when Lila seems to vanish without a trace, Elena decides to recount the entirety of their dysfunctional friendship in the hopes of discovering what happened to her.
Dirty John (November 25, Bravo)
Just what the doctor ordered: tracking shots of Connie Britton drinking rosé! Based on the wildly popular true-crime podcast, Dirty John doubles as every woman's worst nightmare — a dashing gent with tons of money (Eric Bana) seduces Britton's single-mom character, and just when it all starts to get serious, it turns out he might actually be equal parts psychopath and sociopath. Now, let's hope she and her daughters can get out alive.
The Marvelous Mrs. Maisel (December 5, Amazon)
Our gal is back, and the crowds are getting bigger! A year after beginning her quest to become the funniest woman on the Upper West Side — or rather, the funniest woman in all of New York — Midge Maisel (Rachel Brosnahan, Emmy winner) is continuing to hone her chops with the help of her faithful friend and manager (Alex Borstein, fellow Emmy winner) which still isn't exactly easy, given that none of her friends or parents know her secret. "Comedy is fueled by disappointment and humiliation," Midge says in her new act. "Now, who the hell does that describe more than women?"
Counterpart (December 9, Starz)
To fill the The Americans gap in your life, why not indulge in this acid trip of a spy and espionage drama instead? J.K. Simmons plays a low-end United Nations employee based in Berlin who discovers his work actually involves monitoring a parallel dimension, which another J.K. Simmons character lives and inhabits. (The always lovely Olivia Williams is also there as his wife.) To add insult to injury, his parallel self is way cooler, and he's now roaming around the real world. What could possibly go wrong?
Brooklyn Nine-Nine (January 10, NBC)
You did it, viewers. After being canceled and revived in 31 hours, Brooklyn Nine-Nine — excuse us, NINE-NINE! — is getting a new home with NBC, and you don't have to worry about any "substantial" changes thanks to the network switch. Just give us the iconic octagon of Jake, Rosa, Amy, Terry, Charles, Raymond, Hitchcock, and Scully doing various shenanigans, and we'll be thrilled.
True Detective (January 13, HBO)
Just when you thought Netflix's Ozark got all of TV's allotted midwestern topography drama, in walks Mahershala Ali to claim the Ozarks as his own. In the latest True Detective outing, Ali portrays an Arkansas detective who, along with his partner (Stephen Dorff), investigates a gruesome crime involving two missing children. The case weaves through three different time periods as it remains unsolved, driving nearly everyone involved to the point of insanity.
Schitt's Creek (January 16, Pop)
Ew, David! The best comedy to come out of Canada in years, you'd be remiss not to binge Schitt's Creek — all seasons are available on Netflix — before the fifth season premieres. If you still need some convincing, the basic gist is that an über-rich family loses their fortune and are forced to move to their only remaining asset, an eccentric small town in the Canadian boondocks. They slowly, albeit begrudgingly, become fond of the town with each passing year, as they live out of a motel and start putting down roots.
Broad City (January 24, Comedy Central)
It's one last hurrah for Abbi and Ilana and all of their New York hangs, although the duo are going to remain with Comedy Central to develop a bunch of other shows. How many more delightful, frivolous escapades can they possibility squeeze in before we bid them farewell?
I Am the Night (Late January, TNT)
With Chris Pine and Patty Jenkins reteaming after Wonder Woman, a bunch of interconnecting threads are at play in this limited drama set in '50s Reno: A teenager given away at birth might end up being the key to a trial involving an infamous Hollywood gynecologist, a case that happened to mentally break a seasoned journalist (Pine) during his own investigation. There are also a lot of secret pasts, just for good measure.
The entire winter lineup
Friday, November 16
12 a.m. The Kominsky Method, Netflix
12 a.m. Narcos, Netflix
12 a.m. She-Ra and the Princesses of Power, Netflix
12 a.m. Dogs, Netflix
12 a.m. The Bisexual, Hulu
Saturday, November 17
9 p.m. Jonestown: Terror in the Jungle, Sundance
Sunday, November 18
12 a.m. Queen America, Facebook Watch
9 p.m. My Brilliant Friend, HBO
9 p.m. The Lost Tapes: Tet Offensive, Smithsonian
10 p.m. Escape at Dannemora, Showtime
Monday, November 19
12 a.m. The Last Kingdom, Netflix
9 p.m. The Little Drummer Girl, AMC
Tuesday, November 20
12 a.m. The Final Table, Netflix
12 a.m. Motown Magic, Netflix
10 p.m. Brothers in Arms, History
Wednesday, November 21
9 p.m. The Bureau, Sundance Now
Thursday, November 22
12 a.m. No Activity, CBS All Access
12 a.m. Mystery Science Theater 3000: The Return, Netflix
8 p.m. Masterchef Junior: Celebrity Showdown, Fox
9 p.m. Chimp Sanctuary, BBC America
10 p.m. Chimps of the Lost Gorge, BBC America
Friday, November 23
12 a.m. Frontier, Netflix
Sunday, November 25
10 p.m. Dirty John, Bravo
Monday, November 26
9 p.m. The Panama Papers, Epix
9 p.m. The Great Christmas Light Fight, ABC
Tuesday, November 27
9 p.m. Leah Remini: Scientology and the Aftermath, A&E
10 p.m. The Devil Next Door, A&E
10 p.m. Adam Ruins Everything, A&E
Wednesday, November 28
9 p.m. Vikings, History
9 p.m. Chrisley Knows Best, USA
10 p.m. Knight Fight, History
Thursday, November 29
9 p.m. Cold Valley, Investigation Discovery
Friday, November 30
12 a.m. F Is for Family, Netflix
Sunday, December 2
9 p.m. Berlin Station, Epix
10 p.m. Nightflyers, Syfy
Monday, December 3
9 p.m. Vanderpump Rules, Bravo
Tuesday, December 4
12 a.m. Fuller House, Netflix
8 p.m. Legends of the Lost With Megan Fox, Travel
Wednesday, December 5
12 a.m. The Marvelous Mrs. Maisel, Amazon
9 p.m. Deal or No Deal, CNBC
Thursday, December 6
9 p.m. Top Chef, Bravo
9 p.m. The Great American Baking Show, ABC
Friday, December 7
12 a.m. Neo Yokio: Pink Christmas, Netflix
8 p.m. RuPaul's Drag Race Holi-slay Spectacular, VH1
9 p.m. Love After Lockup, WE tv
Sunday, December 9
9 p.m. Counterpart, Starz
Friday, December 14
12 a.m. Tidelands, Netflix
Saturday, December 15
12 a.m. Springsteen on Broadway, Netflix
Thursday, December 20
8 p.m. Timeless: The Movie, NBC
Friday, December 21
12 a.m. Marvel's Runaways, Hulu
12 a.m. Vanity Fair, Amazon
Tuesday, December 25
9 p.m. Call the Midwife, PBS
Sunday, December 30
8 p.m. The Orville, Fox
Wednesday, January 2
8 p.m. Gordon Ramsay's 24 Hours to Hell and Back, Fox
9 p.m. Grown-ish, Freeform
9 p.m. The Masked Singer, Fox
9 p.m. Mythbusters Jr., Science
Thursday, January 3
8 p.m. Gotham, Fox
8 p.m. The Titan Games, NBC
9 p.m. Racing Wives, CMT
9 p.m. Surviving R. Kelly, Lifetime
10 p.m. The Blacklist, NBC
10 p.m. Music City, CMT
Sunday, January 6
8 p.m. Golden Globes, NBC
Monday, January 7
8 p.m. America's Got Talent: The Champions, NBC
Tuesday, January 8
8 p.m. Ellen's Game of Games, NBC
8 p.m. Finding Your Roots With Henry Louis Gates Jr., PBS
9 p.m. Good Trouble, Freeform
10 p.m. Project Blue Book, History
Wednesday, January 9
10 p.m. I'm Sorry, truTV
10 p.m. You're the Worst, FXX
10:30 p.m. Jon Glaser Loves Gear, truTV
Thursday, January 10
9 p.m. Brooklyn Nine-Nine, NBC
Friday, January 11
12 a.m. Friends From College, Netflix
Sunday, January 13
9 p.m. True Detective, HBO 
9 p.m. Valley of the Boom, Nat Geo
9 p.m. Victoria, PBS
Monday, January 14
9 p.m. The Passage, Fox
Tuesday, January 15
9 p.m. Roswell, New Mexico, the CW
Wednesday, January 16
10 p.m. Deadly Class, Syfy
10 p.m. Schitt's Creek, Pop
Thursday, January 17
12 a.m. Star Trek: Discovery, CBS All Access
8 p.m. A Discovery of Witches, Shudder/Sundance Now
Saturday, January 19
9 p.m. Dynasties, BBC America
Sunday, January 20
9 p.m. Shameless, Showtime
10 p.m. Black Monday, Showtime
Wednesday, January 23
9 p.m. The Magicians, Syfy
10 p.m. Pure, WGN America
Thursday, January 24
9 p.m. Siren, Freeform
10 p.m. Broad City, Comedy Central
10:30 p.m. The Other Two, Comedy Central
Friday, January 25
12 a.m. Kingdom, Netflix
12 a.m. Unbreakable Kimmy Schmidt, Netflix
Sunday, January 27
7 p.m. Rent: Live, Fox
Late January
I Am the Night, TNT
Sunday, February 3
3 p.m. Super Bowl LIII, CBS
10 p.m. The World's Best, CBS
Sunday, February 10
8 p.m. Grammy Awards, CBS
Friday, February 15
12 a.m. The Umbrella Academy, Netflix
9 p.m. Proven Innocent, Fox
Wednesday, February 20
10 p.m. Documentary Now!, IFC
Sunday, February 24
8 p.m. Academy Awards, ABC