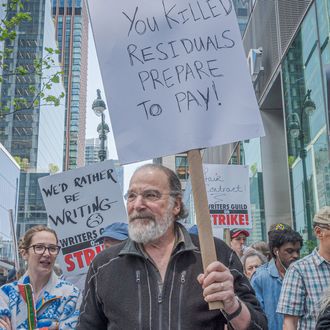 Mandy Patinkin.
Photo: Erik McGregor/LightRocket via Getty Images
Revisit our previous coverage of the WGA's strike against the AMPTP as it hits 101 days.
Hollywood royalty is on the side of labor. The Writers Guild of America called for a strike on May 2 after negotiations for fair pay and streaming-era regulations broke down, leaving late-night and variety television immediately impacted, the future of your favorite show an open question, reality and animated TV the only sure things … and no Pete Davidson–hosted SNL episode. Celebrities voiced their support for the strike in the days and weeks leading up to the anticipated walkout, but the first Monday in May proved to be the most fruitful moment to get them on the record about the then-potential seismic event. "Everything changed with streaming, and everyone needs to be compensated for their work," Amanda Seyfried told Variety on the Met Gala red carpet. "It's fucking easy. I don't get it." Jimmy Fallon, who also attended the fashion extravaganza, said he "wouldn't have a show if it wasn't for my writers, and I support them all the way." Game of Thrones mastermind George R.R. Martin expressed support for the writers in a blog post: "No one wanted this — no writer with an ounce of sense, anyway — but the producers and the studios and the networks and the streamers gave us no choice." Below are the celebrities in support of the writers' strike and those on the front lines.
Jack Black
Lin-Manuel Miranda
Alexandria Ocasio-Cortez
John Leguizamo
Adam Shapiro
Jamie Lee Curtis
Evan Handler
The cast of The Good Place
Wendell Pierce
Liz Shuler
David Seidler
America Ferrera
Joel McHale
Mariska Hargitay
Mark Ruffalo
Colin Farrell
Lil Wayne
Barack Obama
Drews Carey and Gooden
James Cromwell
Flavor Flav
Chris Pine
Kerry Washington
Desus Nice
Bob Odenkirk
Mandy Patinkin
Damon Lindelof
David Simon
President Biden
Rage Against the Machine's Tom Morello
Jennifer Coolidge
Nathan Fillion
Jason Sudeikis and the Cast of Ted Lasso
Imagine Dragons
Tatiana Maslany
Pete Davidson
Breckin Meyer
Lisa Ann Walter
Lala Kent
Ben McKenzie
Drew Barrymore
Ziwe
Gina Prince-Bythewood
Timothy Simons
John Mulaney
Dermot Mulroney
Snoop Dogg
Matt Rogers and Bowen Yang
Ilana Glazer
Cynthia Nixon
Mike Schur
Bill Nye
Mark Hamill
Jay Leno
Rob Lowe
Amanda Seyfried
Jimmy Fallon
Quinta Brunson
Olivia Wilde
Brian Tyree Henry
Edie Falco
Mindy Kaling
Seth Meyers
Boots Riley
Melanie Lynskey
Yvette Nicole Brown
Zach Cherry
Sharon Horgan
Sean Penn
Elizabeth Warren
Bernie Sanders