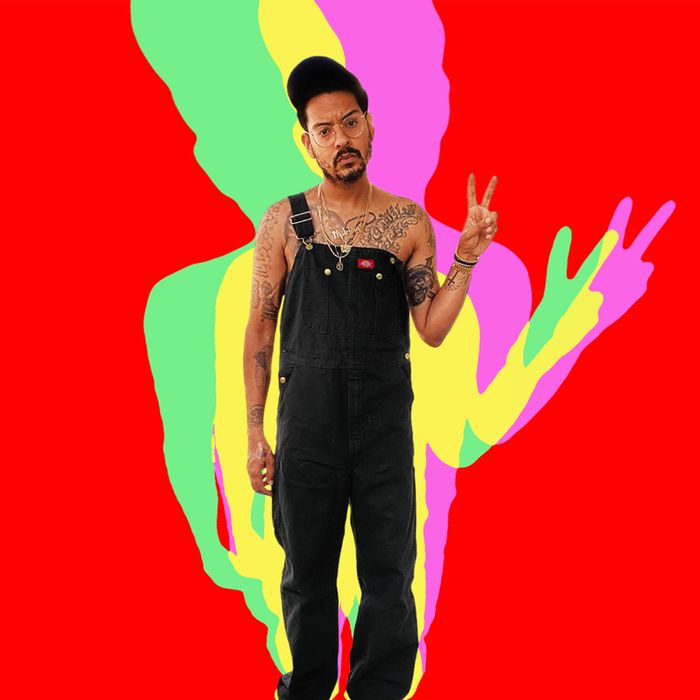 Yassir Lester.
Photo-Illustration: Vulture and Photo courtesy of comedian
This week, we're highlighting 20 talented writers and performers for Vulture's annual list "Comedians You Should and Will Know." Our goal is to introduce a wider audience to the talent that has the comedy community and industry buzzing. (You can read more about our methodology at the link above.) This year, for the first time, we asked the comedians on this list to answer a series of questions about their work and comedy under quarantine. Next up is Yassir Lester.
When did you feel that you were funny enough to make a legitimate go at comedy?
I mean, probably sixth grade. But realistically when I was a freshman in high school, my friends Marc Reece and Eugene Crump told me I was funny and should be a comedian. Keep in mind all they had seen me do is stuff like, "Hey, wanna see me scream like a girl real quick in math class?" They deserve the shoutout and I should probably give them money or somethin'. They are my dawgs for life.
Describe your comedy in five words.
One of Earth's best comedians.
If you weren't a comedian, what would you be doing?
What I hope I would be doing is something impactful for the world: working at a nonprofit, maybe a teacher/mentor of some sort. What I actually would be doing is probably managing the McDonald's on Old Canton and Roswell Road in Marietta, Georgia. I worked there a whole lotta times and every time I needed a job they would take me back.
What of your work do you think you're best known for?
Real talk (I hope this doesn't sound bitter but whatever) I'm currently starring (?) on two TV shows: Duncanville on Fox and Black Monday on Showtime, and people will always just be like, "Yo, you're that annoying dude from Twitter."
What's some of your work that you're most proud of?
There was a show called Making History I did with the eternal homies Adam Pally and Leighton Meester a few years ago. It was created by Julius Sharpe and it was so dope and weird and funny and fantastic. The network didn't give it a chance, but I think if they had or even just made it available for streaming and let people discover it, it would be a cult hit at the very least.
And I think Black Monday is just TV at its best; the best cast, creators, the best crew. A Black Female (Regina Hall), Black Male (Don Cheadle), and White Gay Male (Andrew Rannells)–led show with the best jokes on TV. If people tweet at me or DM on Instagram I can tell you how to hustle and watch the first two seasons of it for free.
How has quarantine affected the way you approach your comedy and your audience?
The only difference in my approach is that I used to think that I needed to work hard and curate my jokes in a way that made people laugh but also think. I realize now that there's really nothing funnier than someone falling or slipping or getting hit in the stomach, so I kinda just try to do the verbal version of that. My audience is whoever happens to be on Instagram and is bored enough to watch my Stories.
What have you done in quarantine for comedy that you thought you would never do? 
Didn't think I'd become known as "The Candace Owens of Comedy" but God makes a way for everyone.
Who are some of your favorite comedians right now? Who is putting out work that excites and inspires you?
This is serious, you cannot take a single name off this list: Atsuko Okatsuka, Rell Battle, Robby Slowik, Akaash Singh, Casey Balsham, Janelle James, Hadiyah Robinson, Amber Ruffin, Lydia Popovich, Marcella Arguello, Langston Kerman, Garrick Bernard, Rachel Pegram, Brent Terhune, Jamar Neighbors, Damon Wayans Jr., Tony Baker, DC Ervin, Beth Stelling, Chris Redd, Martin Urbano, Grace Kuhlenschmidt, Ayo Edebiri, Roy Wood Jr., Brandon Wardell, Caleb Hearon, Hannah Einbender, Sofiya Alexandra, Amy Miller, Niccole Thurman, Andrew Santino, Karlous Miller, Chico Bean, DC Young Fly. There's so many more but that's off the top of my head. Of course Isaiah Lester and Chelsea Devantez.
All of the people listed aren't afraid of public perception, but know what is funny to them and because of that they are smart enough to make the audience come to them instead of vice versa, which is so much of comedy right now. Just people tweeting things like, "The president is orange like a Cheeto!" and just waiting for some woke losers to like the post. Truly the biggest reason to vote Trump out is that so many of these internet losers will expose themselves for being the cornball hacks that they are.
Also, and this is very important, Chelsea Peretti could very well be the funniest person alive right now. I will ride for her till the wheels fall off.
What is the best comedy advice, and then the worst comedy advice, you've ever received, either when you were starting out or more recently?
The best comedy advice was more a question when another comic asked, "Nigga, why are you talkin' like a robot onstage?"
The worst advice I got was at an open mic when this dude said, "Watch what I do up there, follow my lead" and then he bombed.
Tell us one story from your childhood that is a good representation of your life.
I came home crying once when I was in second or third grade because I didn't make the basketball team. My mom was trying to console me and I was like, "Maybe I didn't make the team because I don't have a dad!" And she was like, "Boy shut up, you just aren't good at basketball probably 'cause you're light-skinned." So that's when I knew … my own mom was a hater.
Assuming quarantine ends at some point, is there anything about the way that comedy or the industry in general has changed that you hope continues post-quarantine?
I think that performers are finally waking up to the idea that they are in control of how they reach their audience, and don't need to rely on these wack "gatekeepers" deciding what's funny and then pushing that to the masses. So many people I know would blow most of these "famous" comedians out of the water, but you have this machine of entertainment and comedy industry dorks that could never perform or write a joke to save their life telling all of us some alternative comic who is quite literally doing nothing onstage but wasting everyone's time by doing a stupid accent and not being funny is the second coming we have all been waiting for. They aren't.
Whoever is reading this, you are funny. (Let me be clear: If you're reading this but you're the kind of comic I described above, you're not funny and you should quit.) But you don't have to wait for anyone who says they're a professional whatever to validate your talent. Just go and the audience will find you, I promise. Shoutout to Jerrod Carmichael for ten years ago being younger than me and telling me "stop sweating these people, they don't mean anything," and shoutout to Andrew Schulz for more recently literally breaking how comedy is consumed and meets its consumers. Y'all are dope and I'll always give you your props. BLACK LIVES MATTER FOREVER. FREE PALESTINE. KEEP FIGHTING FOR OUR LATINX, ASIAN, MUSLIM, AND LGBTQIA FAMILY. ACAB.